The prime suspect in a 1982 mass killing is the country's coup-leading, drug-running, democratically-elected president.

PARAMARIBO, Suriname—
On the battlements of Fort Zeelandia, overlooking a vast murky stretch of the Suriname River, the tour guide stops in front of a wall riddled with bullet holes. Speaking in Dutch, the guide outlines the events of the night of December 8, 1982, when 15 prominent opponents of Suriname's military dictatorship were brought to the fort, tortured, and executed against the wall.
For 33 years, the December Murders, as the events became known, have been Suriname's touchstone political event, like the JFK assassination and the Watergate scandal rolled into one. Although the perpetrators of the crime were never brought to account, there is a prominent prime suspect: Desi Bouterse, coup leader, military dictator, drug runner, and, since 2010, the hugely popular, democratically-elected president of Suriname.
Until earlier this month, however, the murder case against Bouterse and 22 other suspects looked to be dead and buried. A 2012 amnesty law passed by Suriname's congress shut down the trial process begun in 2007. Today the tiny pink-bricked Fort Zeelandia—built by the French in 1640 and which today looks more like a boutique hotel than a defensive post—is the country's premier, if modest, tourist attraction. The pockmarked wall is just a stop on the tour.
But two weeks ago the country's High Court ruled that the military trial must resume. Given that the prosecutor only has to pass his verdict and sentencing, the verdict could come as soon as January. A month from now the country's leader could be removed from power as a convicted murderer, although his political influence makes jail time unlikely.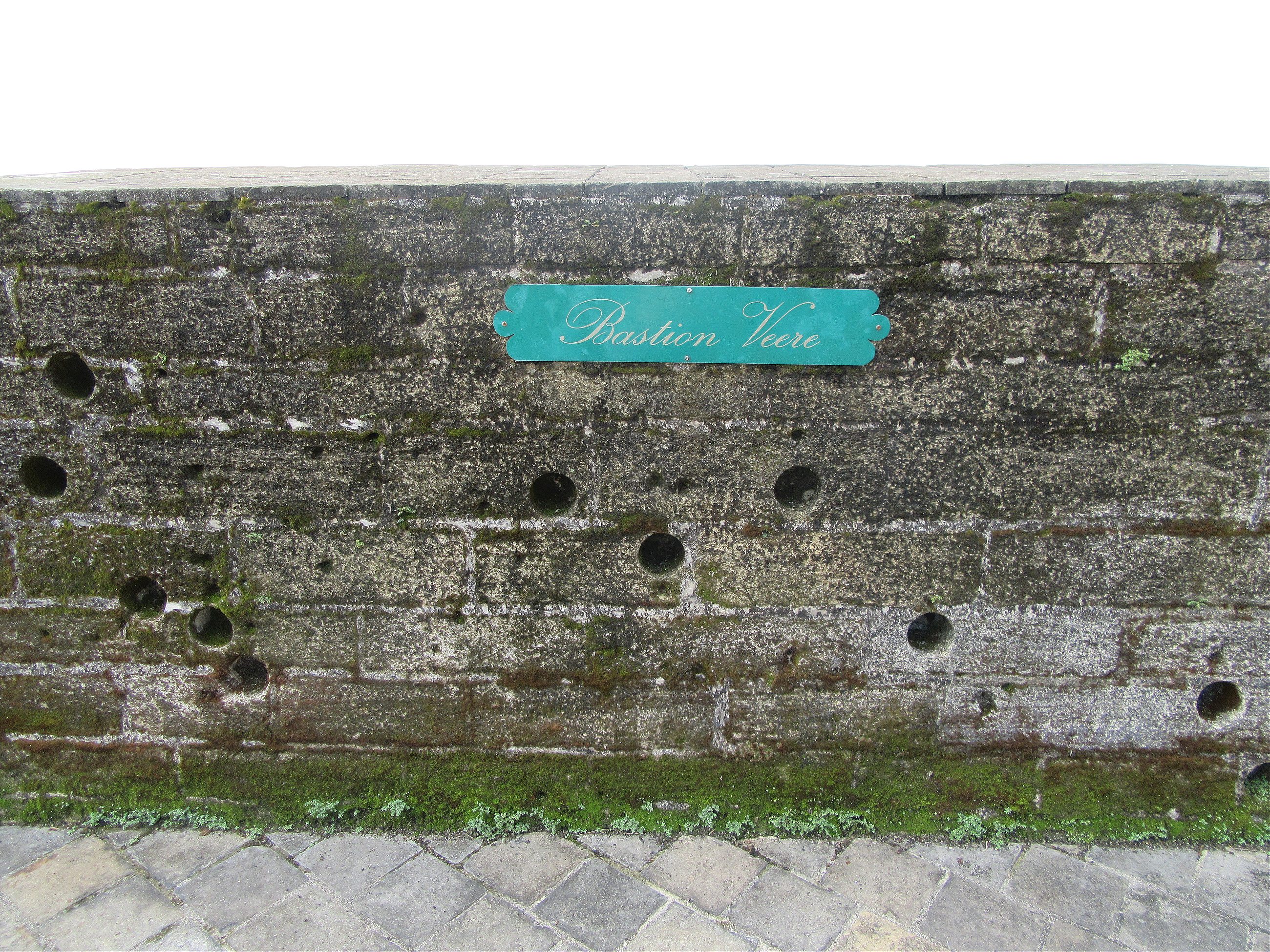 In the 21st century a number of Latin American countries have undertaken "truth and reconciliation" processes designed to investigate crimes committed during the military dictatorships that dominated the region in the 1970s and 1980s and bring closure to families of the victims. From Chile to Guatemala a succession of despots has stood trial for murder, kidnapping, and genocide, although several have been too frail or senile to do jail time.
Bouterse, however, is at the peak of his powers, having been returned to office, with an increased majority, in July this year. For some the court's decision to resume the trial represents the triumph of the rule of law. "The lesson from this is that amnesty laws are not a good way to execute justice, they will come back and bite you in the ass," says Gaetano Best, lead counsel for the case before the InterAmerican Commission of Human Rights. "These laws cannot absolve the perpetrators of mass human rights violations."
Others are wary that the case could lead to civil conflict. Hugo Essed, another lawyer on the case, told me, "I see dark clouds. I am sure Bouterse's supporters will try and stop the trial by legal mean or otherwise." Since 2010 Bouterse has overseen the rapid growth of the economy and increased social spending. To his supporters he is a changed man, the country's senior statesman and his past is either irrelevant or a simple inconvenience.
The country Bouterse rules is unlike anywhere else on the continent. A former Dutch colony on the northeast shoulder of South America, you can drive the 190 miles along the main coastal road in half a day, but at either end you will have to board a ferry or motorized canoe to go any further.
The majority of the country's half-million inhabitants live along this narrow stretch, wedged between heavily silted waters of the Caribbean to the north and dense pristine rainforest to the south.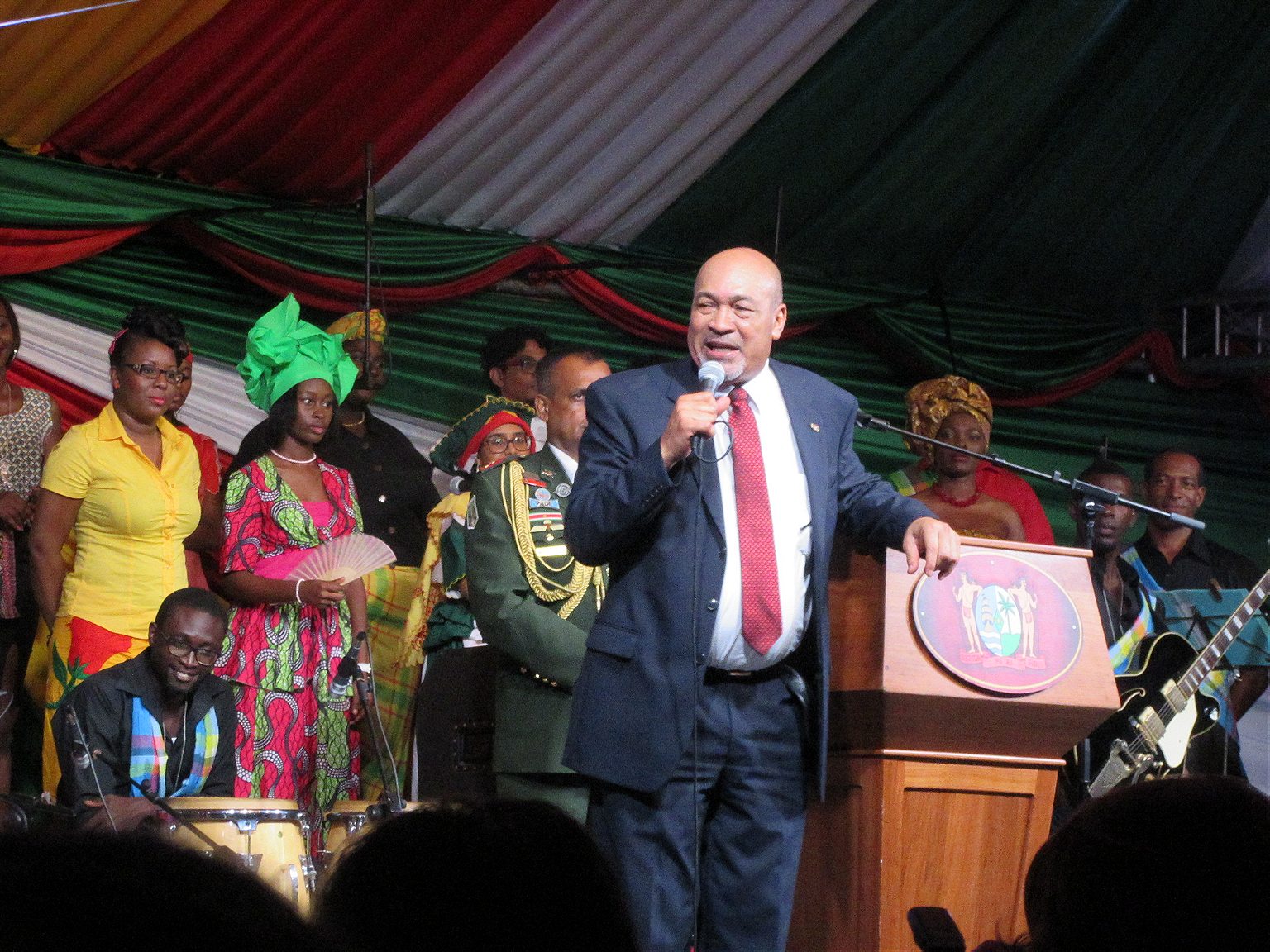 But what the Surinamese lack in numbers they make up for in diversity. In the center of Paramaribo, the capital, whitewashed wooden colonial buildings, festooned with multi-storey balconies and gambrel roofs, sit alongside grassy canals, providing a flavor of the country's past as a Dutch colony. Save for a few hardy and grand plantation houses that have survived the onslaught of floods and termites, Suriname's history as a major producer of sugar, cotton, and coffee is a distant memory. The plantation economy was responsible for several waves of migration, however, first of African slaves and then of indentured labor from the Indian subcontinent, China, and Indonesia.
A smart one-day itinerary for a tourist in Paramaribo would look something like this: a morning visit to the central market, where maroon women—a group that traces their ancestry back to slaves who escaped the plantations in the 17th century—sell a colourful and odorous array of herbs, feathers, potions, and bones used in voodoo rituals. A hearty lunch of curry and roti can be had at Roopram, the country's most successful chain restaurant, before heading to Kaiserstraat, where the city's principle mosque and synagogue sit side-by-side.
In the northern neighbourhoods, barbequed meats and caipirinhas are on offer in the restaurants catering to the growing population of Brazilians speculating in the gold mining and cattle ranching sectors. In the evening, those feeling lucky can gamble away in the dozens of gaudy Chinese-owned casinos. In this rainbow of ethnic groups, the white faces are often seen on two wheels. The bakra, descended from the colonials, tend to ride around in motorcycle gangs while small squadrons of young blonde Dutch women—many on nursing internships—whizz around the city on bicycles.
For those inclined toward the cosmopolitan, Paramaribo is a delight. "The great thing about this country is that people—blacks, Indians, and Chinese—live happily side by side," says Patrick, a 39-year-old Chinese taxi driver. He is married to woman of maroon descent and when using his mobile phone he refers to himself as "snezy," the local word for a person of Chinese descent.
During my stay in the country members of each ethnic group proudly trumpeted Surinamese multiculturalism. But while it may be true on the social level, the political situation is more complicated. Since parliamentary elections were introduced in 1954, the country's main political parties have been divided along ethnic lines. Only Bouterse—who is of mixed African, European, Amerindian, and Chinese ancestry himself—has proved capable of building a political party with mass multi-ethnic appeal. His charisma and man-of-the-people image combined with generous welfare spending in his first term has convinced a healthy majority of Surinamese to overlook his past misdemeanors.
Brunswijk's offensive on Paramaribo would have succeeded had the insurgents not succumbed to sex, drugs, and superstition
For Surinamers of a certain age, the first glimpse of Bouterse came on national television in 1980, when the then-34-year-old sergeant with a goatee and dressed in military fatigues announced that he had overthrown the country's democratically-elected government. He built a police state, imposing a curfew and banning political parties. In the years following the December Murders he fought a bloody civil war against the Jungle Commando, a maroon insurgency led by Bouterse's former bodyguard, Ronnie Brunswijk. According to the account of Karl Penta, a Liverpudlian mercenary fighting with the Commando, Brunswijk's offensive on Paramaribo would have succeeded had the insurgents not succumbed to a stupefying orgy of sex, drugs, and superstition.
Chastened, Bouterse oversaw the return to elections in 1987, but stayed on as the head of the military. He engineered a second coup in 1990, ousting president Ramsewak Shankar, before dedicating himself to the more lucrative pursuits of gold mining and drug running. In 1999 Dutch courts convicted Bouterse, in absentia, of bringing nearly half a ton of cocaine into the country and he has avoided travelling to countries with extradition treaties with the Netherlands ever since.
There can be few countries in the world with so many reminders of the sitting president's past crimes. In the years he was out of office a plaque to remember the December Murders victims was erected in Fort Zeelandia and the national sports stadium was renamed after André Kamperveen, a former soccer star turned politician who was killed that night. In the eastern town of Moiwama a large iron monument commemorates 39 maroon villagers who were murdered by government forces during the civil war.
In Surinamese politics the ability to connect viscerally and emotionally with the electorate is more important than track record. In the 2010 election Bouterse's opponents tried in vain to discredit him on account of his chequered past. "The opposition made the mistake of using the December Murders as an election tool rather than prioritizing the prosecution of the legal case," says Marten Schalkwijk, director of the Institute for Graduate Studies at Suriname's Anton de Kom University. "Over time Bouterse's party has been able to twist the issue and today it is poorly understood by young people."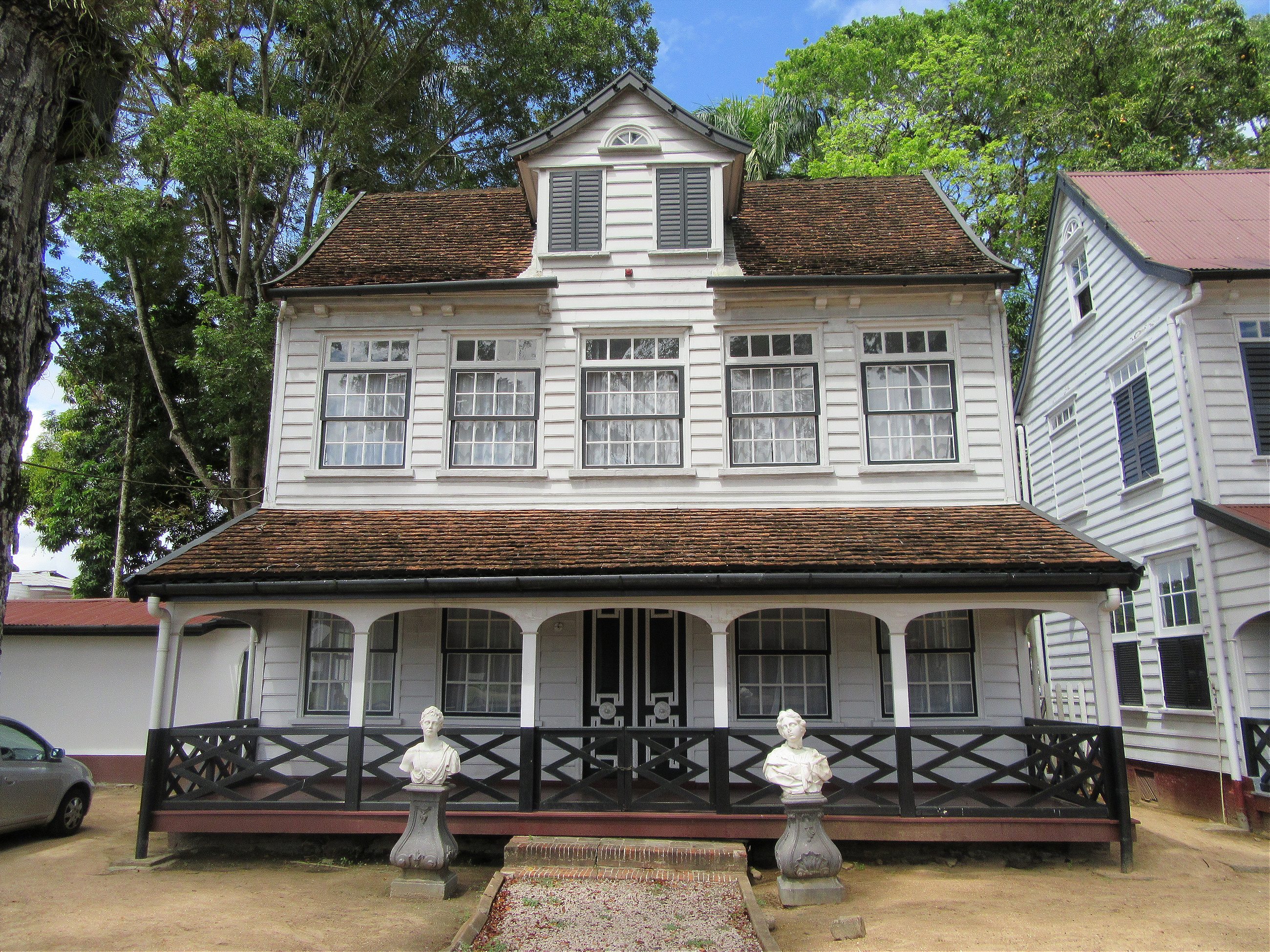 Schalkwijk is in his final months of teaching, having resigned in protest of mismanagement of the university. His office overlooks a pile of sand and rubble where tall palm trees were torn down to build a parking lot that was never completed. The university board tried to shut down his graduate studies department—the top academic department in the country—and a key member of the board is in prison on corruption charges relating to the national energy company, where he was CEO; he still calls in from his cell to chair board meetings.
Many allege that Bouterse's inner circle has become rich from mining and construction projects during his first term, but there can be little doubt that conditions for the poor also improved markedly as a result of his house building programs and welfare spending. "There's no doubt that Bouterse and his men are up to their necks in corruption," says Eric, a fifty-something bakra wearing a motorbike club jacket. "But let's be clear, no one is starving in Suriname, and that's an improvement on what came before."
In terms of political amnesia, Bouterse leads by example. In 2010, in order to win the two-thirds majority required to become president he struck a deal with Brunswijk, his former civil war enemy and current leader of the country's maroon party. Brunswijk, who had also enriched himself through gold mining and cocaine trafficking, appears to base his election strategy on inviting international music stars to Suriname and throwing money into the crowd at events he emcees himself. It's a risky strategy, however, and in 2015 his party lost ground. "Brunswijk broke a key election promise when he pledged to bring Rihanna to Suriname and it never happened," says Pieter Van Maele, a Belgian correspondent co-author of a book about Botuerses's 2010 election.
Although Bouterse tried to keep a clean nose during his first term, his family has been less than obliging. In the run up to the 2015 elections U.S. courts sentenced his son Dino to 16 years in prison for offering Suriname as a base for drug trafficking and terrorist attacks to two men he thought were Hezbollah operatives but were actually DEA agents. Bouterse's foster son has also done jail time for robbery, murder, and throwing a hand grenade at the Dutch Ambassador. Fortunately for him he was recipient of a presidential pardon.
But few Surinamers blame the president for his family's actions. "He is not his son, he can´t help what he does," says Marina, a 22-year-old hotel receptionist and mother of two. "He is the only president who gives money to the poor and to families." In the 2015 elections Bouterse´s National Democratic Party won 26 seats in the 51-seat parliament and easily secured the two-thirds support needed to reinstate himself as president. At his inauguration in August he sang his favorite tune, Frank Sinatra's My Way.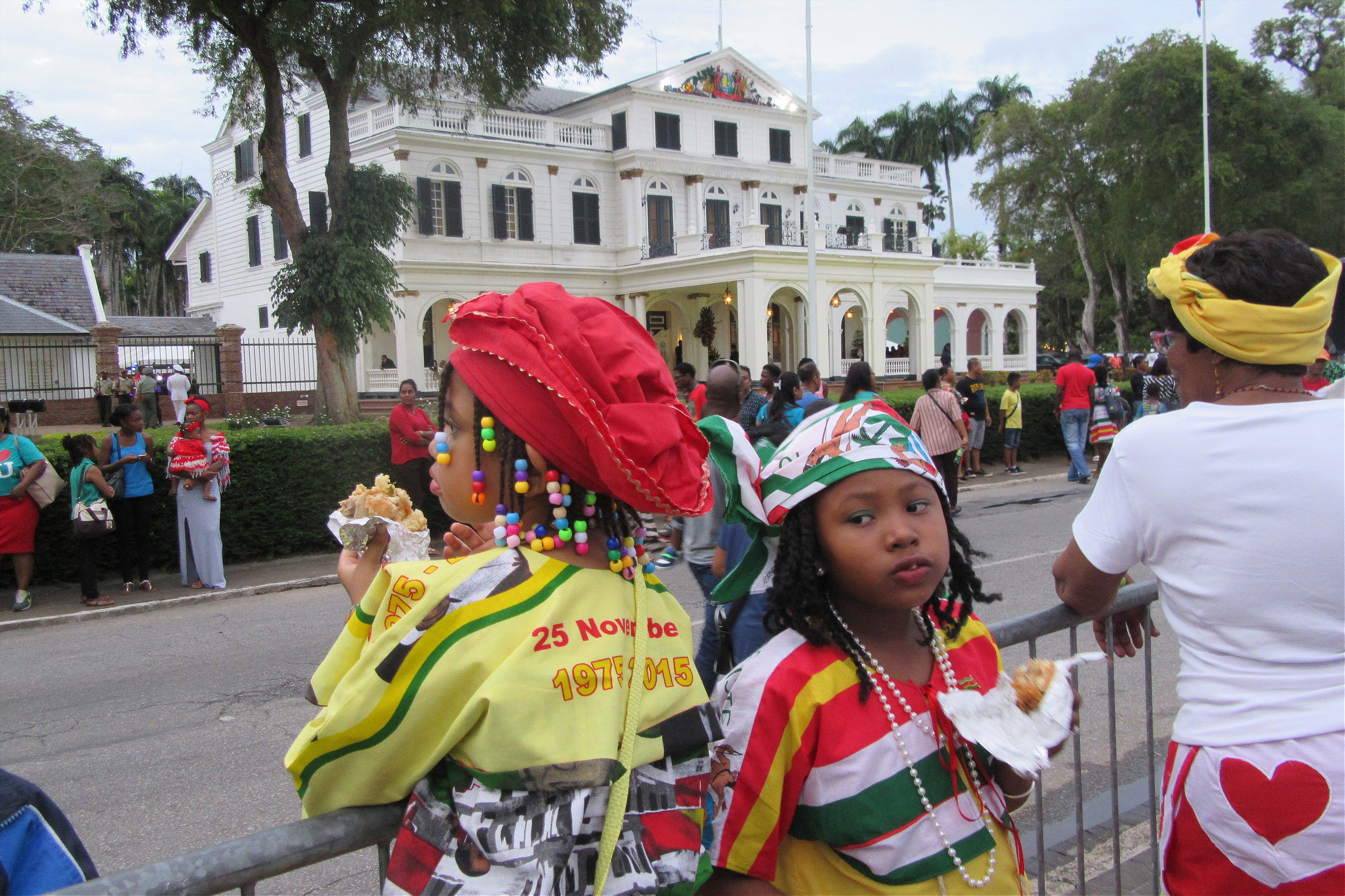 My own experience of the Bouterse phenomenon comes on November 25, the fortieth anniversary of Suriname's independence. Families and groups, many of them dressed in the national colours of red and green, fill the lawn square in front of the presidential palace. Two skydivers, with giant flags trailing behind them, circle above the square before making their descent. The second comes in too high, and rather than miss his target, pitches suddenly—and painfully—into the turf. A military parade—which included units from Venezuela and France, police swat teams, and ambulance crews—winds around several city blocks, waiting to march.
When the president emerges he was greeted by chants of "Desi, Desi." For a man of nearly 70 he remains athletic and imposing, with the gait of a heavyweight boxer. He stands at attention for over an hour as the parade passes.
Later, he waits in the entrance hall of the presidential palace, open to the public for the first time following several years of renovations. Alongside his wife he personally greets each visitor with a warm handshake and broad smile. In the garden behind there are free beers, spring rolls, and a colossal white cake. When he addresses the crowd from the marquee he leans casually on the lectern, like a club singer, and speaks in sranan tongo, the local dialect fusing Dutch, English, African, and Portuguese that he helped popularize in the 1980s.
The speech has little of substance. Bouterse waxes lyrical about the importance of independence, reassures the attendees that the country's current economic problems are a temporary stumble, and introduces a night of live music that represents the ethnic diversity of Suriname. A choir sings Amerindian, Hindustani, and Maroon songs and a local singer croons some Sinatra classics.
"It's difficult for someone who doesn't speak the language to understand just how impressive Bouterse's oratory is," says Van Maele. "His voice has a special rhythm and the words he uses really strike a chord with Surinamers."
Bouterse spends most the evening dancing near the stage, then suddenly he is gone. He has to be at his presidential jungle retreat of Brokobaka in the coming days to receive a Dutch publisher who is the brother of one of the December Murder victims. Bouterse has promised to give him his "testimony" of what really happened that night.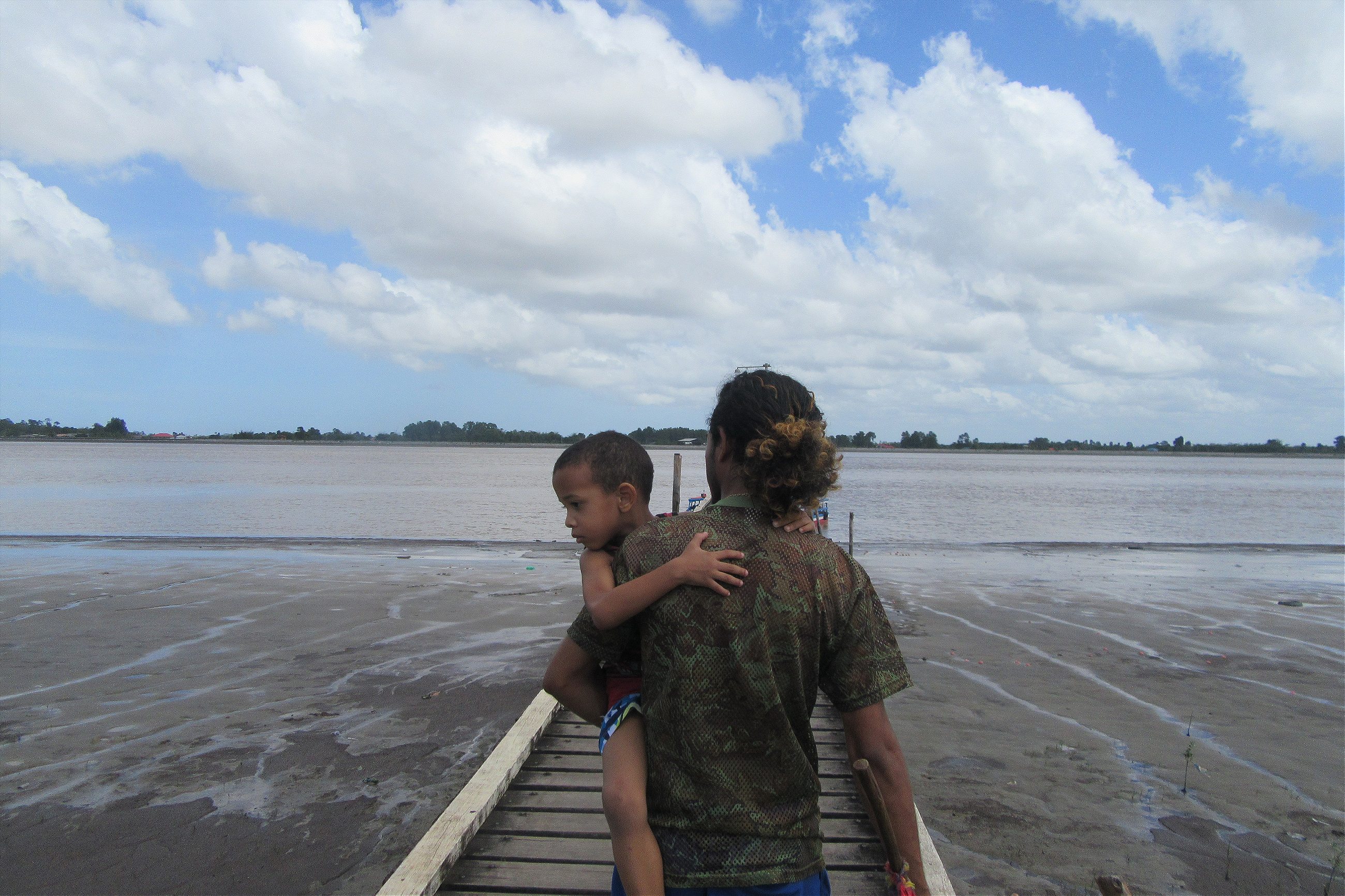 Not long after the event, the High Court's decision was publicized and Bouterse gave his testimony at Brokobaka, where he simply repeated his tried and tested defence. He was never at Fort Zeelandia that night, he claims, and the killings were carried out by one of his lieutenants, who died in 1996.
There have been small protests against the court ruling but few people I talk to seem to want to discuss the case. The economy is more of a concern. Following five years of fiscal profligacy the treasury is running low. The government has devalued the currency and introduced price hikes on electricity and fuel. In the last days of cheap fuel, Paramaribo faced a shortage of unleaded petrol as people stocked up.
Suriname is a young country and most Surinamers were not alive in 1982. But while the December Murders may not move the electorate, the sometimes-weak arm of Surinamese law has maintained a tenacious grip.
One day I pay a visit to the leader of the main Hindustani opposition party, Chan Santokhi, a man Bouterse jokingly calls "the sheriff." As police commissioner in the 1990s Chan Santokhi investigated the December Murder case, and later, as Minister of Justice, he put in place many of the legal requirements necessary for the trial to take place.
I meet him in an office decorated with elephant statues and a mural depicting rural India, the air conditioning was broken. But Santokhi is a cool customer. In 2011 Wikileaks published U.S. diplomatic cables alleging that Bouterse had plotted Santokhi's assassination with Guyanese drug lord Roger Khan. Chantokhi laughs off the threat: His mission has been to prove that the Surinamese justice system is capable of handling a trial of this magnitude.
"The recent high court decision has repaired much of the damage done by the amnesty law," he says.
"The intention was never to string Mr. Bouterse from the highest tree, but to show we were a country with rule of law."