Buildings Rise and Fall, But Breakfast Is Forever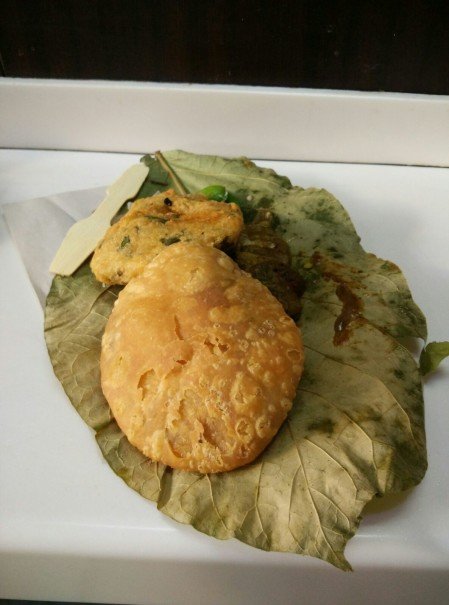 Buildings Rise and Fall, But Breakfast Is Forever
Khasta Kachor in Lucknow
The oppressive heat of the October morning had yet to reach its uncomfortable peak when we walked into tree-lined Kaiserbagh, an erstwhile palace complex in Lucknow, the capital of Uttar Pradesh, India's fourth largest state. As part of a group of journalists invited to explore the state, I was about to embark on a walking tour of Kaiserbagh's historic streets, just stirring to life in the early hours of the morning. To be perfectly honest, however, history was far from my mind, which had already raced forward to the breakfast that would follow.
We walked through Kaiserbagh's crumbling edifices, remnants of the 19th Century Mughal kingdom of Awadh. Before India gained Independence, Awadh was a princely state situated roughly in the center of modern-day Uttar Pradesh. For 80 years, it was ruled by Mughals or Islamic rulers of Persian origin.
Built by Wajid Ali Shah, the last Nawab—or ruler—of Awadh, Kaiserbagh was a paean to the finer pleasures of life. A sprawling complex of palaces, administrative buildings and royal residences, interconnected by a garden called the Gulistan-e-Aram, Kaiserbagh was designed to awe visitors with its architectural detail and sheer scale. In 1857, when the British sought to annex Awadh as part of their colonial domination over India, the complex became an unlikely symbol of resistance. Begum Hazrat Mahal, the wife of the exiled Nawab Wajid Ali Shah, mounted a spirited defense against the British from within the complex's fortified walls, thus playing a crucial role in the First War of Independence, the first-ever Indian uprising against British rule.
Ultimately, however, Kaiserbagh could not withstand the overwhelming might of the British, who built roads right through the heart of the complex and demolished the stately structures over time. An assortment of precarious ruins rudely interjected by a busy thoroughfare, Kaiserbagh blends inconspicuously into the chaotic backdrop of present-day Lucknow.
Thankfully for the city, several other aspects of the culture that the Mughals took such pride in have survived well into the modern day. Fragrant biryanis, tender beef kebabs, and rich meat dishes share pride of place with vegetarian fare on dinner tables. In the crowded streets of the inner city, you can choose to start your day with a rich meal of nihari or slow-cooked beef stew and pillowy kulcha bread. Or you could choose a calorific, carb-on-carb feast of khasta kachori, flaky, golden-brown orbs of deep-fried pastry stuffed with a lentil mixture and sides of aloo—or potatoes—doused in the state's signature spices.
We chose the latter at Rattilal's, a 77-year-old institution that has earned a reputation for the crispness of its khasta (which means crisp in Hindi), an onomatopoeic snack that produces an audible crunch when you bite into it. A legacy of the Rastogis, a wealthy community of moneylenders, jewelers and businessmen, our all-vegetarian breakfast was a symphony of simple tastes: the bland butteriness of khasta, the searing spice of soft, chilli-laced potatoes, the incremental heat of green chillies, cumin and coriander, and an occasional daub of sweet, date-and-tamarind chutney for relief.
If the morning's explorations had kindled a sort of melancholy, our hearty breakfast at busy, standing-room-only Rattilal's had ushered in a sense of acceptance. Here, as in the streets of Lucknow, the past stayed connected to the present in intangible ways. The secrets of brick-and-mortar structures may have been lost to the ages, but those told by timeless textures and tastes remained alive and well.