An unlikely project has turned the ancient village of Erriadh on Tunisia's Djerba island into a sprawling open-air graffiti exhibition.
Sand swirls at my feet, salty air fills each breath—a constant reminder of the Mediterranean Sea a few miles away. People walk by on their way to work or the local hanut for groceries. Kids play soccer in the streets. The houses are dusty and grey, worn down by age. I round the corner and stop in my tracks. Vivid color leaps off the walls in sharp contrast to the dullness behind me. The sudden splash of paint reminds me why I'm in this ancient village.

Graffiti.
Erriadh is on the island of Djerba, in Tunisia, a tourist destination known for its beaches, relaxed atmosphere and easy reach from southern Europe. Home to El Ghriba, the largest and oldest synagogue in North Africa, the village attracts about 2,000 visitors each year during its annual pilgrimage. But few other tourists come. Most of the hotels and beaches for the island are in nearby Houmt Souk, and foreigners rarely venture outside the tourist area. There are no big buildings or large businesses here in Erriadh. Only small houses with traditional architecture, open courtyards and domes that echo the village's Berber heritage. Life moves at an unhurried pace. Over this summer, however, that has all been changing.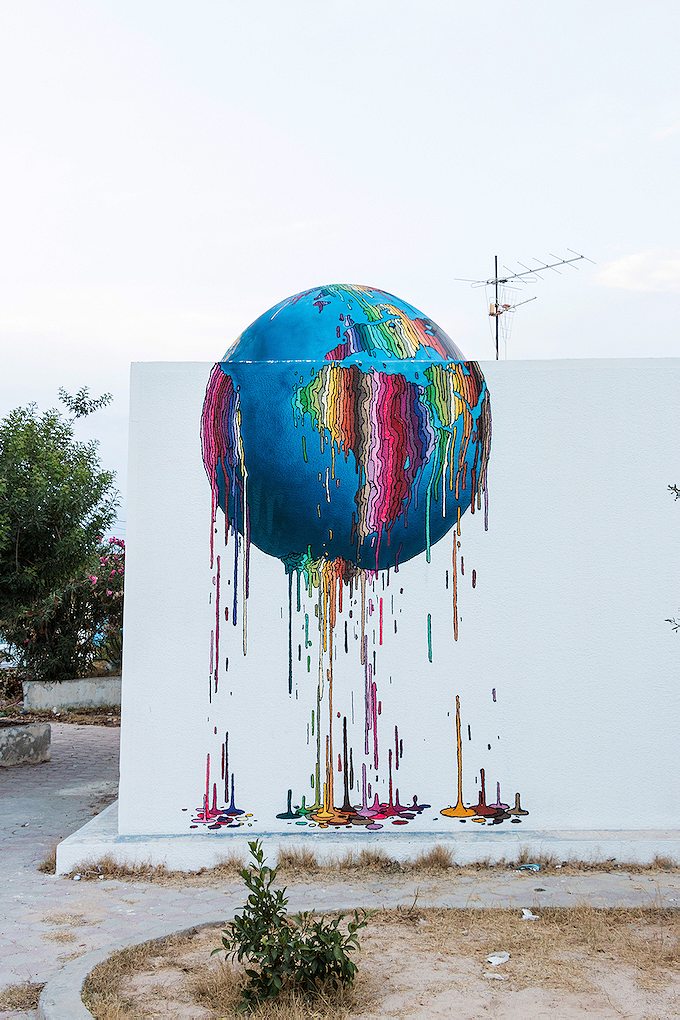 This past June, 150 artists from over 30 different countries painted over the village. Colorful murals, painted messages and vivid portraits now adorn the walls, sidewalks and domes. Mehdi Ben Cheikh, the director of Galerie Itinerrance in Paris, envisioned a sort of open-air museum, one that would give residents world-class art as well as bring tourists and greater prosperity to the village. In September, "Djerbahood" was born.
The place has been transformed. Arabic calligraphy runs along walls. Fanciful personalities have been spray-painted on doors and next to windows. A massive octopus with a dome for a head guards a street corner. There's no sequence or map to follow; wandering is the order of the day. It gives one a sense of discovery—like you've found a secret treasure—when you stumble on the art tucked away in an alcove or narrow alleyway.
Organizers had to obtain permission from both the mayor and individual homeowners to paint, and it wasn't easy. People were skeptical. Graffiti is considered vandalism by many Tunisians, and only after the revolution of 2011 have attitudes towards its role in public spaces started to change. With that in mind, artists were asked to be respectful of residents, even getting their input on some of the projects. Nilko White, a French graffiti artist, said he made an effort to emphasize the existing beauty of the village. "When I'm painting in Berlin or LA or Paris, I adapt and use backgrounds from the local area. So for Tunisia I painted the typical white walls and blue doors, yellow taxis and turquoise sea. I even painted a local truck model that's really popular here. People really liked that."
The resulting artwork and growth in tourism have helped the skepticism melt away. Though locals first seem amused I want to photograph them with graffiti, many soon point me to their favorite pieces. The new gallery, it seems, captivates nearly all who wander it.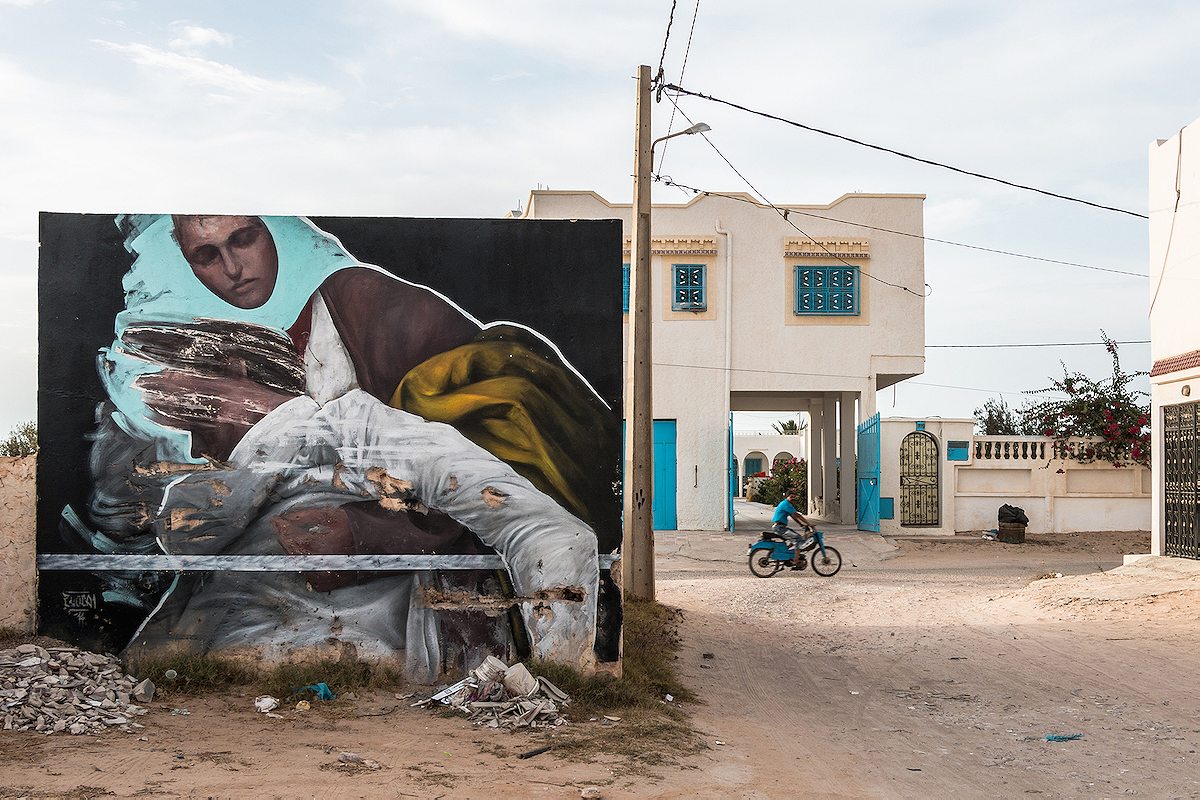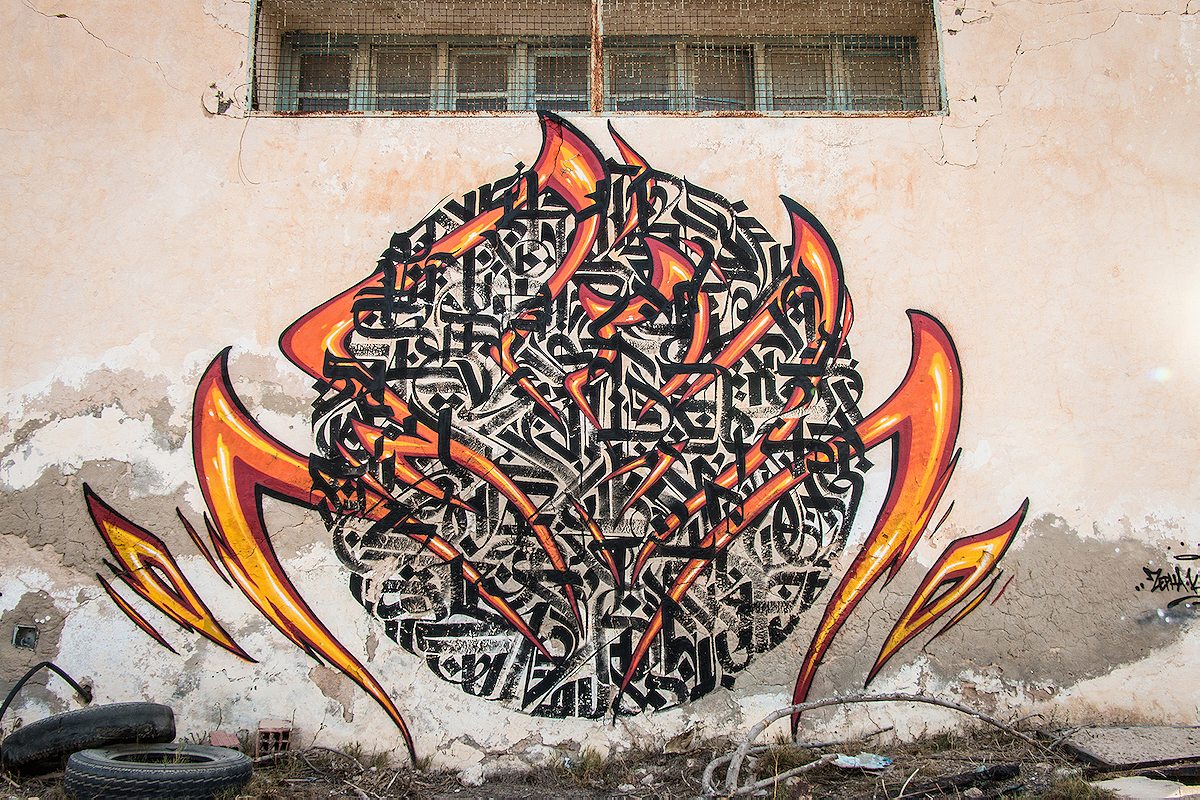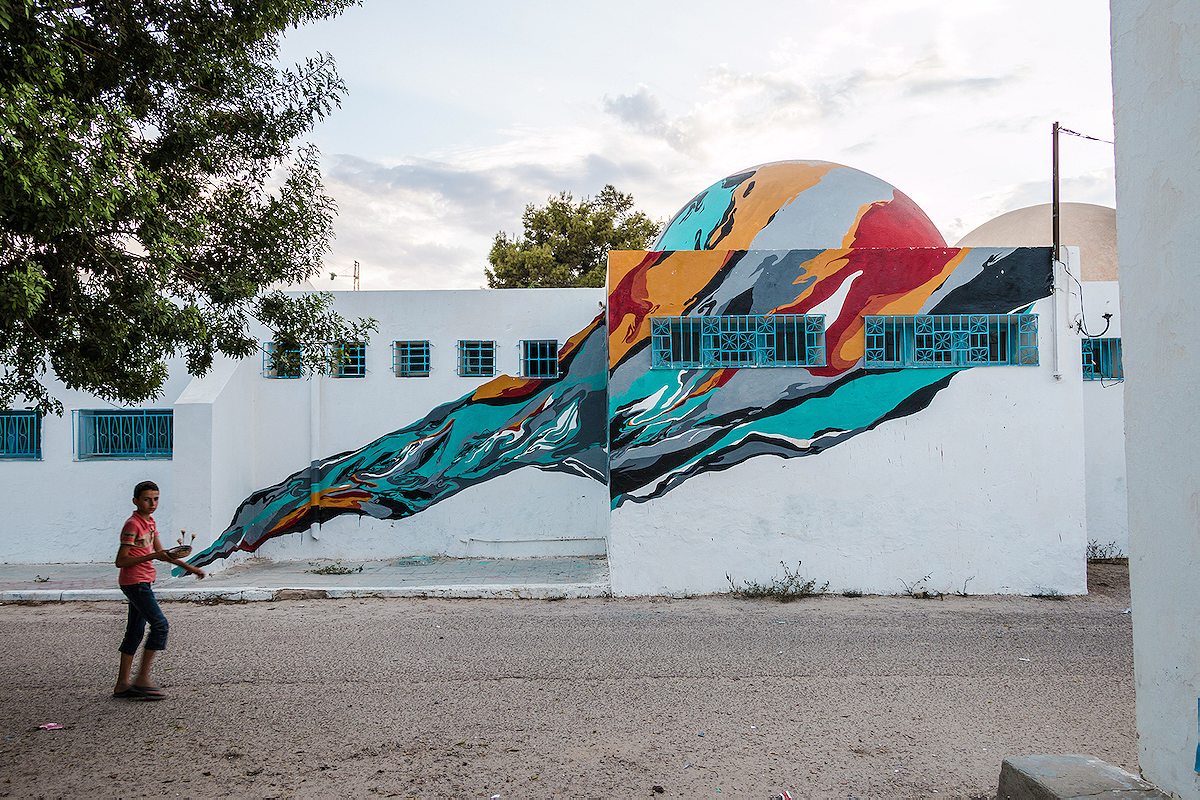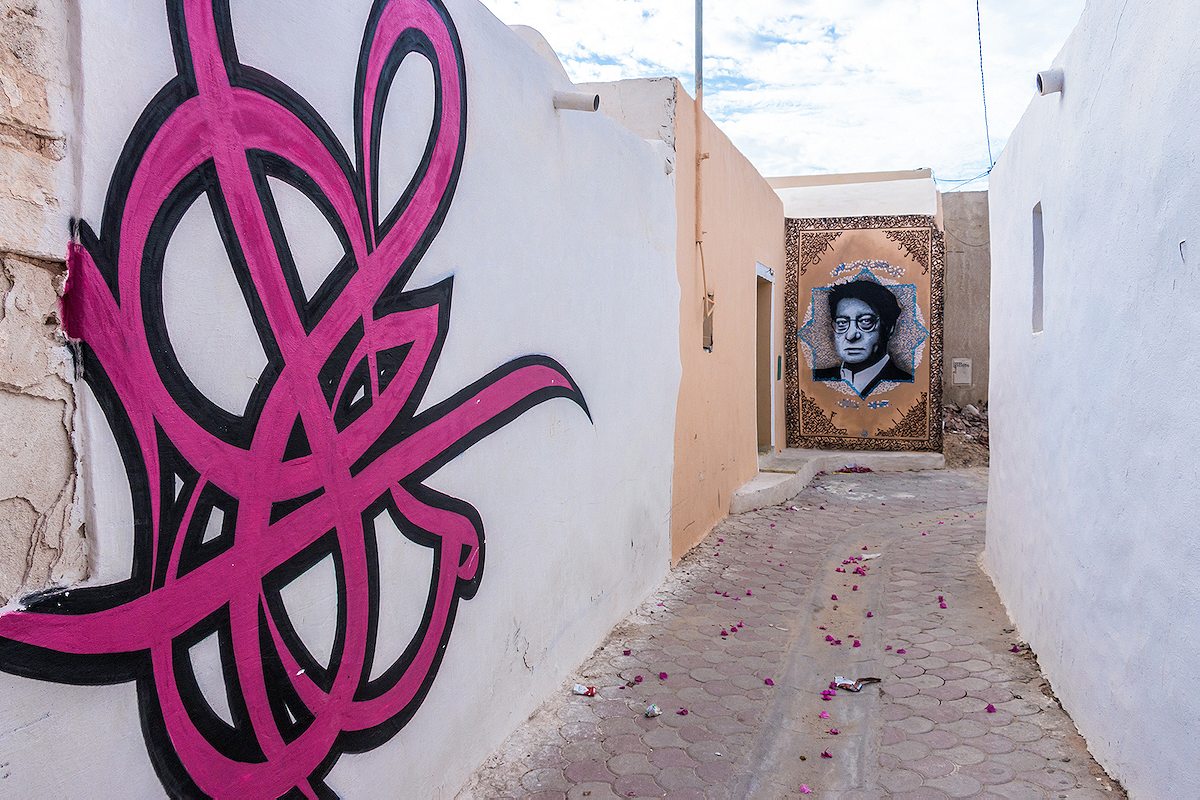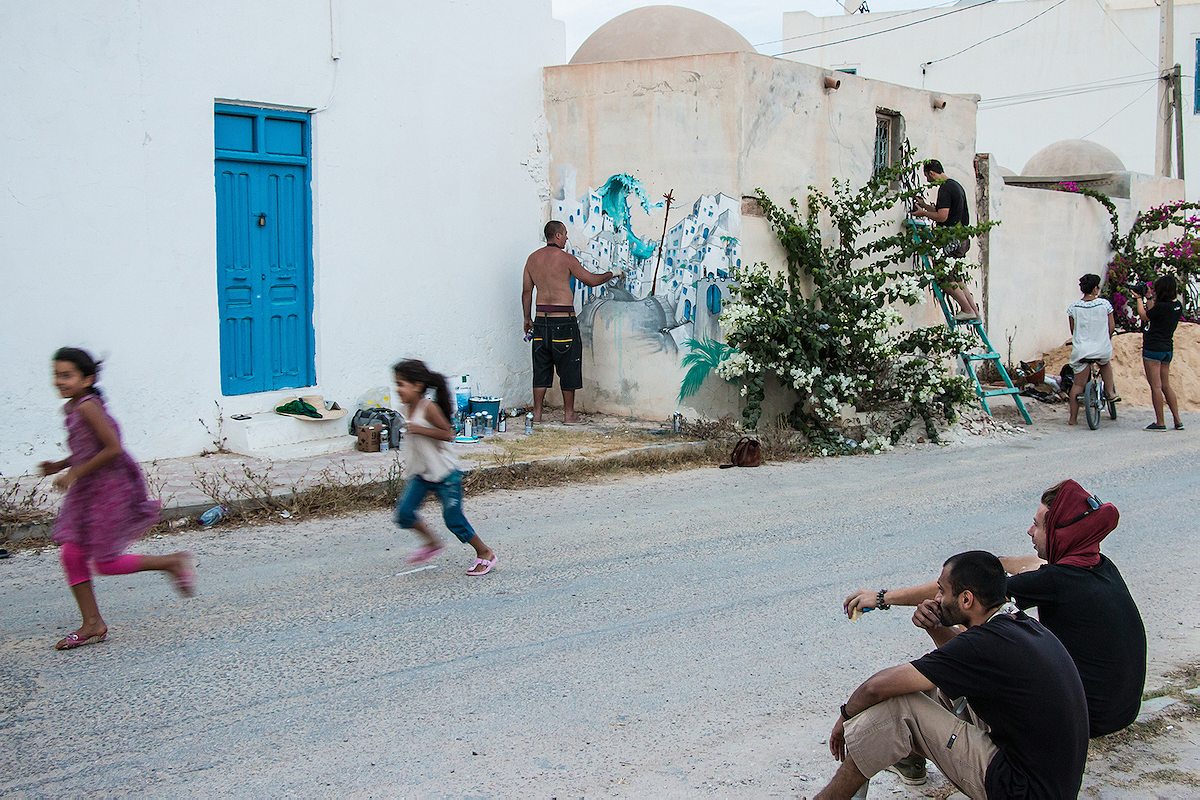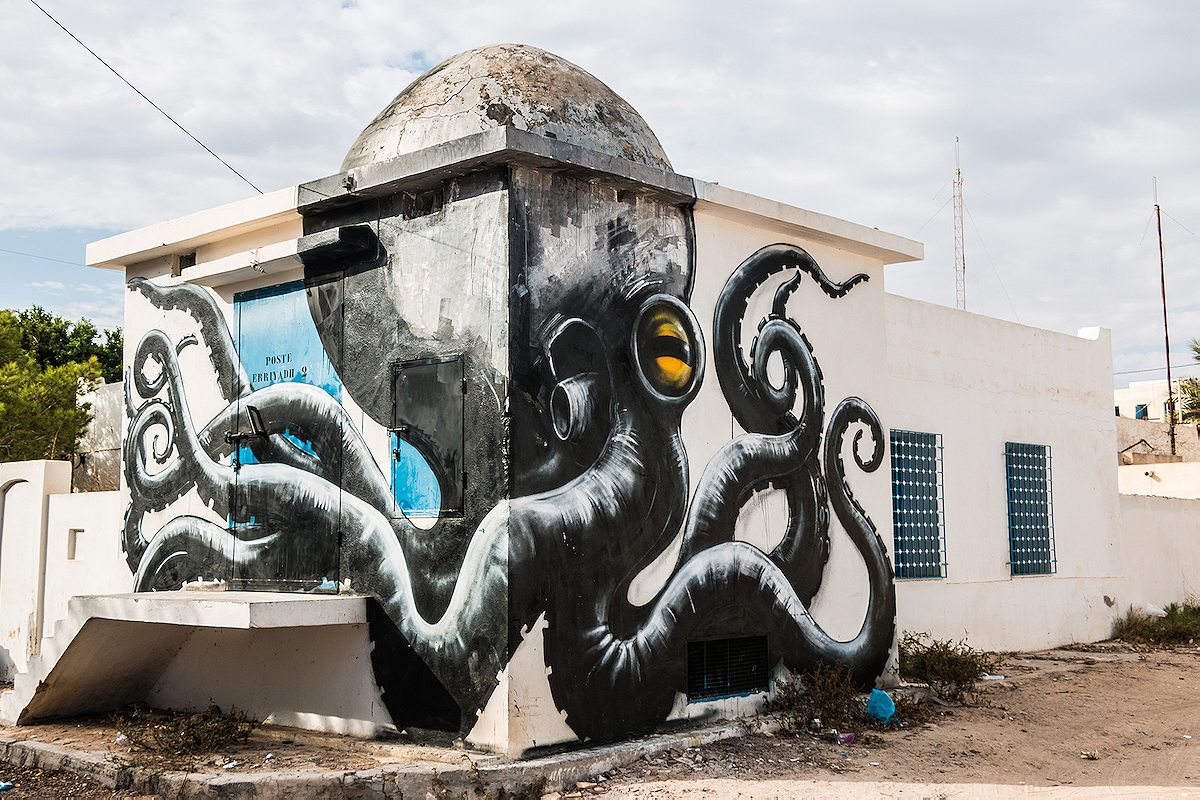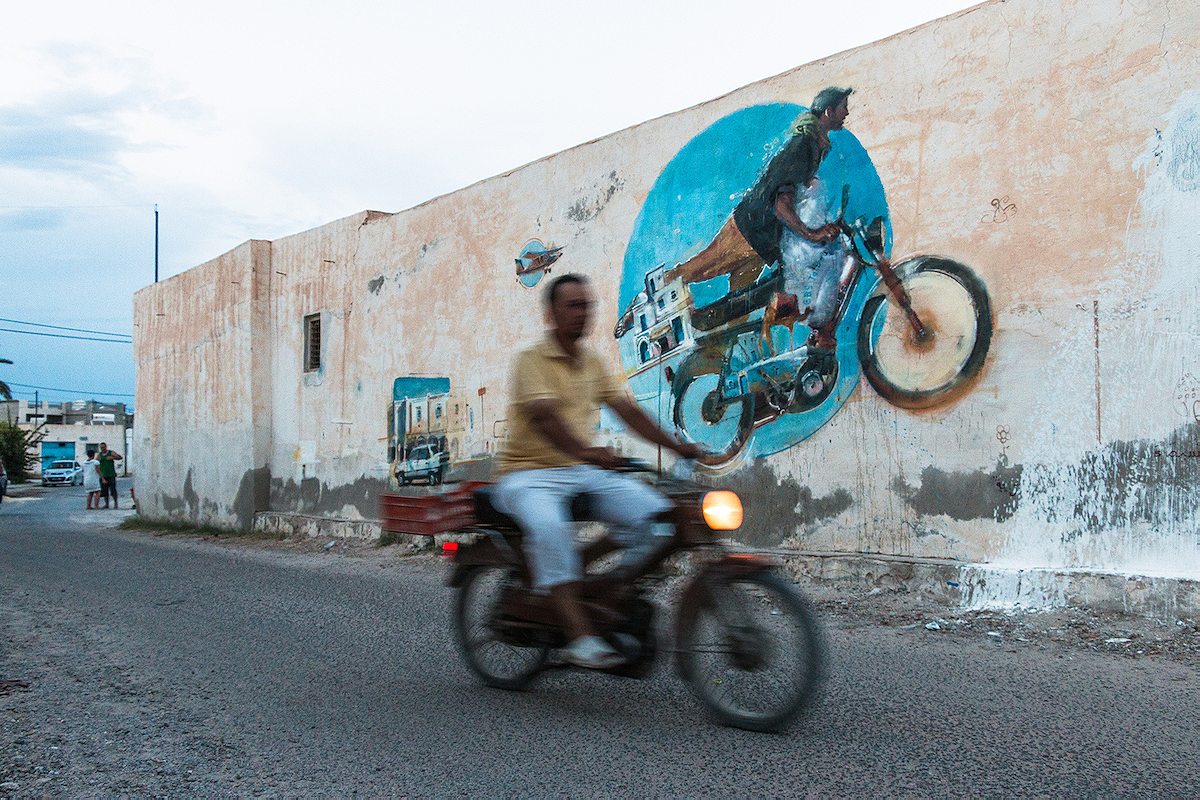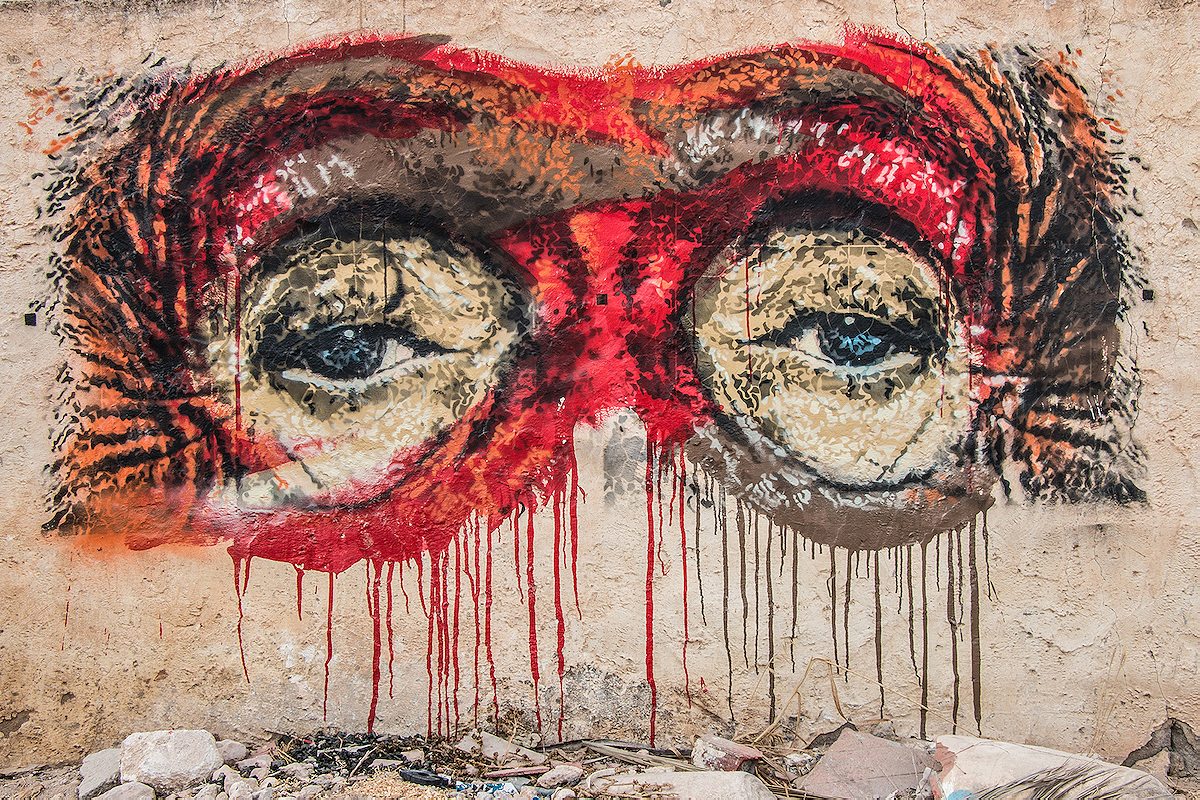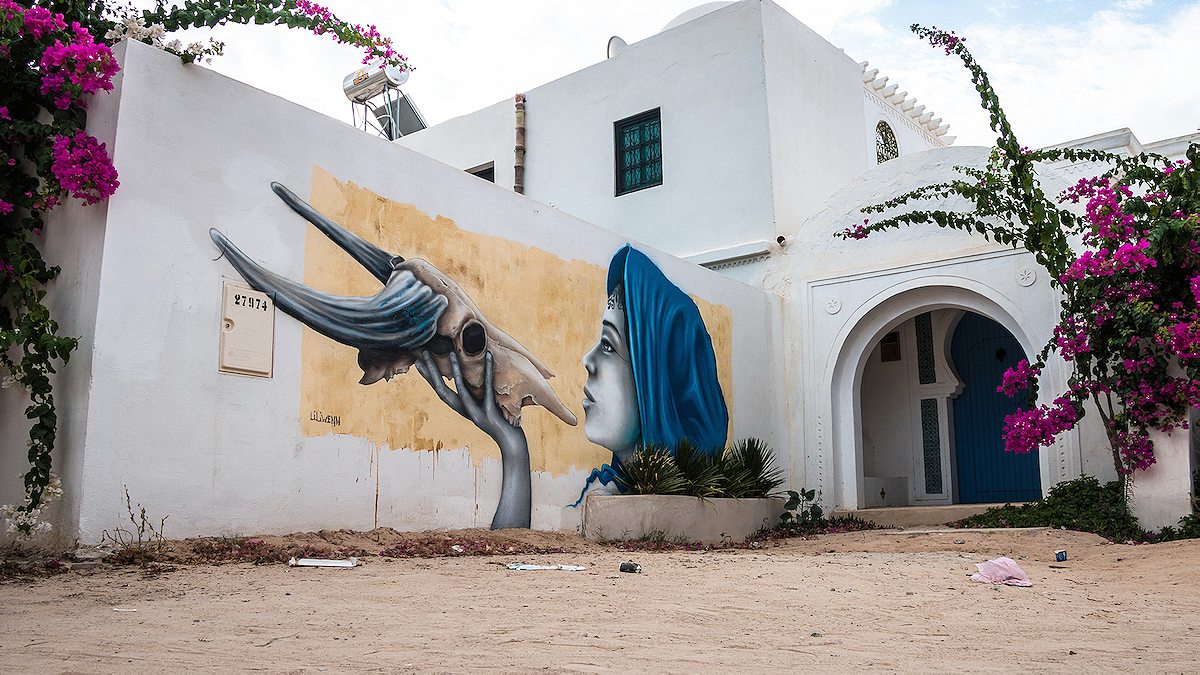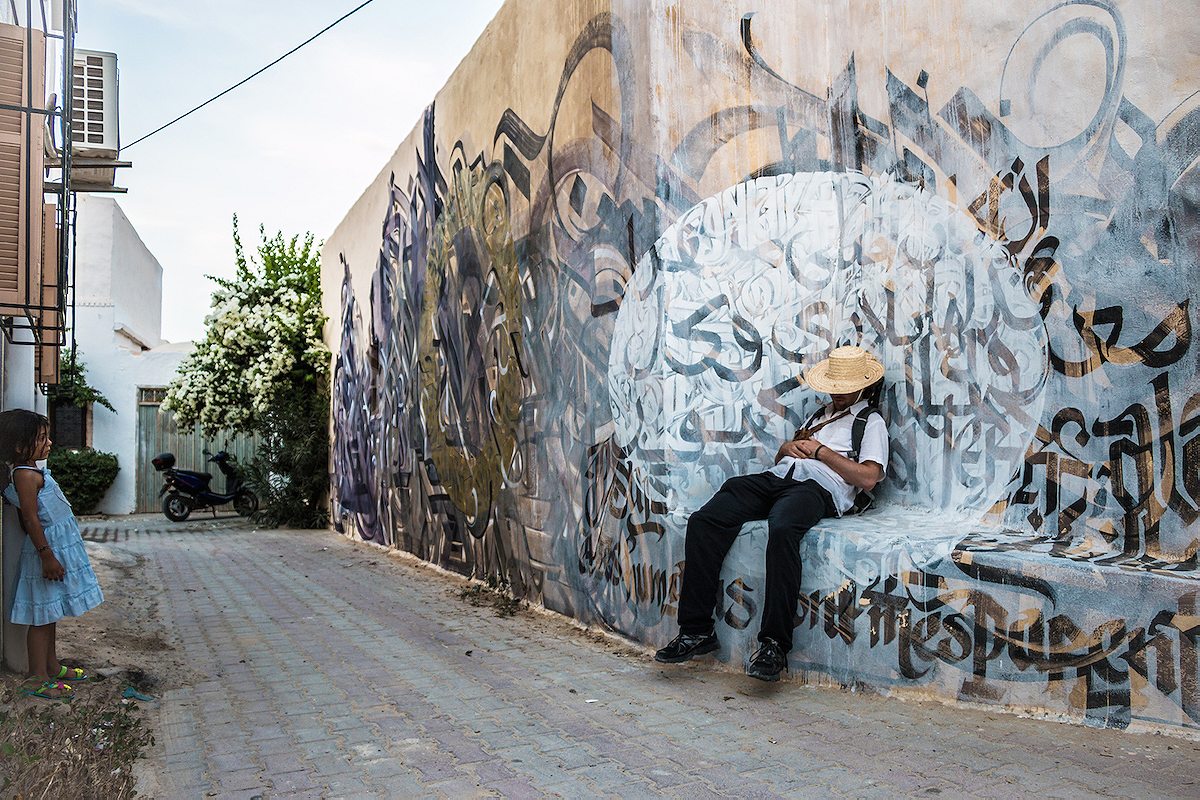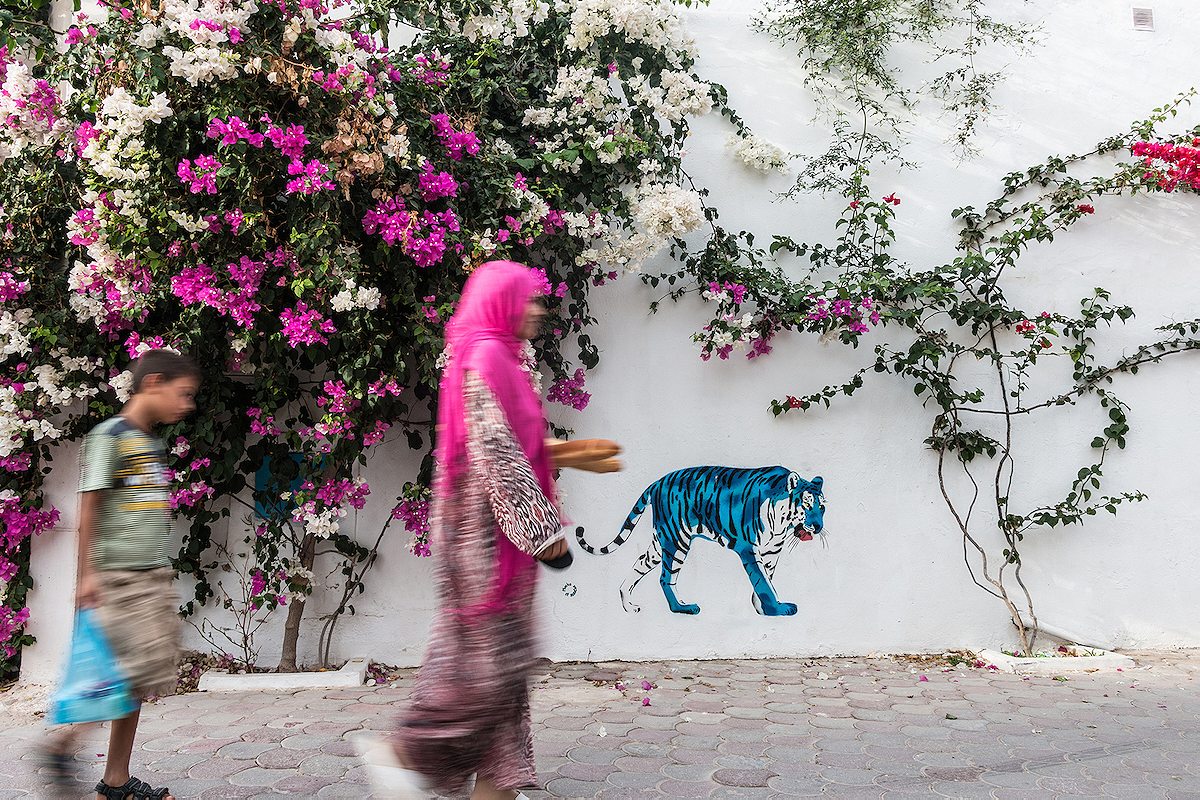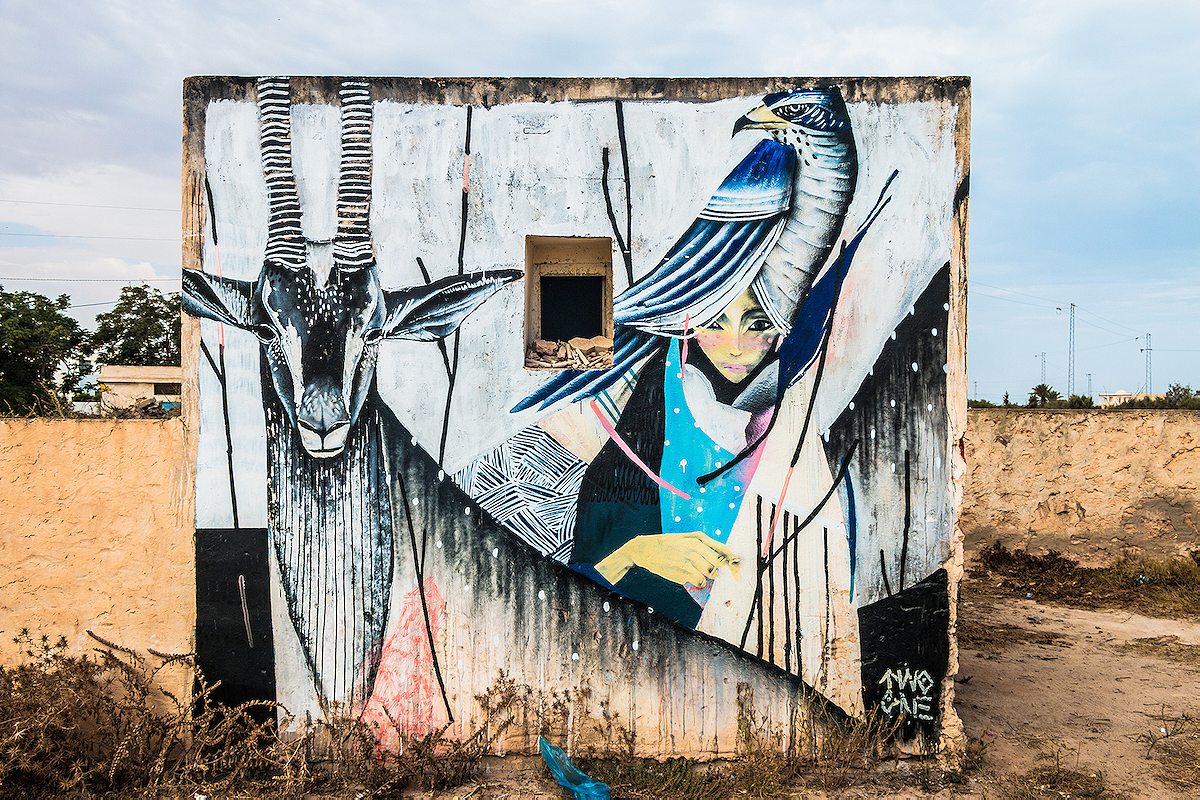 You can see more photos of "Djerbahood" by Nicholas Linn here.