Getting your dollars in Argentina is now as easy as ordering a pizza.
BUENOS AIRES—

A young German with a black messenger bag slung over his shoulder and sandals on his feet pulls his bicycle up to a Starbucks in Buenos Aires' Palermo Soho, in the city's largest barrio, where palm trees shade a row of boutiques. Inside, his client—also German, tall, bearded, and bespectacled—reads a book on the couch. They share a few words and get down to business.
The client hands over 214 euros and the courier pulls out 3,000 Argentine pesos stashed in his bag. For the same amount of euros, an Argentine cash machine would spit out just 1,712 pesos. "I just got 1,288 extra pesos—that's more than half my rent," the satisfied customer says.
This is Mobile Wechselstube—a "pizza delivery service for money," as the bearded client describes it—in action. Want euros? American dollars? Or Argentine pesos at black-market rates? Mobile Wechselstube—Mobile Exchange in English—has it all. Just shoot the company an email, request an amount, and name a place, and one of its couriers will soon arrive, by bicycle (or bus, if you're in the far reaches of rural Argentina). The only requirement is that you have a foreign bank account.
Mobile Exchange is a means for tourists, expats, and foreign companies to skirt Argentina's official currency exchange rate and receive about one-third more pesos for their dollars or euros. Clients can pay online through PayPal or a wire transfer, and the company charges an extra 5 percent.
"It's very convenient for all parties," Fabian Gerber, the company's founder, tells me at the same Starbucks where his bike messenger—Gerber's brother, whom I'll call Lars—often meets customers. Gerber, a 31-year-old toymaker from southern Germany, started Mobile Exchange three months ago, spotting a business opportunity presented by the country's volatile economy.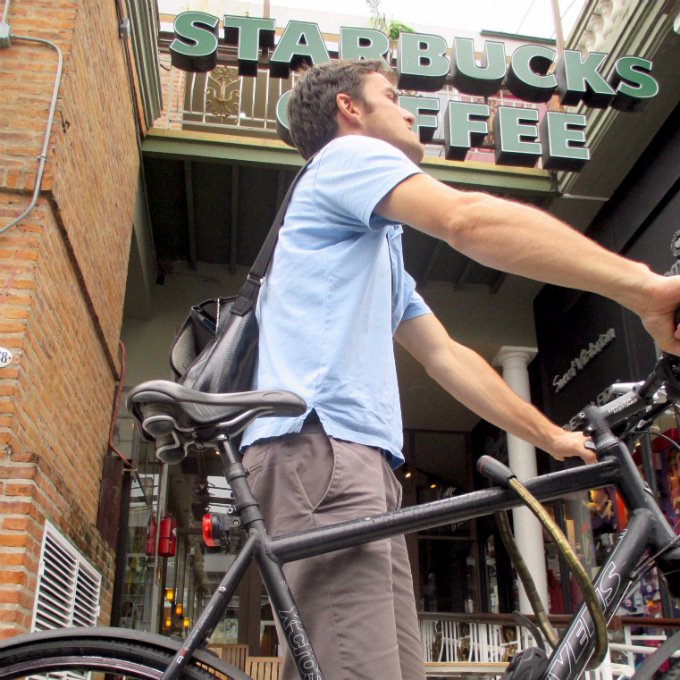 In Argentina, more currency gets exchanged on the black market than through official channels, since the government places tight restrictions on trading dollars and euros. Because the peso's value is constantly fluctuating, Argentines have little faith in it. This year extreme inflation has sparked the country's latest economic crisis, and locals are increasingly desperate to acquire foreign currencies. "Three things are stable here—dollars, euros, and gold," Miguel Figueira, a Buenos Aires bank auditor, tells me.
Many Argentines say they're used to financial crises, which seem to occur like clockwork every 10 to 15 years.
This isn't the first time the peso has gone wobbly—in fact, many Argentines say they're used to financial crises, which seem to occur like clockwork every 10 to 15 years. The most recent was in 2002, when the country defaulted on billions of dollars in debt. Hyperinflation saw the peso's value slashed in half. Banks froze citizens' savings accounts to prevent them from taking out their money, which had been deposited in dollars. Unemployment and poverty skyrocketed; the recovery took years.
Lately, economic turmoil has been brewing again.
"For each year I've worked, I've lost one-third a year of salary," says Maria, an economist for the Argentina National Congress, referring to the peso's devaluation. Maria (who withheld her last name) waited for hours at a bank in January when the government announced middle- and upper-class Argentines could get a few hundred dollars each month for savings. But the amount was so limited and the process so convoluted that one businessman I spoke with downtown called it "makeup on the government's face." In other words, the allowance is merely a way for politicians to pretend to appease citizens' demands, while helping them only marginally.
Meanwhile, the black market—and Mobile Exchange—has flourished. Recently, for instance, the official exchange rate for 1 dollar was 8 pesos, while the black market offered 13. Because visitors can't withdraw foreign currencies from cash machines, and Argentina won't accept Western Union wire transfers, they often travel to bordering Uruguay to get dollars and then trade them on the black market in downtown Buenos Aires. Mobile Exchange claims to cut out the hassle.
Mobile Exchange has barely advertised, but already it serves roughly 15 clients a day, Gerber says. Most of them are tourists who arrive in the country unaware of just how difficult it is to obtain currency. Recently, however, even foreign companies with Argentine workers have used the service for major money shipments. According to Lars, the courier, a German mining company recently paid its workers through Mobile Exchange. (He wouldn't reveal the company name.) By using the service, the company paid about one-third less for its employees' salaries.
How is Mobile Exchange able to pull this off? Through its own web of border crosses—all of which are legal, the company claims.
Several months ago Gerber and his brother brought more than 100,000 euros from Germany to Argentina—all of which they claimed at customs—on behalf of a renewable-energy company that was investing to build a plant in Argentina. Unfortunately for the company, but luckily for the brothers, the plant fell through. Because it's illegal to take more than $10,000 in foreign currency out of Argentina at one time, the Gerbers say they haven't been able to haul out the cash in full.
These days one of the Gerbers or their employees regularly hops to Uruguay to exchange a batch of euros (never more than the equivalent of $10,000, the legal maximum) for Argentine pesos. Uruguay values the Argentine peso much less than Argentina's own government, since the official value is inflated. The Gerbers say they are able to skirt the black market because all the money transfers—through PayPal or from a separate foreign bank account to their German account—technically occur outside Argentina.
But Buenos Aires lawyer Marcelo Zifferman says Mobile Exchange still breaks the law since the cash passes hands inside Argentina. In a country where only government-sanctioned banks and exchange houses can trade currency, Mobile Exchange operates off the books and without a license. Zifferman says the business is evading taxes and trafficking money—but he concedes that's hardly uncommon in Argentina.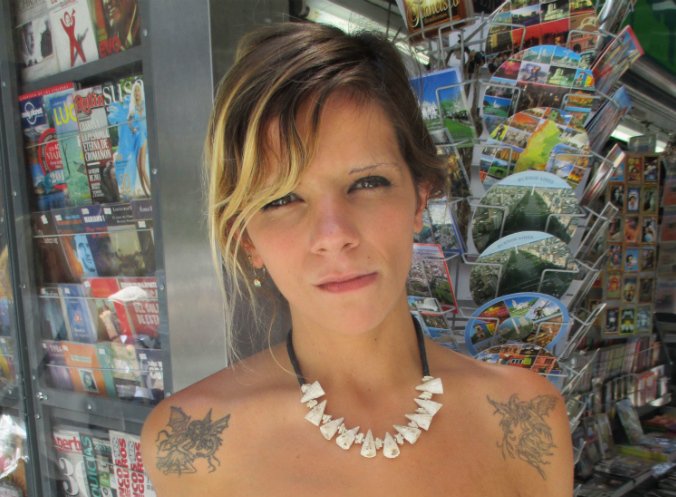 Mobile Exchange's formula may be unique, but the company is merely the latest in Argentina's long line of money transfer services that manage to avoid the official exchange rate. U.S.-based Xoom, the most established of the bunch, claims to be legal since the company is registered with the Argentine government and connected to a bank within the country. With Xoom, only Americans can transfer funds from a U.S. bank account to the partner bank in Argentina (or to 30 other countries) for a small fee. The client can then pick up pesos at a rate about halfway between the official rate and the black-market value. It's called the "Xoom value." Then there's Argenper, which allows Latin American clients (most notably Peruvians, hence the per in the name) to transfer funds from their banks into the country.
The common question for foreigners is: Why take 8 pesos when you can get 13?
Across the city, including at a Western Union branch I visited, business owners, vendors, and people on the street offer pesos at black-market rates in exchange for dollars. The common question for foreigners is: Why take 8 pesos when you can get 13?
Even though the Gerbers' business is just a small piece of Argentina's informal money exchange pie, the brothers refuse to have their faces photographed, out of fear of repercussions. "I'm worried they'll look for us," says Lars.
But to black-market vendors like Ramon Marciel, who has worked at an arbolito—"change house"—on Florida Street in downtown Buenos Aires for 12 years and knowingly breaks national currency laws daily, there's no reason to fear a serious crackdown on off-the-books trading. That's because the black market is inevitable as long as the government has such strict regulations on money exchanges. "The black market centers never really close," Marciel says. "Although it's illegal, it will always exist."