As the legion of women bikers grows nationwide, writer Amy Maxmen opens the throttle with one manic, traffic-weaving New York City club.
In glittering helmets and designer jeans, the Miss-Fires motorcycle group explodes down a New York City freeway like shrapnel. Traffic on the Brooklyn-Queens Expressway is at a standstill all the way to the Triboro Bridge, and the impatient bikers weave frantically between cars, upshifting, downshifting, jumping from lane to lane. Destination: Bear Mountain, 52 miles outside the city.
The Miss-Fires all-ladies club launched a year ago. It was an impromptu beginning: Corinna Mantlo, a 34-year-old leather upholsterer, sent a text message to a handful of women riders last October, suggesting they all get dinner. "At the time, I didn't even think about forming a gang," Mantlo says. "I didn't know I needed it until I had it." As the weather grew colder in December, the women met to work on their motorcycles in a Brooklyn repair shop called Motorgrrl, owned by Corrina's friend, Val Figarella. One night, Corinna suggested they officially anoint their group the Miss-Fires. The other ladies found it a funny, self-effacing name that reflected the way they saw themselves—more playful than outlaw.
Ladies-only motorcycle groups are becoming more visible across the country as more and more women take up the sport. Their presence on social media is marked with hashtags like #motobabes and #realwomenwhoride. The number of lady riders has doubled over the past two decades. According to the Motorcycle Industry Council, a non-profit trade organization, women comprised just six percent of motorcycle owners in the U.S. in 1990; 9.6 percent in 2003; and 12.5 percent in 2012. Women riders number about a million, and their average age is 37. In early October, what may be the largest ladies-only motorcycle rally held in the U.S. to date was held in Joshua Tree National Park in California. It was called Babes Ride Out—the name a reflection of the affection these women have for one another.
Anomalous in society, and attractive to boot, media and advertising agencies have picked up on the trend of lady motorcycle clubs. In February, the New York Times ran an article that portrayed the Miss-Fires as a motorcycle gang fond of chocolate, giggles, and hugs. Inside Edition took the opposite slant, with a segment on the Miss-Fires suggesting that these "biker chicks" were "America's Bad Girls."
Because biking is such a male-dominated sport, and because these groups exclude men, the most common assumption is that the members are lesbians. (The answer is sometimes yes, and sometimes no). Other common gender-related questions are whether they hate men, or ride to orgasm. (No, and, unfortunately, no).
The hypotheses mount, and at some point, I thought: Wait, I should be able to explain the trend because I qualify as a #motobabe, too.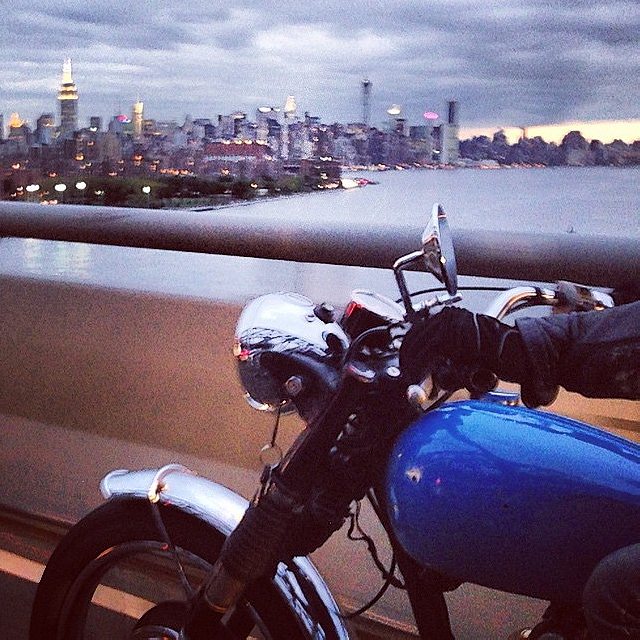 Ten years ago, I bought a rare, vintage motorcycle from my friend, Tiffany, in Boston—a sparkling red, pristine 1972 Honda CB350four. It was love at first sight. I hadn't been on a motorcycle since my dad gave me short rides around the neighborhood on his Honda when I was a kid, before the bike was vintage. After riding and stalling around Boston, I joined Tiffany's biker club, the Idle Barons, which included a few women. But after I left Boston for Washington, D.C., and then New York City, the only motorcycle partners I found were guys that disappeared if our relationship didn't advance to the bedroom. And if it did go there, they disappeared later, once our relationship flopped. By the time I met the Miss-Fires, I had given up on finding friends to ride with. But the group piqued my journalistic curiosity, and I showed up one Saturday morning for the Bear Mountain run.
To reach those curvy Hudson River Valley roads from Brooklyn, you must first contend with the tangled, frenetic knot of highways surrounding a city of 8.4 million. I follow Suzie's Ducati Monster closely, with the focus of a tightrope walker balanced on the slick white line between moving lanes of traffic. My front tire tilts into a crack in the pavement, and the wheel deflects toward an SUV. I counterbalance by pressing on the opposite handgrip, and then blip the throttle to accelerate over a hump of tar. The Ducati disappears in front of a minivan I can't pass. I pull in my clutch and rev the engine—a plea with the driver to swerve slightly left so that I can slip by him within the lane. Thankfully, the driver shifts over, a gap opens, and I shoot through.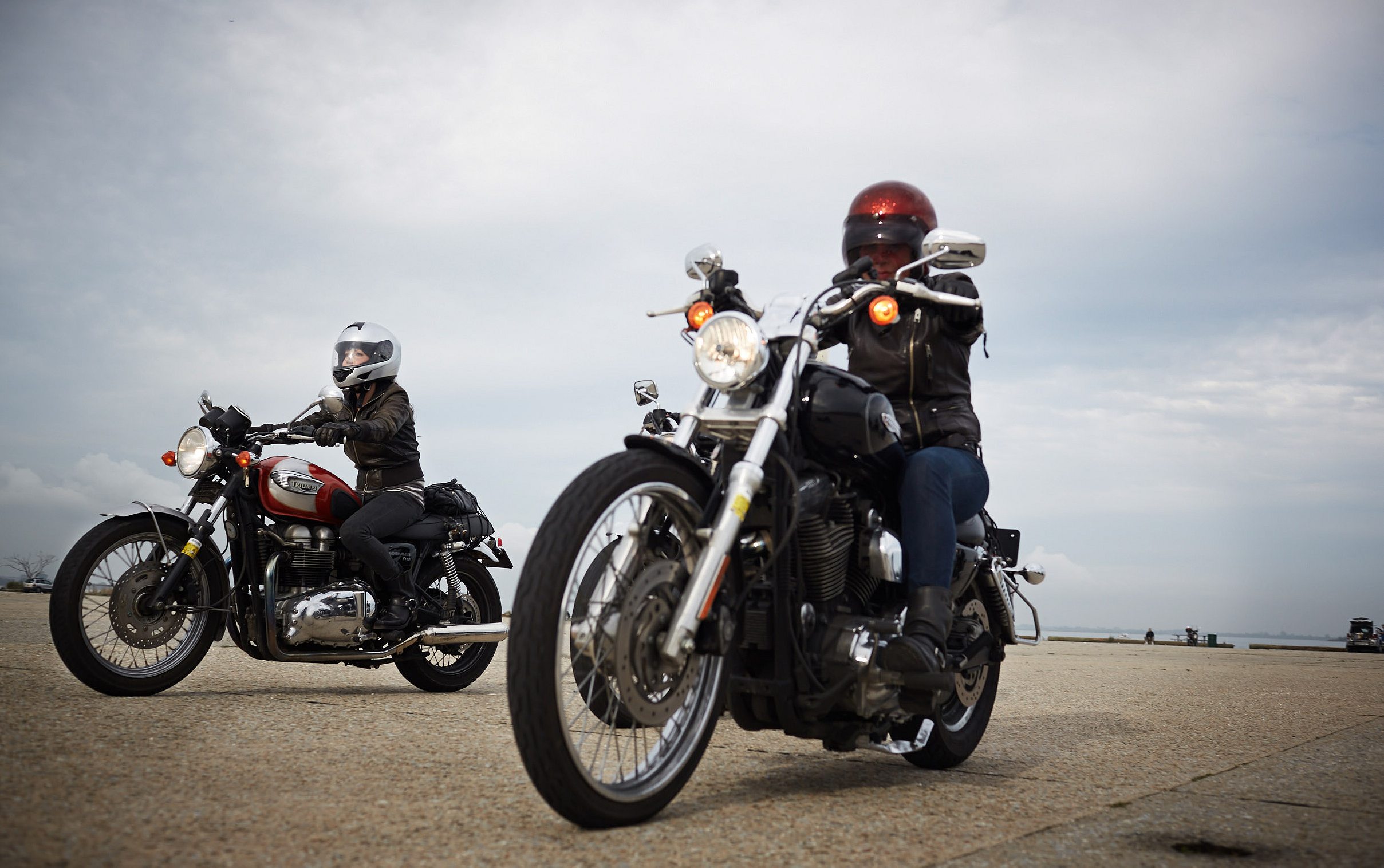 I'm chasing ponytails that flap in the wind, on and off expressways, over potholes larger than bowling balls, and across a network of bridges. It takes nerve to ride on these frenzied expressways. Cars, buses, and trains can get you to your destination much more safely, but those trips don't test your ability to control fear and navigate hectic situations—and admittedly, that's as much of the appeal of risk as adrenaline-driven elation.
Once we veer off onto the Palisades Parkway, the traffic thins, and concrete skylines transform into a blur of green. I twist my wrist and launch forward, gliding in time with the girls at the front of the pack. At 80, 85, 90 miles per hour, we are a fleet of flying shadows on the pavement; black ghosts with sharp knees and flaming long hair. At this velocity, the chaotic riding style of the Miss-Fires no longer matters; all concerns whip away like a scarf in the wind. There's only the sound, smell, and feel of air rushing past. I imagine dogs running wildly with their gums jiggling, their tongues hanging out of their mouths, each taste bud electric with the flavors of the universe.
Men have long turned to motorcycles as an expression of freedom and courage. Yet most of the women who throw their leg over a bike, only do so with their arms wrapped around a man's waist. Their endorphins may surge with the speed, but they don't experience the rush of confidence that comes with controlling a bike so precisely that the peg beneath your foot might brush the pavement as you lean deeply into a curve, and then sway back from the brink like a ballerina. Women on the back don't know what women who ride have realized: power feels awesome.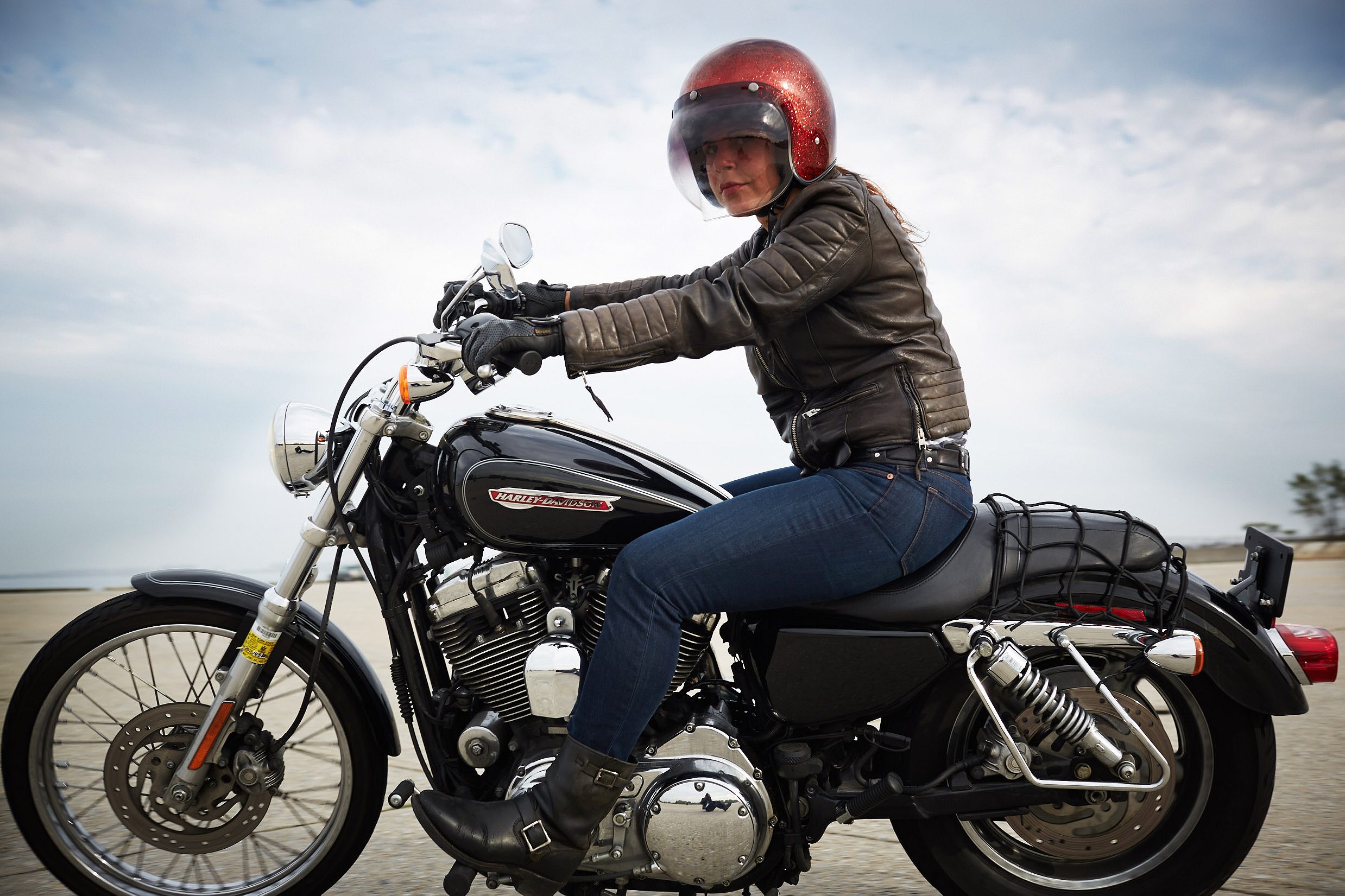 We were born in the 1970s, the era when women's libbers fought for power in their careers and over their bodies. Because of them, bills passed to even out employment opportunities and abortion became legal. For the first time, the gates to law school and medical school flung open. Suddenly, daughters were taught that they could excel in their careers if they willed it, rather than be stuck in supportive roles as secretaries and nurses. What's more, many of the Miss-Fires were raised by mothers who embodied empowerment in their every day lives.
That's an understatement when it comes to Kat Thomson's mom, Roxie. Kat mentions Roxie at a scenic overlook along the Palisades Parkway, where the pack pulls over for a view of the Hudson River as it snakes between steep cliffs. This section of river was once an essential conduit for trade, and during the Revolutionary War, Americans blocked it with a chain of 180-pound iron links that prevented British ships from sailing beyond New York City. Today, tourist ferries chug through the channel. Kat perches side-saddle on her bright red Triumph Thruxton. With her bleach-blonde hair shiny against a blue sky, she's a palette of primary colors. She tells the girls we ought to meet her mom, Roxie, who rides a Harley and taught Kat and her twin brother to ride at age 15 in a rodeo rink in Texas. A few weeks later, Roxie is stepping on my toes as she dances to Kat's band at their show in the Lower East Side of Manhattan.
After apologizing profusely in a slightly southern drawl, Roxie introduces herself and asks if any of the Miss-Fires ride GSX-Rs—Suziki crouch rockets that you might catch as they whip past you on the highway like a swarm of angry wasps, or as they shoot down the length of city streets with one wheel raised off the pavement. Roxie has been riding with the GSX-R boys, she says, with her son and his friends, and "it's a hell of a lot of fun." She's a 5'9" sharpshooter, and a naval officer who has been in combat in Iraq several times. Although she's started to see a few other women riding, she still feels like the odd one out. When she shakes her long blond hair out of her helmet, she says "the Harley guys" take notice, and adds, "I wear riding like a badge of honor."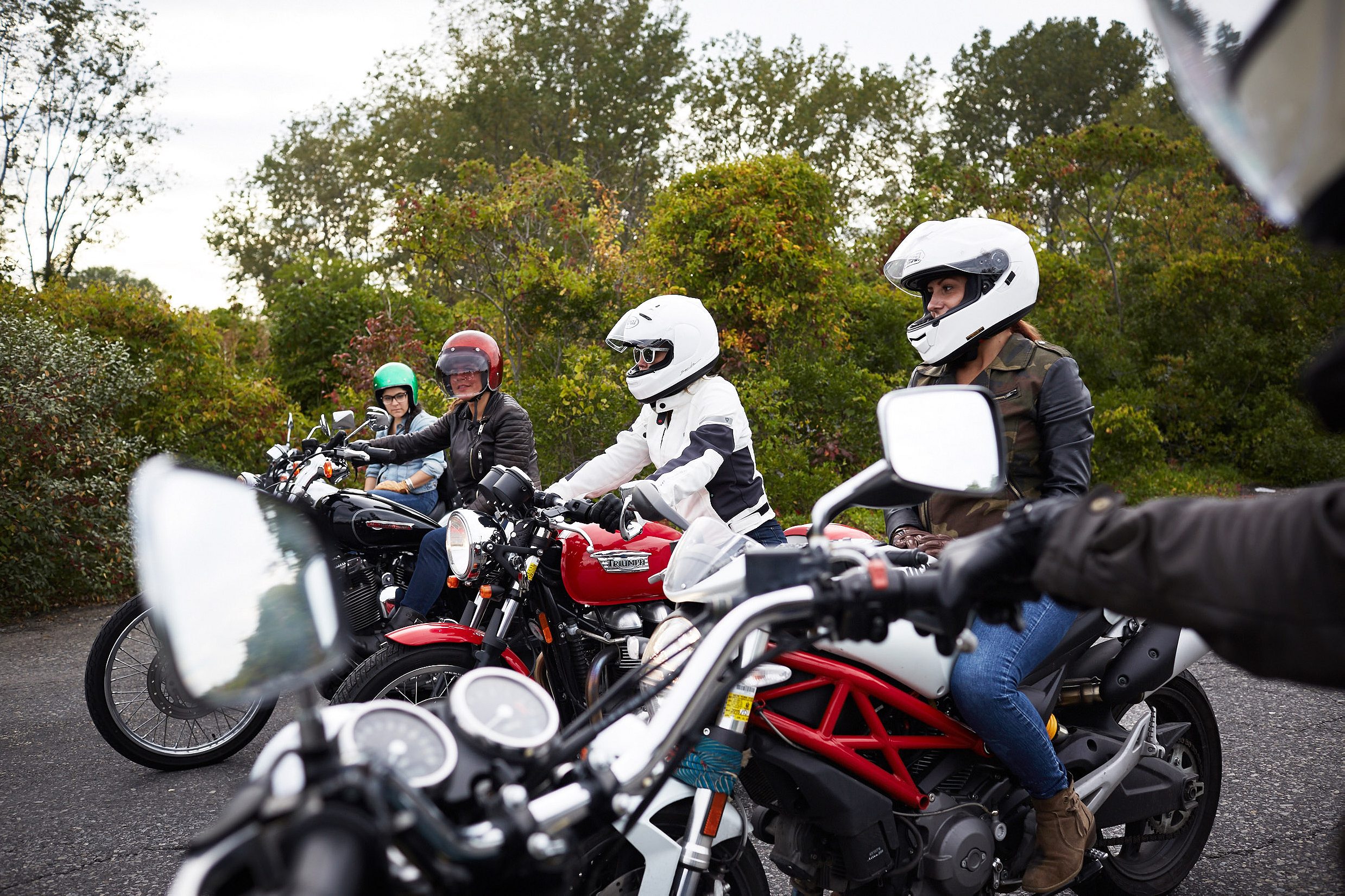 A couple of the other Miss-Fires have true motorcycle mamas, and several have fathers that ride. But more often, the connection from parent to motorcycle seems far subtler than that—a devotion to independence that manifested in a way that women's libbers would have never guessed.
After a pause at the lookout, Val takes the lead on her Honda Shadow. It's the winding part of the ride, and she's going just over the speed limit at 40 miles per hour, a snail's pace for motorcyclists that come here specifically to take these cliff-hanging turns fast. The two-lane road winds around the mountains like a ribbon embossed in the spongy green of New England's forests and slate gray of its eroding cliffs. A few sport bike riders pass us over the double line, as they fling their bodies back and forth over the bikes to get the most speed into the turns. Then Andrea, a reserved, older member of the Miss-Fires, who rides a weathered, boxy touring Beamer, charges out from the back of the pack and disappears beyond the bends, driven by an insatiable urge for velocity that's stifled by Val's steady plod.
Val's not a newcomer to bikes. She's been riding in New York long enough to know how the pressure to keep up with the pack has landed many a motorcyclist in the hospital. Each year, about 317 riders are injured in crashes in the Hudson River Valley, and 11 die, according to the New York Department of Motor Vehicles. Although the Miss-Fires have no official leader, Val sometimes can't help but assume the role. She descends from a long line of matriarchs. Her mother raised three children alone in the East Village, rushing from daytime to nighttime to weekend jobs. When Val lost her job as a computer programmer during the 2001 the dot-com bust, her instinctual sink-or-swim survival mentality kicked in. She took a job towing and repairing motorcycles, and within a year, opened up a motorcycle shop of her own.
We bang a left to cross Bear Mountain's slim suspension bridge that stretches 2,254 feet across the Hudson. It set a record for length back in 1924, which has since been surpassed.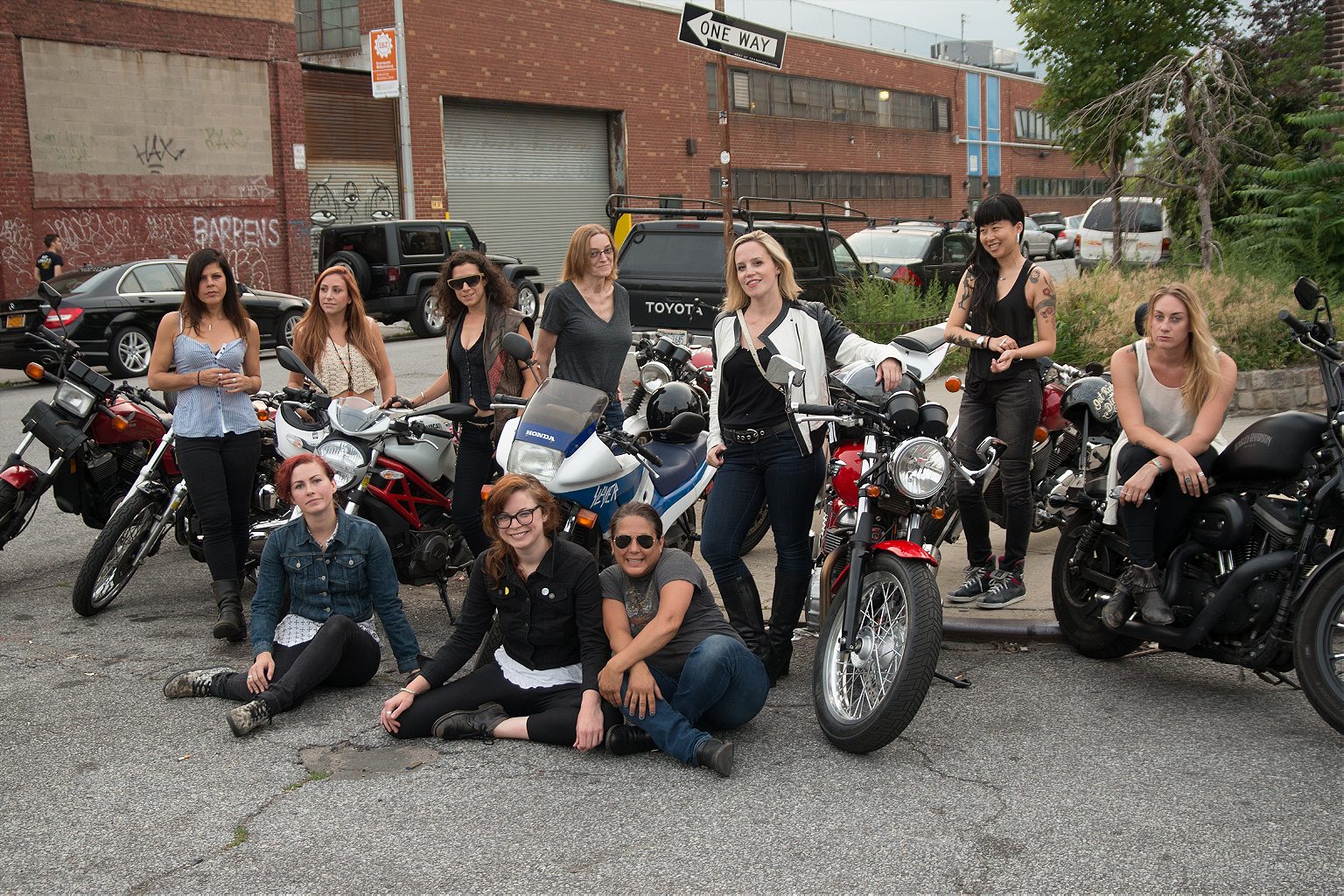 Kara Kolodziej is following the group in her truck. Although her motorcycle isn't running, she may be the grittiest among us, a former bike-messenger who is proud to show off the skull tattoo on her ass any time. She's raced motorcycles for years, and placed first in the 250cc vintage flat-track class this September. Her city bike is a fussy 1971 Triumph Tiger Daytona that stalls in traffic and causes a scene as she thrusts her trim, muscular frame down against the foot shifter to kick-start the bike—all the while cursing as cars honk and swerve around her. Kara says her mom, in contrast, is a proper lady. Her grit was internal, dressed up in business suits and expressed in political ways. In the 1970s and 80s, Kara's mom presided over a league of women voters in Massachusetts, and was a senior systems analyst in corporations dominated by men.
Then there's my mother, a veterinarian who wears a chain wallet and doesn't touch makeup or shave her legs. As a child, for any acts of feminine vulnerability—squealing at a mouse, for example—she would accuse me of acting like a "dink." But when I became absorbed in novels about sex, crime, drugs, and adventure, she praised me for reading. It turns out that Corinna, the woman who haphazardly launched the Miss-Fires, had the same fictional heroes as I did: male characters in books by Kerouac, Dostoyevsky, Miller, and Burroughs. We didn't want to marry these guys; we wanted to emulate them. If we could be equal in the workplace, why not in adventure? After all, our liberal, east-coast upbringings taught us that nothing was off-limits.
Lesley begs Suzie to slow down… Suzie bluntly answers no
But three decades later, courage in the face of danger remains an attribute celebrated among men, whereas women embrace displays of caution, support, and consideration for others. Motorcycling embodies the former, so the machine becomes a dead give-away for ladies who place a high value on so-called masculine traits. What I interpreted as chaos on my first rides with the Miss-Fires was, in hindsight, a display of fearlessness, and a tease for the less-confident riders to catch-up and harness their own power. At a rest stop during one ride, Lesley begs Suzie to slow down so that she can keep up on her 250cc Honda Rebel. Suzie bluntly answers no. But a month later, Lesley buys a Harley Sportster with an 883cc engine, and offers to sell her slower "starter" bike to a Miss-Fire-to-be.
Onlookers may mistake the very public love between members of ladies-only motorcycle groups as outpourings of their nurturing feminine natures. If that were true, the all-women writing groups, book clubs, and knitting clubs I've belonged to in the past would have felt this way—and they don't by a long shot. Instead, the thrill is the elation of finally finding women who embody all of the things we know our gender can be, but often isn't: brave, curious, and daring. Or, as Kara puts it: "To say, I want to ride a motorcycle, and then go out and buy one, and get a license, and ride on these streets, that's what I want to see—women with some fuckin' life in them."
With the summer sun still high in the sky, the Miss-Fires turn onto a country road and into a parking lot. We hike down a slope into the woods to where a river rushes beneath a bridge. Still moving like a pack, we scramble over boulders that jut into the water. On a flat rock of an island, we drop our heavy leather jackets, yank off our boots, strip down to our bathing suits, and jump into a swimming hole where the frigid water collects before streaming further down the mountain. Dragonflies hover over our heads as we bounce chin-deep in the river, our toes sinking into the earth. Our badges of honor are self-appointed and invisible to the world, but we see them on one another, rippling beneath the surface.
Top image: Miss-Fires Corinna Mantlo, Suzanne Cellura and Rachel Quinn, in Brooklyn. Photo by: Ian Mitchell