Brazil may be the spiritual homeland of global soccer. But its women have had to fight hard just to be taken seriously as footballers in their home country. One group—the Guerreiras—is helping lead the charge.


The moniker "Pelé in skirts" would seem a little hyperbolic were it not endorsed by Pelé himself. When the legendary footballer called to congratulate fellow forward Marta Vieira da Silva on her performance at the 2007 Pan-American Games, it cemented her position in the pantheon of Brazilian football heroes. Marta's game—like Pelé's—is Brazilian football: quick, explosive, and exhibiting the impeccable ball control that comes from a childhood spent playing in the streets and in the country's ubiquitous enclosed concrete courts.
THE TAUNTS DIDN'T STOP HER
She also shares the narrative so common to male Brazilian footballers, of rising to stardom from humble origins. One of four children raised by a single mother, Marta grew up in the small town of Dois Riachos in the northeast of Brazil. Like the neighborhood boys, she played street football as a child but like the neighborhood girls (and most girls in the country), she was discouraged from participating. The taunts didn't stop her, and she would rise through the ranks of the women's team associated with Rio's Vasco de Gama club. The following year, Vasco dissolved its women's side, but Marta was on her way with or without them. Since then, she has played for numerous professional clubs in her country and abroad, and has starred for the Brazilian women's national team, becoming a World Cup and Olympic medalist, a five-time FIFA Player of the Year, and an international icon.
As striking as Marta's story is, her success is even more striking in the context of her country. In the land of the jogo bonito, women still face immense hurdles to simply participating in the sport, let alone achieving recognition for their footballing talent.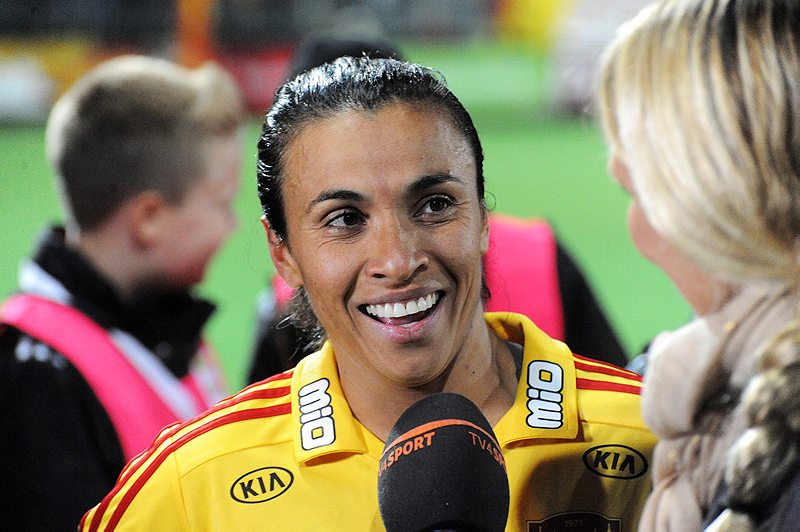 Women have long been actively disenfranchised from the football fields of Brazil. When the sport was initially introduced to Brazil in the late 19th century, it was an aristocratic pursuit. Around the turn of the century, teams began to allow black players, and then women, who took up the sport enthusiastically and in large numbers. By the 1940s there were around 40 women's teams in Rio alone, but in 1941, under the advisement of the Minister of Education and Health, the National Sports Council decreed that women be banned from the sport. Football, the directive suggested, was "incompatible with the condition of their nature."
It took 38 years for the ban to be lifted. In the almost four decades of prohibition, more was lost than just practice time. Brazil's legendary football culture developed without the involvement and inclusion of women. While Marta may be a household name, women's football in Brazil still suffers from neglect and disinterest.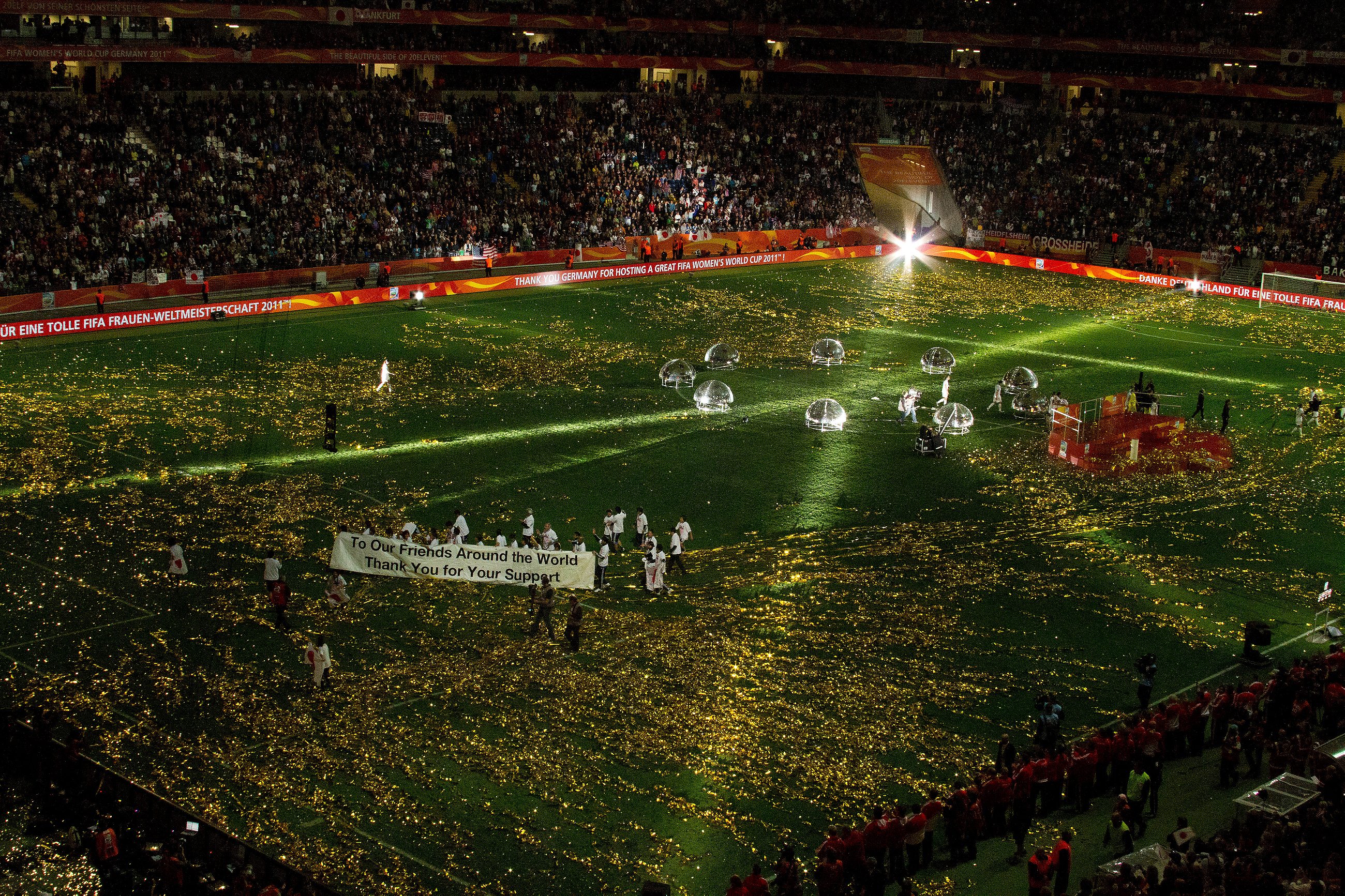 With the example of Marta fresh in everyone's mind, campaigners are trying to build the women's game in the country. In 2012, two players from the Brazilian national women's team—Thaís Picarte and Thaisinha Guedes—visited a group of about forty kids at a futsal school in a poor neighborhood in Recife, about 175 miles from the town where Marta was born. The footballers were there with the Guerreiras Project, a gender justice initiative that was piloting a workshop aimed both at changing boys' perceptions of female football players and encouraging girls to play. The boys outnumbered the girls five to one, but organizers of the project had grounds for optimism. "This group of youth had never seen top female players," program co-founder and retired U.S. footballer Caitlin Fisher recalled, speaking from her home in São Paolo. "The girls were so impacted that they approached their coach and said they wanted to start an all-girls' team." Within two months, the Recife girls had a team of 22 training together every Saturday.
THERE'S A SAYING IN BRAZIL THAT EVERY CHILD IS BORN WITH A FOOTBALL BY HIS FEET
Aline Pellegrino (known as "Pelle") was born in São Paulo in 1982, just three years after Brazil lifted the ban. There's a saying in Brazil that every child is born with a football by his feet, but asked when she became interested in the sport, Pelle goes one better. "I think [it happened] during the World Cup of 1982, even though I watched from my mother's stomach," she tells me with the help of a translator. "One of the most important Brazilian football matches [Brazil's tragic 3-2 loss to Italy] took place on July 4, 1982. I was born on July 6."
Pelle grew up playing street football. "When you are playing in the street, for fun, all this is a natural thing," she says. "Brazilian children play football." But as she got older, Pelle's participation came under scrutiny. "The first resistance I felt to playing was from my father, but I did not understand why he said that I could not or should not play." Rather than backing away from the sport, her desire grew stronger. "It was cool to be in the middle of the boys and be as good, or even better than them."
When she was 12, Pelle was accepted to a football school that had a girl's team, and within six months she'd worked her way from the bottom tier to the core squad. At 17, she earned a scholarship, and at 22 she was called up to the national team where she stayed for eight years, spending seven of them as the captain.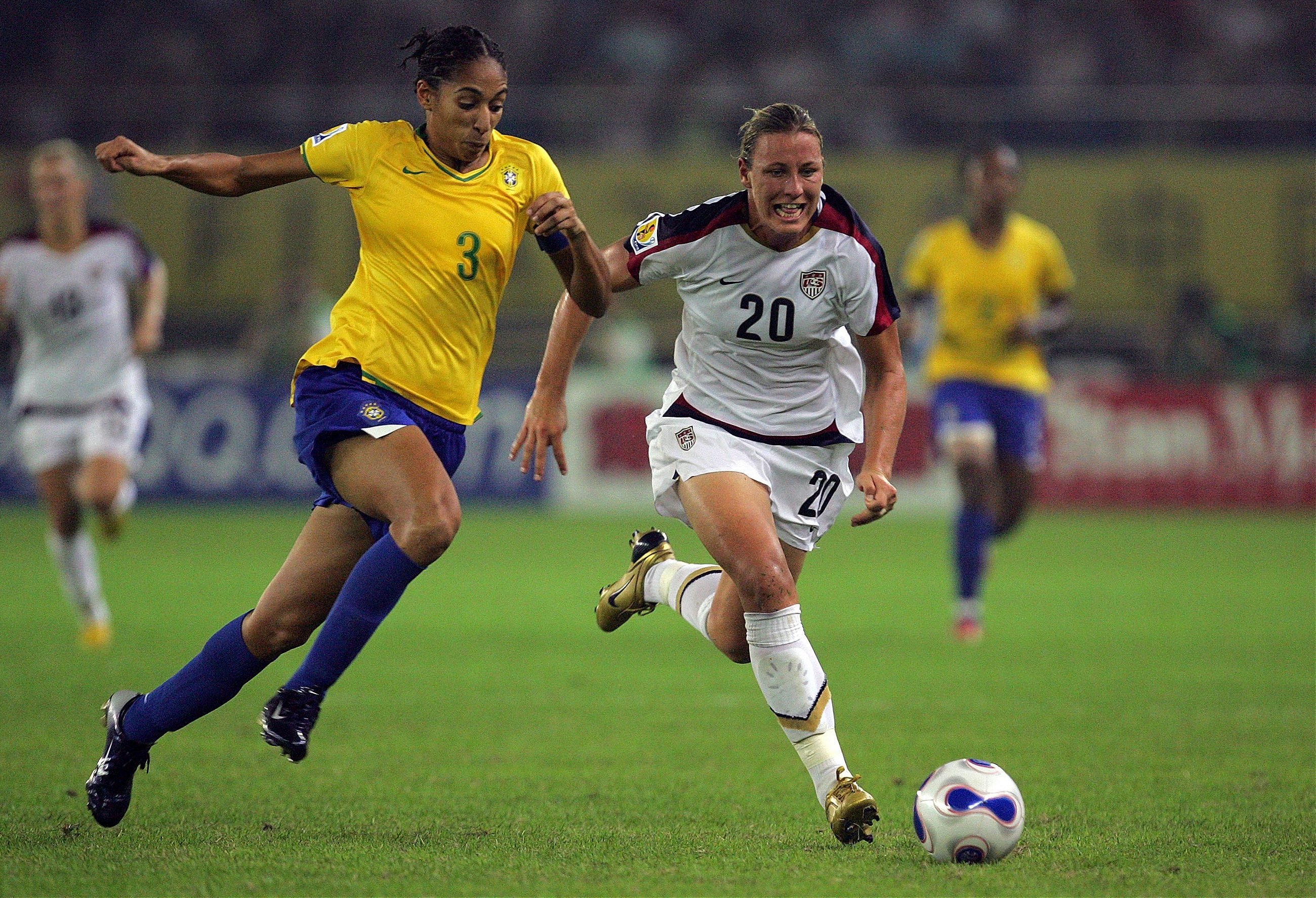 Pelle's time with the national team was not only the apex of her own career trajectory, it was also a mightily successful era for Brazilian women's football. In her first year on the squad, Pelle competed at the 2004 Summer Olympics in Athens where she and her team won silver. It was also Pelle's first chance to play with Marta.
"When I met Marta, the world was just beginning to realize the extraordinary talent that she has. I had never seen anyone on the same level," Pelle recalls. She also remembers the forward's legendary temper. "She's simple, funny, and when she gets mad, it's best to get out of her way! Having her on your team is a great force against opponents, and I'm very glad I never had to play against her."
She continued to play with her, the two of them carving out first-class resumes which included Brazil's championship at the Pan-American Games and the runner up spot at the Women's World Cup in China.
BRAZIL IS THE COUNTRY OF MEN'S, NOT WOMEN'S FOOTBALL
But fame and giant salaries weren't truly available, even for the superstars of the women's game. Pelle remains largely unknown. "Sometimes some people think they know me from somewhere but they do not always know from which sport. They don't know my name or anything like that." She cherishes her time on the pitch, the joy of the sport. "I have respect for everything I did and won. To expect this from other people can become very frustrating."
"Brazil is the country of men's, not women's football," Pelle concludes. "The fact that I was the captain for so many years and that I played in and won big competitions defending Brazil doesn't change anything."
**
At the 1999 Women's World Cup in the United States, there were 90,000 fans at the Rose Bowl for the final match between the U.S. and China. The game was a tense, delicately balanced affair that went to penalties. Finally, Brandi Chastain put the fifth ball into the back of the net, securing the cup for the U.S. side.
What followed would be immortalized on the covers of national magazines and newspapers. In what she would later characterize as "the greatest moment of my life on the soccer field," Chastain tore off her jersey. Shouting, she balled her fists and dropped to her knees. Though the easiest way to find it on the Internet is to search "bra controversy," the image was one of unabashed strength, prowess, and exhilaration.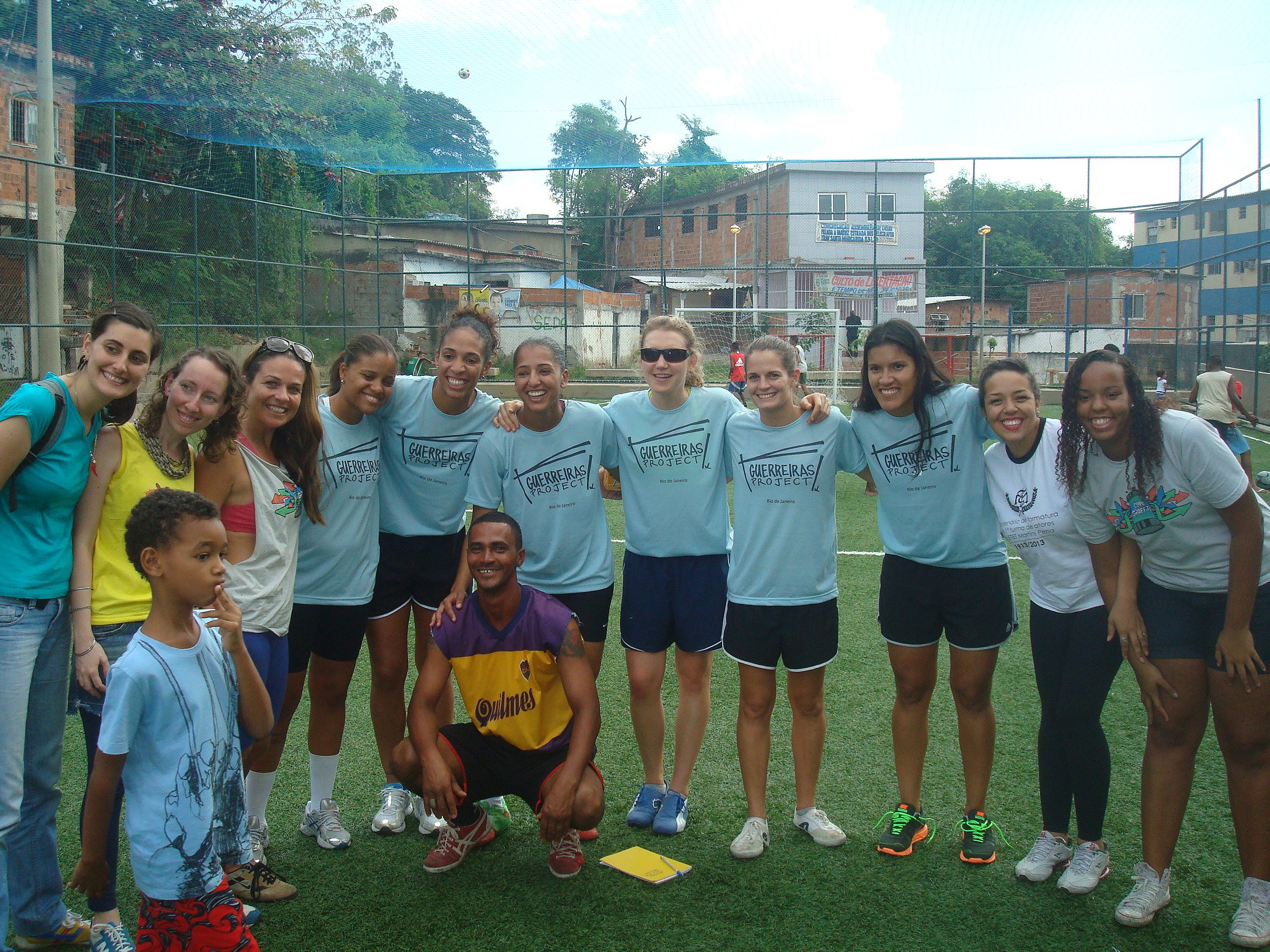 In 1999, Caitlin Fisher was in high school in Massachusetts. Left-footed, quick, and smart—she'd been playing soccer since she was six—Fisher worked the left wing for her team. She looked forward to the intensified competition of college ball, but after that she wasn't sure what she'd do. There was no women's pro league in the country.
"The 1999 Women's World Cup changed everything for me," she recalls. "I'd never seen role models like that, that I identified with and wanted to be. And to this day, I can tell you the name of every woman on the 1999 World Cup team, the college she went to, the position she played, the cereal she ate for breakfast. I literally could tell you everything because these were icons for me overnight."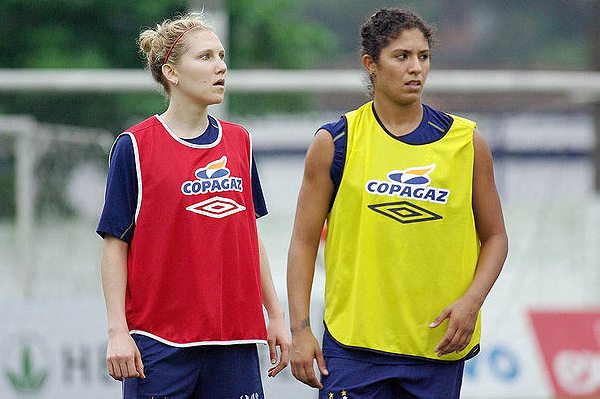 After high school, Fisher went to Harvard and found the competition she was craving. In her freshman year, her team made it to the Sweet Sixteen and in her sophomore year she was called up to the U.S. Under-21s. "It was just a dream. I was realizing my goals, just dreaming of making the full national team, playing in the Olympics, playing in the World Cup. I wanted to play in the WUSA, I wanted to play for the country."
Buoyed by the establishment in 2001 of the Women's United Soccer Association (WUSA), Fisher set her sights on playing for the Boston Breakers. "I wanted to play for my home town," she explains. In their first season, the Breakers placed sixth of eight teams. Two years later, they earned their best record to date (10-4-7), placing first in regular season before getting knocked out in the semifinals. That year, the WUSA was forced to dissolve. It had been the first women's soccer league in the world to pay all its players as professionals.
"It folded," she says. "You know, this is something that I think and talk about a lot now. It's ten years out of college and I'm still thinking about what that meant—and what that means. The U.S. women's pro league folded. I had just finished college. I was 22. I felt like I had so much more soccer in me."
That's where Fisher was—in a country that offered her no opportunity to continue her career—when she heard a rumor from a friend of a friend. Apparently, there was a professional club being formed in Brazil. She emailed its coach, Kleiton Lima.
Lima lived with his wife Dani in a small town on the coast of São Paolo state. Along with the rest of his family, he was trying to revive the then-defunct women's Santos team, a sister club to the side made famous by Pelé. "He emailed me back in broken Portuguese and English, and said, 'Yeah, come down.' He said I could live with him and his wife. He said, 'We have a football here so you can train, learn Portuguese, and we can try to launch the team.'" Fisher went.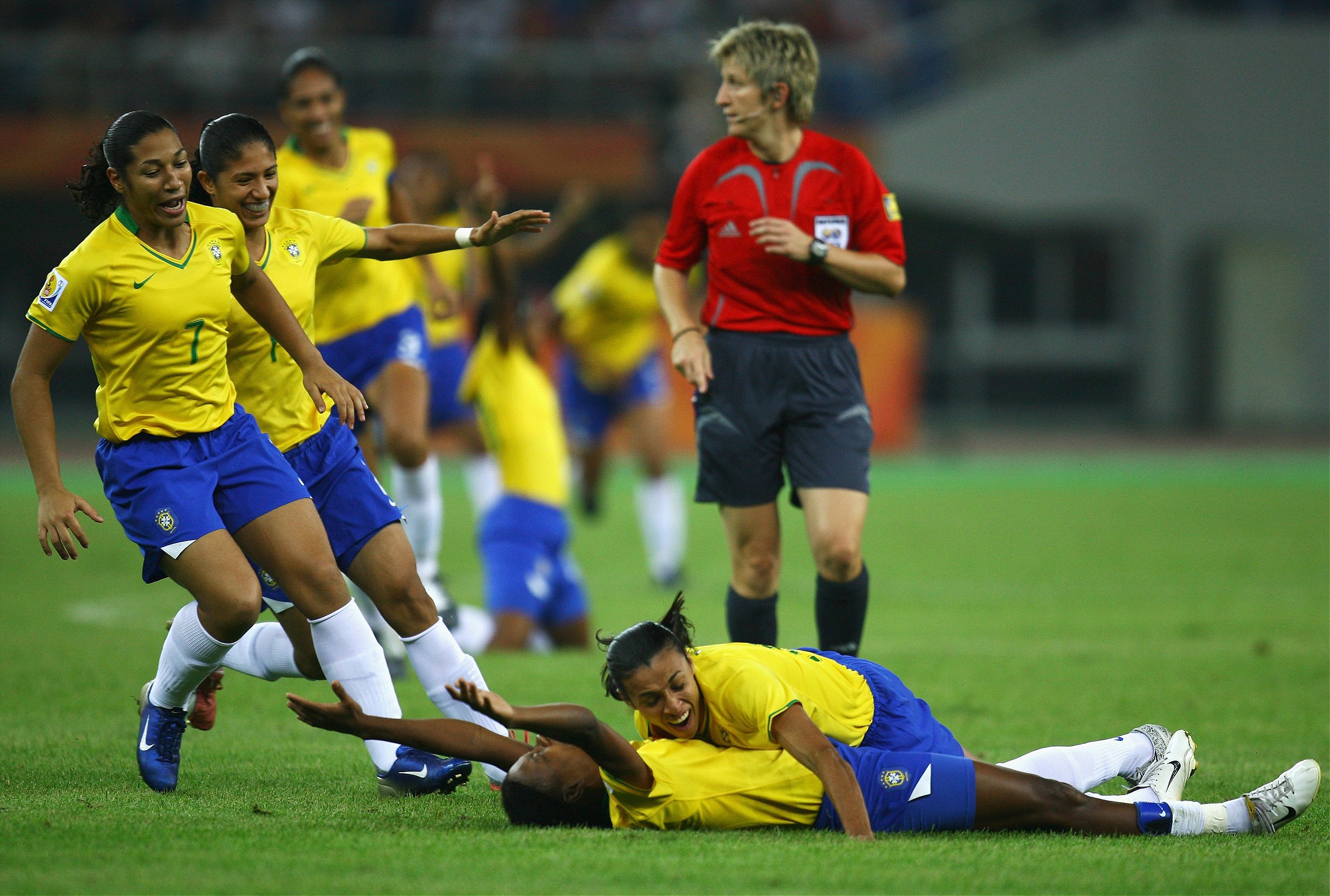 Due in large part to the extended Lima family—Dani did admin, laundry, and driving, while Kleiton's father set up food, housing, and paid the players' tiny stipends—Santos women's football club was revived. For the next two seasons, Fisher and her teammates trained seven hours a day, seven days a week. "Those girls, they became my sisters. They told me stories of crazy prejudice and stigma around women playing in this country, and all the fight they had to go through to play this sport. My parents supported me from the age of six and drove me to soccer practice. Nobody ever told me that a girl couldn't play. Nobody ever told me to wash dishes instead."
Fisher found a steeply imbalanced footballing landscape in Brazil. "We were Santos, but the only thing we had in common with the men's team was the name. We wore the men's old uniforms from several years prior. We weren't institutionalized within the club. We couldn't use any of the club facilities, we couldn't use the buses, we couldn't use the training grounds, or even the cafeteria—any of that, and yet, we were Santos."
Playing against other state women's teams on dusty pockmarked pitches, the Santos women were sometimes supported by family and friends—rarely by the general public. "One of the biggest things in terms of bias and prejudice in women's football in Brazil is in people's assumptions and reactions when you tell them you play football. When I told a taxi driver that I play for Santos, he just laughed."
After two years in Brazil, Fisher was called up for the women's pro league in Sweden. She went, but began to miss her country. When she returned to the U.S., there was no women's pro league to play in, so she got a corporate job.
Fisher's last chance at the pro game came in 2009, when the Women's Professional Soccer League started. Fisher made the farm team for the Chicago Red Stars but with several years' absence from a rigorous training regimen, she had fallen behind. "After talking to my coaches, I knew I'd have to put in two solid years to become a real impact player, and the fact was, everyone was talking about the undetermined future of the league." She hedged her bets and went to grad school, studying Gender, Development, and Globalization at the London School of Economics.
**
The Guerreiras Project was born in 2010, after Fisher and her former teammate, photographer Adrienne Grunwald, met Aline Pellegrino. Upon earning her master's degree, Fisher had decided to return to Santos (a team that by then included Pelle) to play and to document the lives of female footballers in Brazil. "I wanted to understand this preconceito [prejudice] I experienced in Brazil. Does it also exist in the States? And is lack of support another form of prejudice?"
Fisher began by conducting interviews with her old teammates. As they built a body of work, they expanded the project to include multimedia—photography, videos, and artifacts—about women's football. They exhibited an installation at the Women's World Cup in Germany.
Led by professional female football players, the project (which takes its name from the Portuguese word for "female warriors") uses football as the language with which to address gender justice. The group runs workshops, like the one in Recife, to open discussions about gender norms, it trains young girls to be leaders, and it encourages the creation of more opportunities for girls and women to play.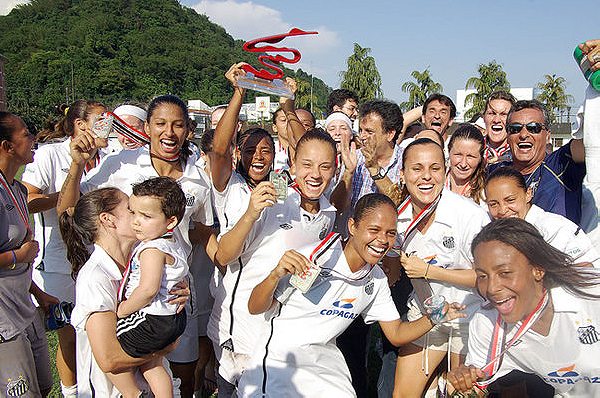 "How can we use our stories to look at the prejudices, the attitude of machismo, the devaluation of the feminine? These manifest on the field and affect us as players, but more broadly, this same prejudice that we feel on the field exists off the field."
"I did not have role models of women who were football players," said Pelle, who is four years older than Marta. "I could not say, 'Look: That is what I want to be.'" So the Guerreiras Project visits schools and has female professional footballers deliver workshops directly to youngsters. "It's called 'You can't be what you can't see', and it's amazing how the kids react," Fisher says.
WHOSE RESPONSIBILITY IS IT TO PROMOTE THE WOMEN'S GAME?
Though based in Brazil, the project has begun to attract attention both domestically and internationally. "Especially now, with the World Cup, we see this as a moment for Brazil to speak up and be heard around many of these issues, including women's rights," says. But she knows that an issue this complex cannot be untangled at a single event.
"Whose responsibility is it to promote the women's game?" Fisher asked. "Look at history. Look at the men's leagues. In any sport, it takes time. So we need time. But we also need a pipeline. We need a huge pipeline of female players who can play at this level, and also recognize that this is an opportunity for them and not go straight into a job outside of football. And that has to do with [state policies such as] Title IX. So government has to say, 'We believe there needs to be equal opportunities.'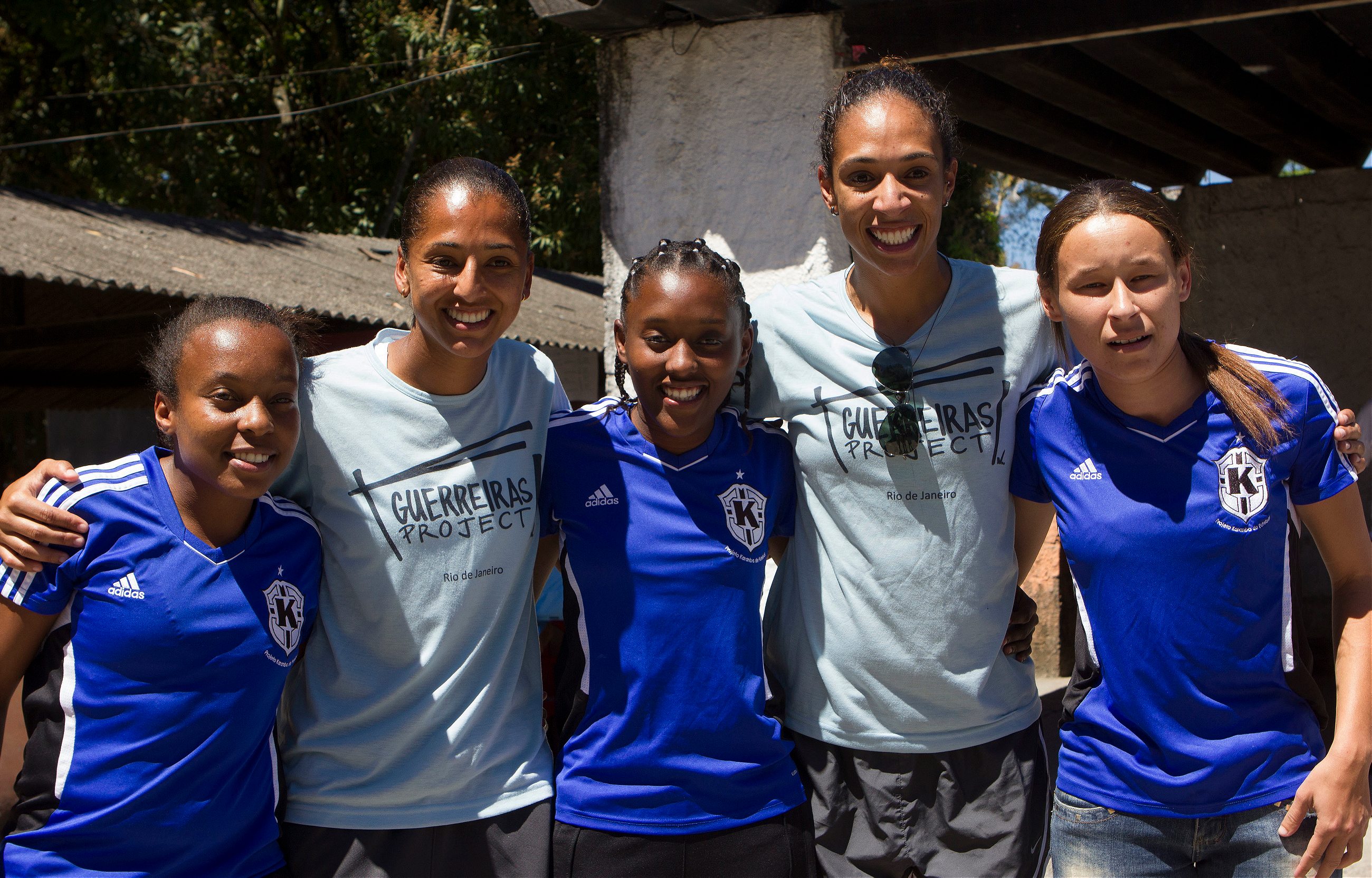 "What about the clubs? I believe each one of the top twenty men's clubs should step up and say, 'Because we believe in equal rights, we believe that women should have equal opportunity to play at the highest level. We're going to create ground for that.'
"Who will fund a women's pro league, or sponsor media coverage? The private sector doesn't want to because there's no media coverage. The clubs say they won't sponsor it because there are no fans. Governments won't change policy, saying there's no interest from young girls who want to play. It's chicken and egg. Whose responsibility is it?"
For now, the guerreiras are taking it on. "Our stories of struggle and difficulties are all the same," Pelle explains. "And often we think that this way is normal or natural. Who knows, perhaps the younger generations will find a different scenario, where they can have equal rights in everything they want to do."
Asked if she's finding time to play, Caitlin Fisher answers, "No. I've been desperately missing the game, and still feeling like I have so much more soccer in me."
[Header image by: Jamie McDonald/FIFA/Getty Images]