In the wake of a federal drug bust, a popular Williamsburg restaurant struggles to find its footing.
The four people who walked into Gwynnett St. on Graham Avenue in Williamsburg were pleasantly surprised that there were tables available. The restaurant had been a tough reservation immediately after it was given two stars by the New York Times in April 2012. The food of chef Justin Hilbert and his successor and good friend Owen Clark was acclaimed for its sophistication and creativity. But on this Saturday night the weekend between Christmas and New Year's—one of the busiest periods in the New York restaurant trade—the guests were told they could have any table they wanted. They just couldn't have the food they expected. Clark and most of the restaurant staff had walked out the week before. All the would-be diners could choose from for savory dishes were two kinds of sandwich: duck breast or steak. Gwynnett St. had imploded.
The guests had barely begun removing their winter coats when the limited menu was explained to them by a bartender who was doubling as a waiter. Looking more stunned than disappointed, they put their coats back on and walked out. I watched all this happen from the bar where I was munching on a close facsimile of Gwynnett St.'s signature Whiskey Bread. It was tastier because Carl McCoy, the owner, had substituted Woodford Reserve in Hilbert's recipe. But it was also the first time that the chefless McCoy was making the bread himself. It was close, but the irresistible outer crust lacked a certain butteriness, even though the density of the loaf itself was improved by the Woodford. Still, it was approximate enough that I kept on eating.
The cocktail menu, concocted mainly by McCoy, had survived. I sipped on a drink made of raisin-infused Rittenhouse rye, amaro Montenegro and Lilet blanc. It was called Raisin Hell.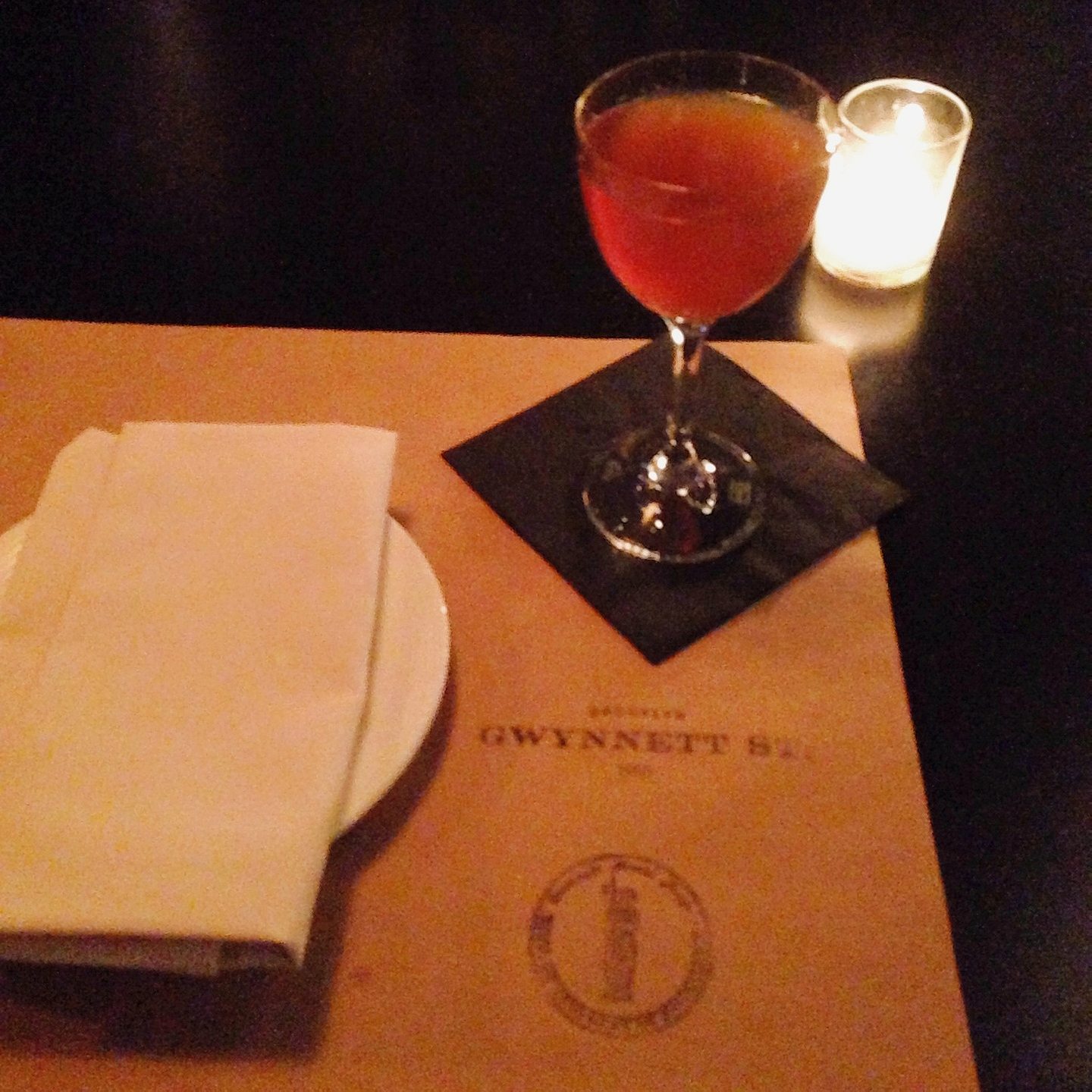 What had happened? As I wrote in a previous column, there had been problems before. McCoy and Hilbert had clashed and the chef had resigned abruptly in mid-April 2013. His friend Clark had taken over and oversaw a seamless transition, the menu and the quality of the food remaining true to Hilbert's vision. In early November, the restaurant celebrated its second anniversary with a karaoke party and talk of expanding.
HOMELAND SECURITY OFFICIALS ARRESTED MCCOY FOR ALLEGEDLY FERRYING A CHEMICAL COMPONENT OF ECSTASY TO AN ACQUAINTANCE
Then, on Dec. 11, Homeland Security officials arrested McCoy for allegedly ferrying a chemical component of Ecstasy to an acquaintance. McCoy said he had done so in cooperation with federal agents. The intended recipient of the compound—a contractor who reportedly worked with McCoy and Gwynnett St.—is now under arrest. McCoy is free on $25,000 bail and has not been indicted (the government has until about mid-January to do so). McCoy denies any wrongdoing, though he recognizes the likely the tenacity of judicial challenges ahead as the feds press the case against the contractor. He isn't giving up. But a week after McCoy's arrest was reported in the New York Daily News, Clark and the kitchen staff walked out. McCoy then announced that Gwynnett St. was taking a holiday break.
On Dec. 27, McCoy reopened the restaurant, basically the bar and the sandwich menu. He does not want it to die. "We've had a good run," he told me, explaining that he and his business partner were coming up with contingencies to keep the place going in the face of the impending legal journey ahead of him.
HIS WARMTH AND HOSPITALITY WERE INSEPARABLE FROM THE EXPERIENCE OF GWYNNETT ST.
I had given Carl a big hug when I walked into the restaurant the day after it reopened. It was Carl whom I saw almost every time I visited Gwynnett St. and so he was the face of one of my favorite places in the city. His warmth and hospitality were inseparable from the experience of Gwynnett St. I loved his story of how the enterprise started out. After he found an unpretentious spot with an enormous kitchen on Graham Avenue in Brooklyn, he advertised for a chef on Craigslist. He wasn't out to enter the world of haute cuisine—just to start a neighborhood restaurant in deeper Williamsburg. But the chef who won the cook-off was Justin Hilbert, whose pedigree included the kitchen at Mugaritz in San Sebastian, Spain, one of the best restaurants in the world according to the San Pellegrino list that arbitrates such rankings. Hilbert brought along one of his friends, Owen Clark, whose background included working at Blue Hill, the cutting edge farm-to-table operation that has restaurants in upstate New York and Manhattan. When the ecstatic reviews came in, Carl had on his hands a destination restaurant attracting people all over the city; it was, however, in a neighborhood that couldn't, by itself, support the ambitions of the chefs. There was no easy business fix. Dumbing down the food would have squashed the soul of Gwynnett St. And then Dec. 11 happened.
Two days after seeing Carl in Brooklyn, I saw Owen Clark in Manhattan where he was the guest chef at Contra, a new restaurant on Orchard Street in the Lower East Side. Owen is also a friend, even though I saw him less often than Carl, the chef's job keeping him in the kitchen most of the time. It is treacherous to navigate through the rupture of mutual friends. And so I try to keep the talk to food. According to the papers, Owen and the kitchen staff had decided to walk out because the idea of business-as-usual in the aftermath of an alleged drug bust was psychologically untenable. Carl had told me he understood how they felt that but had expected the staff to hang around for two weeks. I wasn't going to get into it.
And so I asked about Justin. Owen said his friend is about to open a new restaurant in the West Village, perhaps in the spring. That would be about a year after he left Gwynnett St. That is a long time between jobs. And I realize the same road that Owen is about to travel.
It helps that he is talented. The six courses that Owen and the two chefs behind Contra—Fabian von Hauske and Jeremiah Stone—have collaborated on for the evening are spectacularly good. Beginning with raw scallops with grapefruit and a yuzu kosho with a kick, it reaches a climax with two astonishing dishes— the plumpest and most perfectly browned calf's brain prepared with punterelle; and a goose breast that magically approximates the best kind of steak yet retains its identity, accompanied by celery root, juniper root and potatoes. If I had the funds, I told Owen, I'd invest in a restaurant where he would cook just to be able to eat there every week.
HE WILL FACE THE SAME CHALLENGES THAT THE BEST CHEFS IN THE WORLD DO—HOW TO TURN A PROFIT FROM CREATIVITY
But that is a crux of the problem that most chefs and restaurant owners face. There is a limit to the number of people willing to shell out the cash often enough to sustain such haute, and often daunting, cuisine. Tasting menus at most high-end restaurants start at about $75. Contra is trying to lower the limits by charging $55 per person for five courses—a bargain at Manhattan prices. But the margins are slim and chefs cannot live on talent alone.
Owen appears supremely confident of his skills. He should be. But for now, he is a chef without a home. When he does find a new place to cook, he will encounter the same challenges that the best chefs in the world do—how to turn a profit from creativity.
At Gwynnett St., Carl faces the opposite problem: he has an established restaurant, but finds himself suddenly without the creative firepower to fill the seats. Still, he holds on to his dream. He still has the space and a family that loves him. His brother has come down from up north to help out. His business partner has not deserted him. He has made something out of nothing at Gwynnett St., he tells me. Doesn't that at the very least promise that he might do it again?