Samantha Kuok Leese, on returning to the family farm outside Crookwell for the first time in years.
Sunday
My parents bought a sheep farm in the late 1980s, in the 19th-century pastoral settlement of Crookwell, New South Wales. It was ten years before the Handover of Hong Kong from Britain to China and Ma and Dad, like everyone they knew, were nervous and looking for somewhere else to live.
I was two, and have only snatches of our early visits to Hollywood—that was the name earlier settlers gave the farm—jumbled terracotta bricks, dust, lemons, the mulberry tree. The swing, the bees and lambs and horses. Sunshine. The endless, magnificent space.
I have an image of my Grandad, Claud, a bricklayer who came from England to help Ma and Dad rebuild the old house in the last few years of his clarity. I have a memory of my parents painting: the black-and-white checkerboard floor.
They didn't move to Australia. Ma couldn't bear to leave Hong Kong in the end. And so the house, the land—Hollywood—became part of our lives in a different way.
Every summer (winter there) and Christmas (season of wandering yellow heat), sometimes at Chinese New Year and Easter, we took the eight-hour flight to Sydney and the five-hour drive to the farm. Then my sister and I grew up, travelled new roads, saw other things. And slowly, I missed it.
So I'm here again for the first time in years, in a hotel room above the Rocks in Sydney. Dad and I are driving down tomorrow.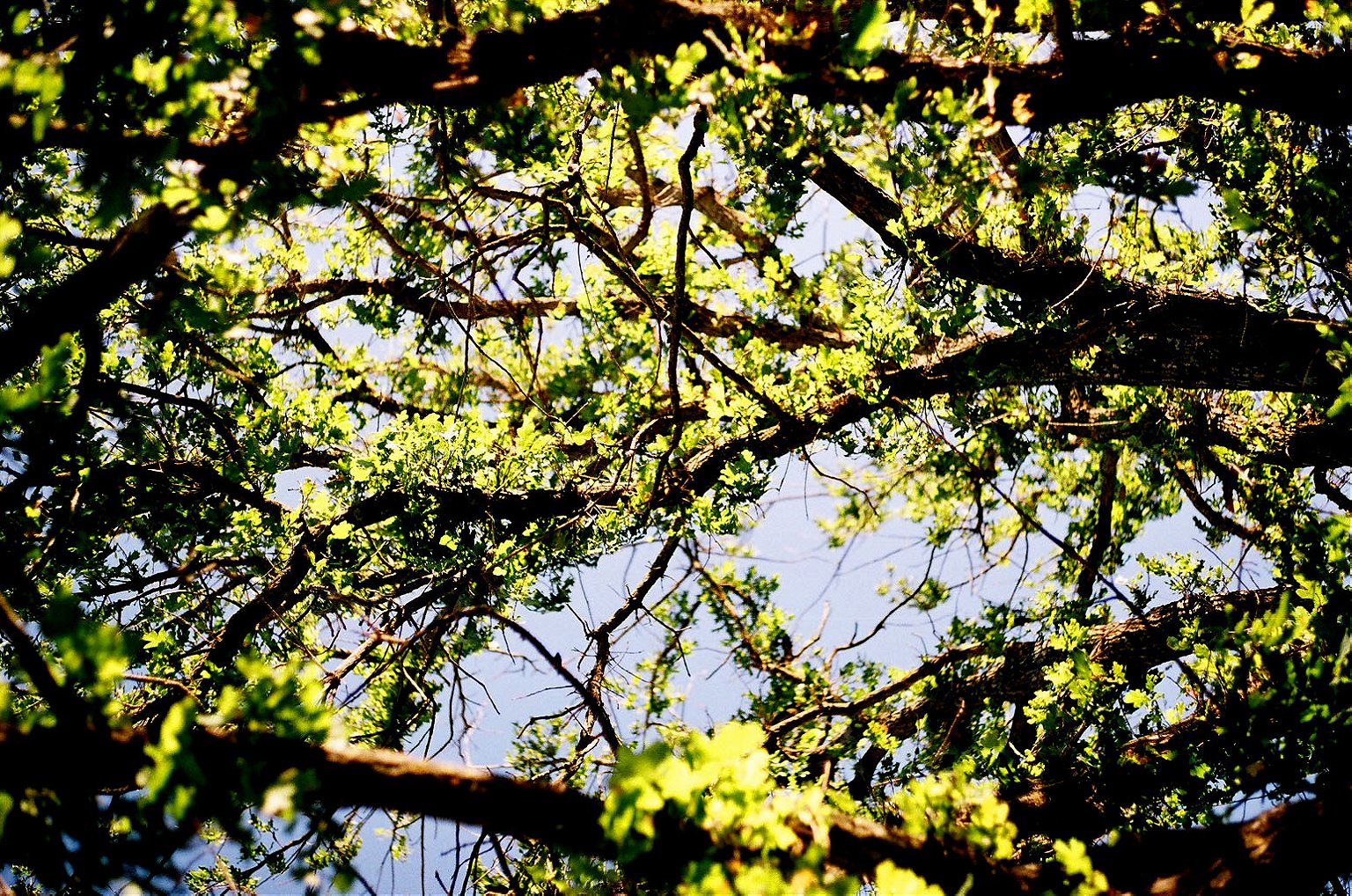 Monday
We name the sat-nav system Agnes, and she guides us out of Sydney at noon. It's a tropical February day, and the conductor Harry Christophers is speaking softly on the radio about Tudor choral music and Magdalene College, Oxford. It's that kind of trip.
The highway slices through a wide, dramatic valley with none of the dry signs of summer we grew used to during the long drought of the 1990s. It's a place where people talk about rain a lot, even in the city. And they've been blessed with water for five years now.
The grass is "green as Ireland" says the man who delivered our rental car to the hotel—thin, skittish and, we discover, prone to politics of the far right—and the trees are "chock-a-block" with leaves.
After a rude lunch at a roadside diner (during which I am charged $1.10 for ketchup) we gather supplies in Goulburn. This is Australia's first inland city because, Dad thinks, it's about as far as they could get from the coastal settlements by horse and buggy.
As rainclouds sink and cows lie down, we arrive in the small town of Crookwell, which looks like the set of Appaloosa in Technicolor and is home to many people with the same last name. The street is empty and we slip through, cresting into epic countryside.
We rattle along fresh roads aglitter with un-rolled granite chippings and pass through a grove of eucalyptus trees, where I saw my first snow. And then 30 minutes outside of town: the white gate, the old sign, the red mud. The endless, magnificent space.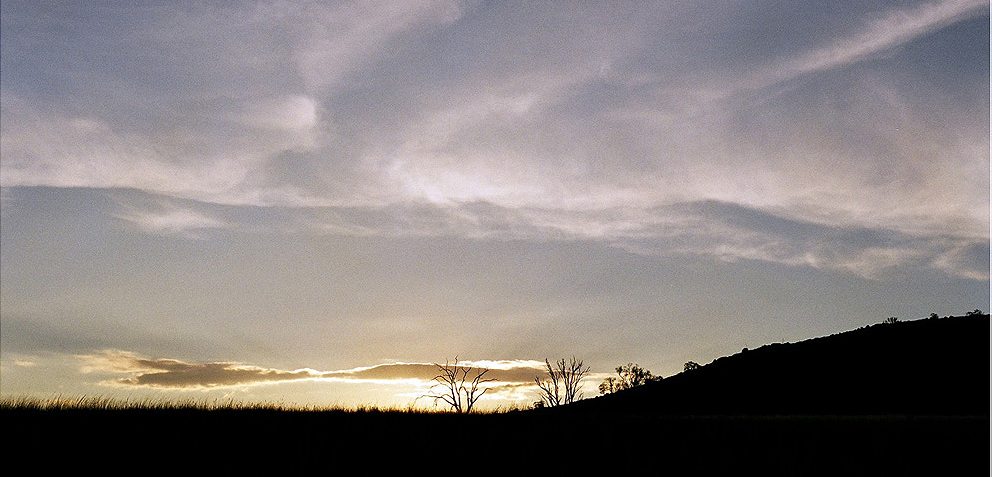 Tuesday
We go back to town because we forgot to buy cheese. I'm sure it says something about Dad and me that we're unable to last twelve hours in the bush without retreating for parmesan and two bottles of Sauvignon Blanc.
The supermarket in Crookwell stocks fruit and vegetables so bright, big and fresh that I feel healthier just looking at them. Tanned, rugged men in muddy clothes line up for cigarettes, which are locked behind severe grey shutters. Women gossip freely about other women who apparently aren't at the store.
In the pet food aisle, I bump into an elderly lady and apologize without making eye contact. She calls after me to make sure I do make eye contact, and I feel terrible. Outside, a teenage girl with vicious red hair lumbers past looking bored and four boys trot, glowing, from the sports field. At the Visitor's Centre, we learn that the townspeople are "flat-out" preparing for the Crookwell Potato Festival, which includes a series of events known as the "Spudlympics". We also discover that Upper Lachlan Shire (of which Crookwell is part) hopes to send four athletes to the Olympics in London.
We go and see Narelle at the pharmacy. Dad has known her for years, and she doesn't flinch at our presence after such a long time. I'm reminded, with embarrassment, of the circus a friend and I made when we saw each other on opposite sides of a pedestrian crossing one lunchtime. We're so self-absorbed in Hong Kong that chance sightings of friends are cause for celebration. Here, they just say "How are ya?"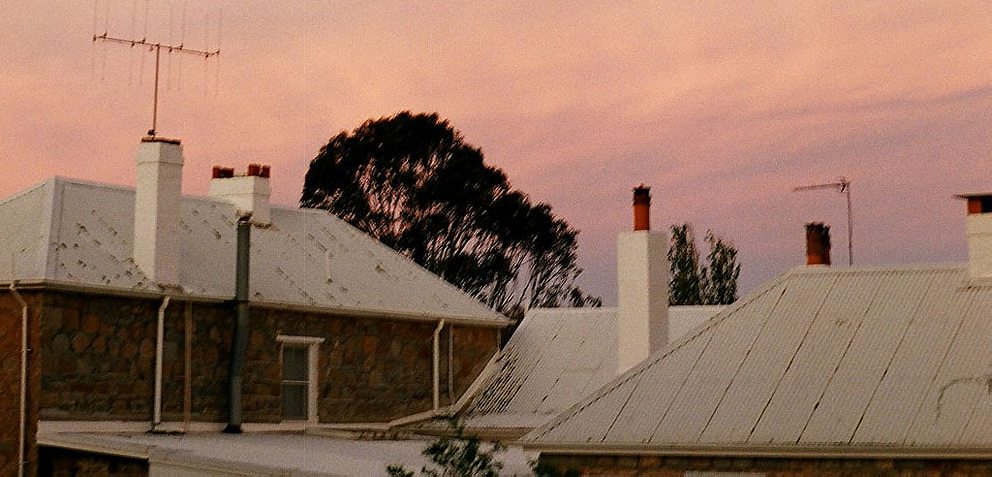 Wednesday
We're woken at dawn by a phone call from Les, the farm manager, who tells us there will be torrential rain for days. The creek near the property's gate will come up at 10am, and we'll be trapped on the other side. Dad says we'll have to leave for Sydney now or take a risk. So, having just arrived, and it being too early in the morning to fully comprehend the situation, we decide to stay.
When the rain shows no signs of stopping by the afternoon or, indeed, by Friday, and the Bureau of Meteorology insists that temperatures will plummet over the next few days, there is rising panic at the Old Hollywood homestead. The idea that we could be trapped on the farm by a flooded creek seems archaic. I am annoyed and humbled all at once.
Mundane concerns are swiftly replaced by the recognition of the prospect of not having enough food. Dad mutters something unhelpful about rationing after the war. I realize that he'll run out of cigarettes too.
Surely, we could go across country and meet the road that way? No, says Dad, the four-wheel drive would be mired immediately. This kind of rainfall turns the land into swamp. I briefly consider a solution involving horses, and then laugh. And sit, and fret.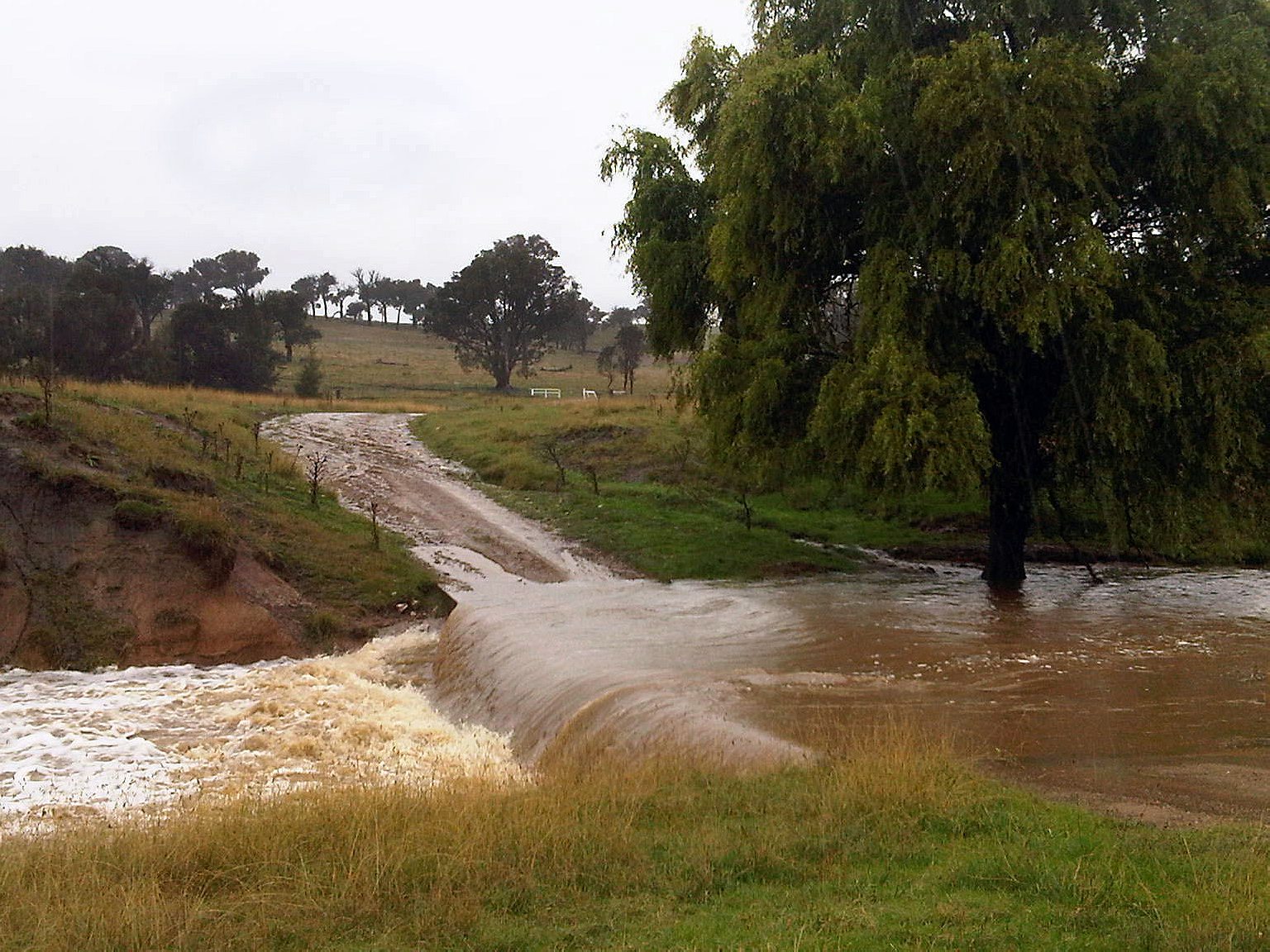 Thursday
More rain. Dad is cooking potatoes and hoarding them in the fridge. It's difficult to tell whether the threat of hunger is real, or whether this is a performance to justify talk about "soldiering on". I suspect we're rather enjoying the drama.
But, then again, Goulburn—our nearest city—was flooded and partly evacuated this morning and the states of New South Wales and Victoria are on alert, according to local TV news. The potatoes make him feel better, anyway, so I don't ask. There is a break in the downpour, so we cut some carrots—we could still afford to give some up—and go and see the donkeys in the paddock at the bottom of the garden. Dainty and Dexter are childhood pets.
They're the last surviving of a robust menagerie which, in its heyday, also included two dogs, three cats, a Shetland pony, two sheep (hauled in by my big-hearted 5-year old sister from the lambing fields one winter, on the dubious grounds that they had been orphaned), a dwarf cow (saved, in a similar fashion, from slaughter), a few retired work horses and a gaggle of ducks and chickens.
Intermittently, feral or abandoned things were brought in to feed, recover or, in one hopeless case, die by the fire. All were well cared-for in the months that we weren't here. Then slowly, as we stopped coming back, so did they.
The donkeys seem happy today, despite the rain which has clung to their coats like oil. The paddock is luscious green and they are well-fed. Dexter has the manner of a Labrador. He is bright and affectionate, if shy at first, and stands with us, leaning, nuzzling and nibbling, long after the carrots are gone.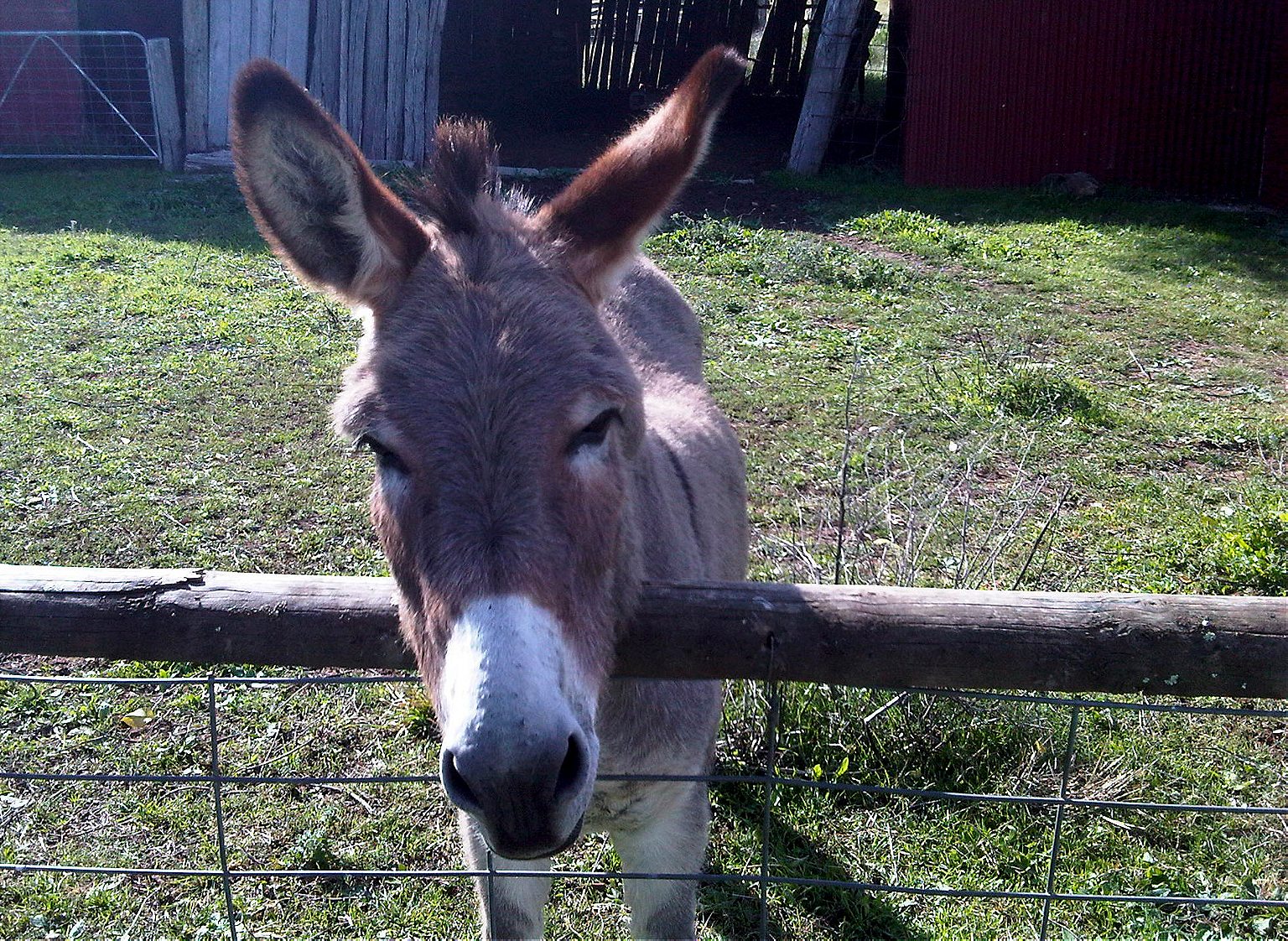 Friday
Three-quarters of New South Wales is underwater after heavy rains have caused the worst flooding in twenty years. Parts of northwestern Sydney are now being evacuated as the Warragamba Dam swells to capacity and prepares to burst its flood gates.
Tomorrow, at midday, thousands of mega-litres of water for the city will thunder into the Hawkesbury river, and 43 people will have been rescued across Southeastern Australia. Newsreaders will call it a "massive flood disaster sweeping two states" and a "dramatic end to summer".
We do not, of course, come close to running out of food (although Dad takes to smoking dog-ends). There is even sunshine in the morning on Hollywood. And the water is low enough for us to dash across the creek and start the long, wet drive to Sydney.
Turning left out of the white gate, I notice I feel sad. I think I'd begun to look forward to being trapped on the farm by the rain. In this flood, there is something majestic and wild about the landscape, which in my memory had always been pale, tamed earth.
We had spent most of yesterday devising weird contingency plans involving the tractor, a helicopter and some ancient frozen meat. And quite a lot of Wednesday being theatrical about our survival, or napping. Today could have been the day we accepted the rain and settled in. Once the shock subsides, there can be spectacular freedom in helplessness.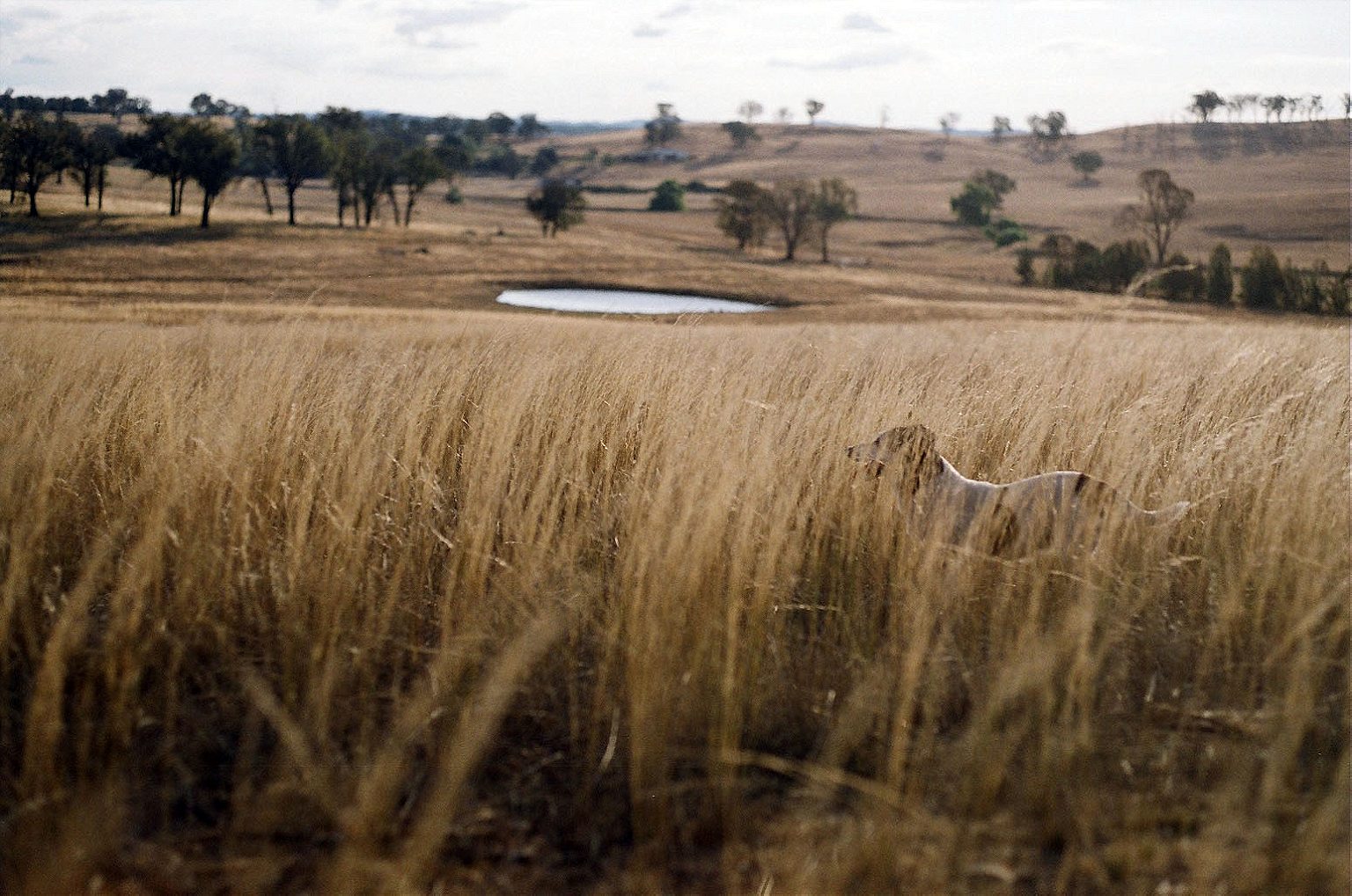 Saturday
In the morning, the World docks in Sydney Harbour. The decks of the cruise ship sparkle with camera flashes as it shudders into the terminal. Strolling through the Rocks to lunch by the water, we come across the Susannah Place museum in a terrace of four colonial houses that have been preserved since 1844.
There is a corner grocer's shop, which has been beautifully recreated from the memory of a boy, now an old man, whose parents lived here in 1915. The uneven counter is lit by a gas lamp. There are sweets in glass jars and wooden spinning tops, tins of biscuits and golden syrup. The walls are painted forest green and the shopkeeper wears an apron, like they used to, but none of it feels like pantomime.
Dad brightens at the memory of his grandmother's soap (Reckitt's Blue) and speaks vibrantly about the lovely things we see. Often it stuns me, in a childish way, that he has lived so much.
..
They take away Dad's marmalade at the airport and he swears at them. I can't hear but I can tell, from the look on the security officer's face and the way my father's arms are raised in a belligerent shrug, that there's trouble.
Dad made the marmalade with lemons from the lemon tree and wanted to bring a jar home for Ma. He is mostly upset that it will go to waste now and tries to make peace by offering it to the man's wife. "We're not allowed to do that, Sir," says the officer, gently.
Space and time seem to follow different rules in flight, and you are neither hungry nor tired nor awake when you're supposed to be. It is rocky, the winds behind us are strong and the captain makes good time. Landing, 4am. Hong Kong. Home.