A sample soundtrack of the music played at Jaffa's beloved Anna Loulou bar, from Palestinian ballads to Algerian folk to Hebrew pop.
It's early evening on a Sunday in Jaffa, Israel, and Marwan Hawash has just woken up. It's his first day off after a week of non-stop work and partying to say goodbye to the bar that he co-ran for the past three of its eight years of existence, the Anna Loulou, which closed at the beginning of February.
A hand-rolled cigarette in one hand and a can of Coke in the other, Hawash sits on the bench just inside the bar's cave-like entrance, opposite a mosaic of the Virgin Mary made of beads and cardboard. The last revelers departed at 7 a.m., leaving the bar quiet. The DJ booth, the bar's beating heart, sits empty.
Anna Loulou—the name means "I am pearls" in Arabic—was many things to many people. For the local and foreign press it was a place of fascination, one of the only bars where Arabs and Jews, Israelis and Palestinians mingled socially, the result of an ethos of openness cultivated by the bar's owners. For its regulars, well, it depends on whom you ask, says Hawash. Some saw it as a lefty bar, some a queer bar, some a place to encounter the other.
The clientele included Christians, Muslims, Ashkenazi Jews (of European origin), and Mizrachi Jews (of North African or Middle Eastern origin), Russian Jews, and others. Hawash, a Palestinian with Israeli citizenship, grew up in a Jehovah's Witness family. Across boundaries and identities, a community formed. People met their partners at Anna Loulou and held bachelor parties and weddings there. One Anna Loulou couple named their child after the bar, he says.
Hawash, 29, bristles at the term "coexistence," which has often been used to describe what he and seven co-proprietors—like the customers, they include Jews and Palestinians—created at Anna Loulou. He prefers the phrase "shared space," a place to "just be normal, be humans, be the same, look into each other's eyes," he says.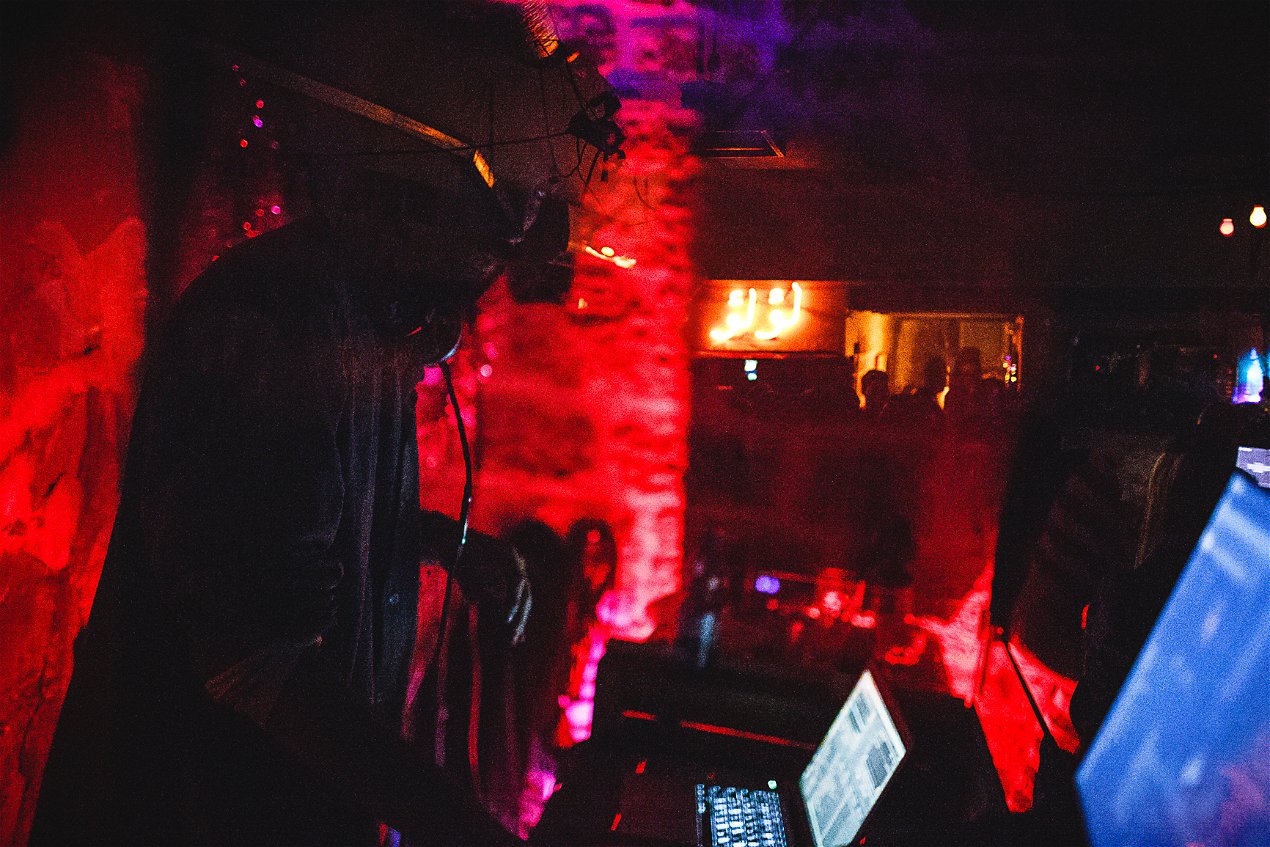 The language of Anna Loulou was not Hebrew, or Arabic, or even English—which the multilingual staff used to communicated over WhatsApp—but music. On any given night, a rotating cast of DJs played tracks from the world over, especially the Middle East and North Africa, with a heavy dose of American hip-hop. According to Hawash, Anna Loulou provided a platform for Palestinian artists and DJs who lacked other places to perform in the Tel Aviv area, or found themselves tokenized as Arabs when they did. These DJs included people from inside the Israeli-occupied West Bank, where Israel controls freedom of movement.
The bar closed for quotidian reasons. Located outside the hip flea-market section of Jaffa, the historic port city abutting Tel Aviv, Anna Loulou was surrounded by neighbors who chafed at the nightlife that the bar brought to the street and launched numerous noise complaints, says Hawash. After incurring thousands of dollars in fines and spending countless hours dealing with municipal agencies, the proprietors decided to shutter the bar and host Anna Loulou-themed events in other places.
Anna Loulou's final days were "euphoric," said Hawash. "A lot of people were hugging, kissing, crying," he says. But mostly, they were dancing.  Compiled by Hawash and several of the bar's DJs, the following is a sample soundtrack of the music played at Anna Loulou, from Palestinian ballads to Algerian folk to Hebrew pop.
47SOUL, "Intro to Shamstep," 2015
The Palestinian-Jordanian band 47SOUL pioneered "electro Arabic dabke," which blends electronic beats with the music of dabke, the traditional Palestinian dance. The term "Shamstep" is a combination of "sham," the Levant region, and "dubstep," a style of dance music.  
Björk, "Crystalline (Omar Souleyman Remix)," (2011)  
Omar Souleyman is a Syrian singer who got his start performing at weddings and now plays all over the world. In 2011, he created this remix of Björk's song "Crystalline" from her album Biophilia. It is one of three Souleyman remixes on Björk's The Crystalline Series.
Acid Arab, "La Hafla," (2016)
Parisian group Acid Arab mixes "oriental acid music which combines the coldness of techno and the emotional and dramatic power of the East," according to its Facebook page. "Hafla," in the title of this song, is Arabic for party. The track features the voice of Sofiane Saidi, an Algerian-born musician in France.
Mohammed Assaf, "Ali el Keffiyeh," (2013)
The 2013 winner of Arab Idol, Mohammed Assaf, is a Palestinian pop star from Gaza. His winning song, "Ali el Keffiyeh" means "Raise the Keffiyeh," the checkered scarf that is a symbol of Palestinian nationalism.
Rachid Taha, "Ya Rayeh," (1993)
"Ya Rayeh," was written and performed by Algerian musician Dahme El Harrachi in 1973. A song about the immigrant experience, the title translates to "You, Leaver." Rachid Taha, an Algerian musician based in France, recorded this version in 1993, further popularizing the song. Taha died last year.
DAM, "Mali Huriye," (2006)
DAM, the Palestinian rap group, was inspired by a Tupac video to tell the reality of life in Lod, Israel, through song. The track "Mali Huriye," from the 2006 album Dedication, translates to "I have no freedom."
Khaled, Faudel, and Rachid Taha, "Abdel Kader," (1998)
The traditional song "Abdel Kader," about an Algerian freedom fighter, was made famous by Khaled, a master of the Algerian raï genre. In this live version, he is joined by Algerian musicians Faudel and Rachid Taha at a performance in Paris.
Zehava Ben, "Telefon HaAhava," (1999)
Zehava Ben is one of Israel's foremost musicians of Mizrachi origin. Born in Israel to a Moroccan Jewish family, she became popular in the 1990s. Her song "Telefon HaAhava," or "Telephone of Love," is about a phone call between estranged lovers.
Y.A.S., "Coit Me," (2009)
Y.A.S. is the Paris-based project of Yasmine Hamdan, a Lebanese singer, and Mirwais Ahmadzaï, a songwriter born in Switzerland to an Afghan father and Italian mother. "Coit Me" is from the 2009 album Arabology.  
Elias Rahbani, "Dance of Maria," (1974)
Elias Rahbani is the brother of Assi and Mansour Rahbani, Lebanese musicians famous for their collaborations with singer Fairuz, with whom Elias Rahbani also worked. "Dance of Maria," an instrumental song, is from 1974.