Exploitative labor practices on the notorious military base in Cuba have generated the sole source of Caribbean culture in what is otherwise a bizarro America, complete with fast food, Bud Light, and a deeply entrenched culture of segregation.
It's common knowledge in Guantanamo Bay that good food is hard to come by. On the remote base in the western Caribbean—a stronghold of surveillance and regulation, where you can eat a Big Mac down the street from a CIA torture site while overlooking a Cold War-era minefield—an off-the-books jerk shack is the only place to go for a taste of the local cuisine.
If you want to eat at the aptly named Rasta Hill, you've got to show up early. On a Friday afternoon in July, the menu included goat curry, peas and rice, fried chicken, red snapper, a second unidentified fish, and everyone's favorite: johnny cakes. Someone asks the cook where today's special, the fish, is from: "We get it from the ocean, hun!" he says. The only other fish available on base comes frozen on a ship from Florida.
Aside from the fast food options—a McDonald's and at least two Subways—there are only a handful of restaurants on base: a white-table-cloth sit-down spot serving American staples like Caesar salad and roast chicken; a bowling alley with a menu of burgers, pizza, and burritos; and an Irish pub called O'Kelly's dishing out a laundry list of deep-fried bar snacks, the occasional plate of Jerk Chicken, and a Cuban sandwich that Cuban-American photojournalist Jose A. Iglesias of the Miami Herald once described as "just wrong."
At all these restaurants, and at every store, salon, coffee shop, and movie theater, you'll find primarily white patrons serviced almost exclusively by Third Country Nationals, or TCNs: non-American workers who are contracted by the US Military and private companies to work on base for rates markedly lower than American minimum wage. Though just a stone's throw over a chain link fence from Cuba, the US's historic embargo with the country means virtually no Cubans work on base.
The largest single group are, like the staff of Rasta Hill, Jamaican (of the few commercial flights that operate in and out of Guantanamo, a large percentage go to Kingston); many others come from the Philippines, a former American colony. Open only two days a week, Rasta Hill is treated as something like a miracle in Guantanamo, where embargo laws mean that just about every food item on base is shipped in from the US by the Navy, and virtually no acknowledgment of Cuban culture can be detected. Every so often, hiccups in shipments mean a certain product becomes elusive. One day, it was mayonnaise that disappeared. For a week, it was lettuce. For months, Triscuits.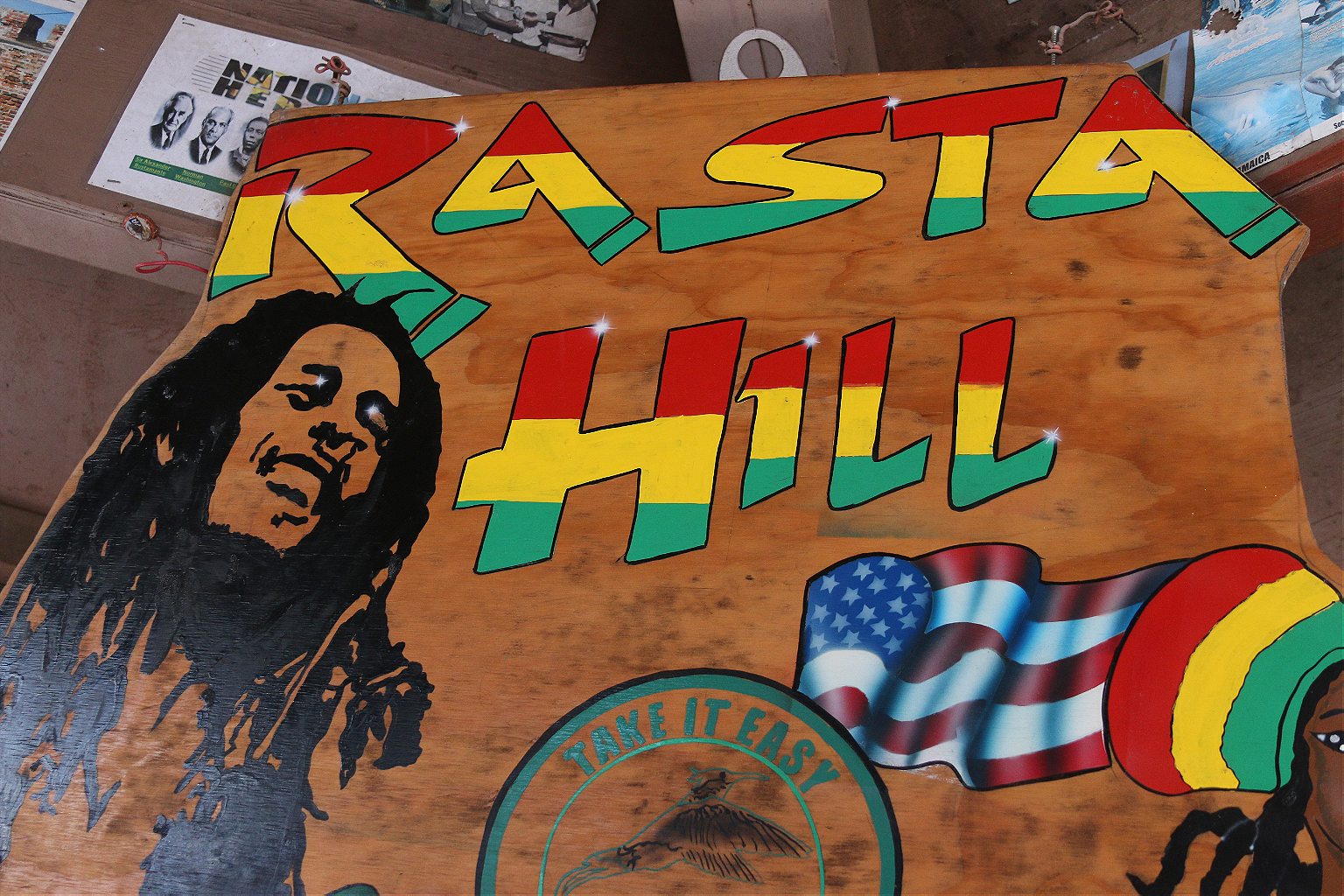 That might be why rumors often swirl that Rasta Hill's chefs get their supplies from elsewhere. Each visit to Guantanamo, I hear a new, unconfirmed culinary conspiracy: that they raise their own chickens, that they bring frozen goat back from Jamaica, that they go hunting in the more untouched areas of the base. They all seem to stem from a learned disbelief: if it tastes good, it can't be from Gitmo.
With hours subject to unpredictable tropical weather, Rasta Hill is the only place on base where you'll find even the remotest touch of Caribbean culture. It's also the only place where you'll see uniformed servicemen and women, teenage military brats, and foreign nationals breaking bread at the same table.
Guantanamo Bay is defined by segregation and laws that are blurred or suspended entirely. It houses the notorious namesake detention center, which holds only Muslim non-Americans, often without charge or access to a speedy trial, for years on end. The prison's notoriety, which includes a dark history of on-site torture, adds a backdrop of eeriness to the otherwise mundane military base staples like the gift shop, the McDonalds, and the base high school. It also overshadows the similarly shady treatment of foreign laborers and the active evasion of labor laws even by the American government and military.
Though technically on US soil, Guantanamo Bay is a place where American labor rights, prison rights, and human rights are curiously and indefinitely suspended, without any clear justification. It's more than American exceptionalism on steroids—it's a State of Exception made manifest.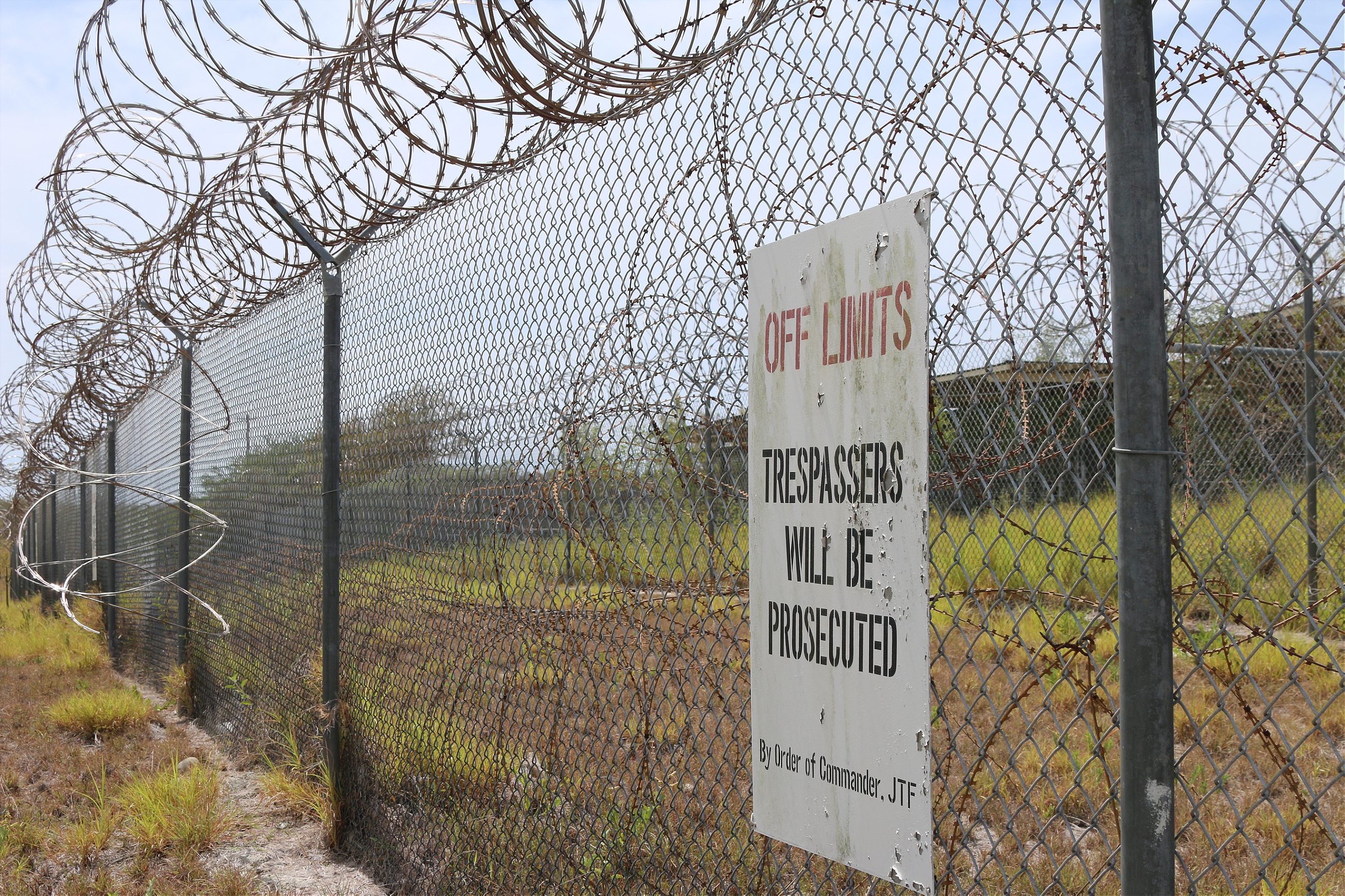 Since leasing the 45-square-mile area in 1903, initially intended for use as a naval station, the US military has maintained a continuous presence on Guantanamo Bay. Instability, Fidel Castro's rise to power, and economic distress led to waves of Cuban exile, but the US eventually enforced strict repatriation programs that sent Cubans who attempted to cross into Guantanamo Bay back to the other side of the barbed wire fence.
In 2014, President Obama lifted some restrictions and began a so-called "Cuban Thaw," but the Trump administration quickly reversed many of Obama's loosened policies. In fact, no Cuban who has crossed the border (either by crawling through the former minefields or swimming into US-leased waters) into Guantanamo has successfully made passage to the United States in years. The International Organization for Migration handles cases of Cubans seeking asylum—mainly by getting them out of Guantanamo and off American soil.
Naval base Public Affairs Officer, Joe Overton, said that the government chose to hire from Jamaica after the hiring of Cuban workers was halted in the early 1960s. "It's the closest allied country to the base with an English-speaking population," he said. "Our relationship and hiring-program have proven mutually-beneficial now for more than 50 years." While other reports and hearsay on base put the total TCN population at about 2,000, Overton said he had no information at all on total numbers.  
Jay (who withheld his real name for fear of deportation) is one of the 429 Jamaican workers on a government contract. Now in his 20s, Jay spent much of his youth visiting his father, who worked on the base for 15 years. Eventually, Jay's dad was able to get him a job with one of the private contractors.
"I got through because first I was in the [private] contractor system," Jay said "and when I came here, I submitted an application in the government system and I got through. God be the glory."
34 private contractors currently operate on Guantanamo Bay. The Department of Defense hands out contracts to the lowest bidder, covering everything from food service to construction. A Filipino worker I spoke to (who asked not to be quoted) said that as a construction worker, he makes $3.25 an hour. He's been working on the island for six years. Other TCNs told me that some private contractor jobs pay as little as $1.50 per hour.
(Speaking to foreign nationals while on base is forbidden; in fact, the base ground rules for media go so far as to say interviews "with any Cuban, Haitian, or other migrant personnel, is expressly prohibited." All of my interviews with foreign nationals had to be conducted from the mainland.)
Though I couldn't confirm the rates for private contractors (several of the phone numbers I called were off the hook), job postings for contracts directly with the government, the "better" option for TCNs, were still well below minimum wage.
During a visit with the media on base, Overton said he believed all government contractor jobs pay at least minimum wage. But the Navy's Morale, Welfare and Recreation (MWR) Department's Facebook page for Guantanamo Bay advertises jobs for foreign nationals that pay as little as $5.04 per hour—more than 30% below federal minimum wage. MWR advertises several jobs that have separate rates for US citizens and foreign nations. In several cases, the advertised rate for foreign nationals is close to half of that for US citizens, and while some jobs come with "perks" like housing or food allowance, saving money or supporting a family back home remains incredibly difficult. The guys who run Rasta Hill are all either private or government contractors who use the now-famous spot as a way to make a little extra cash.
This is the leading edge of what America is becoming, or maybe even has become, the Guantanamization of America.
According to Jay, it's not all bad, provided you can make your way into the government system, but, he says, "if you're a [private] contractor, that's where it gets sticky." Contractors in the government system, he told me, are provided housing and utilities and get to go home more often than their private counterparts. Because of the government's lack of transparency and refusal to answer certain questions, verifying some of Jay's claims was next to impossible, but they fell squarely in line with what other TCNs told me on background, and with observations made by veteran journalists who've been covering the area for decades.
"The contract company, actually, they treat Jamaicans the worst on base," Jay said. Foreign workers are constantly reminded that they're outsiders, despite the fact that, in Guantanamo, the question of whether or not you're standing on American soil at all changes according to convenience. The base's distance from the mainland allows the US government to hold prisoners without charge for years, ignore American labor laws, and create ground rules that allow for censorship under threat of being banned. But it's still "America," so you can get a case of Bud Light, no problem.
James Connell, a defense attorney tasked with representing one of the highest-value-detainees charged with planning 9/11, told me back in February, "This is the leading edge of what America is becoming, or maybe even has become, the Guantanamization of America," he said, speaking to the state of the detention center and war court that operates on base, "The ideas that are being cooked up here and applied here leak back to the United States, and what we do to our enemies we eventually do to ourselves."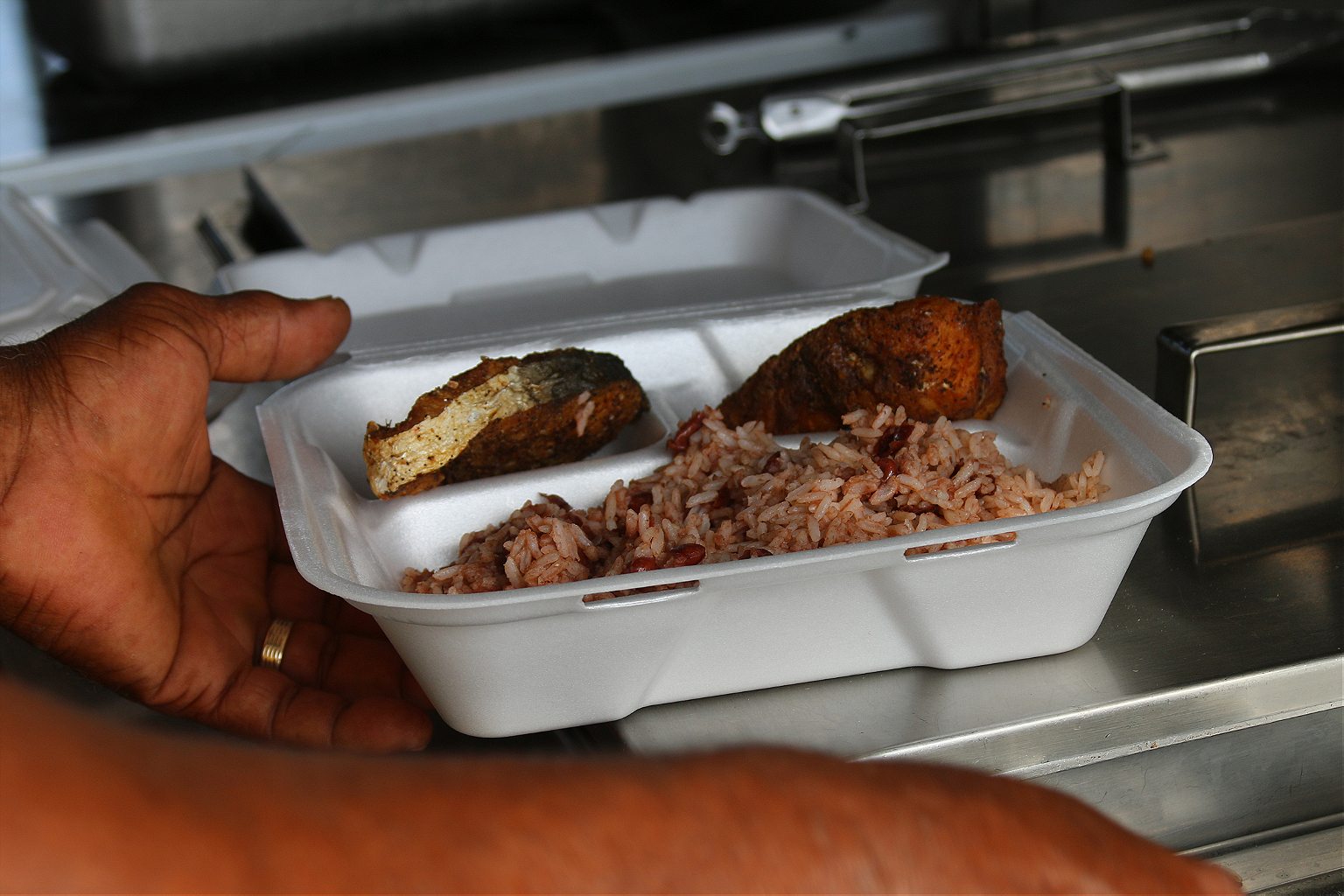 At 5 pm on the Friday that I visited, the line at Rasta Hill had already started to form under the deep eaves of the makeshift shack. A military escort–obligatory and omnipresent for all visits to Guantanamo–had offered to drive me and another member of the press to Rasta Hill for dinner. She hadn't been there since the last media visit and was craving fried dough and curry. We arrived just as the line began to form. By the time we got our food five minutes later, about a dozen people had gathered behind us.
At Rasta Hill, barbed wire and segregation become an afterthought, if only for a moment. Politics, rank, and standard operating procedure are briefly set aside for the exact amount of time it takes to consume a heap of curry, fried chicken, and beans and rice.
The ceiling is covered with faded Jamaican pinups, paintings of Bob Marley, and pictures of civil rights heroes. A sign hangs over the counter that reads:
WELCOME TO RASTA HILL
THE JAMAICAN HANG-OUT SPOT
Cool Runnings….Keep it Irie….One Love….
On that same Friday, I reached out to Joint Task Force Guantanamo's public affairs officer, Navy Commander Anne Leanos, who handles media requests related to the base's detention center. Curious about what was on the menu for America's most hated alleged terrorists, I asked what was being served at the prison camp. Amidst a litany of bland and easy-to-mass-prepare options, one dish stood out: Jerk chicken.