There's Comfort Food, and Then There's Dried Fish in Chocolate‑Flavored Rice Porridge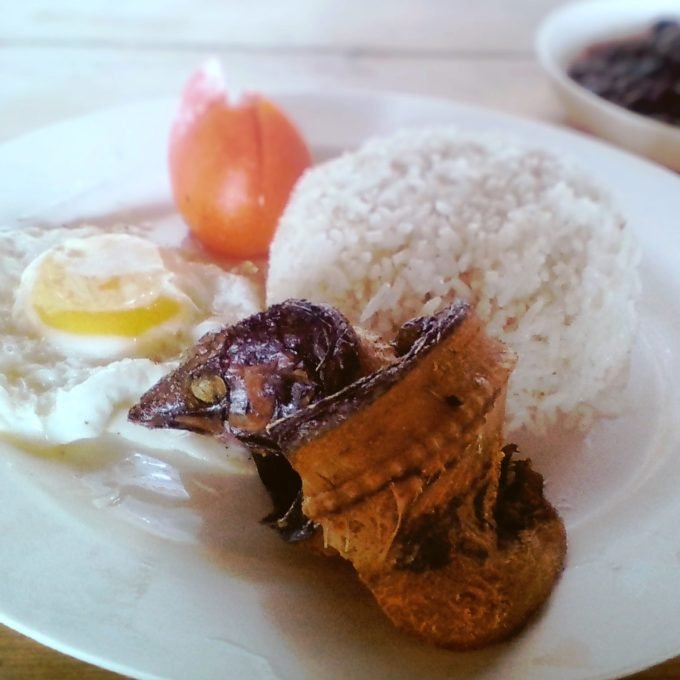 There's Comfort Food, and Then There's Dried Fish in Chocolate‑Flavored Rice Porridge
Tuyo in the Philippines
Mount Mayon, located on Luzon Island in Bicol region, southern Philippines, is the country's most active volcano.
I had come to Legazpi City, the capital of Albay province in central Bicol, on assignment to write about safe places for sighting the volcano. Mayon has been spitting ash fall and lava in small eruptions since mid-January.
My first stop was Legazpi Boulevard, a coastal road lined with restaurants and bars near the city's port. I was hoping to catch a glimpse of Mayon's perfectly symmetrical cone, but the sky was overcast. So, like the lone family of tourists on the Boulevard, I took a photo of the life-sized L-E-G-A-Z-P-I letters, without the volcano in the background.
I decided to have brunch before leaving for my next stop. I was looking for lutong-bahay—"home-cooked" style food, prepared without artificial flavoring. More specifically, I was craving silog—a dish (and word) created by combining sinangag (garlic fried rice) and itlog(egg)—paired with tuyo, air- or sun-dried, salted fish.
Pares Prince, a no-frills joint on the Boulevard, had plenty of these dishes on their menu. I chose the New Look silog, over other three types of tuyo silog available. The New Look is a daing–a Filipino term for tuyo that is sliced open and gutted before being salted and dried. It is moist, both tender and crisp, and not too salty. When cooked right, this little fish turns a rich golden brown.
I have a ritual: I like to melt pieces of fish in my mouth first, before taking bites of the other items on my plate. I did the same with my New Look silog, alternating the dried fish with bites of rice, fresh tomato, a sunny-side-up egg and sweet, creamy laing, a taro vegetable dish cooked in coconut milk. The vinegar dip on the side was spicy, like many Bicol dishes; we associate our cuisine with the fiery volcano. It gave the salty fish a delicious kick and made me eat more rice than I normally would. That was fine, because I did a lot of walking afterwards, taking photos of landmarks. (But not of Mayon.)
Tuyo is a common Filipino breakfast staple, but we eat it many other ways, too; whole, boneless, and unsalted, as an appetizer, side dish, or snack, as an accompaniment to champorado, a chocolate-flavored rice porridge, or to flavor pasta sauces. Although it started out as a meal of necessity, this salty staple has jumped class barriers: high-end restaurants all over the Philippines serve it too. Some people can't stand its strong smell, but to me and many others, it's an essential part of the Filipino palate and a comfort food.
Being away from my home in Tiwi, an hour-and-a-half drive from Legazpi, for three days had made me crave a home-cooked style meal. What better way to satisfy this want than with tuyo silog?
Pares Prince
Puro, Legazpi City
Open Hours: 7 a.m-2 a.m.