Here's to Cold Beer, Sunsets, and Democracy in Sierra Leone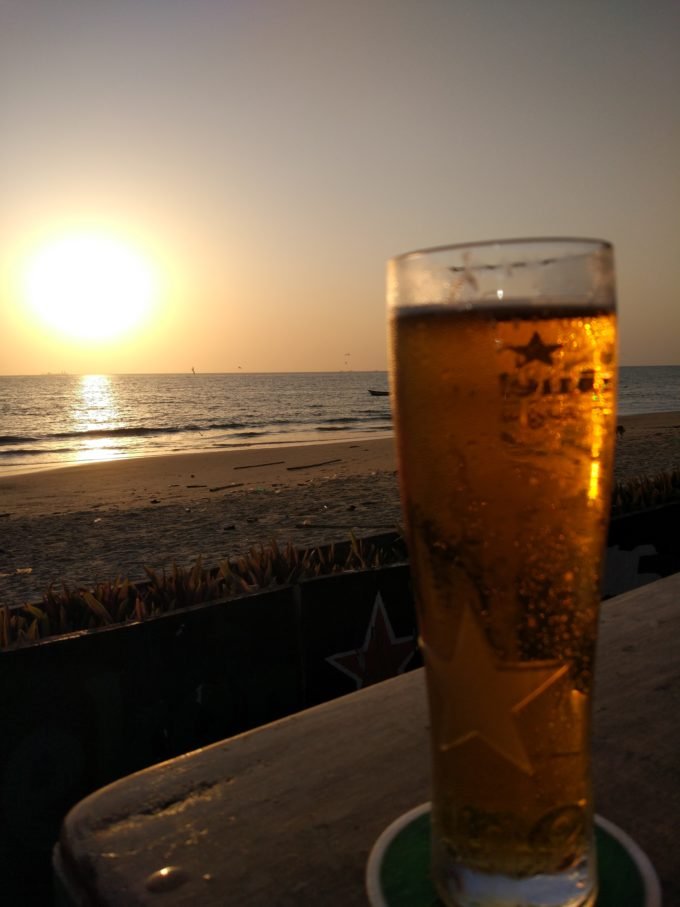 Here's to Cold Beer, Sunsets, and Democracy in Sierra Leone
Lager in Freetown
It's been another long day of weaving and bobbing across Freetown, Sierra Leone's coastal capital, using every form of transport—bike, keke bus, or shared taxi—available to beat the traffic. But now I am in my last shared taxi of the day, window rolled down, listening to the Atlantic ocean breaking over Lumley beach. It's 5.30 pm, I am drenched in sweat, and there is one thing on my mind. Cold Star Beer.
It's March 2018, election month in Sierra Leone, and across Freetown, political posters are plastered on walls and billboards, the faces of candidates imploring voters to choose them. I am in Sierra Leone to research the ways social media, and particularly WhatsApp, is being used in the election. Online, too, the campaign is relentless—so much so that I have had to mute all the WhatsApp groups I'm in to stop my phone buzzing incessantly in my pocket. I need some respite for an hour or two, and I know where to find it: Bar 232, a venture part-owned by the Sierra Leone Brewery.
I'm not looking for just any kind of Star, but draught beer, in a country where bottles are king and lager remains the only choice of beer, unless you want stout. I find a spot as close to the ocean as possible, kick off my flip-flops, and order a pint. A little patience is required before the waitress returns; a patience that's difficult to find when it comes to quenching thirst in 104-degree heat.
The flavor of the beer has improved in recent years, but the branding still needs some work: it comes in a Heineken glass. But everything tastes better with this incredible view.
There is no road separating the bar from the Atlantic Ocean, just a thin strip of sand occupied by a few petty traders selling chewing gum, cigarettes, and peanuts, and forlorn fishermen dragging in their nets. It is a world apart from the congested, boisterous city centre. From 6.30 p.m. onwards, friends join me, and together we marvel at the illusion of the sun sinking into the sea in front of us.
With a crisp, cold beer in one hand and a spectacular sunset, we laugh over the day's stress and strains, and let go of its frustrations.
If this were a weekend, we might spend a few more hours discussing the ongoing election, its possible outcomes, and sharing the most amusing bits of 'fake news' that WhatsApp had brought us that day. (In the end, Julius Maada Bio, the leader of the opposition Sierra Leone People's Party, would defeat the ruling party's candidate Samura Kamara, 52-48 percent in a close run-off.)
But the thought of working with a hangover in this heat is enough to bring us all to our senses. Back home, until tomorrow.