Come for the yeast and strawberries‑flavored ale, stay for the raw shrimp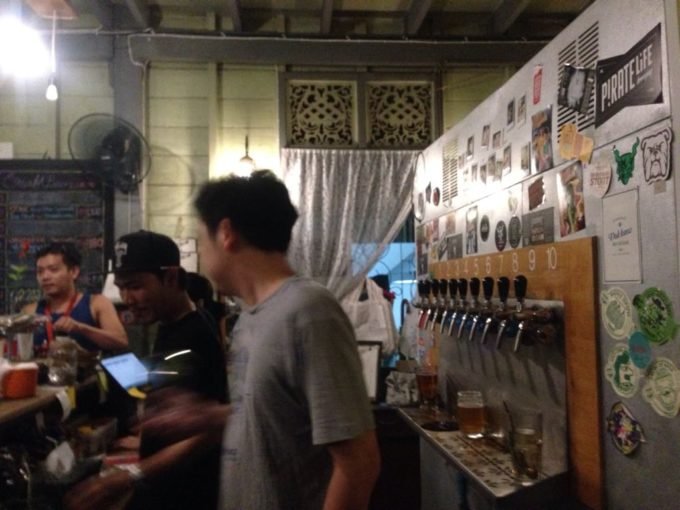 Come for the yeast and strawberries‑flavored ale, stay for the raw shrimp
Imperial Stout in Bangkok
In residential Bangkok, families clad in broken flip-flops slump in the wide-open entryways to their homes. They chew on sunflower seeds, watching as the occasional motorbike twists and swerves in front of them on the narrow alleyways before them.
Here, near Sripat Expressway, I chance upon a craft brewery housed in an old Thai house. Its spacious courtyard and driveway were once full of orange blooms, and so it became known for its "dok kaew" flowers. Nowadays, trendy Bangkok bars take their influence from the West. Industrial beams, dark lighting, and sheer glass windows frame the hipster bars that line the commercial districts of Sukhumvit and Silom. But the aesthetic at "Dok Kaew House Bar" is different.
At the entrance, I take off my shoes and set them on a wicker rack before stepping onto the grooved stairs. The 80-year-old house is made entirely of teak wood. For years, it was purported to be haunted by a ghost, scaring off potential owners. When Buddhism first came to Thailand, it intermingled with local animist beliefs, producing a norm of ghost lore among locals. The house remained vacant for years until its new owners repurposed it as a brewery.
Despite this history, the bar is friendly and looks lived-in. The walls have been painted sea-foam green, and mismatched furniture and pilling sofas sit in each sub-divided room. Huge industrial fans have been installed in what were once wrought-iron windows, blasting everyone with a pleasant breeze. Locals are everywhere, sporting "Supreme" fanny packs across their chests and biting into skewered, grilled squid. The house's garage now houses a makeshift distillery where craft beers are brewed in giant metal drums. On tap today are a sour Weizen, an Imperial stout, a pale ale, and a Scotch ale.
Technically, craft brewing in Thailand is illegal. A 1950s Liquor Law prohibits the sale of beer brewed outside of commercial factories. For decades, the industrial brands of Singha, Leo, and Chang have dominated the market, resulting in waves of watery, cheap beer. Critics argue that these companies engage in rent-seeking to secure their triopoly. Indeed, some point to an obscure 2000 Finance Ministry regulation stipulates that beer sellers must hold 10 million baht in capital and brew more than 100,000 liters of beer per year.
But here, in the hidden reaches of Bangkok, craft beer is gathering steam. I sip my Imperial stout, which tastes of yeast and strawberries. Behind the counter, one of the owners rinses a chalice cup before filling it from the tap so the foam won't go flat. Another slides me a plate of raw shrimp marinated in lime, garlic, and wasabi paste—Thai drinking food. I take a bite, and immediately, tears fill my eyes. And, then, I knock back my beer.
Dok Kaew House Bar
Satsana 2 Alley,
Khwaeng Samsen Nai,
Khet Phaya Thai,
Bangkok, Thailand, 10400