We Should Be So Lucky as to Have This Be The Weirdest Thing We Try to Get Over a Hangover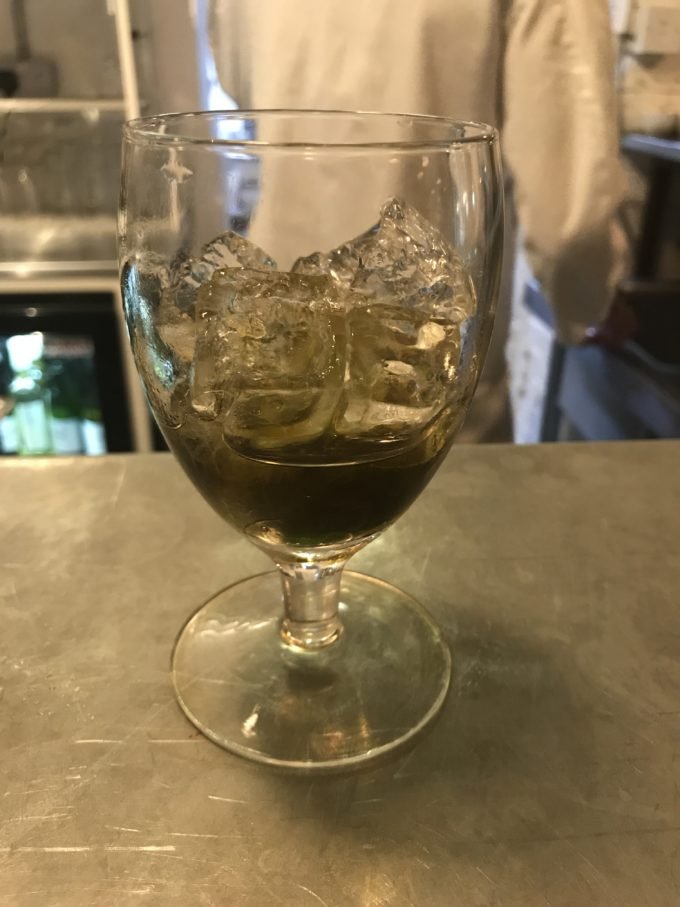 We Should Be So Lucky as to Have This Be The Weirdest Thing We Try to Get Over a Hangover
Dr Henderson in London
With an outsize influence on British food culture and an enviable line in spectacles, when Fergus Henderson puts his name to a cocktail, you listen. Even if it's a mixture of Fernet Branca and crème de menthe, poured over ice.
I'd heard of it revered in hushed tones: the Fernet a reviving tonic, the crème de menthe a refreshing finish. Until now, I had actively avoided it. On multiple visits to Henderson's three St. John restaurants, I opted instead for wine, a more pedestrian whisky sour, or anything that wasn't a disturbingly cloudy green color. Eventually, curiosity overwhelmed my flimsy concerns.
The Spitalfields branch, St. John Bread & Wine, is the easiest for me to get to, and I arrive with dusk approaching. The interior is all whitewash and parquet, a gunmetal bar with tessellations of tarnish from glass after glass happily set down. Staff and patrons move to the rhythms of practiced, generous hospitality; service wears a crisp white jacket. There is no music.
I take a seat at the bar. The stools are serious, hefty things, on the wrong side of comfortable, my knees hemmed against metal. Chalked up on a blackboard alongside more historied neighbours–Manhattan, my default whisky sour–is the Dr Henderson. The boards and printed menus, set down alongside a pitcher of London tap water, promise brain burgers and roasted bone marrow.
The lone bartender accepts my order with a knowing nod, and the drink is there. Kind drinkers, and Henderson's own recipe, describe its pallor as resembling swamp water; as twilight dwindles outside, the liquid in front of me is somewhere between mouthwash and the kind of green juice that sets clean-eaters aflutter. There's a strange bright-greenness at the bottom of the glass; a little crème de menthe refusing to mingle.
My trepidation was misplaced. The Fernet is intensely savory and herbal, but before it can bully my palate into submission, mint breezes in with a bracing whoosh, leaving the bitters to settle at the back of the throat. It's complex, sure, but for all the interplay of bitter and refreshing, for all the sophistication of amaro and liqueur, the resonant feeling is of having brushed my teeth after a particularly bleary night out. Recovering from a hangover I never had.
The experience is what Henderson might call "steadying." It implies grounding, security, or a feeling of comfort replacing anxiety or disorientation, settling a shaky stomach. In full health, settled, and uncomfortably oriented on my stool, it's a primer for a meal to come, a reset to zero.
But it's still Fernet Branca mixed with crème de menthe. It's still, fundamentally, weird.
St John Bread & Wine
94-96 Commercial St, London
Closes 11 p.m.