Fear and Gluttony on The Donut Trail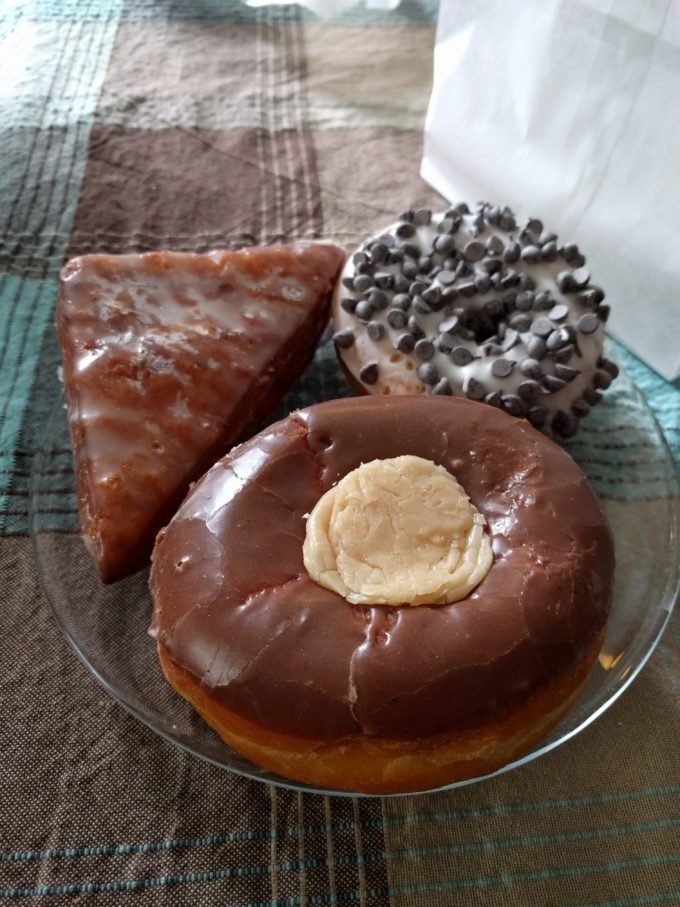 Fear and Gluttony on The Donut Trail
Donuts in Ohio
I walk into Kelly's Donuts on a freakishly cold Saturday morning. Every available square of space is full of people. Checking the clear case full of donuts, I become aware of a problem: there are only two Buckeye Donuts left. I wait in line nervously. Kelly's is famous across the Donut Trail for these donuts.
The Donut Trail is a scavenger hunt for visitors to try all 12 of the local donut shops in Butler County, a semi-rural area outside Cincinnati, Ohio. With this density of donut shops, you'd think they might struggle, but instead, the shops sometimes sell out by 10 a.m.
Today, for instance, the customer in front of me orders multiple donuts in separate bags. "Sorry," she apologizes. "I'm taking these to different people."
A gift of sweet fried dough is a welcome one in the Midwest, especially when winter drags on into April like this. When it's my turn, I snag the last Buckeye Donut (what luck!) and a fried croissant.
The Buckeye Donut is an homage to another sweet treat from Ohio. The buckeye, also known as the horse chestnut, is the state tree. Someone thought that a ball of sweetened peanut butter dipped in chocolate, leaving a circle of peanut butter still showing, resembled a buckeye nut. Unlike the poisonous nuts, though, these Buckeye candies are delicious. The donut pays homage to the candy with chocolate frosting on a yeast donut and a filled-in center of peanut-butter frosting.
I enjoy the fried croissant first. While it is a bit of an overload, I cannot fault the flaky layers of the pastry and the slight glaze of sugar on top. However, I should have paced myself: the Buckeye proves too much for me, the dense core of peanut butter nearly impenetrable. The yeast dough, however, is fluffy and chewy, clearly fresh, and not too sweet. The flavor mix is wonderful, but it is rare that I can stomach this much sugar in a day, much less within a few minutes.
Some ambitious souls have visited the entire Donut Trail in a morning, though I haven't yet met someone who ate a donut at each stop. For me, it's nicer to visit a new shop each weekend, or when I'm driving past on my way to elsewhere. Sweetness this intense has to be reserved, rationed, and used as a reward.
Kelly's Donuts
1335 Main Street
Hamilton, OH 45013
Open daily from 6 a.m. until the donuts are gone (usually by noon.)