Two halves of a divided island have more in common than you might think.
NICOSIA, Cyprus—
Located just five blocks from the U.N. Buffer Zone, my hotel is far from luxurious. One thing the lodgings do boast is a view; you just have to climb up the side of the building via a safety ladder to enjoy it. Stepping between the satellite dishes and solar panels (no, I'm not supposed to be up here), I look out over Europe's last divided capital—a jumble of terra cotta tiles and off-white towers.
I'm in Nicosia, Cyprus, which for more than four decades has been split in two. In 1974, after a Greek-inspired military coup, Turkey invaded the geopolitically prized island, beginning an occupation of the northern third of Cyprus that endures to this day. About 160,000 Greek Cypriots were displaced from the north during the conflict, and up to 50,000 Turkish Cypriots from the south.
It's a couple of minutes before I realize that the most verdant patch visible from the hotel rooftop—a kind of corridor with more trees than buildings—is actually the Buffer Zone itself. It cuts through the heart of Nicosia's old town, stretching more than 100 miles across the island. North of the border, a mosque's twin minarets reach heavenward, while on the southern side, a church steeple peeps out of the skyline. On the hills beyond Nicosia, a giant flag has been painted onto the very mountainside; the red-and-white emblem of the Turkish Republic of Northern Cyprus, the self-proclaimed state recognized only by Turkey. Colossal in size, the flag seems designed to taunt the Greek Cypriot side.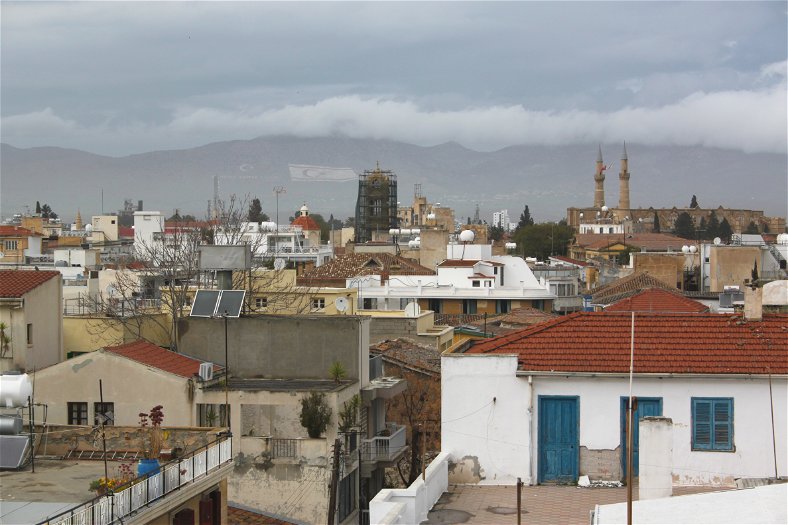 Something feels off about this scene. It fits too neatly into the stereotype of Cyprus as an island whose people are in perpetual conflict. Though only some of my family are Cypriot, I'm used to being asked, "Are you Greek or Turkish Cypriot?"—a common experience for those with heritage from the island. Cyprus is seen as a battleground in some eternal struggle between Greeks and Turks, east and west, Christianity and Islam. Powerful people have encouraged us to think this way. "The communal conflict between Greeks and Turks on Cyprus has proved intractable for centuries," wrote Henry Kissinger in his memoirs (never mind that the ex–secretary of state subtly backed the invasion and partition of Cyprus to achieve strategic NATO-related goals).
On the ground, most Cypriots would disagree with the notion that their island has been in conflict for centuries. It may be hard to believe now, but Cyprus was once a beacon of Christian-Muslim communal harmony. Greek and Turkish Cypriots lived side by side in shared villages and coexisted peacefully for hundreds of years. Here was a fluid cultural border between the so-called East and West at Europe's frontier.
By 1974, when the island was forcibly divided into two ethnic-oriented territories, that coexistence had crumbled, and today Cyprus does indeed represent one of the world's longest-running conflicts. The latest unification talks are two years old, and although an agreement was close to being forged earlier this year, when all relevant parties flew to Geneva in anticipation of a final deal, they have since stalled.
In early April, the Greek and Turkish Cypriot leaders met for dinner at Ledra Palace, inside the U.N. Buffer Zone. The aim was to get negotiations going again—and an agreement may still happen. But if they even get that far, a vital question will remain. Can Cypriots live in peace together as compatriots?
I recently took a journey, exploring both sides of Nicosia, before busing to the coastal town of Larnaca, in search of what remains of Turkish Cypriot culture in the south, and then inland to a traditional village. The aim? To figure out if Cypriots can rediscover their shared cultural past.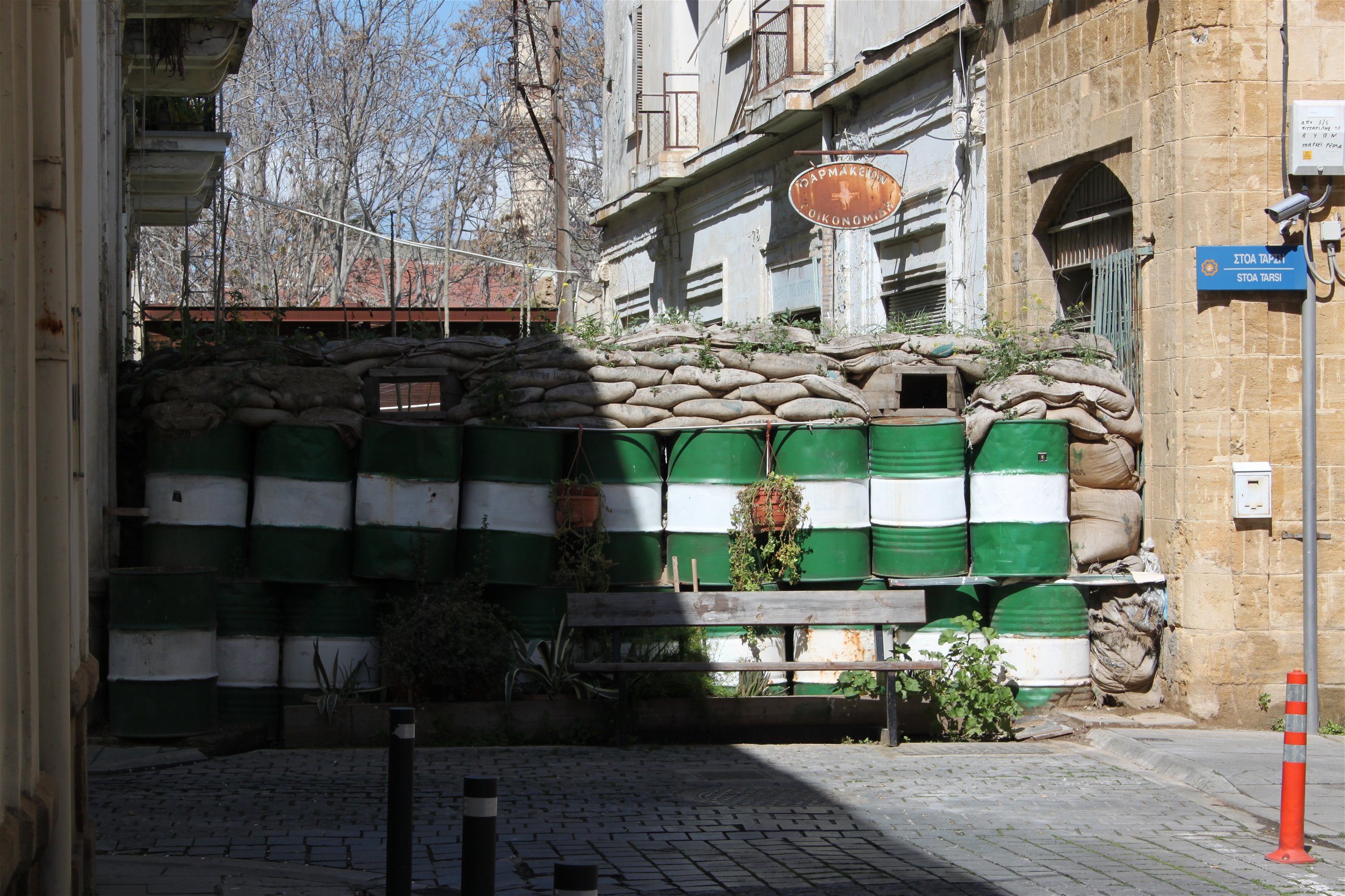 Going from south to north in Nicosia feels like entering a different country, and not just because of the two passport controls. On the Greek-Cypriot side, Ledra Street is a typical commercial thoroughfare; I walk past an H&M, followed in quick succession by a Starbucks and McDonald's. By contrast, a bazaar-like atmosphere greets me as I cross to the north. Street stalls, less formal shops, and restaurants are the order of the day while tables full of sunburned tourists spill into the street.
Down side lanes, I find whole streets crumbling, buildings half-ruined or abandoned. Of course, not all of north Nicosia is like this, and parts of the south close to the Buffer Zone are also pretty run-down. But the city's two halves do feel distinct. People often say the north looks as if it has been frozen in time since the 1970s; as Turkey is the only country to recognize it, the territory has been isolated economically and politically since then. Until the border at Ledras Street was opened in 2003, Greek and Turkish Cypriots were physically separated for four decades.
"An argument can be made that since [partition] the common shared Cypriot identity is being watered down," says Harry Tzimitras from the Peace Research Institute Oslo Cyprus Centre. "Since then, the Greek Cypriots became more Hellenic and the Turkish Cypriots more 'turkified.'" Segregation and problematic education systems on both sides have also "reproduce[d] stereotypes and a culture of enmity" in Cyprus, according to Tzimitras.
Like other organizations working toward peace and understanding here, PRIO long operated out of Home for Cooperation, a pretty unique venue inside the U.N. Buffer Zone. As the name suggests, Home aims to provide a bridge between the north and south. Close to Ledra Palace, I find it wedged between buildings cordoned off with tarpaulin and barbed wire. Inside, it's a handsome, light-filled space. Well-stocked bookshelves surround a homely sofa area while coffee drinkers huddle around a long table down the middle of the cafe.
Over at the bar, I order a "Cyprus coffee" from the menu: the thick, dark brew that countries across the region lay claim to. (You may know it as a Turkish coffee.) A regular perched opposite the barista interjects: "But where from—north Cyprus, south Cyprus? Limassol, Paphos, Larnaca, Kyrenia?" To my stuttering response, he laughs: "I'm just joking—it's all the same."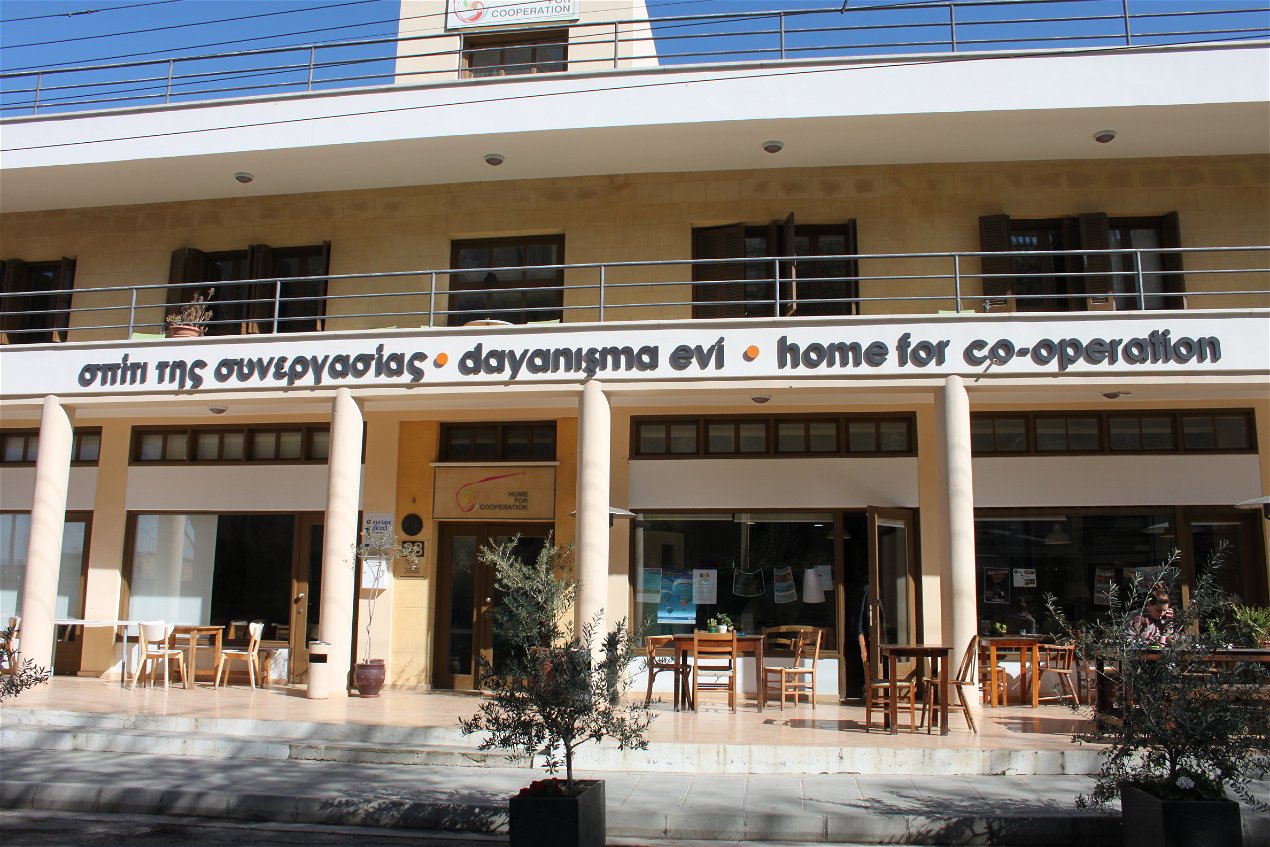 After devouring tangy halloumi in Cypriot flatbread, I get chatting with Home for Cooperation's director Marina Neophytou. As disarmingly sincere as she is fiercely intelligent, the young woman describes Home as a meeting place, both for individuals and organizations wanting to work across the divide. "The idea was to have a common ground, an in-between space," she says over a Greek/Turkish/Cypriot coffee.
When Home for Cooperation opened in 2011, many of the regulars were older people coming to meet lost friends and communicate in a language they no longer had the opportunity to use. Before partition, if you were Turkish Cypriot but living in a largely Greek Cypriot village, chances were you spoke Greek. That shared linguistic experience has been lost. Not forever, if Home has anything to say about it.
Members of the current all-female team behind the Home are from different Cypriot backgrounds, and so the common language is English. But Home is now offering morning classes in Greek and Turkish, meaning that already the team members are able to communicate on a basic level in their native tongues.
Currently, the space also hosts popular music events and other cultural exchanges. Neophytou's next goal for Home is to branch out of the Buffer Zone and Nicosia to places where people "don't experience separation as part of their daily lives." But Home is also in the long-term business of reconciliation: "We are preparing people for that," Neophytou says. "Hopefully, with a positive solution, we will have an important role in the transition period."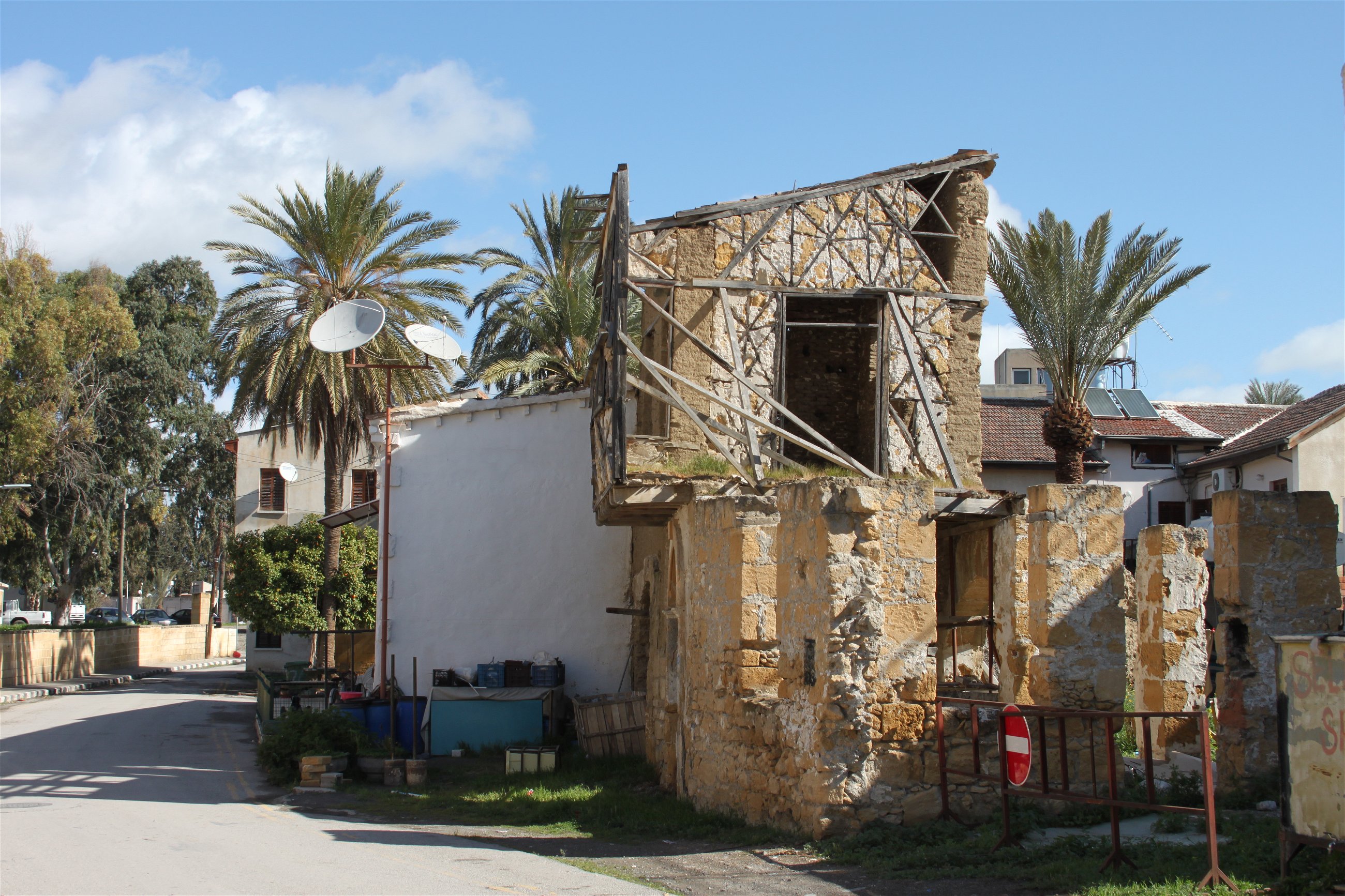 After taking a 45-minute bus ride south from Nicosia to Larnaca, I find a coastline crowded with hotels and apartments, in stark contrast to much of northern Cyprus. Little remains of the city that existed before the era of mass tourism, and even less remains of its former Turkish-Cypriot elements. After partition, the Turkish quarter of Larnaca lost the vast majority of its original inhabitants. Most of the timeworn mosques now stand empty. Imam Shakir Alemdar is seeking to change that.
"Just in the south, we have more than 100 mosques. Almost every village had one. And most are well looked after," he tells me. "We don't have the community to use all of them … but we have eight mosques now operating." Alemdar is the mufti, leader of the Muslim community, in southern Cyprus.
In 2008, he restarted prayers at Hala Sultan Tekke, a historic mosque I encounter after a pleasant stroll around the shore of Larnaca Salt Lake. The sleek dome and stubby minaret are surrounded by palm trees and lush lawns, all reflected in the waters, making for a miragelike first impression.
"It's the most important place of Muslim worship on the island, and in the past it was the center of activities for [us]," explains Alemdar, a warm, jovial man sporting rimless glasses. Although the current building was constructed when the Ottomans ruled Cyprus, Hala Sultan Tekke has its roots in the seventh century. Umm Haram, a relative of the Prophet Mohammed, died on this spot, making it one of the holiest sites in Islam.
After 1974, when Hala Sultan Tekke came under Greek Cypriot control, Turkish Cypriots were no longer able to visit. That started to change when the border opened in 2003. "Before," says Alemdar, "it had a museum flavor, which was hurting the people a lot." Now, there are prayers every Friday. The regular congregation is about 100 people, but on special occasions the number is far greater: "We have people coming from all over the island," says Alemdar, "from Paphos, Limassol—and the north." On feast days, a fleet of buses brings 1,000 people from northern Cyprus to Hala Sultan Tekke. It's a feat that Alemdar is particularly proud of, given the collaboration with authorities and respect for religious freedom in Cyprus that it demonstrates.
What broke the peace is nationalism, not religious diversity
Indeed, Greek Cypriots are very respectful of Turkish Cypriots' Islamic faith, according to Alemdar. "In the past, we lived together for almost 400 years, since 1571 [when Ottoman rule began]. It's a long time, isn't it? What broke the peace is nationalism, not religious diversity," he adds. "Religious diversity is our richness."
Although Alemdar believes politicians on the island continue to use religion as a "bargaining chip," he and other religious leaders have been able to bypass the conflict and create "our own reality." He is in constant dialogue with the Greek Orthodox archbishop on the island; they regularly attend both Christian and Muslim ceremonies together, as well as the openings of long-closed temples.
Before the troubles, mixed celebrations were a part of the social fabric. "Even when somebody had a wedding, they didn't differentiate whether you were Turkish or Greek. … It didn't matter for them if their best friend was Greek or Turkish Cypriot. As long as they had a good human relationship, that's what was important in those days, which is how it should be," says Alemdar.
Alemdar recently attended a music festival in the village of Lefkara that was held in a church hall but organized by a mixed group of Cypriots. "You had Greek and Turkish Cypriots, and also Maronites, singing all different songs, in all different languages," Alemdar beams. "It was an amazing thing."
The mixed villages of Cyprus' past are proof of a shared culture on the island, but they are, unfortunately, very much a thing of the past, not least because many of the old stone villages have crumbled as people have immigrated to the cities. But glimpses can still be found, as I learn in Vavla.
Reached by bus from Larnaca, followed by either a taxi from the small town of Choirokoitia, or a six-mile hike, this tiny inland village is nevertheless worth the journey. Buried among rolling hills, Vavla feels like a fragment of ancient Cyprus with its winding cobbled lanes and aged, white-stone buildings.
In one such building, I enter through heavy wooden doors to find an idyllic courtyard complete with an original well, the giant urns that are traditional in Cyprus, and a blooming tree. As the octogenarian Despoina Polis explains after welcoming me through an archway into the reception area, this 120-year-old house has been in the Polis family for three generations. She tells me that like so many other historic houses in rural Cyprus, the property almost fell into ruin. Thankfully, her son and daughter-in-law decided to to restore it, and in 2012 Vavla Rustic Retreat was born.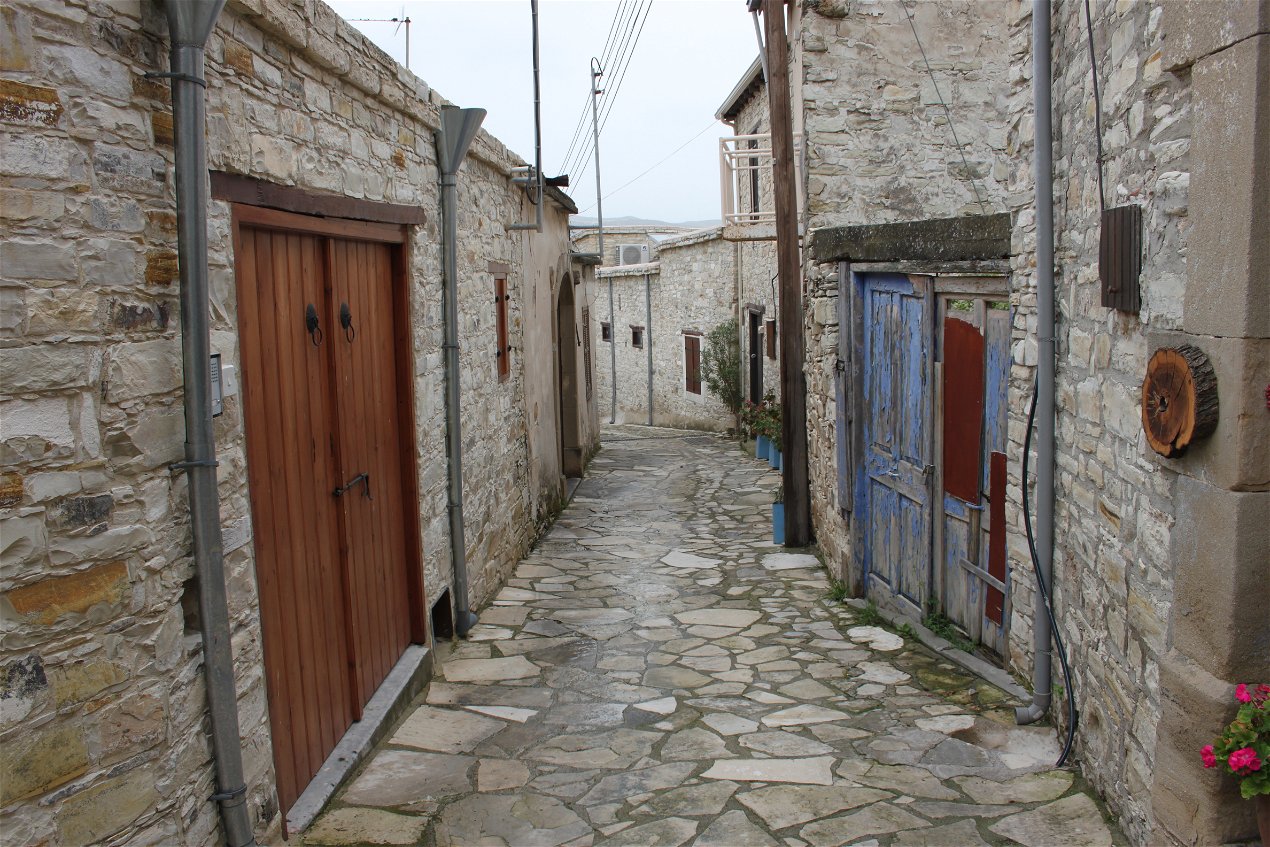 Despina Polis may be of advancing years, but the proud Greek Cypriot woman is far from frail, and her memory remains strong, I learn. Polis recounts how this tiny village was once mixed. There were at least two Turkish Cypriot families in Vavla until the mid-20th century; as there was no mosque in the village at which they could worship, they asked to convert to Greek Orthodox, or so goes the story. Polis' father-in-law also employed Turkish Cypriots to work in his extensive fields; they were on friendly terms and usually ate together.
"Turkish Cypriots wanted to stay," Polis says of partition. "I knew many Turkish Cypriots, worked with them—they were friends. And some did stay." But the process of dividing Cyprus along ethnic lines could not be stopped. In 1974, a family of Greek Cypriot refugees from the north came to live in the downstairs rooms of the Polis property and stayed for two years; like many families, the Polises opened their doors to those who had lost their homes, no questions asked.
As for Turkish Cypriots: "They were welcome here, in the south," Polis maintains. "Greek Cypriots did not make them leave. We wanted them to stay."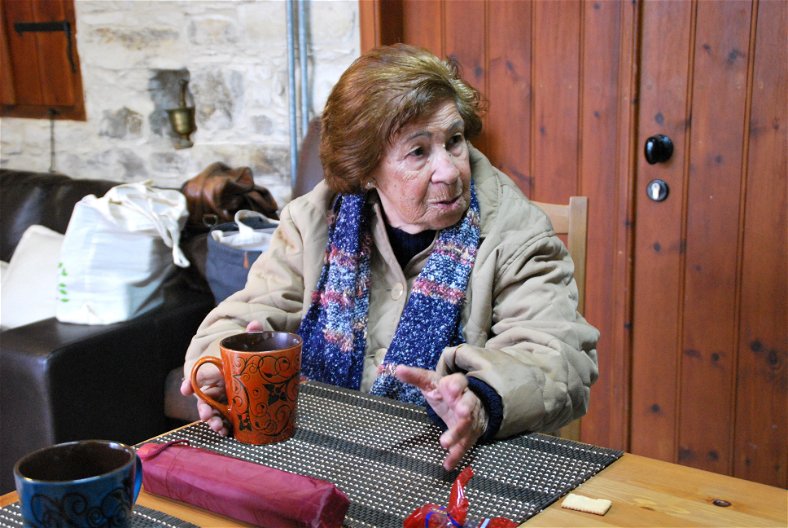 A couple of days later, I head back to Nicosia, where in an office building near the center, I meet another octogenarian by the name of Yiannakis Matsis. A small, elderly man, whose gray tweed suit is slightly too big for him, Matsis tells me over copious cups of tea all about his past efforts to find a solution to the Cyprus problem.
A former member of Parliament and ex-president of the right-wing party DISY, or Democratic Rally, Matsis is well known on the island. Once upon a time, he was also a member of EOKA, or National Organization of Cypriot Struggle, a terrorist group that in the 1950s fought for the removal of the British presence in Cyprus, as well as enosis—union with Greece. Matsis' brother Kyriakos was killed during the unrest and is considered a national hero by Greek Cypriots.
Before the meeting, I'd imagined some hardened, no-nonsense veteran. Instead, the bespectacled, sweet-faced Matsis seems to have nothing but warmth for his "fellow Cypriots" in the north and claims to have spent much of his political career striving for reconciliation. He recalls with fondness how he invited four prominent Turkish Cypriot politicians over the Buffer Zone as his personal guests. "We went to their [former] villages, their home in Limassol, and the meetings were very emotional," Matsis says. In one such meeting, the whole village came out to welcome the returning Turkish Cypriot like a prodigal son. "He visited the home of his father. … They gave a big celebration—it was very tender," Matsis remembers, eyes glistening.
The Cyprus problem can be traced back to British rule
The former politician believes that the Cyprus problem can be traced back to British rule and the idea of bizonality on the island put forward by Alan Lennox-Boyd, secretary of state for the colonies in the 1950s. "He created the idea of the two communities—there was no such feeling," argues Matsis. "The people were living [for centuries] in mixed villages. Without trouble."
And so I return to that initial rooftop view of Nicosia—of the U.N. Buffer Zone cutting through Nicosia and the Turkish Republic of Northern Cyprus' gigantic flag in the background. What strikes me now is not the flag but the image of the church and mosque facing off across the divide. Before the troubles, only a couple of streets separated them; there was nothing singular in this. As Imam Shakir Alemdar points out, in villages and towns across Cyprus, churches and mosques stood side by side, "the adhan called alongside the church bell."
"And people were happy with this," the imam adds, "they didn't have any problem. They used to eat together, they used to cook for each other on their feast days—they used to share everything."
This was Cyprus' past. I wonder if it can also be the future.