Finding the Perfect Cocktail and the Perfect Retirement Goals in One Day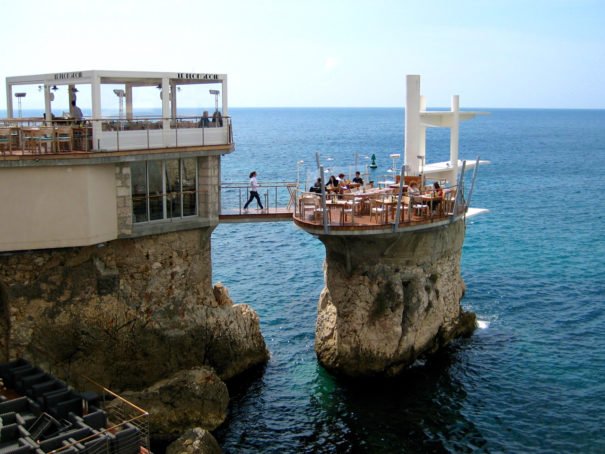 Finding the Perfect Cocktail and the Perfect Retirement Goals in One Day
A cocktail in Nice
I first spotted the curious restaurant while walking with my mom along the waterfront just north of Nice, France. Perched on a tiny rock pillar out in the sea, it was impossible to miss. But it was not a day for lingering, so we walked on, climbed up onto Mont Boron and then back down to the neighboring town of Villefranche-sur-Mer, striding past hillside homes and kitchen gardens, where chickens lounge away their days under the shade of olive and citrus trees.
I fell in love with those chickens, those homes, those trees. I snapped a selfie with a chicken over my shoulder and sent it to home to my husband saying I'd found my retirement plan, wink, wink.
A year later, he and I were hiking over Mont Boron ourselves—I had to take him to see the chickens. Again, we passed the mysterious pillar along our way. Some post-hike Googling revealed it to be an old high-dive platform, where adventurous Niçois youth used to fling themselves into the waves. We made a reservation to return to Le Plongeoir—"The Diving Board"—for lunch.
When we arrived, we were ushered into the main section of the restaurant, right on shore. It was too cold to sit out on the pillar, they said. But it would take more than a slight chill to keep us indoors in the south of France. As we anchored our napkins and menus against the wind, the manager, Christophe, braved the cold to offer us cocktails.
He lives up in those hills, he told us, where he plucks rosemary from his garden for the restaurant. They use it to infuse local citrus juice for Le Plongeoir's signature cocktail—a take on the mimosa dubbed The One. Christophe may not be retired yet, but he's living my retirement dream. And he was offering us a taste of that dream, served up in a couple of chilled glasses on his pillar in the sea.