The lives of tens of millions of people are about to be transformed by a series of ambitious dam projects in Southeast Asia.

KBAL ROMEAS, Cambodia—
Dam Samnang's home will soon be submerged. But he isn't budging.
Samnang knows that his village, Kbal Romeas, which sits on the banks of the Srepok River, a tributary of the Mekong River in northwest Cambodia, is going to be inundated by water from a downstream hydroelectric dam. But the 30-year-old fisherman has spurned compensation for his family's relocation and is staying put.
"What we want is our village, our river. The river and forest are not for sale, and especially not our identity and dignity," he explains.
To emphasize that point, Samnang's home has a spray-painted slogan in bold letters on its side declaring "NO LSS2 DAM."
The Lower Sesan 2 Dam is a 400-megawatt hydroelectric complex due to become operational in August. When the dam's floodgates close, Samnang's home, along with those of 5,000 others, will be lost to the water forever. With it will go generations of traditions tying villagers in Kbal Romeas to this stretch of river.
For now, life goes on for the family. Samnang's 2-year-old daughter, Rachana, strapped to her mother's back, learns from her mother as they gather produce from the fertile surroundings: vegetables from the riverside garden, rice from nearby paddy fields. A fire is stoked regularly to fry the fish that Rachana's father brought home earlier that day.
The impacts of the dams will be permanent and irreversible
But the skills Rachana is learning may soon become obsolete. The dam, and others like it, are drastically altering the ecosystem of the entire Mekong River basin and the lives of 50 million people who depend on its resources.
"The impacts of the dams will be permanent and irreversible," explains Nguyen Huu Thien, an independent wetlands ecologist who has studied the region for decades. "They're going to affect all aspects of life."
Huu Thien is monitoring progress at Lower Sesan 2 from Can Tho City, Vietnam, some 250 miles down the Mekong River, one of the world's richest waterways in terms of biodiversity. From the air, the river looks like an intricate web of arteries, veins, and capillaries as it weaves its way through Southeast Asia. Underwater, it is a muddy haze, a fog of nutrient-rich sediment that hides more than 1,200 species of fish in its depths.
But along its course—from Southern Laos, through Cambodia and Vietnam, and into the South China Sea—the relationship between the river and the people that live along its banks is beginning to change.
In the Mekong River basin, dams are redefining life.
Don Sahong, Laos
At the Laos–Cambodia border, 50 miles north of Samnang's village, Si Phan Don, which translates as 4,000 Islands, splits the Mekong into a maze of braided channels. In one of them, the Laotian government is constructing the Don Sahong Dam, only the second hydroelectric barrier to be built on the mainstream Mekong outside of China and a key component of a plan to turn the country into the "battery of Southeast Asia."
With a per capita GDP of less than $2,000, Laos is one of the poorest countries in the world. But it is rich in hydroelectric potential, and in a bid to pull its people out of poverty, the country hopes to become a major supplier of power for the rest of the region. Don Sahong is one of 12 hydroelectric dams Laos is currently constructing on the Mekong and its tributaries.
"We are going to build infrastructure because we are poor," says Phonekeo Daovong, the permanent secretary for Laos' Ministry of Energy and Mines. "We need roads, schools, clean water, education, health facilities. All of this is needed."
But Laos' plans are causing concern across the wider region. Opponents of the Don Sahong say the dam will disrupt critical breeding migration routes for fish coming as far away as the Vietnam Delta and Cambodia's Tonle Sap lake, more than 60 miles away in Western Cambodia.
A 2010 study suggests that taken together, the mainstream dams included in Laos' hydropower plan, along with two other proposed mainstream dams in Cambodia, could block roughly 40 percent of the Mekong's commercial fish catch, valued at more than $500 million annually. Secondary industries, such as fish processing and boat building, which add another $2 billion to $4 billion to the economy, may also be devastated.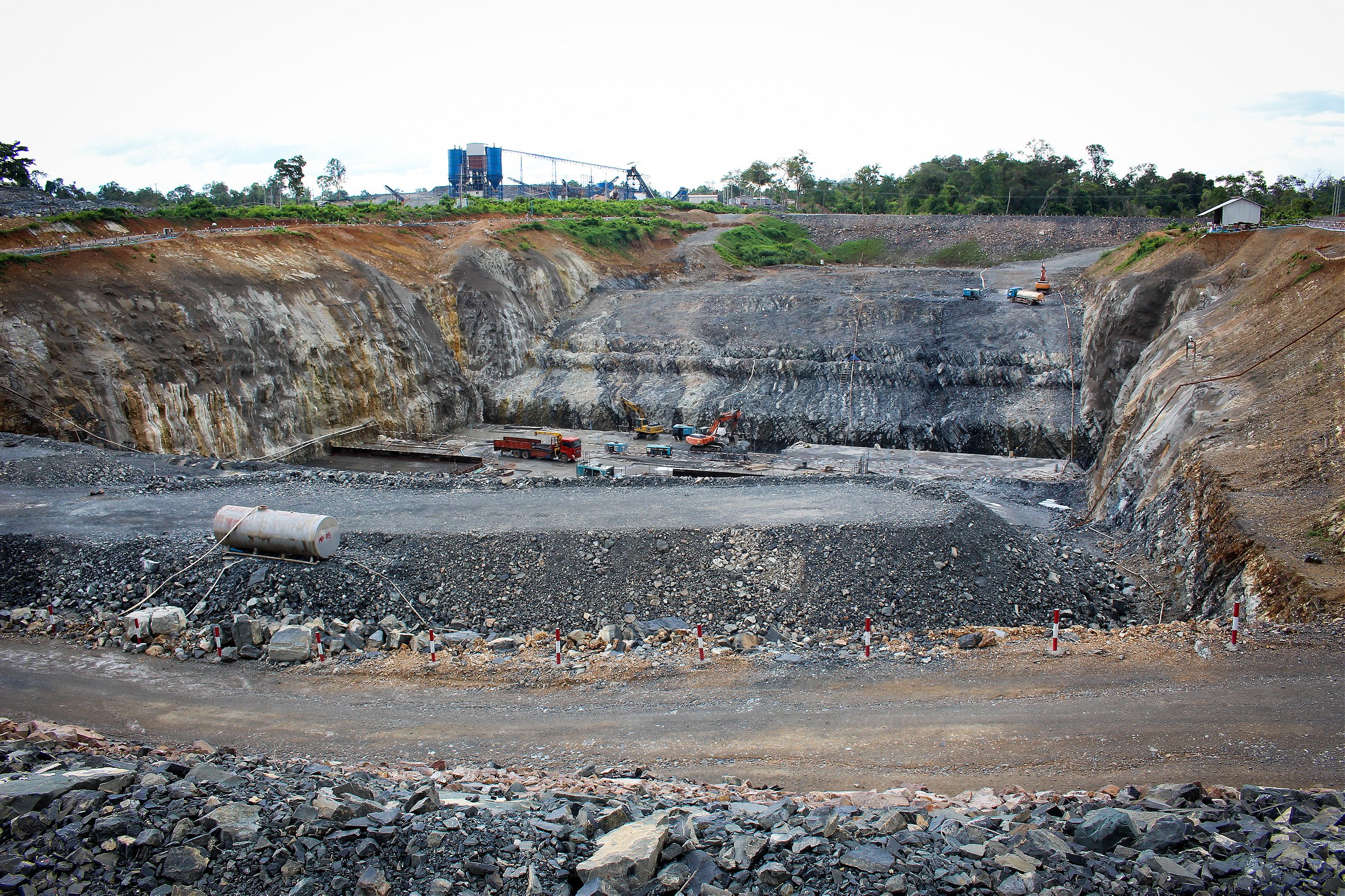 This disruption to fishing is all the more important in the Mekong basin, where on average people eat around 130 pounds of freshwater fish per person every year, around 18 times the fish consumption of the typical American. The protein is critical, as is the calcium from fish bones.
"Here, our children depend on fish," says Vietnamese ecologist Huu Thien. "So far, nothing can replace it."
Others have questioned the financial logic of the Laos government's strategy. While power-purchase agreements remain undisclosed, critics such as Huu Thien believe Laos will export more than 90 percent of Don Sahong's electricity abroad, doing little to light the homes of the more than 70,000 Laotians who still live without electricity.
And for decades to come, the government will see little electricity revenue. Laos will likely receive only 30 percent of electricity sales, in addition to taxes, until it assumes full ownership of the dam 25 years after it begins operating. The rest will go to the Malaysian and Chinese companies building the dam, according to a 2010 study of proposed hydropower projects.
But Laos appears determined to push on with the dam building, even over the objections of other nations that have tried to pause development. In 2010, the Mekong River Commission (MRC)—an intergovernmental body tasked with sustainable management of the river for the mutual benefit of Laos, Cambodia, Thailand, and Vietnam—recommended a 10-year moratorium on mainstream dam building to allow for more risk analysis.
The Laotian government ignored the study. Instead it pressed on with construction, first with the Xayaburi Dam on the Lower Mekong's mainstream and then in 2013 with the announced plans for Don Sahong.
Kbal Romeas, Cambodia
Two years ago Samnang's village was bustling. Young monks draped in orange robes hung out the windows of the village pagoda while teenage girls fried bananas on the riverbank. Sounds of volleyball, buzzing rice mills, and neighborly chatter filled the humid rainforest air.
But now it is quiet. Many structures have been reduced to piles of rubble, the village school has been shut down, and everything is overgrown.
The Lower Sesan 2 hydroelectric dam is scheduled to inundate the village in August, and the government is forcing everyone out in advance.
"The government asked us to move for our country," Samnang says. "They said we didn't have any alternative."
Like Laos, Cambodia is hoping to flex its hydropower muscles. According to the government's National Strategic Development Plan, the dam will help double Cambodia's electricity generation capacity by 2018; critical, the plan says, for increasing foreign investment and promoting development.
When completed, it will be Cambodia's largest dam. In total, Lower Sesan 2's storage reservoir will flood nearly 86,000 acres of rainforest. To prepare for the rising water, the government and Hydropower Lower Sesan 2 Company, the Cambodian–Chinese consortium building the dam, are relocating villagers to a resettlement site called Kbal Romeas II. It is situated on the side of a highway two hours away by motorbike from the original village.

Compensation packages offered to villagers forced off their land have left many feeling cheated. In exchange for moving, re-settlers have received a new home or money to build a new one, and 12 acres of land irrespective of what they owned previously. For most, this is a net loss. The company behind the dam project has not cleared much of the new land, leaving some with no means of cultivation at all. Some villagers have received cash for crops left behind, but many claim the price they got was unfair. In addition, the company refuses to distribute the full amounts until everyone has moved from the village. To date, only 81 of the village's original 150 families have resettled to Kbal Romeas II. Without knowledge of their land-owning rights, many succumbed to government pressure.
Bai Youen, a 36-year-old fisherman, is one of them. "The government wanted me to move, so I had no choice," he explains. "They said we could not stay in the village because it would flood. I believed them because they are educated."
Wearing a turquoise polo shirt, barefoot, and sitting cross-legged on the floor of his empty living room, Youen struggles to make eye contact as he talks through his changed circumstances. He says his children cried when they arrived in the resettlement site. They want to return to the old village, and he does, too.
Some who have resettled to the new village have begun making the two-hour commute back to their old rice fields, sleeping in small shacks for weeks at time.
As for the 69 families refusing to move, it is unclear how the government will ultimately deal with them.
"The developer can't do things without consent from local people," Samnang says.
Meanwhile, Youen attempts to adapt to his new surroundings. Waking at 5 a.m., he grabs some fishing nets and hops on a motorcycle. His destination is a small canal a few miles from the resettlement site.
But the greater effort does not equate to an increased catch. Whereas before he would usually bring back sufficient fish, now, for the first time in his life, Youen struggles to provide for his family.
Tonle Sap Lake, Cambodia
The slump in the size of fish catches is an experience shared elsewhere in the region.
To the west of Youen, 62-year-old Long Pheng, a fellow fisherman, is also struggling.
Pheng has seen the amount of fish he is able to reel in from Cambodia's Tonle Sap Lake dwindle to around 30 percent of his original catch. And this is despite putting in much more effort than before, he says.
Southeast Asia's largest lake, Tonle Sap is situated 125 miles west of Lower Sesan 2. The slow-moving water, connected to the Mekong by the Tonle Sap river, is a vital fish habitat and provides the first destination for juveniles after they hatch in northern breeding grounds. In all, it accounts for more than half of Cambodia's annual freshwater fish catch.
But fish catches began dropping off sharply about six years ago, according to Pheng. It coincided with the start of construction on Xayaburi Dam. The construction of Lower Sesan 2 could further impact fishing by blocking a critical migration route for freshwater fish, resulting in a 9.2 percent slump in basinwide catches, according to a 2012 study by Stanford and Princeton biologists. Other dams proposed for the region could take that number much higher.
In the past I caught fish. Now I work for other people
Compensating for smaller catches has been a scramble. Pheng says he is now much less choosy when he pulls up his traps, keeping the snails and snakes that find their way in with the fish. He has also begun spending his spare time looking for burnable vegetation to sell and serves as a watchman for the village cell tower. "In the past I caught fish," he says. "Now I work for other people. If I didn't do it, I couldn't feed my family."
For Pheng and his family, Tonle Sap Lake is everything. They drink water from it, bathe in it, collect the vegetables that grow in it, and have honed spicy Khmer recipes for every creature they fish out of it. For the family, life literally moves up and down with the water level of the lake. Their house floats on it.
The size of Tonle Sap is dictated by the seasons. From June to October, heavy rains cause it to swell to 3,800 square miles, covering more than 5 percent of Cambodia's land area. From November to May, it shrinks to 1,100 square miles—about the size of Rhode Island.
The roughly 3 million to 5 million people living on and around the lake have over time adapted to these seasonal variations. But due to a combination of hydropower development and climate change, the seasonal flood pulse has become irregular. Villagers note that water levels, already shallow, have been lower in the past decade than they have ever seen before.
In the last dry season, things got so difficult for Pheng and his family that they decided that Vesna, Pheng's son, should try to supplement the family income by working construction in Thailand. But after leaving his four children behind and laboring for six months in dangerous conditions, Vesna came home empty-handed, blackmailed by a boss who knew he had crossed the border illegally, the family says.
Outmigration is becoming a reality throughout the economically vulnerable villages that dot the lake partly as a result of both climate change and the impact of upstream dams.
"This not only affects my children and grandchildren, but also all the people along the river," says Tep Savin, Pheng's wife. "Parents have to migrate to work outside the country and leave their children. All those children don't have enough food to eat."
Mekong Delta, Vietnam
In the Mekong Delta, which comprises 12 percent of Vietnam's land area at the country's southern tip, rice fields, wetlands, and small crowds of palm trees extend for as far as the eye can see. Gangs of water buffalo, parked in giant puddles, crane their necks as motorcycles stream by carrying loads that seem to defy physics.
Nicknamed the "rice bowl" of Vietnam, the region is responsible for nearly half of the rice production of the country, which, behind India and Thailand, is the world's third largest exporter of the grain.
Vo Van Xep has been farming rice in the region for 30 years. Up with the sun, he slings a container of fertilizer onto his back and cruises the margins of his 12 acres of rice paddy fields. By 10 a.m., he is feasting with his wife and playing with his twin grandchildren. Van Xep doesn't hide a smile as he pours himself a third shot of moonshine rice whiskey out of a Black Label bottle full of leaves and twigs.
But this past paddy season, Van Xep saw large patches of his normally electric green fields go yellow, costing him about $1,300, nearly half of a harvest's typical value. The culprit, he says, is salt water intruding upstream from the coast. He can taste it.
Mekong wetlands ecologist Nguyen Huu Thien places the blame on the dams that are blocking sediment upstream.
Sediment—the sandy, silty mix of pulverized rock that gives the Mekong its milk chocolate color—provides critical protection from erosion. Without it, riverbeds flatten out and the seaward current of the river slows, allowing saltwater to make its way upstream and spoiling rice fields.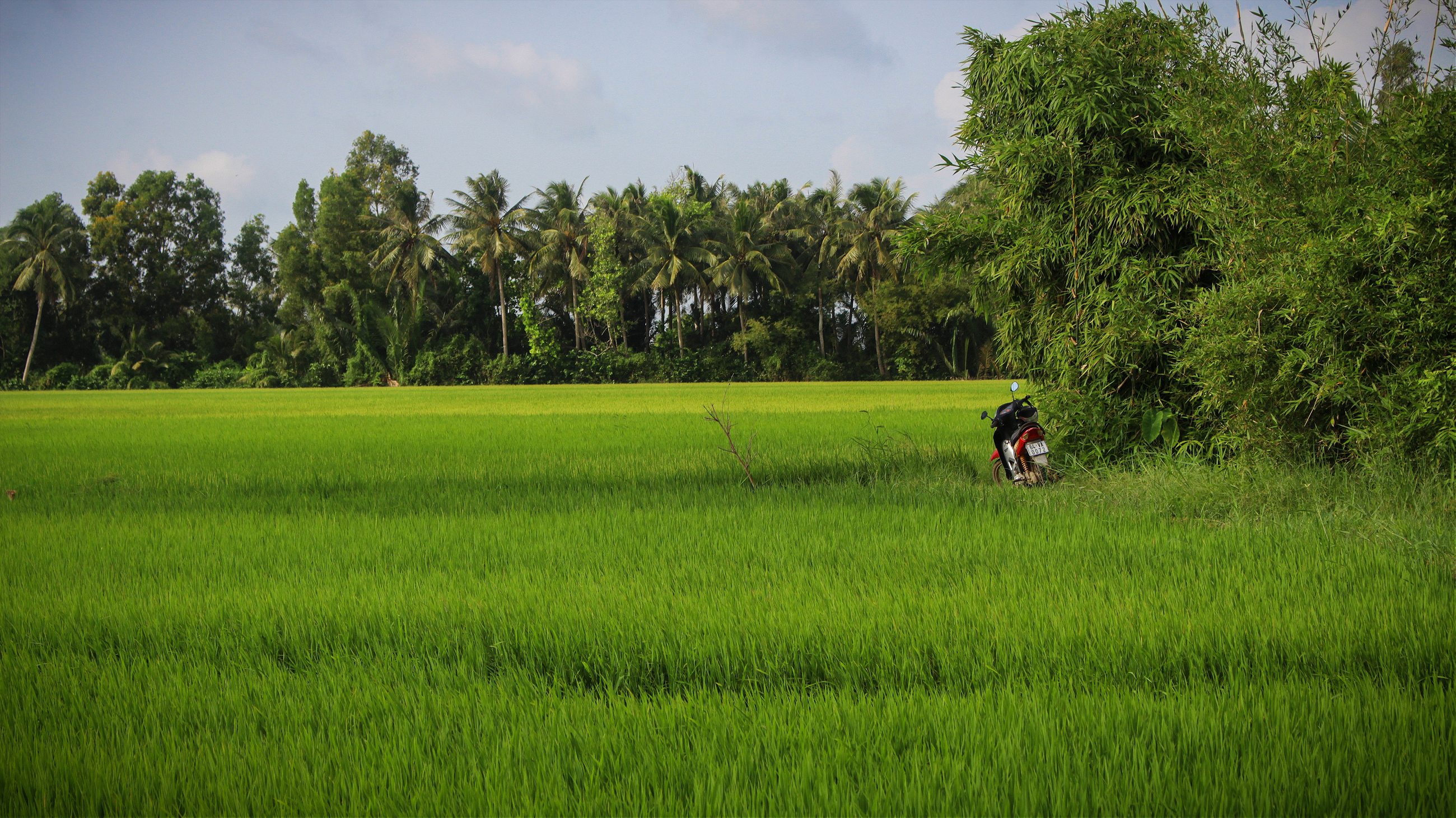 Aside from the new dams in Laos and Cambodia, hydroelectric barriers thousands of miles north have already disrupted sediment flows to the region, trapping it just as they do to fish. The 2010 MRC study predicted that dams already built on the mainstream Mekong in China, together with Lower Mekong tributary dams, would reduce sediment flows by more than half, while Lower Mekong mainstream dams would result in a further 50 percent drop on that. The drop in sediment is doubly worrisome for farmers as it also acts as an effective natural fertilizer.
Unusual weather events compound these difficulties. Last year, much of Southeast Asia experienced its worst drought in living memory, with Thailand and Cambodia recording record-high temperatures. In May, the Vietnamese government observed the Mekong River at its lowest level since 1926, eventually pleading with China to release water from its upstream dams, which its powerful neighbor to the north twice agreed to do.
In the Mekong Delta's capital Can Tho, environmental pressures have already pushed fisherman into new professions. Lulu Phuc became a full-time fisherman at the age of 10, he says. Now 36, he was forced to turn to other means of income two years ago. He explained that catches are only 20 percent of what they used to be, and it became too tough to get by on fishing alone.
"I can't compensate for those days of losses," says Phuc. "Because of that, I've been forced to change my career." Now Phuc works as a middleman in the fish market, where the work is easier and the income is steady.
There are signs people across the region are adapting similarly. Rice farmers are beginning to experiment with saltwater shrimp farms. People are seeking employment elsewhere in the country and outside of it and many are migrating to cities, where wages are low. "The Delta is gradually losing the capacity to support the population," says Huu Thien. "The Delta is going to fall apart," he adds.
Still, while many in the Delta are feeling and responding to environmental changes, seemingly few who live off the Mekong have yet to fully grasp the impact that the dams may have on their livelihood.
The Mekong Plume, South China Sea
More than 1,200 miles south of its origins in the Himalayas, the Mekong River meets the coast of the Vietnam Delta. Green horizons transform into stretches of unblemished white sand and the warm, aquamarine South China Sea. Every minute, a dendritic web of small canals transmits nearly 200 tons of muddy sediment into the ocean, where it dissipates into a nutrient-rich zone extending dozens of miles out to sea.
The Mekong Plume, as the spillway is called, is one of the most productive ocean fisheries in the world. Spanning a coastline of roughly 400 miles, Southern Vietnam coastal fisheries alone harvest more than half a million tons of fish annually. By contrast, Australian coastal fisheries, occupying an oceanfront nearly 20 times as long, produce less than one-fifth of that.
For how much longer this will continue, though, no one knows. Since the 1930s, studies have pointed to the paramount importance of Mekong sediment flows for the health of Plume fisheries, and the same 2010 MRC study that called for a moratorium on Mekong hydropower development predicts that sediment retention by dams will "have a major impact on coastal fish production."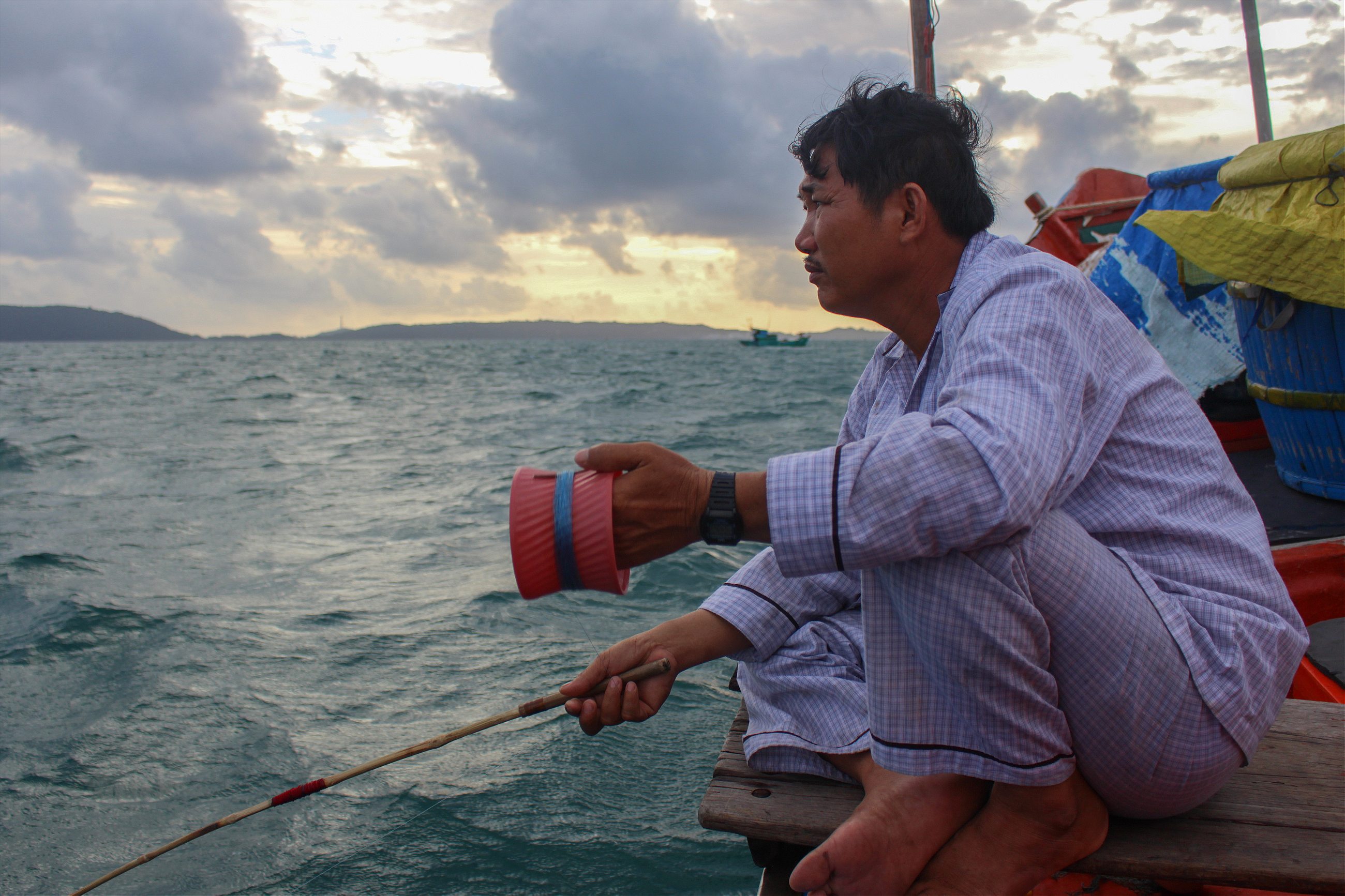 Yet constrained by a lack of available data, research quantifying this impact is hard to come by. According to Huu Thien, as with those who depend on sediment in the Delta, the millions who depend on the Plume could be in for a major blindside.
Nguyen Van Mahn, who lives with his parents and children in a cliff-side home on the south tip of Vietnam's Phu Quoc island, is one of those likely to be affected. Three times a week, he and his father pack a bag of rice, vegetables, spices, and pillows and set out on their motorbike, tandem-style, for the calm side of the peninsula. They then travel six miles out to sea, anchor, and for much of the evening and into the night, jig their lines in and out the water, pulling out 3-inch squid that they sell in the market the next day.
The catch is good. Sometimes, Mahn's father does the whole trip in his pajamas. They haven't heard anything about dams upstream and for the time being at least, business as usual carries on.
"The climate is very stable," says Mahn. "The sea is clear, clean, and it is beautiful."
But for Mahn, this may not last.
The effects of completed dams have begun to show. Don Sahong and Lower Sesan 2 are nearly complete, and dozens of other proposed dams are on their way. While the economic payoffs of the dams remain to be seen, one thing is certain: The lives of many who depend on the Mekong River have started to change, and they will never be the same.