We Are United in Our Love of Well‑Baked Carbs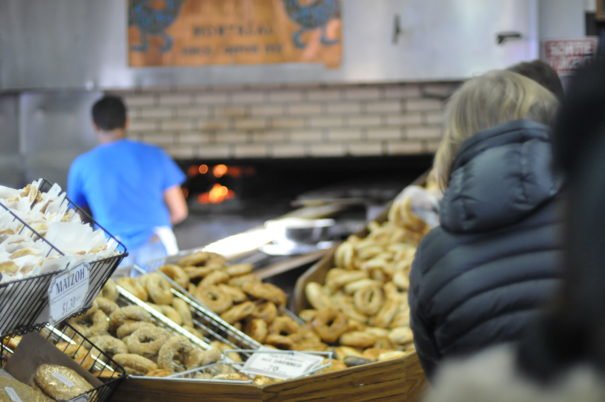 We Are United in Our Love of Well‑Baked Carbs
Bagels in Montreal
You can smell the bagel shop from around the corner: sweet honey, wood-fired dough, and buttery, toasted sesame seeds waft from across the block.
There are two rival bagel shops in Montreal: Fairmount and St. Viateur. They are around the corner from each other in the city's Jewish quarter, Mile End. Thankfully I have a half-hour walk to get there, otherwise it would be bagel time every morning. Both bakeries are open 24 hours a day, meaning that more than once I have found myself drunkenly popping in for a midnight snack after a night out, simultaneously picking up breakfast for the next day's hangover. Today, it's a quiet morning walk in warm autumn weather.
There is almost always a queue in the crowded bakery. It's tiny and most of the space is taken up by crates of freshly packaged bagels ready for delivery to supermarkets across the city. Just behind the counter, I can see recently shaped dough poaching in honeyed water, flaming brick ovens and piles of hot bagels mounting up on one side of the kitchen. As I wait, I hear the orders of my fellow bagel eaters come in varying accents in French and English. Coming from a small, predominantly Christian town in northeast Scotland, I can't help but get a thrill from buying Jewish bagels in North America, in French.
Canada seems to have avoided the populism and rejection of fact-based politics seen across Europe and the U.S. this past year. It has welcomed over 30,000 Syrian refugees. They also let me in as a permanent resident this week. Looking at the rest of the queue, the diversity of people waiting patiently is remarkable. We may prefer one bagel shop over another, but we are united in our love for well-baked carbs.
I order my "demie douzaine de sésame" and squeeze back out onto the sunlit street. I am partial to smoked salmon and cream cheese, but when they are this fresh the bagels don't need anything. I always eat at least one on the way home. Crunchy sesame seeds, slightly crispy dough on the outside, soft and chewy in the center. I tell myself that I think I prefer Fairmont over St. Viateur due to the extra sweetness of the dough. But perhaps I should just go round the corner and make sure…