Bacon and Sausage to Soothe a Homesick Soul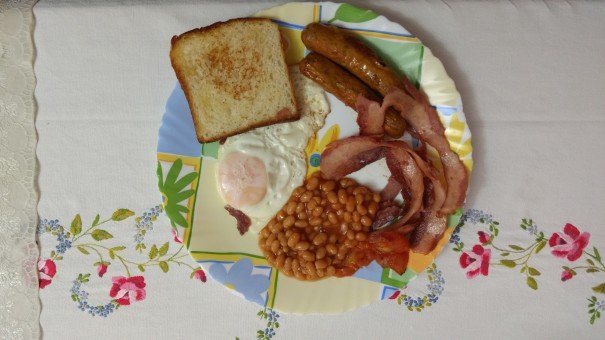 Bacon and Sausage to Soothe a Homesick Soul
The Full English in London
It is my first month in London as a student. Back home in Mumbai, I lived like a princess in a large, sunny flat with a maid, a dishwasher, and a cook. The bit of London I had picked could not have been more different. The day I am to leave Mumbai, my phone rings off the hook with horrified relatives calling to tell me about the sensational, drug-related murder of a student from my new college. My very first week in halls, a student gets mugged right outside our door. More than once, I spot the gleam of a knife amidst a scrum of young men. It appears that I have eschewed Mumbai for the dodgiest bit of London I could find.
This is all very frightening. So, for weekdays, I have established an inexorable routine to keep myself away from trouble: tumble out of bed, take the bus to college, grab a cup of coffee from the cafeteria and sidle into class. I spend the afternoons in the library, with a pallid sandwich or two to drag me through the day. My dinner is usually a paper of fish and chips, eaten in front of my laptop watching Doctor Who reruns, in a room big enough for only a bed, a cupboard, and a writing desk. This is what it is, to be marooned in South East London and living on a quickly-vanishing stipend. Nevertheless, I love every minute.
But on Sundays, I am loosed of the moorings of university life. On Sundays, I have time for a proper meal.
Most Sundays, my friend and I go to the little café round the corner. Outside, the sky is painted slate, but inside are red-and-white chequered tablecloths and a curly vine hugging the café window, the leaves stained auburn from the autumn chill. Every time the kitchen door opens, we are swept by a gale of warm, delicious smells. By ten in the morning, the air is thick with the thrum of voices; customers lounge on wooden benches and chairs, tucking into hot, salty, fatty fry-ups.
I too, order the full English (when in England et al). A white plate flooded with protein is set down in front of me. More often than not, the chubby pork sausage has split open from the heat, oozing its unctuous juices all over the mushrooms. The pool of Heinz beans in their sweet tomato sauce and the grilled tomatoes sit happily beside the twin rashers of bacon. The piece de resistance of course is the egg, the wobbly orange dome sitting aloft a just-set white. It all comes with a thickly-cut slice of fried bread, which I cut into soldiers. Afterwards, there is always a steaming cup of English Breakfast tea on my table.
Really, it is just a simple full English, but my friend and I have fallen completely in love with it. There is something so warm, so emollient about this Sunday meal, that it is the perfect antidote to the weariness that drags me down all week. Suffused with the comforting flavors of sausage and bacon, I feel right at home.