On a fog-bound island off the Irish coast, trying to avoid the fate of so many others.
It is winter on Inishturk, the fog curtaining off the mainland, wind tearing the sea and making travel difficult, if not impossible. The island rises nine miles out from Ireland's west coast, a jagged fold of 490-million-year-old schist and slate that tilts to the southeast as if sloughing something uncomfortable into the Atlantic, rock knuckling its way to the surface and forming peaks, valleys, and sheer sea cliffs. You get the sense that life clings thinly here, like the skin on an apple.
Here the human and physical mirror each other. According to local historian Paddy O'Toole, 600 people lived here before the Great Famine, but from 1841 to 1851 over 400 died or left the island, many fleeing Ireland entirely, and the population never recovered.The 1951 census recorded 123 full-time Inishturk residents, and the 2011, 53.
"Technology," says life-long resident Bernard Heaney, "is what's killing the island," but it seems an older struggle than that, because those young people who leave for upper-level schooling find no work to return to. On the ferry over I meet a woman named Helen who introduces me to her three children, currently living in Dublin, London, and Singapore. Many tell me about family they have in America, and in my research I find a 2013 obituary that lists surviving relatives in County Mayo and Springfield, Massachusetts.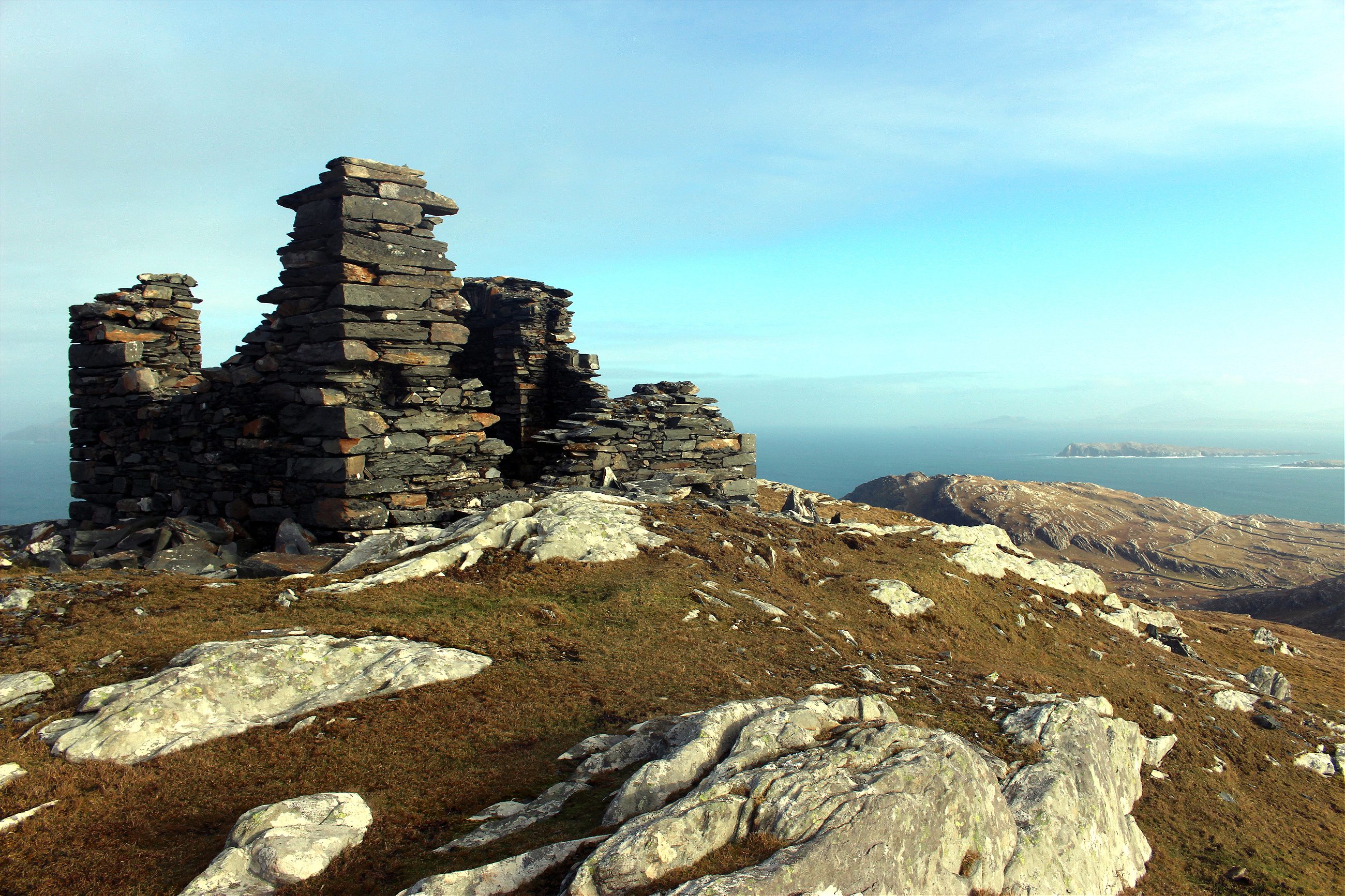 The diaspora is still very much a going concern on Inishturk. It is a place with both geologic and human history wrought plainly on its hide. After, in Paddy's words, a "violent, violent beginning," when Inishturk underwent repeated uplifting and twisting by tectonic forces, 'the Isle of the Wild Boar' was several times swallowed in glacial ice and then cut off from the mainland by a rising sea.
Though the date is disputed, it is possible pre-Celtic people inhabited the island as early as the 7th century BCE, worshipping the wild gods of wild boar as gods and naming Inishturk after them. Their descendants left behind hut sites, promontory forts, and the fulacth fiadh, subterranean pits that whose hypothesized uses range might have been used for anything from tanning leather to brewing beer. St Columba, famed for spreading Christianity to the Celts and Picts in the 6th century, is said to have visited Inishturk and nearby Caher island, converting pagan altars into pulpits and cemeteries. British lords claimed the land in the 18th century and constructed a Martello signal tower in the early 19th, the ruins of which are still visible atop Coimin an Sléibhe, the mountain common. Around it the skeletons of farmhouses, pre- and post-famine, dot the ridges.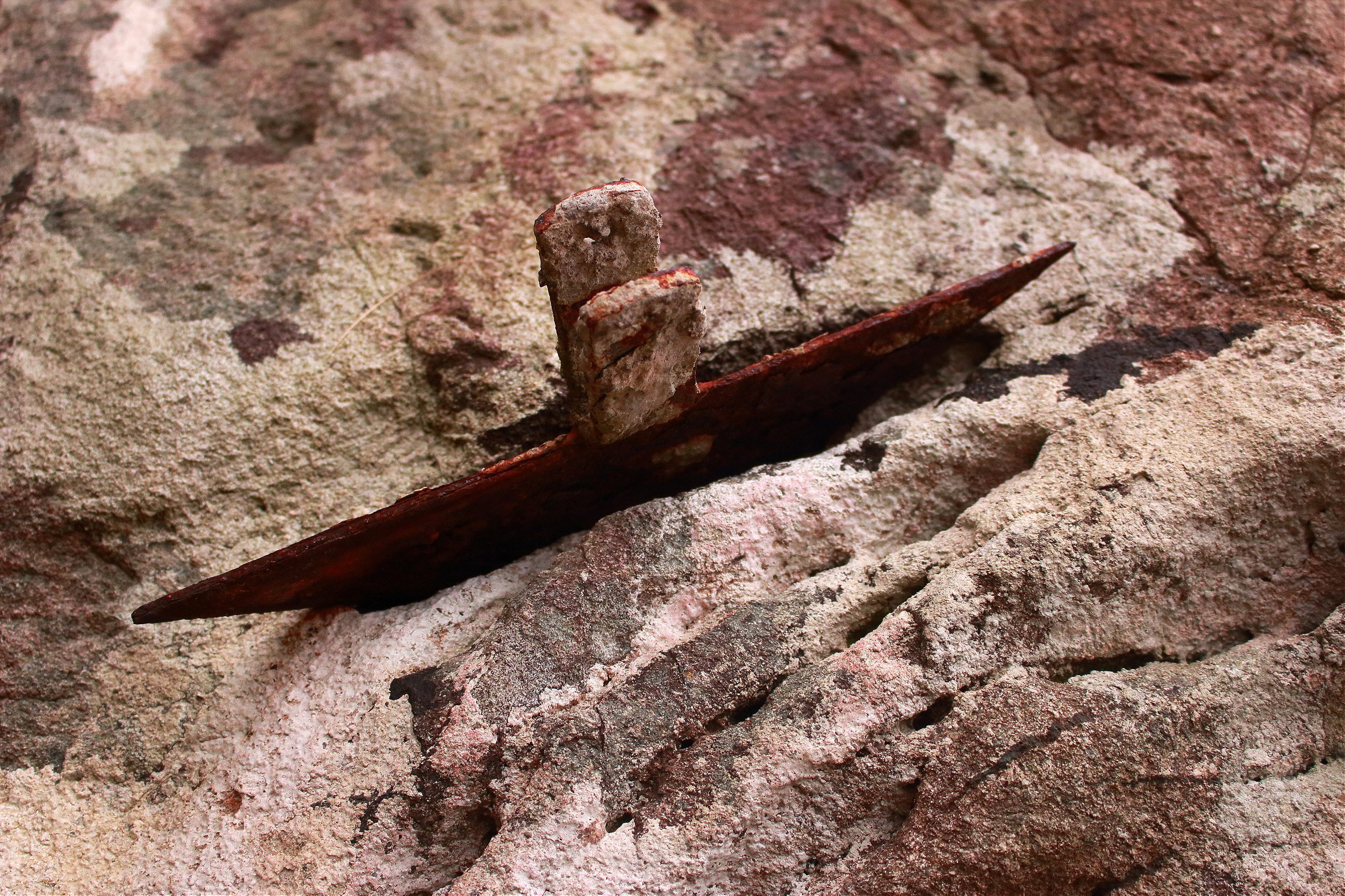 Livelihood, too, can be seen as an additive process. People have been fishing here likely as long there have been people here, first in hide boats, much later in the wood-and-tar curachs, rowed miles out by local men who put down lobster traps and collected mussels and mackerel and who often rowed all the way to harbors in Counties Galway and Mayo to sell. They farm, too, with most families owning at least some of the sheep that graze on the south of the island, where the land is held in common. Spray paint separates one man's flock from another's. Yet most do much more: Bernard and his wife Philomena, for instance, collectively fish, farm, run the post office and power station, and own the bed and breakfast where I stayed. Pakie O'Toole, a pensioner, builds curachs to sell on the mainland in addition to minding his flock. Others help run the Community Council and the ferry.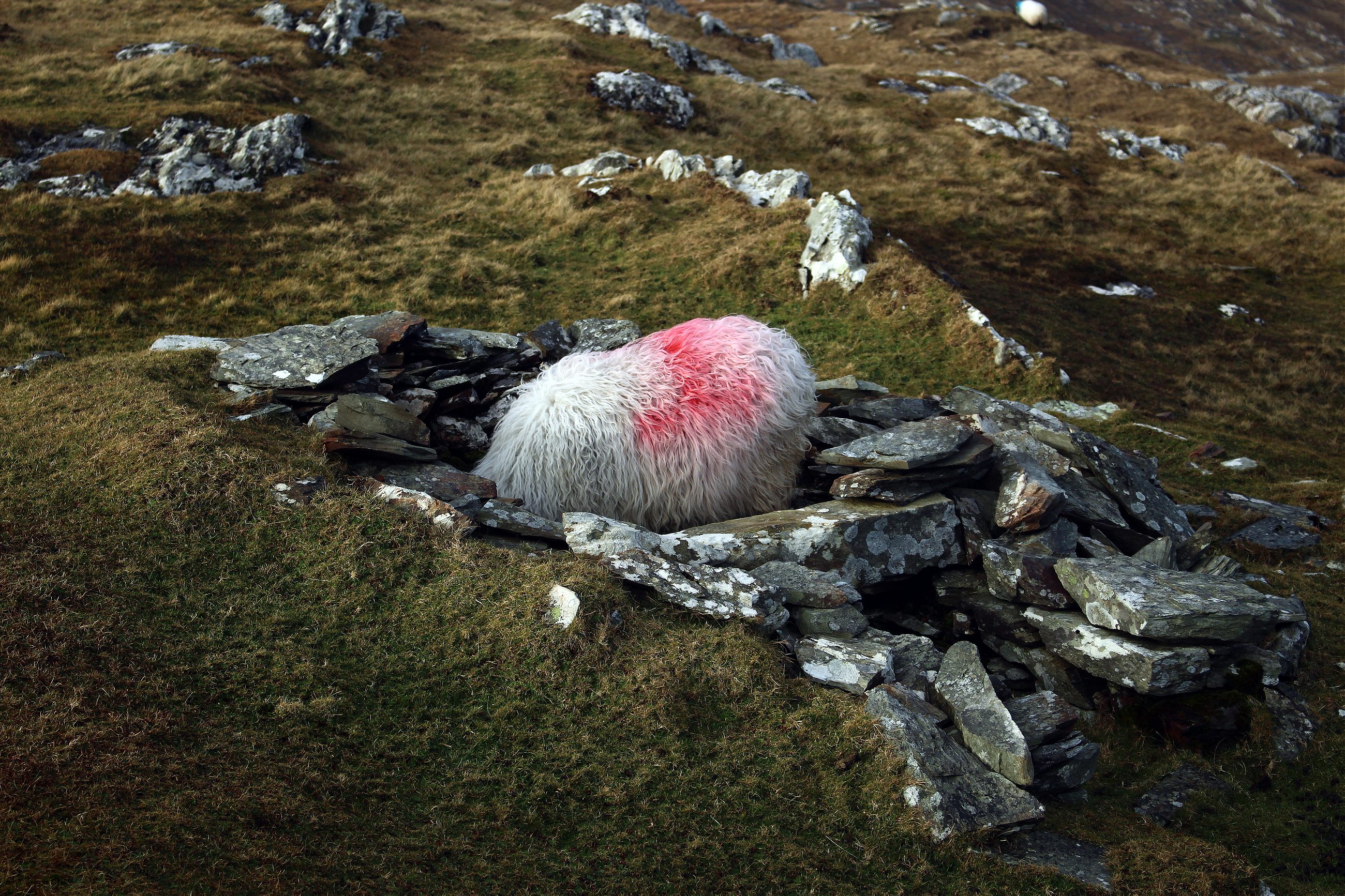 Change seems to occur here as a cascade, first one thing then many successive others. In the 1980s the Irish government built a pier in the harbor at Garranty, followed soon by paved roads, the first cars, a diesel power station, and a community club. Later, and most importantly, came the ferry. In older times men rowed their curachs to the mainland to sell fish and buy supplies, a round-way trip that Pakie estimates at least four or more hours on the open water.
The introduction of outboard motors made the journey more palatable, but hardly sure or safe, and island life remained in many ways disastrously isolated, a fact that concerned many. From the 1930s to the 1960s, the Irish government evacuated islands along the west coast, from the Blaskets down in Kerry to the most northerly island in Ireland, Inishtrahull in Donegal. Winter storms isolated cut off Inishark, just to the southwest of Inishturk, for weeks at a time, and in 1960, after a series of deadly maritime accidents, the 24 remaining residents left the island, forever.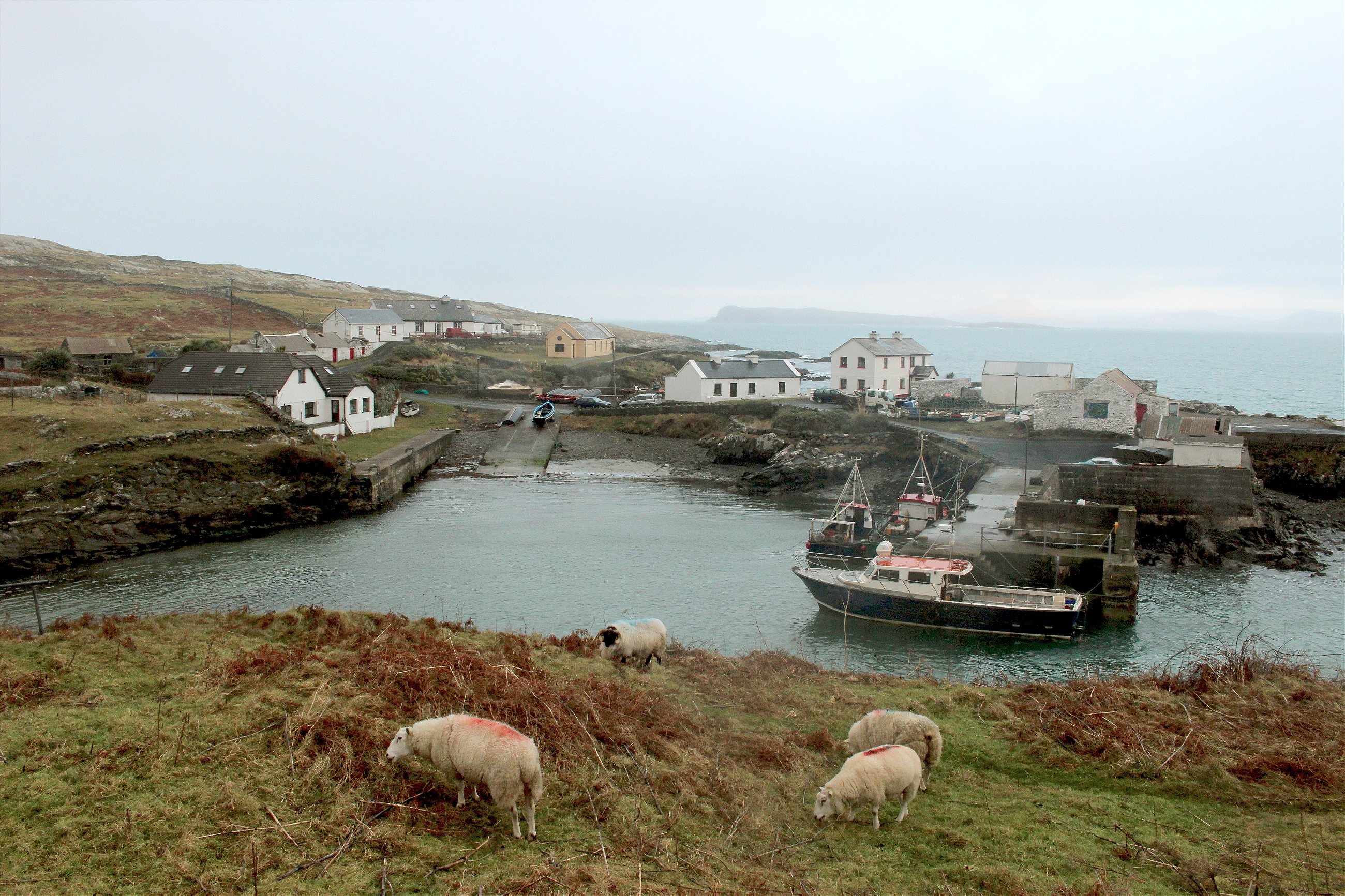 This is what local people think of when talking decline and tragedy, and when the topic of abandonment comes up the ordinarily gracious and welcoming can get prickly. This is their home, and any problem is a pretext that evokes an old fear of for evacuation. And there most certainly have been problems. The Island Development office, which administers many government programs on Inishturk. The island, almost had its budget slashed, and only a protest by the Irish Islands Federation prevented it.
The government health center has been without a full-time nurse since September of last year,—a lifeboat from the Royal National Lifeboat Institution had to pitch in to help stabilize an Inishturk man's life over Christmas, since even the part-time nurse was away over the holidays. Despite the aging population and presence of a woman five-months pregnant, there have only been a few days of health coverage on Inishturk since. Then there is the matter of population, which is really one of economics: young people flooded the mainland during the Celtic Tiger, and even the subsequent crash and years of austerity haven't brought them back home.
Clare Frawley serves as teacher, principal, and sole employee of St. Columba's Primary School on Inishturk; as recently as six years ago she was one of two. When Pakie O'Toole attended Columba's in the 1940's, he had around 60 classmates, and in the early 2000's the school had 12 in attendance. Today, Inishturk's student population consists of 9 and 10 year old brother and sister. The school has a single classroom, but because it is an older building, built when class sizes were much larger, the extra rooms have been converted into offices, a gym, and storage space. Other than the siblings there are no young children on Inishturk, so once both students age into secondary school, which will force them to go to school across the water, St. Columba's will close. and unless new children come to the island, the school will likely stay that way.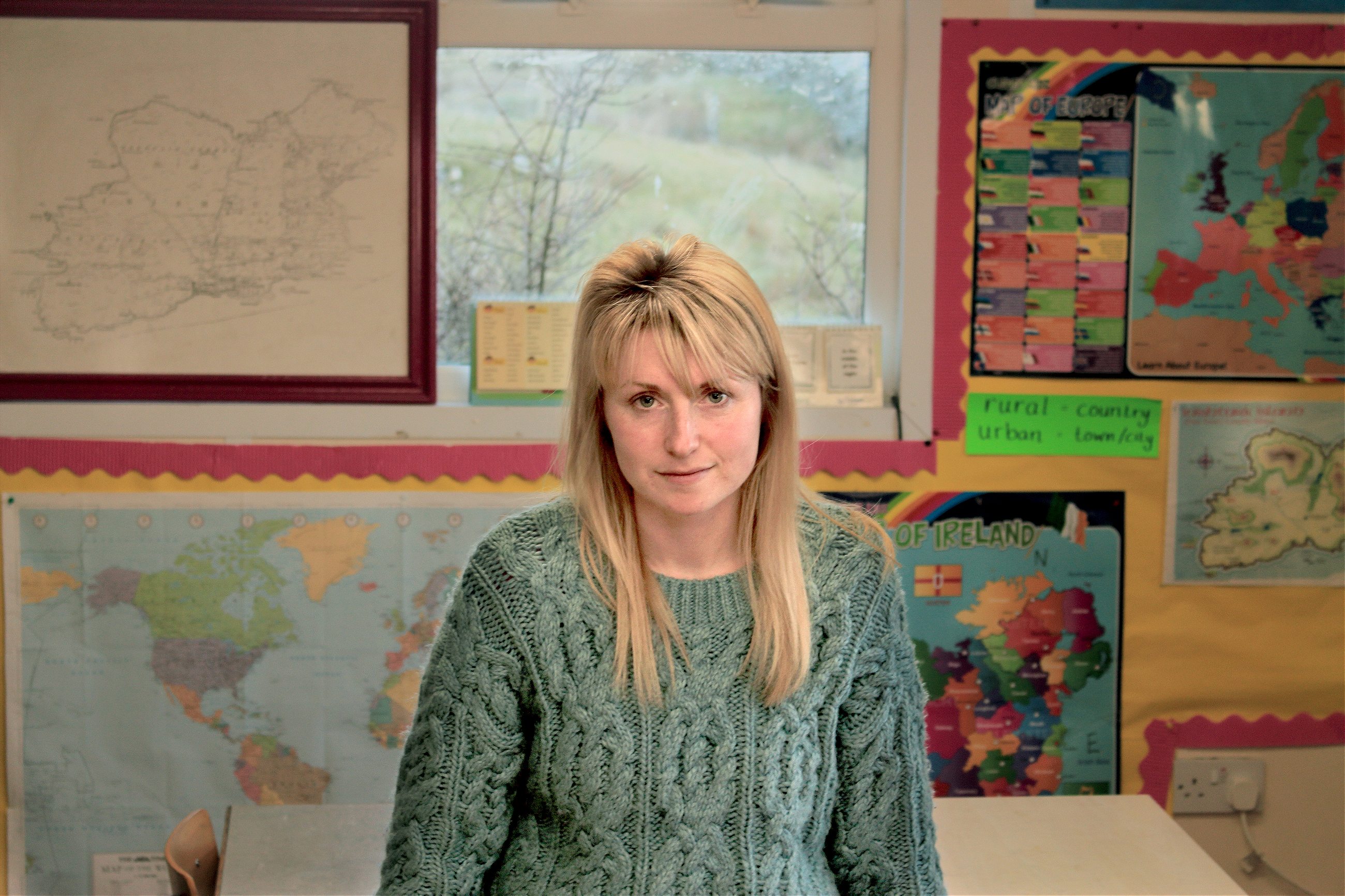 Because she has only two students, Clare describes St. Columba's as "almost like home-schooling," and so she has to get creative to keep her students' interest. "It can't be, 'we're going to do this for the next hour,'" she says. "There has to be variety." She mixes and matches from a tall case of workbooks, and takes the children outside. When the weather improves they go onto the mainland or nearby Clare Island for swimming lessons and to be socialized with other kids their age, which Clare says the siblings love. Growing up around adults has made them mature, she thinks, but they certainly hurt for company their own age.
Because of Inishturk's size its children attend mainland secondary schools, living with host families for most of the week. Some parents hold their children out of primary school for an extra year, simply to keep them at home, and so they are generally a little older than their classmates. On Sunday night they take the ferry to Roonaigh Pier and get a bus into Westport, and on Friday take the reverse trip back. I take this ferry out with them, and the small cluster of families meet at the dock, the six kids piling their luggage onto seats and waving goodbye as the boat pulls into massive swells and waves splash full from prow to stern, soaking my sneakers. As the island shrinks behind us they gather on deck with earbuds half in, bullshitting and not looking back. I wonder how long their parents stand on the pier and, watching us go.