Mountain biking takes off during a fuel crisis in Nepal.
The trouble with mountain biking in Nepal is that you're surrounded by distractions. Fields of bright orange marigolds and golden mustard flowers look like a sunset splashed across the earth. Chubby-cheeked babies bathing in buckets of water cause my second near tumble. Then there is the sight of the campsites sheltering people still without homes.
I'm biking through Sankhu, a town 20 miles east of Kathmandu that suffered extensive damage after a devastating 7.8 magnitude earthquake hit Nepal in April. Some reports say that 90 percent of buildings in this rural community were damaged. Rebuilding efforts here and throughout Nepal, have all but come to a halt during a three-month long blockade of the main border crossings with India.
India, Nepal's neighbor on three sides, accounts for more than 60 percent of Nepal's foreign trade. When Nepal passed a new constitution on September 16th, members of the Tharus and Madhesis who are ethnically and culturally close to the people of Indian states of Bihar and Uttar Pradesh, demanded greater representation. As a result, the Birgunj checkpoint – the country's largest trade artery with India – has been blocked by protesters from the Madhesi community since September 24th. Nepal blames India for supporting the Madhesi, while the Indian government blames the blockade on internal unrest in Nepal.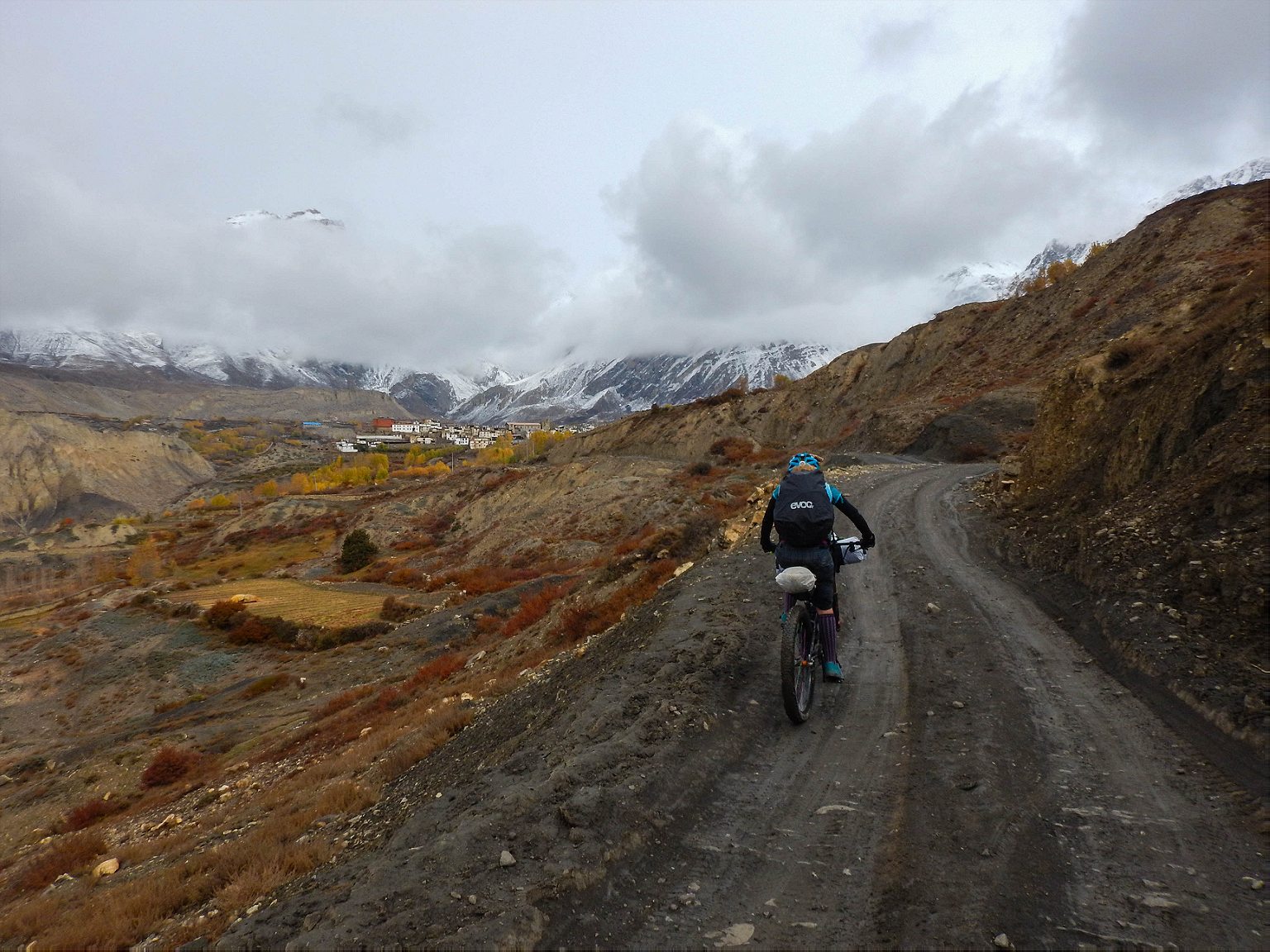 The blockade means hospitals can't get medicine, restaurants are running out of cooking gas and the Nepalese government has been forced to ration fuel, killing the engines of the vehicles that were transporting building materials to disaster sites, and the motorbikes that get most Nepali people to and from work each day. The fuel shortage is also responsible for the unusual number of cyclists I see both on the trails of Kathmandu Valley and on the city's eerily quiet streets.
In Kathmandu, traffic is at a standstill. Taxis, cars and motorcycles snake around blocks as their owners wait for fuel. So instead, some are turning to bicycles as a means of transportation. The Kathmandu Post reported local bike shops selling 20 to 22 bikes per day versus the normal three to four. And in Pokhara, the Himalayan Times recently reported demand for mountain bikes has risen from 150 to 1,500 per day, due to the recent blockade.
In 1989, when India closed 19 of the 21 border crossings with Nepal, most people didn't have the option to turning to bikes, according to Sunil Sharma, the race marketing director of Yak Ru, a multi-stage mountain biking race held on Nepal's famed trekking route, the Annapurna Circuit. "No one was importing mountain bikes then," he says. "Now more than a dozen brands have presence in the country, like Trek, Giant, Marin and many Chinese brands. During this fuel crisis, all the bike stocks were snapped up within days." Sharma estimates that more than 8,000 people took up mountain biking in the Kathmandu Valley alone, which has been hit hardest by the fuel crisis.
While the fuel crisis has caused more interest in buying bicycles, that does not mean all new bike owners are interested in cycling. "Most people have only started out of pure necessity or in some cases pure laziness, as the next alternative would be walking," says Saloman Shrestha of Epic Rides Nepal. "It is certain that many people who have purchased bikes will stop riding as soon as the fuel crisis has been resolved."
But many hope the habit will stick. There are virtually millions of tracks crisscrossing the entire length and breath of Nepal and the well-established tea house and lodge infrastructure for hikers makes it very easy to get around on a bicycle. In the last decade, the Annapurna Circuit has become a Shangri-La for hardcore mountain bikers, in particular the Manang and Mustang route, where the landscape varies from altitudes as low as 1,000 feet to 17,700 feet.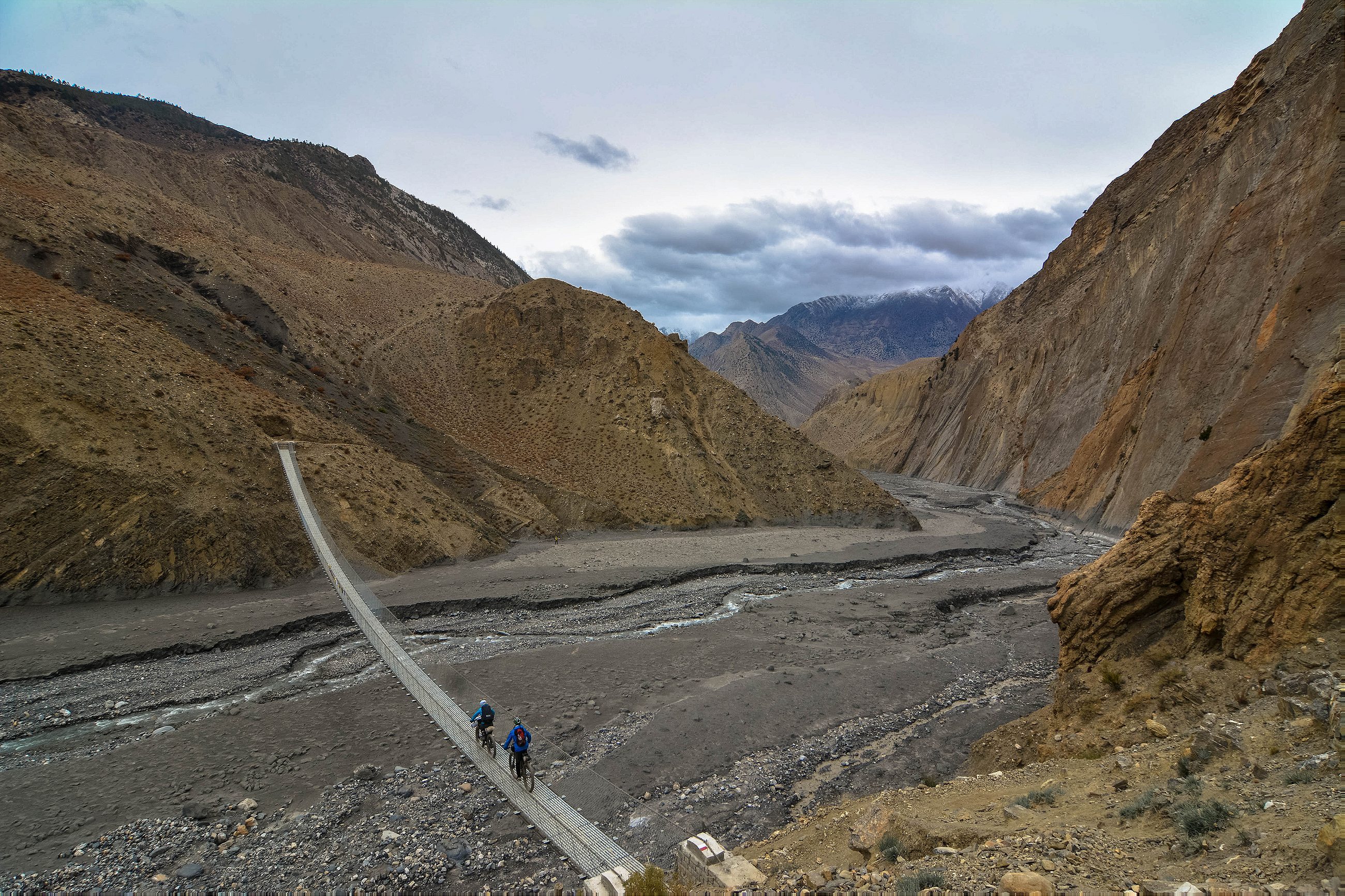 In the past, foreigners dominated Nepal's single-track trails. Part of the reason mountain biking was slower to take off here is that cycling had long been viewed as an activity of the poor.
"Twenty years ago, when I first came to Kathmandu, the only people who biked were people who could not afford a motorbike," says Mads Mathiasen, the director of adventure outfitter Himalayan Trails. "You need to break down that barrier in order to get a real biking culture here and the popularity of mountain biking – and right now, the necessity of mountain biking from the embargo – has started to break down that barrier."
Now, Nepali riders are embracing the sport on their own turf, and slowly on the international racing circuit as well. The gentler back roads of towns such as Sankhu and the nearby Gokarna Forest Reserve are becoming a playground for new riders.
But bikes are expensive. Nepal is ranked the 16th poorest country in the world, more than half of the country's population lives on less than $1.25 per day, according to Humans in Crisis International. Even cheap Indian and Chinese-made bikes selling for $350 cost almost as much as average person's yearly salary.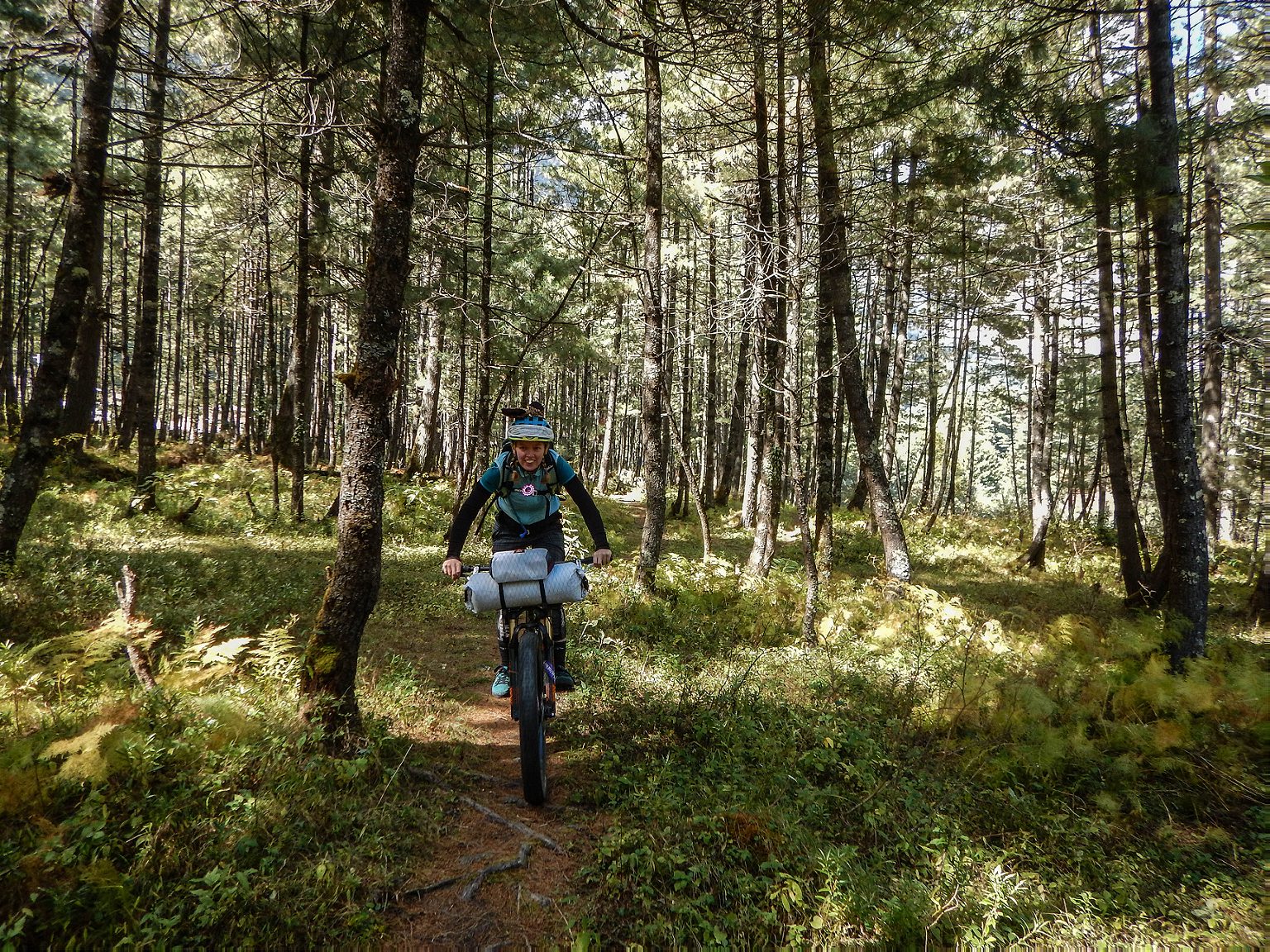 Chhimi Urken Gurung is the president of the Nepal Cycling Association and managing director of Dawn Till Dusk, the first mountain bike company in the country run by professional Nepali mountain bikers. He has been working with the US-based charity Wheels for Life, to donate and distribute bikes to people who need wheels to get to work or transport their wares to the market. In September, they donated 50 bikes to farmers and shop-keepers from the earthquake-ravaged towns of Bhaktapur and Sankhu.
Gurung hopes the growing interest in mountain biking, both at home and abroad, will create career opportunities for the youth of Nepal. "If mountain biking continues to take off it could lead to lucrative jobs for young Nepali athletes and also provide them the chance to travel. The majority of Nepalese can't get a visa to travel to most of the first world countries, but our national level riders are traveling the world to compete."
Dawn Till Dusk also takes underprivileged youth and teaches them biking and mechanical skills and in some instances, even provides them with housing. Over the past four years, the boys and girls they sponsor have started to compete in – and dominate – international mountain biking events such as Cape Epic and the Asian Games. Races such as Yak Attack and Yak Ru have started to improve the level of Nepal's homegrown talent so that they can compete with international racers.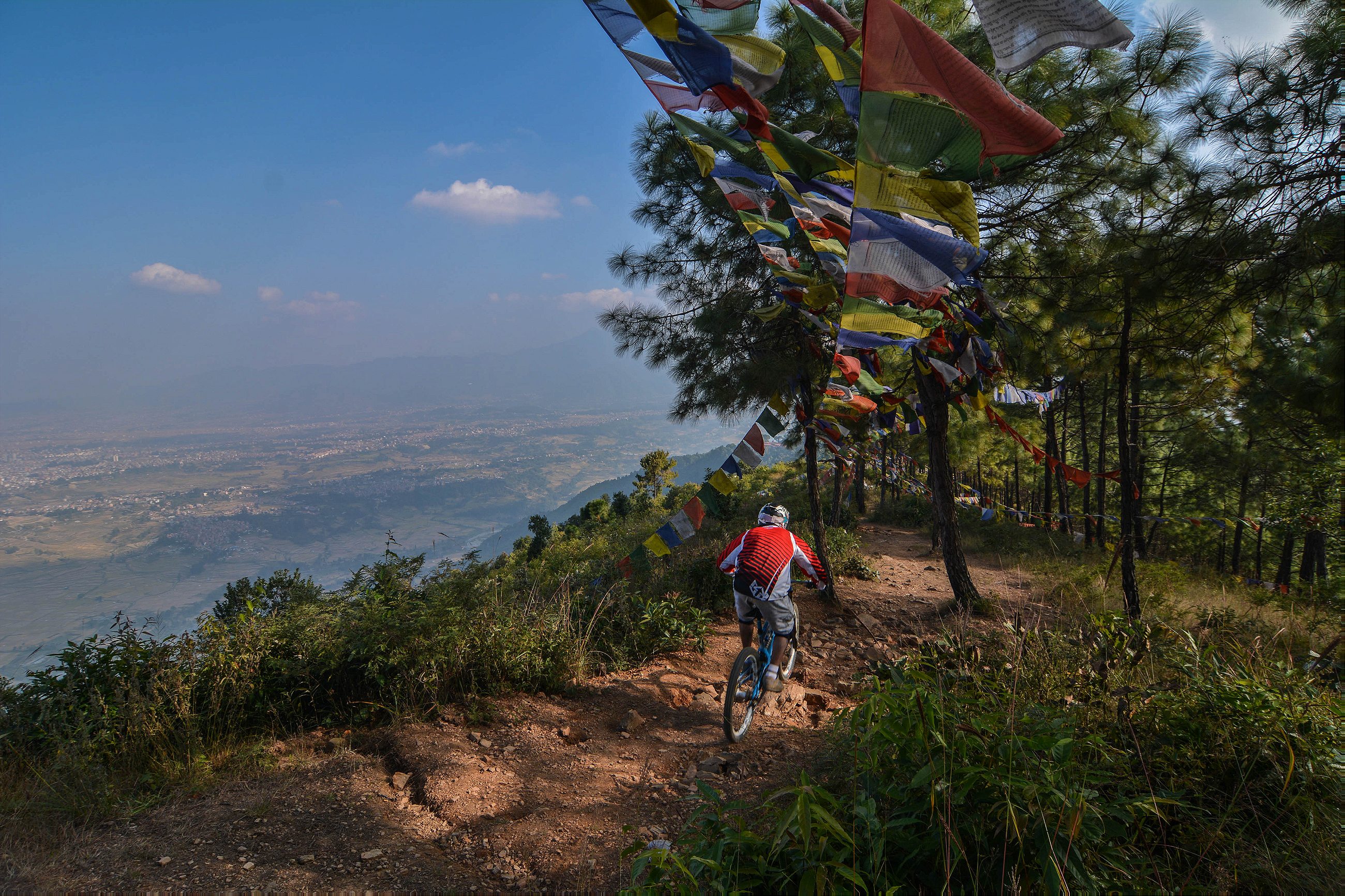 Ajay Pandit Chhetri started biking with rudimentary equipment and worked as a mechanic while he trained with Dawn Till Tusk. Today, the 27-year-old is a five-time national champion and five-time winner of the Yak Attack, an eight-stage race in Nepal where riders climb nearly 40,000 feet over the course of 250 miles. Cycling has also given Chhetri the opportunity to travel nearly 20 countries and spend two summers racing as a guest rider for the Torq Professional Mountain Bike team. "When I was a mechanic I dreamed of racing. My hard work paid off. Biking has opened many doors," he says. "To represent my country around the world is really special. I've raced all over – Poland, South Korea, Switzerland, the US – and along the way have made many friends in the sport." Chhetri says when he retires he plans to coach young Nepali riders.
But Nepal is still a long way off from having a local mountain biker become a household name, like many of the country's legendary Sherpas and climbers. The country has one advantage over other more established mountain biking destinations: culture. Riding into these villages and experiencing Tibetan Buddhist culture is something totally unique, says Chris Reichel, an Arizona-based mountain biker. Reichel says for many hardcore mountain bikers Nepal is a bucket list destination. "The rawness of the place and the immensity of the mountains is incredibly appealing," he says. "The fact that you are riding trails that were made by hundreds if not thousands of years of footsteps is pretty special."