Looking for the Last of Austin's True Honky‑Tonks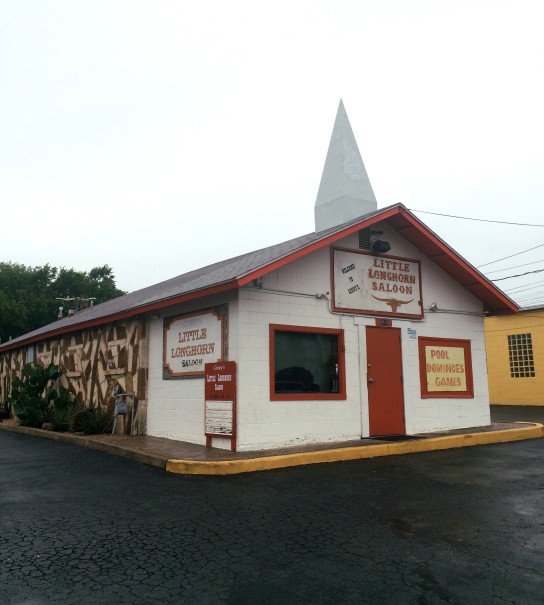 Looking for the Last of Austin's True Honky‑Tonks
Beer in Texas
There are plenty of run-down looking places in Austin to get a cold beer. In any nouveau riche boom-town you'll never have to look far for nice places carefully made to look run-down in a cynical effort to evoke a feeling of otherness and discovery. San Francisco-inspired city planners and their cigar-chomping "interested parties" have expanded the once lean and mean oasis of yard art and fatty brisket into endless rows of dilapidated apartment complexes and future-slum ready condominiums all offering the next crop of twenty-somethings the Austin "lifestyle."
In the middle of the real-estate war of attrition that is North-Central Austin is something genuine: Ginny's Little Longhorn Saloon, one of the last true honky-tonks. The once-thriving, region-wide network of working-class bars and dance halls catering to the country and western crowd has been reduced to a smattering of mostly ironic tourist traps located primarily in the parts of town that would attract the sort of person that has no qualms paying eight or nine dollars for a bottle of something.
Home of the famous Chicken-shit bingo (which is exactly what it sounds like), and located between a futon store and an auto shop, the building itself looks like the meeting of a double-wide trailer and a Baptist church. The place doesn't have an aesthetic, at least not in the way the self-proclaimed "dive bars" fifty or so blocks away on sixth street do. It's genuine, 1980s Americana.
Coming in from the gravel parking lot peppered with classic cars in various states of disrepair, I grab a stool and order a drink. It's beer only, but despite the décor, the draft/bottle/can selection is excellent. There are all the local favorites and a few good craft beers from around the country thrown in for rubberneckers and students. The Little Longhorn is the type of bar where you walk up and three people you half-know briefly turn into your best friends. It's about a neighborhood coming together.
The house band is between songs off in a corner out of my periphery. A large table full of enthusiastic onlookers who have at least a dozen beers and a few hours on me hoot and hollar as the song "Silver Wings" by Merle Haggard slowly lurches from the stage and drifts throughout the bar. The man to the left of me—hair slicked back into a duck-tail—sets down his Lone Star, swivels his barstool toward the stage, and begins mouthing the lyrics while bobbing his head very slightly. The band leader and rhythm guitarist calls out for a man at the aforementioned table to join him on stage and finish singing the song.
"Come on up here, Kelly. I know you know it." says the guitarist with a smile as Kelly's friends at the table begin to clap and yell with excitement as he hesitates for a moment before standing straight up from his seat and marching toward the microphone. He does a damn good job. By the final chorus I've finished my beer and every other person in the house is quietly singing back-up for Kelly from their seats. Singing into their cheap, cold beers in spite of a city that's nearly forgotten they were ever there at all.