Searching for signs of Truman Capote in the Spanish fishing village where he wrote his masterpiece.


PALAMOS, Spain—
Truman Capote was known to travel with dogs, but the irate white Alsatian with blue eyes, untied and growling between the thin pine trees and sharp yellowing cactus, is not one of them. I knock on the green studded door and am greeted with continued barking, a louder doorbell than my knuckle could ever be.
I knock again, pushing the door slightly this time. It's bolted shut. After walking the cliff path behind the 2-acre plot of land, a quick glance through a slit in the door's fraying wood confirms what lies beyond: a three-story whitewashed house sinking toward the coast at the end of an unpaved driveway. After a morning scrambling along the eroded coastal path, I've finally found the house where Capote exiled himself for his last of three springs and summers in Spain as he finished In Cold Blood. The guard dog continues howling; I'll have to return later.
I've come to explore the small fishing town of Palamós, an hour's drive north of Barcelona, to find Cala Sanià, the grandest of the five houses that Capote rented to write the book that would define his literary legacy, and which was published in the New Yorker for the first time 50 years ago this week. For three consecutive summers, Capote swapped the skyscrapers of New York for the beach villas of Palamós to chronicle the brutal murders of the Clutter family in high wheat plains of western Kansas. As the bright-skied days turned gray and the coastal winds blew in for their annual battering of the shoreline, he left for a chalet deep in snow in a Swiss valley. But it was here, to the Catalan coast, come spring, that he kept returning, adamant that he wouldn't return to the United States until the book was finished. So began Truman Capote's three-year sentence on the European continent.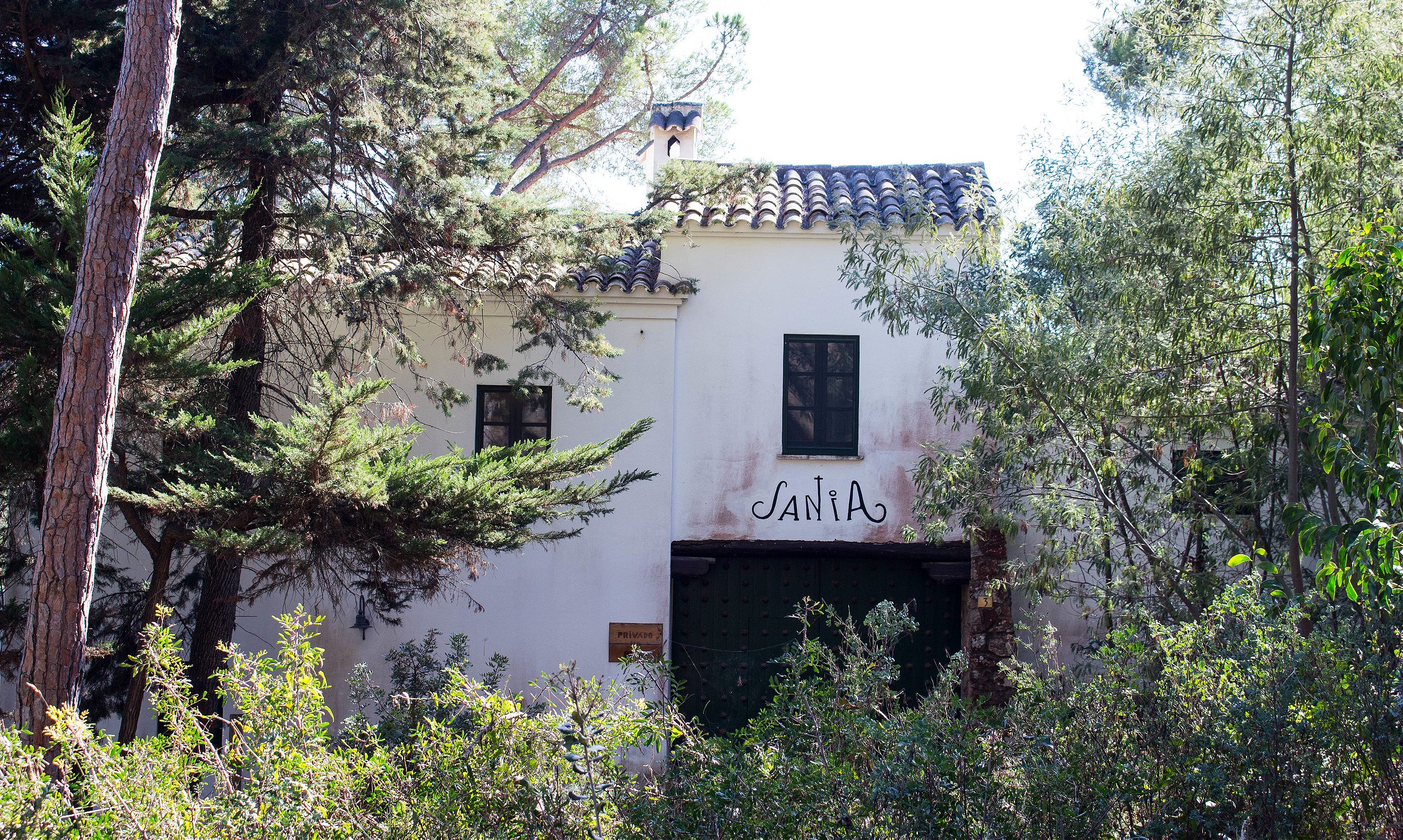 I find the entrance to Cala Sanià along a dusty dirt track off a minor road with a padlocked gate. An elderly, leather-skinned man, sitting alone with nothing for company except his fanny pack and five jars of garden honey, waves his arms toward the gap in the gate, shouting in Catalan, "Drive round the gate. There's a gap next to the tree!"
The way back to the town's center takes 10 minutes. It took a jury just four times that to find Dick Hickock and Perry Smith guilty of savagely killing all four members of the Clutter clan. It would take more than three years to meet the satisfactory legal conditions to fulfill their sentence: execution. As appeal followed appeal, Capote fell deep into a state of creative anxiety during these long summers. Only when Perry and Dick were finally dead could he finish his book.
I decide to call in at Room 705 of Hotel Trias earlier than planned. Capote arrived in April 1960 with his boyfriend and fellow writer Jack Dunphy, a blind poodle, an aging bulldog, a Siamese cat, and 4,000 pages of typed notes. He would have had the highest apartment on the bay—a useful phase in the transition from Manhattan to a sleepy fishing village; although today, Hotel Trias is dwarfed by two high-rise apartment blocks. Capote had planned to wake in the light, spacious room with its large bay windows overlooking the port's wide mouth to news of the hanging. Yet a few weeks later, Perry and Dick's execution date was delayed. After both appealed for a retrial, they received their first stay of execution.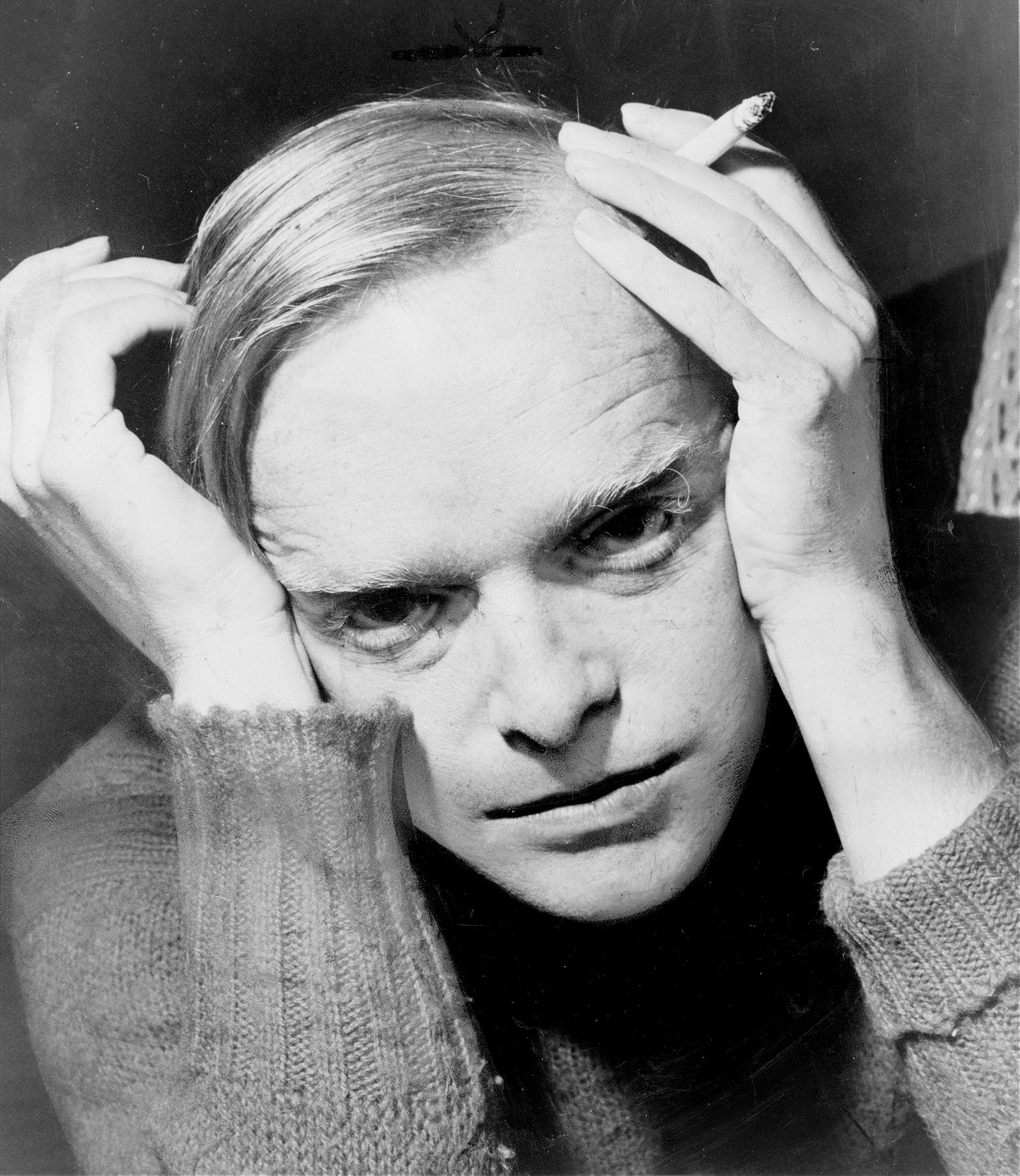 Room 705 doesn't have a writing desk. Fortunately, its occupant had unique literary habits. In a Paris Review interview, he called himself a "horizontal author": "I can't think unless I'm lying down," he said. Room 705's white leather sofas, sun bed loungers on the balcony, and king-size, four-poster bed were therefore perfect. The sounds of the fishing equipment being loaded onto the boats at 5 a.m. became his morning wake-up call. It was in this room that he established his summer work schedule for the next three years, writing a book that would be longer than he ever anticipated.
Capote was restless that first summer. He stayed first in this hotel room, then two houses that no longer exist. He left for Switzerland after six months with 35,000 words—half the length of an average book. Part One was complete: a good start. But he knew he would miss the deadline agreed to with Random House. It was also near here, the following summer, next to the beach in a house with a chef, that he reached the halfway mark. A new trial looked likely to be set. (It never was.) He became angry, depressed, and frustrated. The case would simply not resolve itself.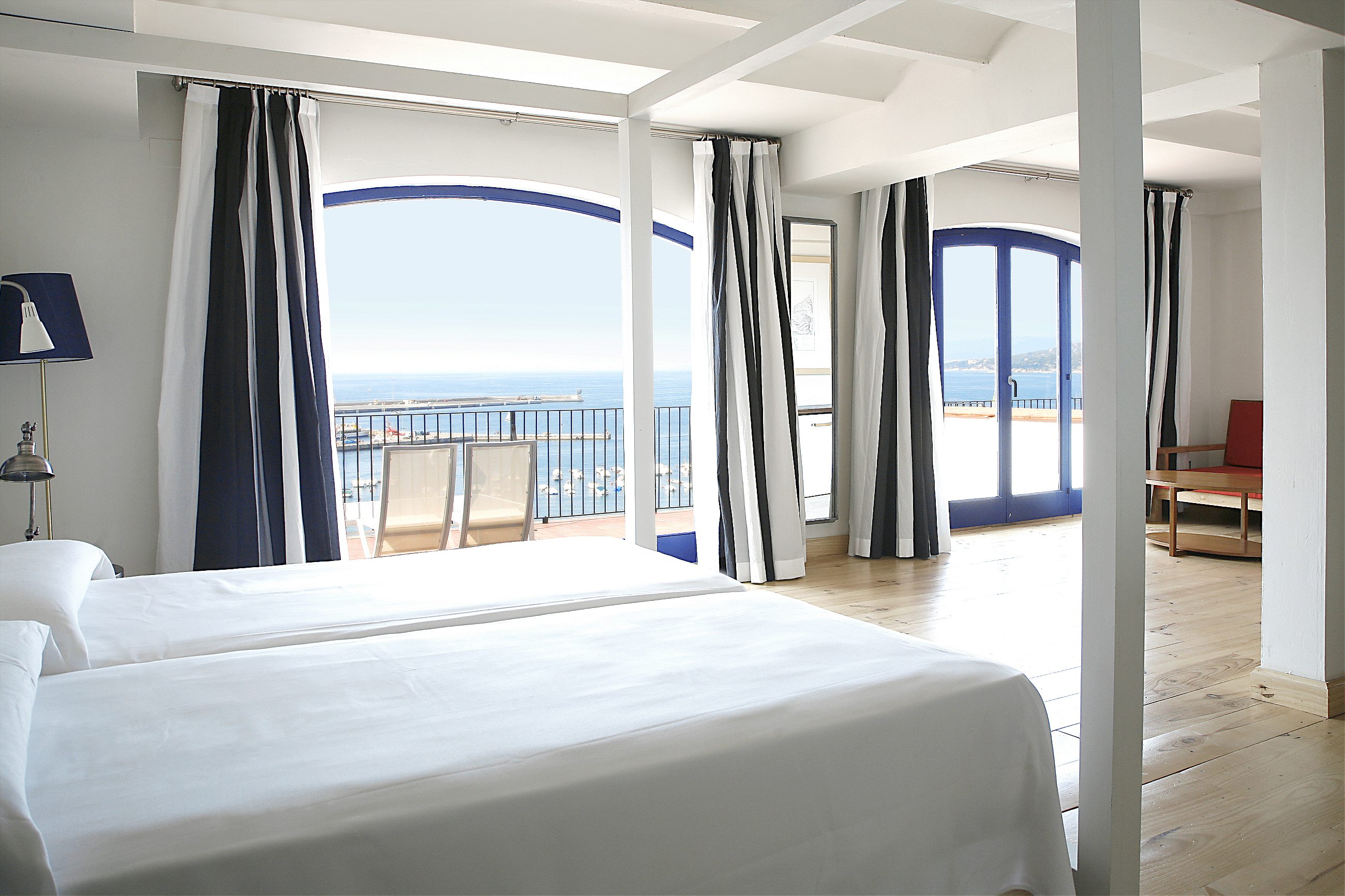 Back in the car, I drive toward a beach near Cala Sanià. It's emptying as families make their Sunday evening journey home to Barcelona. I sit at a plastic table near the bar of a beachside restaurant and fall into conversation with the bartender. I learn that many of the houses remain vacant for most of the year. He knows nothing of any American writers, saying they are more likely to be occupied by Andorran bankers. "But there's a shack built by Dalí up over there," he says, pointing to the hills in the opposite direction.
Back at the dirt track, the honey seller shouts again under his low-fitted cap that the lock on the gate has been broken. "Just lift it up." No tight maneuvering between the tree and the gate's edge this time. Yellow dust rises in the air behind me as I pass a centuries-old abandoned settlement to my left. I set eyes on the entrance to Cala Sanià again. This time the green studded doors are open.
I grab my well-thumbed copy of In Cold Blood from the trunk of my rental car and slowly approach the outer house. No white dog. I knock. Nothing. Not even the remote sound of that bark. I tentatively walk through, stepping lightly on the pine needles spread across the sandstone drive.
My "hellos" and "holas" (I even try a "bonjour") increasing in volume and pitch with each step go unanswered. The two entrance buildings are empty. Chopped wood is stacked by one outhouse. A terracotta pot stands under a dripping water tap. No one is here. The only sign of life is one fat lemon hanging on a squat tree.
Perhaps Capote chose this house because of its space. The guesthouses would have hosted a chef and maid, and inside there are five bedrooms. Earlier that summer playwright Noel Coward and his wife had already moored up on the private beach below. Amid the glamour, a new date for execution had been set, yet Capote was too wise, too seasoned in the inner workings of the appeals system, to trust it. He found a new focus for his book: It would not only chronicle the crimes of "the boys," but also a system that would leave people waiting on death row for years.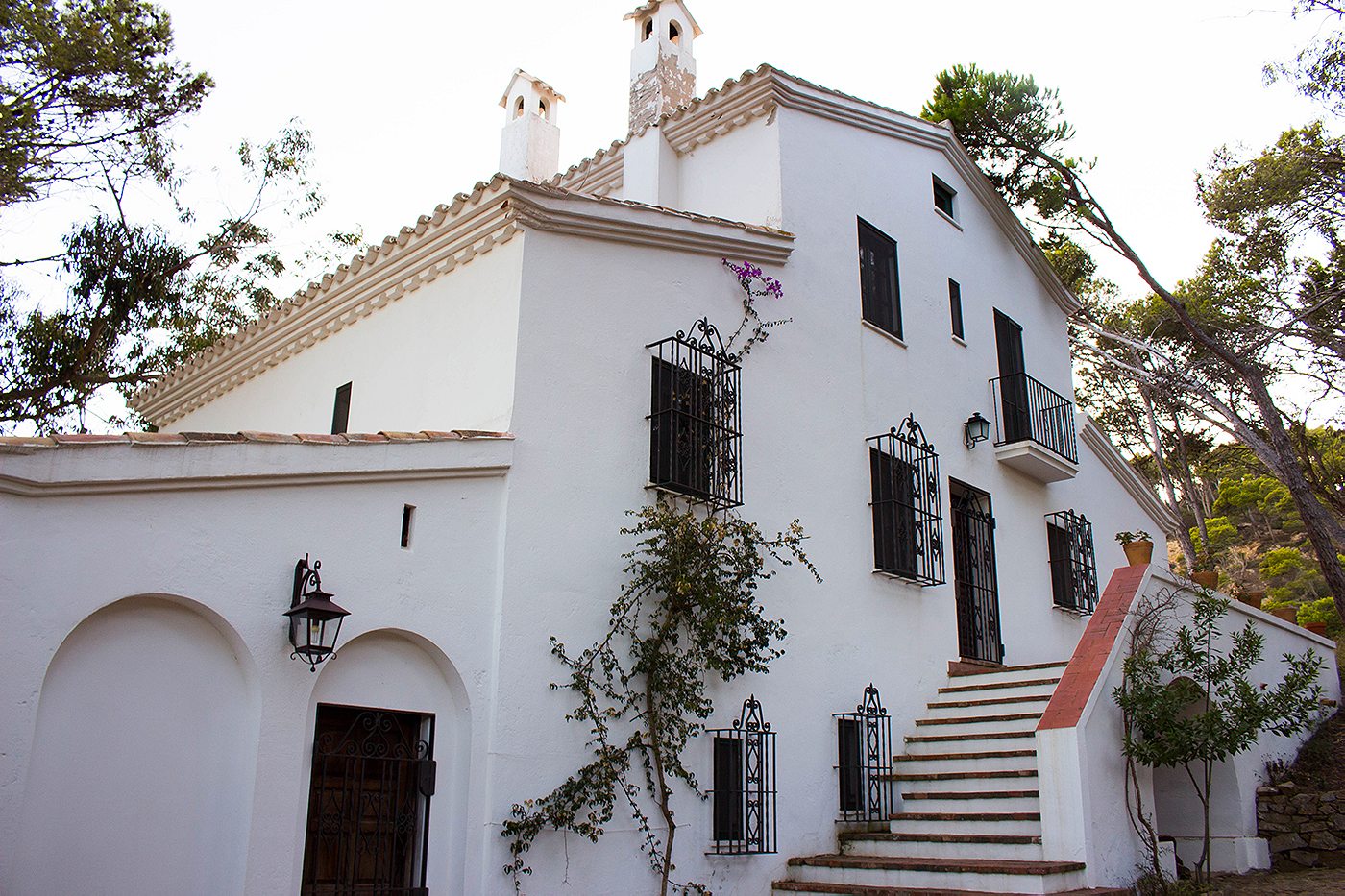 He had now signed seven contracts with foreign publishers. With the book nearly finished, he asked for an advance of $3,000 for a collection of his New Yorker pieces that were soon to be released alongside In Cold Blood, probably to cover the cost of this house.
I take a few more steps down the pine-shaded driveway, closer to the house and the cliff's edge. A tiny lizard scuttles into a bush. When Capote was outside the town, the degree of isolation increased and was intensified when a forest fire burned the nearest house to ash. He wrote home that 400 firemen attended the blaze, which threatened to ignite the entire forest. When he was evacuated, he took just one thing: a three-quarters-finished version of the book.
He then began to entrench his relationship with the jailed killers. From their tiny cells, despairing and lonely, they wrote him letters—one 50 pages in length—that he would adapt into his "non-fiction novel," producing a hybrid of genres, mixing truth and fiction. Despite Capote complaining about Palamós' high cost, its limited supply of affordable accommodation, and unfashionable status, he came to view the town as "the necessary accomplice" to the book.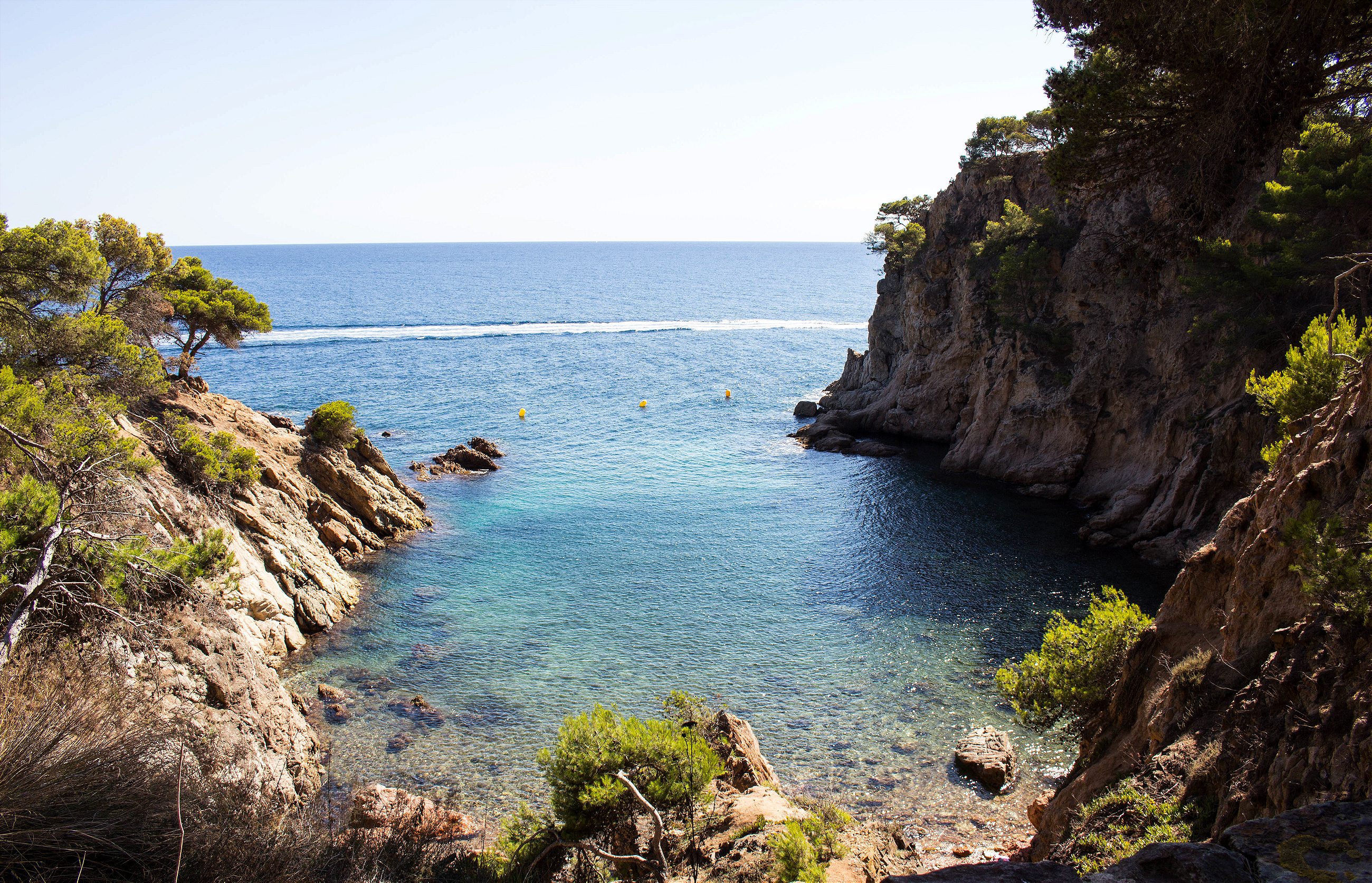 This experience of finishing In Cold Blood left Capote exhausted. He worked on just one more book after it. He had invested so much of his own life into the project that he was frantic for the killers to die, for the "legal termination." There is a hammock perched on the corner of the cliff and the garden overlooking the private beach. I can almost see him wearing his famous silk pajamas, or pink negligee, writing his letters of support and concern to Dick and Perry, extracting every last detail they gave him. Distance made manipulation easier. His writing skills made him their confidant. The delay, as much as he hated it, gave him the opportunity to continue his duplicity for three long years.
I realize that the house reminds me of a line from In Cold Blood. "Situated at the end of a long, lane-like driveway shaded by rows of Chinese elms, the handsome white house … was a place people pointed out." It is uncanny how similar this house is to the scene of the crime. I become starkly aware of the contrast between Cala Sanià's tranquility and the cruelty in the book. It was here that Capote conjured the exact color of the blood that soaked the pillows of 16-year-old Nancy, who was left with a single bullet in her forehead.
Earlier in the day, the light was harsh; now the sun is nearly gone. The air is mellowing. I take one more look at the house, with its elaborate cast-iron railings and mosquito-netted windows, and turn around. Capote didn't want to be found all those years ago. And even now, with the doors open, Cala Sanià's occupants remain elusive.