A Perfect Drink for Nondrinkers Who Want to Get Drunk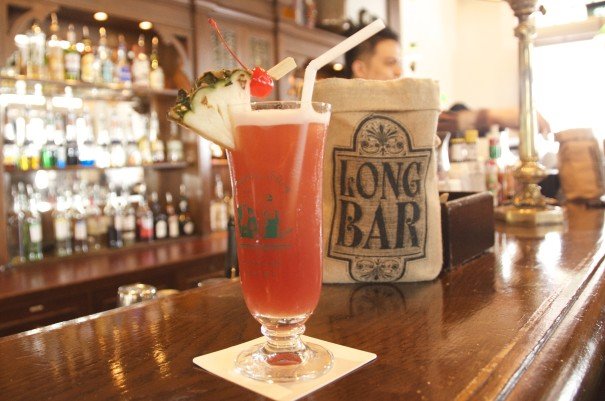 A Perfect Drink for Nondrinkers Who Want to Get Drunk
The 21st Century Singapore Sling
Singapore has one of the world's lowest per capita alcohol consumption rates, with adults consuming an average of roughly two liters each year (in the U.S., the rate is more than four times higher). While food culture is taken very seriously—it's become almost a national caricature—drinking culture is largely ignored.
Perhaps that is why the iconic Singapore Sling has managed to claw its way through the last 100 years and into the 21st century. The Singapore Sling is a bad drink. It includes a nominal glug of gin that is quickly overpowered by all manner of saccharine additions, from pineapple juice to Cherry Heering to Grenadine. The end result tastes roughly like a cherry Popsicle that's been left out to melt, then poured over ice and garnished with a pineapple slice.
However, the drink's ritzy provenance provides a scrim for its lowbrow flavor. In 1887, the Raffles Singapore, then a 10-room hotel, first opened its doors. Named after the colonial founder of the city, the hotel became legend, a haunt for bon vivants and the literati, including Somerset Maugham and—like any colonial drinking hole worth its salt—Ernest Hemingway. An apocryphal tale holds that Japanese troops entering the city after its fall in 1942 found guests dancing to a last waltz in its ballroom. But it was back in 1915 that bartender Ngiam Tong Boon realized there was a market for an alcoholic beverage cleverly disguised to resemble fruit juice, removing the risk of social opprobrium, especially among women, who were discouraged from imbibing in public. Thus the Sling was born a century ago this year, a perfect drink for nondrinkers who want to get drunk.
This is not, of course, the country's premier 2015 anniversary. The people of Singapore are 100 percent indifferent to the Singapore Sling's milestone; on the other hand, they have spent the year thus far losing their shit over the country's fiftieth national day, which took place on August 9. During a July visit, there were signs on every street corner announcing the upcoming holiday. It was impossible to share a dinner table or get into a taxi with a Singaporean without being told, "You know, our fiftieth anniversary is coming up," as though it would be possible for anyone literate in one of four different languages not to have noticed that fact.
But on an impossibly hot and humid July day, the Raffles Long Bar is determinedly celebrating the Sling and the Sling alone. The bar is dark and cool, and at 5 pm, it's just beginning to fill up. Posters line the stairs, detailing the history of the hotel and the cocktail, and commemorative glasses are for sale in the gift shop. Recipe pamphlets are piled on the wooden bar alongside sacks of peanuts, shells littering the floor.
Carlo, the bartender, tells me that they make between 300 and 1000 of the drinks in a day. "People start at 11 am, and it's just Sling, Sling, Sling," he says. "After my first day, I dreamed about them." Looking around, Carlo's estimate that 90 percent of patrons order the drink seems about right. A few men order beers, presumably unwilling to be seen with the jewel-toned drink, and one older woman is sipping what appears to be a Mai Tai, which is just rude.
When the Sling is presented in its curved glass, nearly every patron pulls out a phone and snaps a selfie with the cocktail. One young woman seated between her parents pulls out a hilariously awkward stick to accomplish the task. She demurely sips on the bubble-gum pink drink while snapping her photo, then sets it on the table until the group leaves, giving it barely another half-hearted sip.