A Hailstorm of Chocolate in the Morning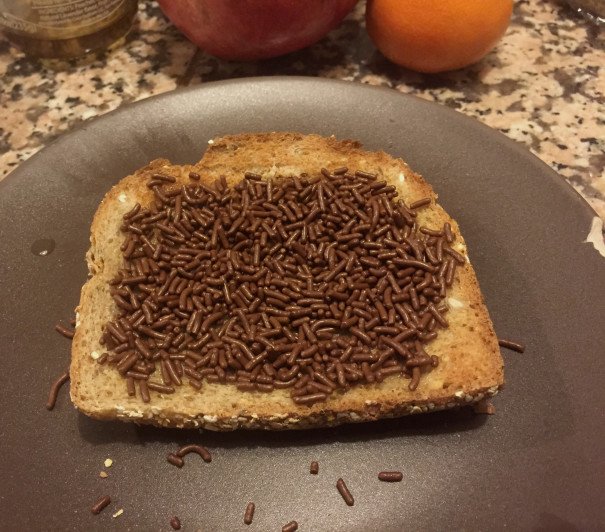 A Hailstorm of Chocolate in the Morning
Sprinkles on Toast in the Netherlands
Hagelslag.
It's a Dutch word, so the 'g' sounds are akin to how the Scottish say Loch Ness, which makes the word deceptively aggressive to English-speaking ears. It means hailstorm, but in the Netherlands, it also means chocolate—or rainbow, or coconut, or aniseed—sprinkles. They're a little larger and bolder than the sprinkles most people know as an ice cream-topper, and the Dutch eat a lot of them, especially for breakfast.
I grew up in Vienna's vineyard-crossed northern reaches in the 1980s and 90s. One of my best friends lived on the same street. She was the second of three daughters, who, being Dutch, were all light-haired and not far off six feet tall by the first day of eighth grade. Breakfast in her house was a serious spread of breads, cheeses, Dutch peanut butter, and the staple: chocolate sprinkles on buttered toast. Her family lived in an old house, some kind of tavern in centuries past. I was once locked in their bathroom for three hours late at night because the old lock mechanism crumbled into the wall. Chocolate sprinkles for breakfast were very welcome after that ordeal.
Chocolate for breakfast wasn't an alien concept. Like most kids in certain parts of Europe, I was reared on Nutella. (It was a simpler time, when Boris Becker's endorsement was enough to make us believe it was sporty and wholesome, and a good decade before its Italian owner Ferrero was forced to reveal what exactly it was made of.) But hagelslag was a step further: it felt like getting away with something. But grown-ups eat them, too: in fact, the Dutch are said to consume more than 30 million pounds of hagelsag each year.
According to the Amsterdam City Archives, the licorice factory Venco first introduced an aniseed version of hagelslag in 1919. They say the chocolate variety came along in the 1930s after a five-year-old boy wrote the company a bunch of letters requesting something chocolate-based to put on his morning bread. But it was after World War II that the hagelslag industry really took off, led by Venco and rival company De Ruijter. Now you can get them in many flavors and shapes: coconut, white chocolate, dark, chocolate, rainbow, fruit-flavored, as flakes.
Since the days when I first sprinkled chocolate on my bread in a Dutch household in Austria, many breakfast products once so wedded to their own turf that they were almost national symbols—Nutella, Marmite, Roobois tea—have, through exposure, merit, or marketing, leaped across borders and lost their status as a national novelty. But for me, at least, hagelslag was an experience and product that remained anchored to the Netherlands. After we both left Vienna, for the next 15 years through college, grad school, jobs, and then in her case, motherhood, I would visit my friend almost every year, first in Utrecht, then Amsterdam, and then Haarlem, and I would always insist on hagelslag at breakfast. Because I was in a Dutch, chocolatey Rome and I could only do that there.
When I moved to Berkeley, California last year, I wandered into World Market in Emeryville to browse. There, among brass lantern-holders nobody needs, gum ball machines, old-fashioned cream sodas, and obscure Belgian ales, I found a few boxes of chocolate hagelsag. I couldn't wait to get home and have some. But it sat in my kitchen cupboard for a year, untouched. I finally ate some in an effort to clean out my food supplies before moving out of my house. I missed the Dutch dark bread, the peanut butter, and the cheese on the same table. But mostly, it just wasn't the same without my friend.
Then again, I had played fast and loose with the "best before" date.