Why does the place with the world's best café culture have no coffee culture?


PARIS, France—
There is one thing the guidebooks, the Francophiles, and the blissed-out romantics never tell you: The coffee in France is lousy.
Paris is a city of café culture, not a city of coffee culture. That may come as a shock to those who believe the sophisticated French palate extends across the entire food and beverage spectrum. But while the sommelier is a revered position and Paris continues to be a hub for the gastronomic elite, more often than not you'll find the end of your meal rounded off with an overly bitter shot made from mediocre beans.
I once had a friend from Portland tell me about spending some time on the French-Italian border for work. "We crossed over to France to get our croissants and went back to get our coffee. One country can't do coffee, and the other can't do pastries; you would think that they could get together and work it out." Mention the word coffee to anyone that likes caffeine and has spent time in France and you'll immediately get an eye roll. It simply isn't a French strong suit.
The tide is turning in the French capital, though, with a flood of new craft roasters and cafes that all believe in good coffee. The French, however, are sensitive to change, especially in a city that's known for its deep-rooted traditions, and while this expanding coffee scene is welcomed by many, it also comes with a side of criticism. For some, local craft roast might be the sign of a city looking forward, yet for others it's the sign of a city undergoing an irrevocable transformation in food culture.
"[The Paris cafe scene] is a tricky scene to tap into because we think we have such a culture of coffee already," says Nico Alary, co-owner of Holybelly, a café that opened last year in the Canal Saint Martin neighborhood. "You know there's cafes everywhere … but the sad thing is those cafes actually suck at making coffee. They're not about coffee. They're about getting a beer or getting a glass of wine."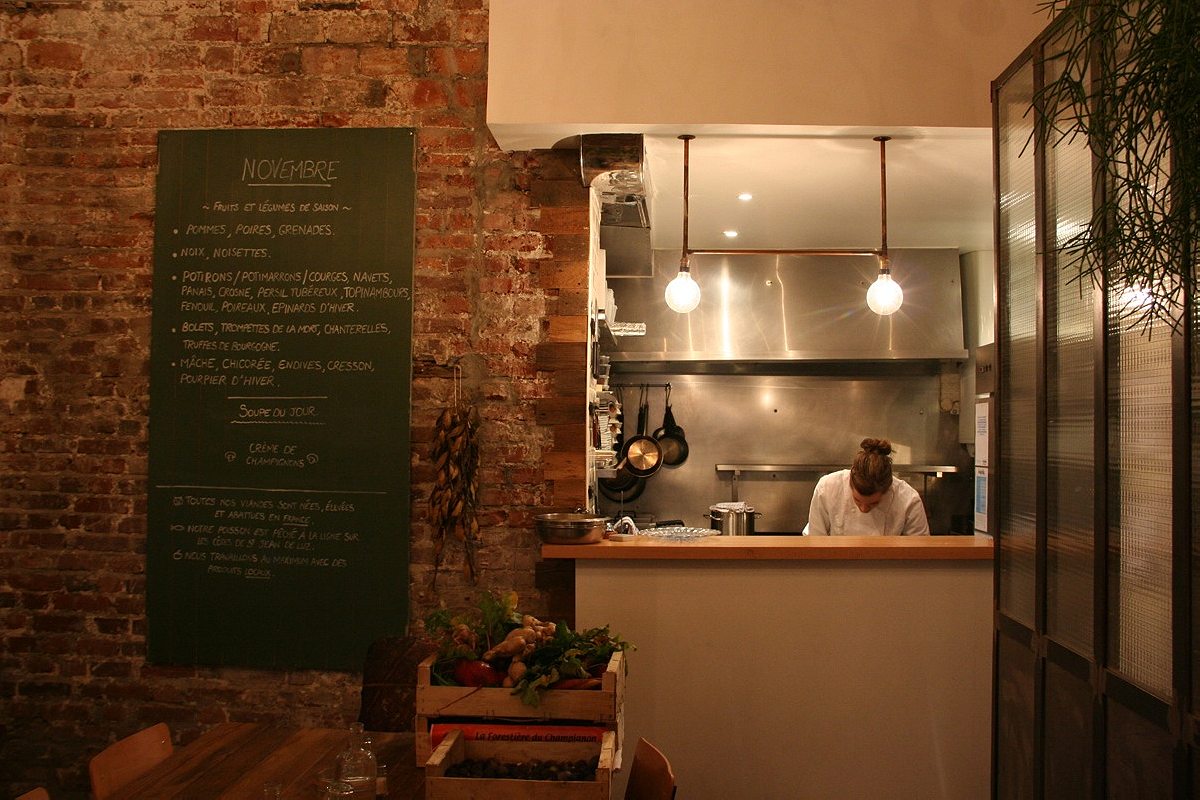 Alary and his partner Sarah Mouchot opened Holybelly after spending the last seven years living abroad in Vancouver, Canada, and Melbourne, Australia. Despite the boudin noir on the menu, Holybelly isn't your typical French café. The interior has a modern feel, the blackboard on the back wall notes all of the seasonal produce for the month, and, above all, the coffee is serious business.
As Alary explains it, a classic cup of French coffee is overextracted and bitter, which explains why locals love to drown their coffee in sugar. But Alary and his staff take the time to make good café filtre, using single origin, locally roasted coffee from Belleville, a newly opened roaster in the 19th arrondissement that offers free cuppings on Saturdays simply to get the local community tasting their coffee and deciding for themselves what's good and what's not.
Still, that doesn't mean that everyone likes it. Alary recalls a guy from across the street that comes in regularly and once told him how much he didn't like what Holybelly was serving: "He said, 'I'm not saying it's bad coffee; I'm just saying I'm not used to it.' I think he put the finger on something really interesting: It's that French people [have this] 20, 25 years heritage of terrible coffee, and their palate is used to it." That means that changing the coffee culture isn't going to happen overnight, and it requires doing it "one Parisian at a time," as Alary says.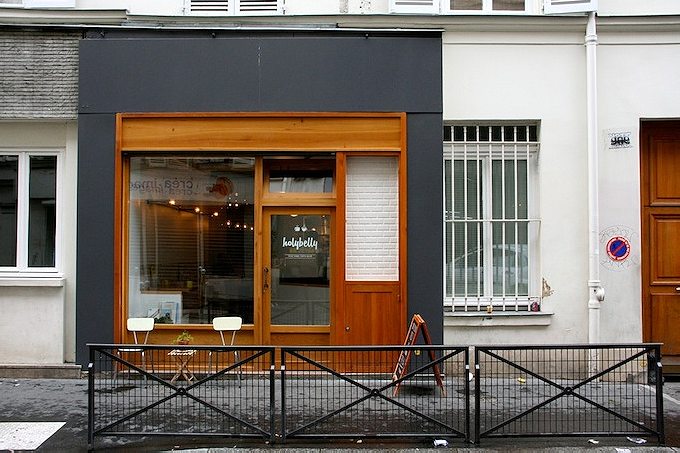 If Alary is right, how did French coffee get so bad in the first place?
Aleaume Paturle, owner of Café Lomi, a coffee roaster turned coffee shop a little more than a year ago, has a few theories: First, it's tied to France's history of colonization, and secondly it has to do with larger, industrial-scale coffee companies. For a long time, coffee imported from the French colonies came in duty-free, making beans from the rest of the world more expensive. The French colonies produced mostly Robusta coffee, a cheaper bean with a stronger, harsher taste than Arabica, the other predominant coffee species. Because of the access to mostly Robusta beans, the French palate grew accustomed to this harsher varietal, and before coffee deregulation in the 1950s, Robusta comprised 80 percent of the French coffee market. More than 60 years later, that palate for a harsher bean still exists, and Robusta beans still account for around 50 percent of French coffee.
There are other factors beyond history and taste preferences at work when it comes to coffee in France. Many craft coffee aficionados blame the bad coffee syndrome on the larger coffee distributors, which hold the café scene in a tight grip. "They offer [espresso] machines in exchange for serving their coffee," says Paturle. When the price of an espresso machine is daunting, getting one for free in exchange for serving a mediocre brand of coffee can be appealing.
Café Lomi went the opposite route when Paturle launched it four years ago. Until 2012, when the coffee shop opened, he worked exclusively in business-to-business sales, providing local cafes, restaurants, and hotels with their locally roasted coffee, training everyone that served it for a minimum of 20 hours to ensure quality control. Nowadays Café Lomi runs its operation on the outskirts of the 18th arrondissement, with the roasting facilities and coffee shop in a neighborhood known more for its African fabrics and couscous than craft roast. Walk into Lomi, however, and you step into a well-known scene: coffee tables a leather couch, minimal industrial design, people working on their Macbooks, Chemex on proud display. Paturle is quick to point out, however, that although people may say it feels like being in an East or West Coast American café, the architect who designed the place "has never even been to the United States." Having worked in San Diego for a year, Paturle just wanted a good coffee shop, something that he felt was hard to come by in France.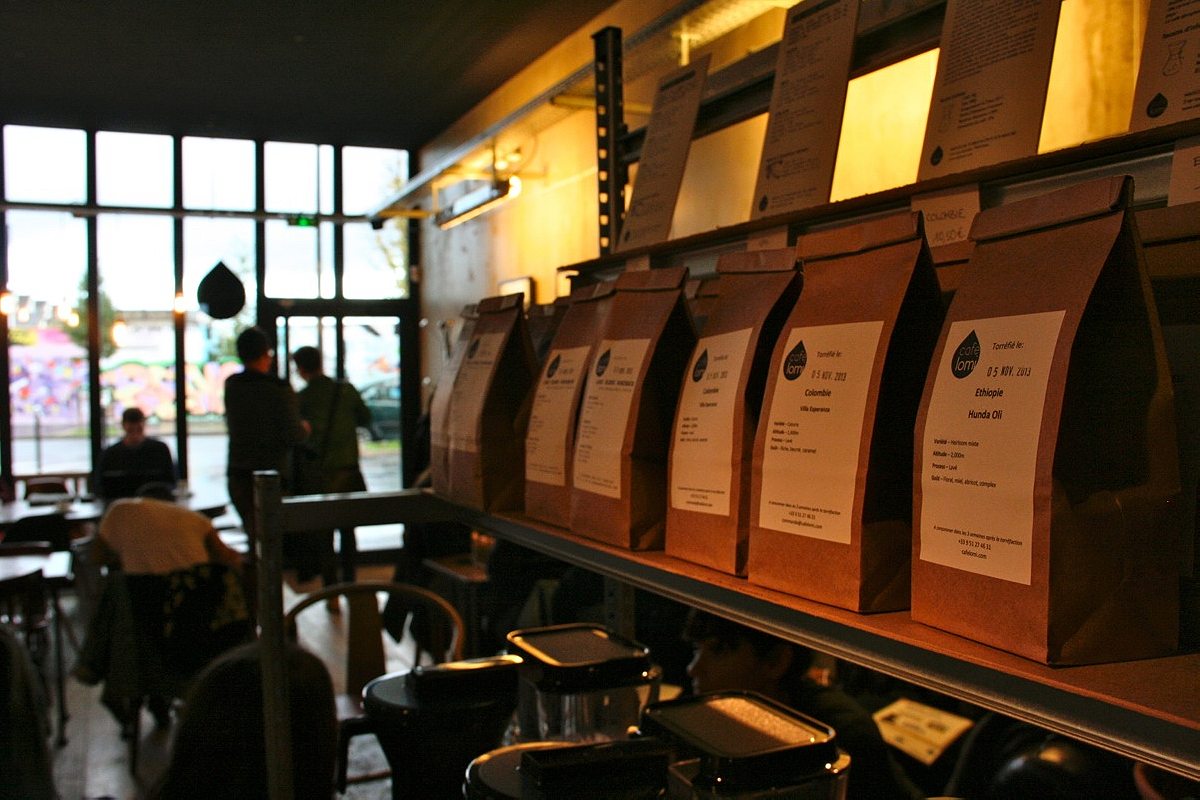 Paturle brings up one more reason for the lack of an artisan coffee scene, something that relates to more than just coffee: the opening of France's first supermarket. The year was 1969, and for him that was when everything, coffee and food in general, changed. In fact, today, 97 percent of the coffee consumed at home is purchased at supermarket chains, leaving very little room for the small, more artisan roasters. And in a country known for its independent producers, the boucher, the fromager, the boulanger, two-thirds of the food shopping market is controlled by large-scale supermarket chains and buyers.
This can all be seen playing out in the Parisian restaurant scene, with many eateries depending not on the art of cuisine, but on Metro. No, that isn't Metro as in the subway system, but the wholesale giant for the restaurant and hotel industry. "Metro is a major virus infecting every bistro," says Alary, highlighting how easy it is for restaurants to buy premade French classics, pop them in the microwave, and serve them as good home cooking. At Holybelly the menu is specifically marked to remind people of what food they are not getting: "Pas de surgelés. Pas de micro-onde. Pas de Metro." No frozen foods. No microwave. No Metro.
If you think Paris is the capital of farm to table, think again. In fact, in a recent survey, one-third of French restaurants acknowledged serving frozen products that they had simply reheated. The reality is that those romanticized visions that we all have of France—with its small-scale producers; excellent, honest fare; and an appreciation for the good life—are all changing. "We have this heritage, this history of being good cooks, good eaters, lovers of good things, but that is a very small pocket of French people," says Alary. "Bistros are nonexistent; good restaurants are hard to find. So maybe 50 years ago there was something to fight for. Nowadays, let it be a new culture." Those are strong words for a Frenchman.
Finding a way to return to the culture that once was, the culture for which Paris is so revered, will take the influence and initiative of a younger generation of entrepreneurs who recognize that although the French may have created modern fine dining, they have fallen behind rapidly evolving global tastes. You can start to feel things are changing, and it's a sentiment that resonates with other young Parisians. Over dinner, a French friend who was born and raised in Paris made a similar comment: "Paris used to be a museum city … but now we have the city back," describing a selection of bars he can go to and drink a good beer without spending a fortune. Some complain that these types of places—craft beer dens, American-style cocktail bars, earnest coffee houses—are hipster affectations, another byproduct of the generic brunch-and-fixed-biked culture that has inspired the très Brooklyn fascination in certain parts of Paris. But that would dismiss the honest and innovative work being done by many Parisians to push this food culture forward.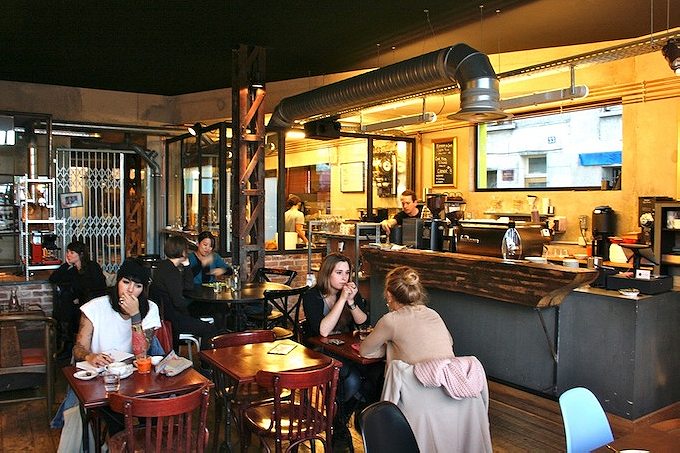 What is certain is that for change to be accepted, it has to be internal, and as Paturle highlights that means making a product that the locals can identify with: "Today the trend is acidic coffee … but the French don't like that, so why are we continuing to serve them acidic coffees?" You'll certainly find those more acidic roasts at Lomi, aligned with the taste buds of other global coffee capitals, but Paturle is committed to the belief that what he serves has to align with the local market. "There's a lack of personality in not working with coffees adapted to the French," he says. "Do we want to say to consumers, 'Here, this is what is good,' or is it up to the consumer to tell us, 'This is what I like'?"
For Paturle the ideal world would be having a place where French cuisine and good coffee go hand in hand
In a quest to get more French people on board with craft-roasted coffee, Paturle launched two new blends, the Bordeaux and Burgundy, and yes, the reference is to wine, something the French know very well. The Bordeaux blend, just like the wine, is a little more full-bodied, with chocolate notes, while the Burgundy is fruitier, lighter. "We really want people to understand that there are different tastes to blends … so we made a reference to wines," says Paturle.
It isn't just about embracing trends from the outside world; it's about being innovative and creative within the culture at hand, combining all of the elements, local and foreign, to create something unique that values local tradition. For Paturle the ideal world would be having a place where French cuisine and good coffee go hand in hand, something that I have heard many French people say. There's certainly a desire echoed by many to take back the traditional Parisian bistro; serve up classic, simple food; and round it off with a good cup of coffee. "We should be using our terroir, using the ideas of French food and combining them with coffee shops," he adds. "It's not just about using local products; it's also about making local recipes with local products." In the future, that's what he hopes to do with Café Lomi.
Hundreds of years of bad coffee history cannot be erased with a handful of ambitious places, but it's clear that change is afoot. If Paris is ever to match the quality of its coffee with the quality of its cafés, it will need to come drip by drip, one pour at a time.