The All Native Basketball Tournament is one of the largest cultural gatherings of First Nations communities in North America.
February is a dark time along the Pacific Northwest coast. It rarely snows or dips below freezing here, but it's overcast, rainy, and often bone cold. In northern British Columbia, Canada, all routes on land or sea lead to Prince Rupert, a tiny city on the edge of the Great Bear Rainforest, with docks and a downtown, home to a large hotel painted with the image of a soaring eagle on one wall. The ferries that come in and out of the port are almost empty, as winter waters off shore are so rough that only desperate travelers brave them. Totem poles dot the town's streets, some of them marked with peeling paint and chipped bark doing what totems do—slowly disintegrating into the earth. It is all very quiet, without being creepy.
But in February, the quiet booms. All the ferries that dock on the first weekend of the month are full, and the local businesses net more money than the Christmas rush. For one week, three thousand people flock to "Rupert" for the All Native Basketball Tournament (ANBT). Hundreds of players arrive with whole communities in tow, and the B.C. ferry service adjusts their schedule and warns against high traffic leading up to the event.
The All Native is an annual invitational for men's and women's basketball teams across coastal British Columbia and southern Alaska, which just celebrated its 55th anniversary. Back when the economy relied on fishing and logging, February was a quiet month for work. The locals would hole up indoors and try not to spend money. Instead they played basketball, and still do. Some years teams travel as far as 190 miles north from Alaska, or south from Washington state or Vancouver Island. To an outsider, it appears to be just another small-town tournament: held in a civic center gym, with retired women selling 50/50 draw tickets and operating the French fry canteen. But the All Native has become one of the largest cultural gatherings of First Nations communities in North America, a yearly homecoming. And lately, vocal members of the community are using event to drive hard against some powerful political foes.
On the first day of the tournament this year, I sat on the sidelines with Jason Alsop, center for the Skidegate Saints Seniors team, winners of the league title at the tournament three years in a row. Skidegate is a reservation town on the Haida Gwaii island chains, about a seven-hour ferry ride west of Rupert. Alsop, who is tall, with long hair and beard, both tied back with elastics, has been playing basketball since he was 14, and moved to Rupert in high school to play at a higher division level before college. Now 30 and a community leader back in Skidegate, he runs the Haida Heritage Centre and is a member of the band council. We are sitting on the grey chairs arranged around the gym for elders to use during the opening ceremony, and we have the best view of Skidegate's fellow Haida team, Old Massett, as they take a pounding from Hazelton.
THE ALL NATIVE HAS BECOME A YEARLY HOMECOMING
"The gym makes up for things that have been lost in a way, through colonization," says Alsop, wearing a red and white windbreaker proclaiming his team Back2Back Champs. In line at the local coffee shop earlier that morning, a nurse visiting from nearby Kitimat told me, "Basketball is a big part, historically, of moving through pain in First Nations. It is healing."
The All Native is like a big longhouse to us, says Alsop. "We come here in the winter and it's almost like reenacting those old winter ceremonies and potlatches… Part of the coastal culture of warfare that existed. It's a healthy way to keep that spirit going. Those things don't happen as much as they used to, and this tournament has sort of evolved and taken on a lot of that."
On the prairies, where I grew up, basketball carried a football-in-Texas seriousness, with booster clubs and monogrammed jackets and weekend bake sales that raised money to send teams to tournaments. Almost every town has an indoor community center court, where you can while away the hours under yellow lighting with the soundtrack of squeaky soles. Basketball has the distinction of being affordable and easy to practice, and it doesn't require the equipment or travel of hockey or football.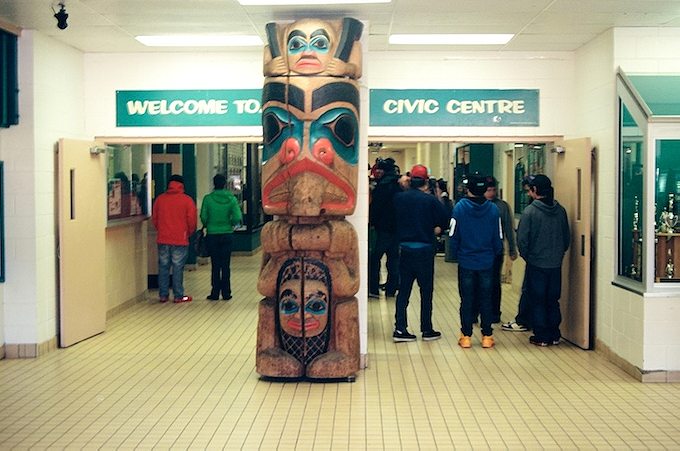 "I guess we could play volleyball," says Peter Haugan, the president of the ANBT and a Prince Rupert resident. "But we like to run." Haugan met with me at the tournament's offices on Rupert's main street, where he had been doling out single tickets and passes the day before the tournament opened. He has a salt and pepper beard and wears thin-rimmed glasses and a brown polo shirt, and I don't see him away from the ticket booth the entire time I'm at the tournament.
For First Nations communities across North America, basketball has an avid following at even the smallest levels. "Rez-ball" (reservation ball) has become a lifestyle in places like the American Southwest and Pacific Northwest, and it's a basketball you won't see anywhere else, The game is tougher and faster, with a focus on more forced turnovers and interceptions—it is aggressive. On Arizona's Denle reservation, game attendees often line up 12 hours early to get a good seat in the stands at the 6,400-seat Wildcat Den. It is not an understatement to say that games at the Wildcat Den, the largest high school in the Navajo Nation, carry the seriousness of a professional sport, which the teams match. At the college level, sisters Shoni and Jude Schimmel, who are Umatilla from eastern Oregon, took their University of Louisville team on an epic run through the NCAA tournament last year, giving rez-ball newfound attention and respect of the reservation.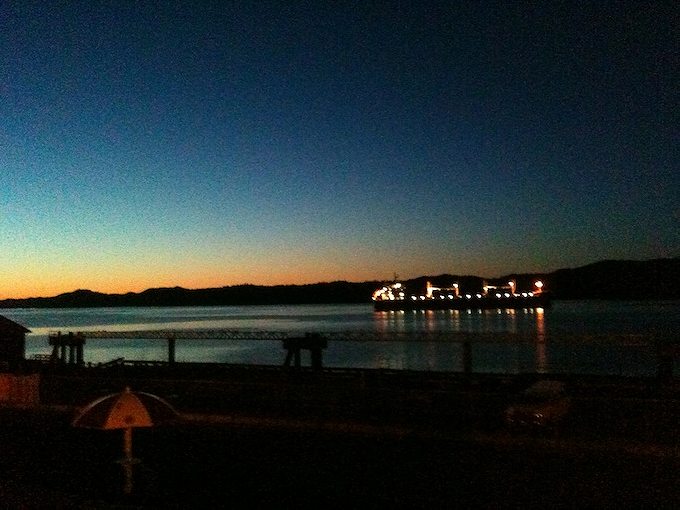 It is not hard to see that the game is faster, more aggressive, from my spot in Prince Rupert. Alsop says that some of the referees that the ANBT flies in from Vancouver had to adapt to the game: "It's a little more physical… They have to allow some more outbursts to go." During the women's game, there are balls being chucked into the stands, bodies slammed into the floor. This goes on for a while, slowly escalating, before a spectator finally says what I've been thinking, "Oh, it's starting to get physical."
There are the stalwart teams that always win. Metlakatla, a Tsimshian community only accessible by boat, is home to a mighty women's team that has won eight years in a row. From Alaska, Kitkatla. From Skidegate on Haida Gwaii, the Saints. For those teams, this is a tournament, says Haugan.
But it is also something more—an incubator for community organization, an annual gathering that has replaced older traditions. During the first game, the stands were half-full and it was incredibly, surprisingly loud. Everyone around me keeps saying the tournament is intense, powerful. A younger player on the Skidegate Intermediate team says it's "electrifying," and I can't disagree.
It's not an escape, though, from the larger socio-political issues that face North America's First Nation communities. And it has become, in many cases, a catalyst for activism. British Columbia is bordered to the east by the Rocky Mountains, which provide a physical barrier between its neighboring province Alberta. In Canadian regional lore, Alberta is the home of steer-wrestling rodeos and unbridled energy sector development. British Columbia plays conscientious hippie to Alberta's swashbuckling cowboy, though both are reliant almost entirely on resource management. This dynamic has, in recent years, blown up as fast as the oil is being pumped out of the ground in northern Alberta, with First Nations at the heart of the debate.
LOCAL POLITICIANS, ATHLETES AND BUSINESSES ARE ALL INCREASINGLY USING IT TO BRING ATTENTION TO THEIR CAUSE
The Northern Gateway pipeline, a proposal from Calgary-based energy company Enbridge Inc., has divided western Canada, pitting one province against the other in a bid to pump bitumen to the B.C. coast for shipment to China. Alberta leaders see an untapped market for their province's oil, if only they could get it to coast of Canada. British Columbia's government, meanwhile, is primarily concerned about profit-sharing and regulations. And the most vocal opponents to the pipeline are B.C.'s First Nations communities, who fear environmental destruction not only in the interior of the province, but if a spill occurs offshore.
Even in the Vancouver airport lounge waiting for my prop-plane to Prince Rupert, I overheard a small group of people talking already about the women's tournament, and just across from them, another group was all talk of gas plants, proposals and new refineries. This is, and has been, the sole conversation along British Columbia's coast for just over a year. Pipeline proponents argue that the massive proposals for huge oil and natural gas refinery businesses would provide jobs along the coast, particularly in First Nation-populated areas. It is very hard to have a discussion about anything without oil coming up—the political and economic has taken root in every cultural aspect of the province.
The All Native is not traditionally a political event. "To the communities that come here—like Bella Bella, Skidegate, Kitkatla—to them it's just basketball," says Haugan. But I'm not convinced. Local politicians, athletes and businesses are all increasingly using it to bring attention to their cause. When Skidegate won the title again last year, Alsop made a speech about the importance of standing up against the Northern Gateway. This year, at the opening ceremony, the Old Massett team was introduced wearing black and white shirts printed with the words "Nations United Against Enbridge." The Kitimaat team marched around the court with a banner proclaiming their distaste with the pipeline. The president of the Haida Nation gave a speech: "We have to send a message that we are not softening," he said. "This summer is going to be the biggest fight of our lives." He gestured at the crowds: "This is what they're up against." The audience roared.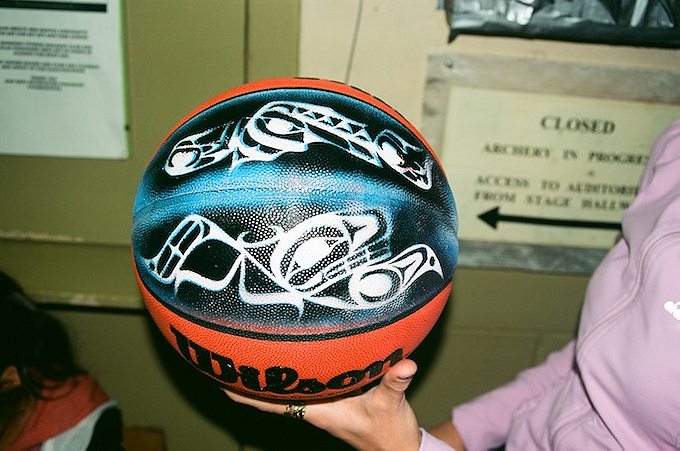 In late 2013, the ANBT announced that another pipeline company, TransCanada—the organization behind a cross-Canada pipeline project, as well as the controversial KeystoneXL pipeline—would be a sponsor of the 2014 tournament. Previously the tournament had local and provincial sponsors, but the influx of money from natural gas has proved tempting for tournament organizers. On the ANBT Facebook page, commenters were furious. "They are trying to suck up to the natives… Bribe or con are a couple of good words to describe this," wrote one.
Haugan defended the sponsorship. "You can only charge the teams and fans so much, but the costs still increase," he says. The ANBT didn't go out and ask the companies for help, Haugan adds. "And we've turned down money because it's from oil. It's not a subject that we want right now, it's too hot." But, as Haugan explains, TransCanada transports liquid natural gas, and some nations and bands have actually signed liquid natural gas deals. "That's a different story," he says.
Haugan's not naive to the fact that these companies want to be seen as supportive of the First Nations cultural events because they want to expand their pipelines on reserve land. Banners and advertisements for Aurora LNG and TransCanada paper the walls and appear throughout the ANBT program guide. To have a working relationship and good public relations with nations in B.C., many companies have had to get their foot in the door by sponsoring events like the ANBT.
Thus the All Native has found itself in the middle of cultural and political forces, galvanized by recent conflict. In late 2012, a group of Aboriginal activists and their supporters adopted the rallying call of Idle No More and organized a wave of protests across Canada. The protests were ignited by First Nations chief Theresa Spence, who went on a hunger strike in Quebec in a bid to draw attention to alleged legislative abuses of treaty rights across the country. In British Columbia, Idle No More has found its focus in pipeline expansion.
Protesting oil and gas development at the All Native sounds a little bit like preaching to the choir, but it has worked to unite communities that are separated by vast distance on a single cause. "Basketball has helped develop the idea that you have to take a leadership role," says Alsop. "It's the same thing we're trying to do with natural resource management." In this way, it is obvious that the ANBT is more than simply a basketball tournament—there has always been something simmering just below the surface, waiting for a spark. Electrifying—on and off the court.