Despite its incredible bounty, Chile is better known for hot dogs than haute cuisine. Rodolfo Guzmán, chef at Santiago's Boragó, has a plan to change that.
On the beach, under the shadow of Pablo Neruda's house at Isla Negra, we are foraging for sea strawberries: carpobrotus aequilaterus.
Inside the house is a collection of all things Chilean. There's a fireplace engraved with lapis lazuli. There are seashells, ships inside of bottles, Mapuche woodcarvings. There's a carved Kava Kava from Easter Island and pictures of waterfowl from Andean lakes. It's an ode to the 2600-mile landscape.
I ask Rodolfo Guzmán, the chef of the Santiago restaurant Boragó, if Neruda ever foraged on this beach.
He's not sure. Probably not, though I later found some reference of him gathering twigs and pine needles on the beach to roast mussels.
Called frutilla del mar locally, the strawberries grow out of the black rocks and sand in large patches of a thick, green and red sea grass. They don't look like traditional strawberries, but more like a crab claw. They are a little bit salty because of their proximity to the sea, but otherwise still taste like a strawberry. They take about 4-5 months to grow, but they are ripe for only about two weeks each year. It's just about the end of the harvest season and some of the strawberries are already past their prime. Those ones, the mushy ones, are still tasty, but the sugar content is higher so they're a bit too sweet. Guzmán and his team have already been here a few times this year and have gathered as many as they could.
"The more we pick this year," he says, "the more that will grow next year."
There's not really a culture of eating these types of strawberries on Chile's central coast. A few communities further south harvest them, though for the most part they are ignored for shiny red supermarket varieties. Guzmán, who works closely with the scientific and academic communities, regularly explores the entire country, plus Easter Island, looking for new products.
"There's another (strawberry) in Magallenes that looks almost like a raspberry and grows on the ground, but it still tastes like a strawberry too."
Most of the products are highly seasonal, only available for a few weeks a year and found in extremely remote, isolated locations. They work with rural foraging communities everywhere from the arid altiplano of the Atacama Desert to the wet and wild landscape of southern Patagonia to help supply the restaurant. The kitchen team also goes foraging twice a week to sites within a 150-kilometre radius of Santiago. That range provides them with the ability to collect plants at a variety of microclimates, from the high Andes to the coast.
Today we're with Tommy de Olarte from Peru, Boragó's head of research and development, and a young Taiwanese girl who arrived in Chile three days ago to be a stagiaire at the restaurant. Prior she was with Martín Berasategui in Spain and asked him for advice. He told her there's this guy in Chile that she should really go see.
From the moment we left the car and walked the three minutes or so to the beach, in what is basically an empty lot, Guzmán points out seven or eight different edible plants and on the beach there are dozens more. What's funny is that I've come here a handful of times to visit Neruda's favorite house, the place where he and his wife Matilda are buried facing the sea, and walked along this very same beach, but I never noticed how alive it was.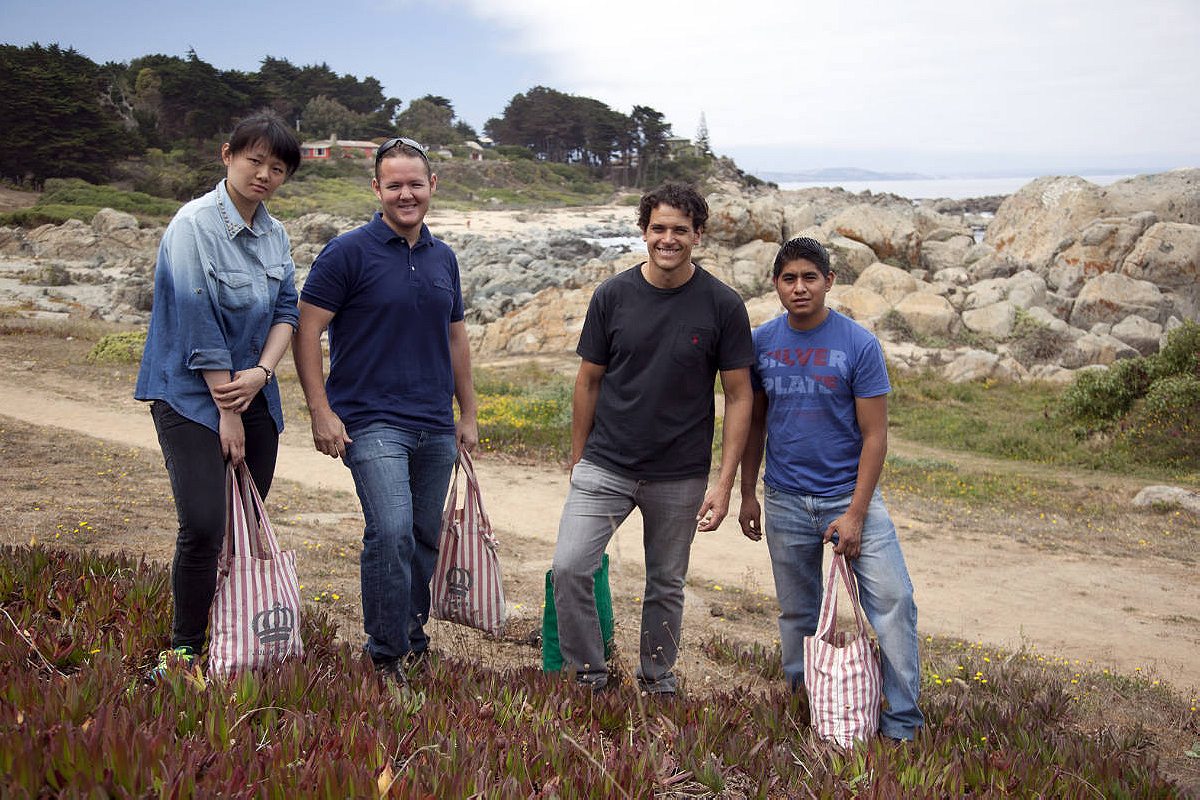 Aside from strawberries, which we pick by the bucket, there's what Guzmán calls sea asparagus, or salicornia, sprouting in little red and green stems between the black rocks. There's a type of parsley with a slight hint of tangerine. There are wild onions, golden hued oxalis flowers, clover, and spinach. He giddily describes all sorts of fascinating products from around the country, pulling up photos on his phone to illustrate the bounty. There's an algae with a honeycomb inside from Patagonia. There are giant sea urchins whose tongues look like pieces of foie gras.
He tells me a story about when the restaurant launched in 2007 they discovered they could eat the seeds of the espino, a type of Acacia.
"When we discovered it we thought we were so avant-garde. Then we asked the Mapuche about it and they were like, 'yea, we've been eating this for 2500 years.' We should have just listened to them from the beginning. The native people understand the environment as something that's alive. We are trying to keep with that tradition."
After a few hours we pack up and head back towards Santiago.
"Wait!" Guzmán shouts. We stop on the side of the highway where he spots a massive Chilean Dill plant. Behind it we find anis and some more edible flowers. They pick it all up.
"Normally we don't get this from here, but, well, fuck it."
***
The first time I came to Boragó was in late 2011 on a Sunday for a straightforward brunch. No one was talking about the restaurant. It wasn't doing so well. I was the only one there. They were down to five people in the kitchen and finances were completely underwater. They were months away from shuttering.
"Endemica (the tasting menu) existed from day one," Guzmán tells me. They just couldn't always get the public to go along with it. Chilean journalists didn't understand it. They wanted to see foie gras and white truffles. Yet, Guzmán stood by his vision.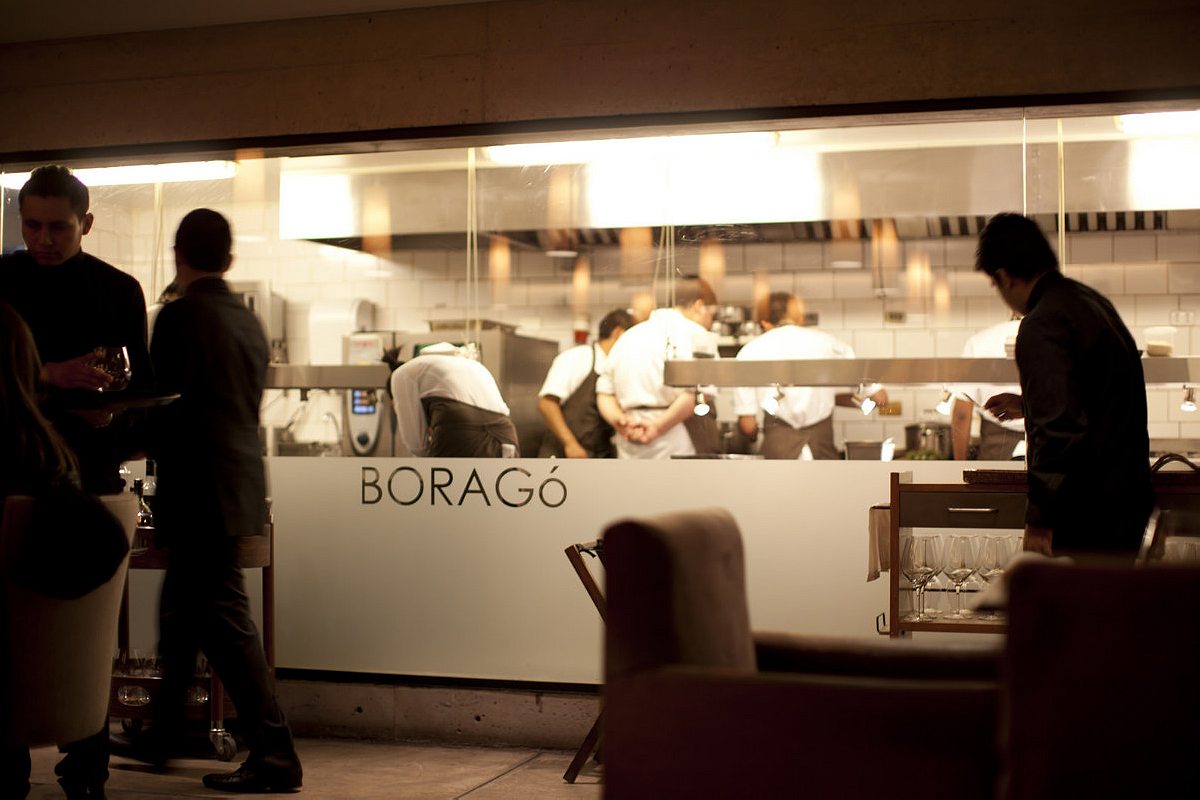 Before entering the kitchen, he was set to become a professional water skier. When that didn't go as planned, on a whim he opted for culinary school. After completing his training he bounced around restaurants in Spain for awhile, but under Andoni Luis Aduriz at Mugaritz in San Sebastian he had a breakthrough. He began to really understand what a product was and how to care for it. He began to see the wider relationship between humans and nature. He returned home and worked at various restaurants in Santiago, but Spain had planted a seed in him, and now Guzmán knew exactly what he wanted to do: create a restaurant that could only be found in Chile.
Over the course of a meal my entire notion of what Chilean cuisine could be had changed
Almost overnight in 2012, things changed. The international press caught on to what Guzmán was doing. Soon the restaurant was full and they could afford a staff of 30 in the kitchen. I returned in early 2013 to a completely different restaurant. Just before arriving to Santiago, I saw Massimo Bottura tweeting some photos of his meal there. I booked a table immediately. Over the course of a meal my entire notion of what Chilean cuisine could be had changed. Rescoldo, a Mapuche method of cooking with embers, covered a slow-cooked egg with ash. There was a curanto, a potluck of meats and shellfish and tubers traditionally over-cooked in earthen ovens on the southern island of Chiloé. Guzmán concentrated the dish down into a broth, placed in a small glass set with a pot of dirt with twigs around it. It remains one of the most complex things I've ever tasted.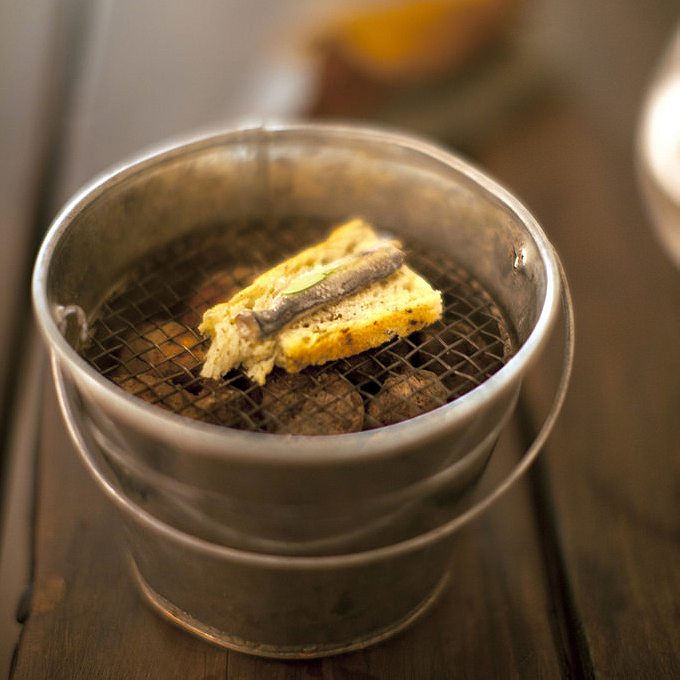 "Now the Chilean press shuts their mouth," he says. "Some say 'oh yea, we were with you all along'." Still most of the local media and tourism boards have brought little international exposure to the restaurant or the scope of what he is trying to do. While Brazil and Peru are inviting influential international diners by the dozens, Chile seems to be more concerned with gourmet hamburgers.
At dinner, the same night after going foraging, Guzman and his team serve a meal that serves not just as a tour of Chile's remarkable physical world, but also the country's psyche. The strawberries we picked quickly appear with smoked robalo (striped bass) in the form of a pichanga, an assortment of pickled foods that you find in the market. It's one of the most Chilean of all Chilean dishes, yet I've never seen any form of pichanga in any restaurant in Chile. Next he serves me the sea asparagus, coerced into a cream, and his excitement is palpable. "I cannot believe something this wild can taste this good." He wants me to know how passionate they are about simple products like this. The ones that are right beneath everyone's nose.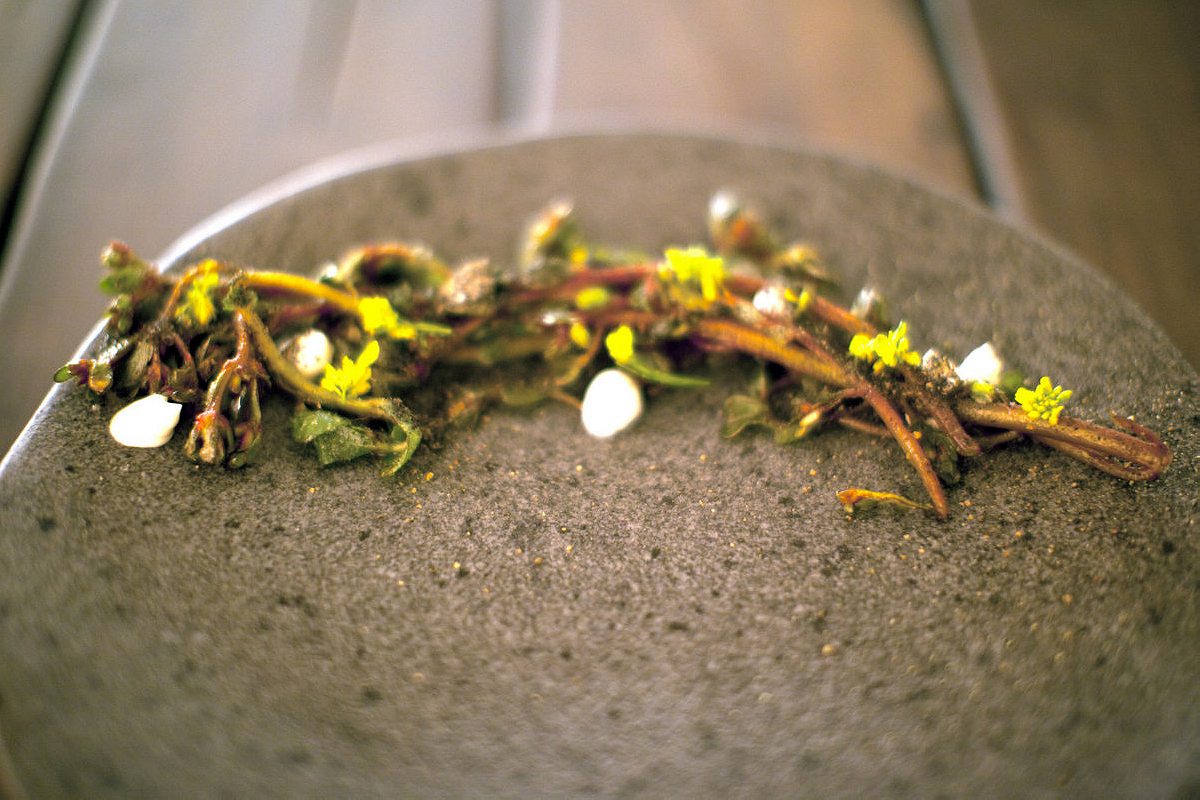 Next comes an all-black bowl of conger eel, a dish Guzmán calls "an ode to Isla Negra" in tribute to one of Neruda's most famous works, Oda al Caldillo de Congrio. In the poem, after removing the eel's skin, the narrator adds it to a broth of garlic, onion, and tomato: "… slowly deliver the treasure to the flame, until in the chowder are warmed the essences of Chile, and to the table come, newly wed the savors of land and sea, that in this dish you may know heaven." Guzman's conger eel is served with a savory broth made from cochayuyo, a Chilean kelp that they source from a 70-year-old man that harvests the roots not far from where we were that morning. After the eel is gone I sip the umami-rich broth, the essence of an emerging Chile, and it soothes me right down to my bones.
Every dish is symbolic for something. In a dish named "Bambi's Mom," venison is served with chocolate antlers and splattered blood made from beet juice, which refers, brutally, to the overpopulation of deer in the south. A fragrant branch is served with veal, which is cooked for 40 hours, so you can have an idea of the remote corner of the Maule region that it comes from. Rica rica, an herb from the Atacama Desert, is served on a pastry as if it is growing out of the cracked, dry earth.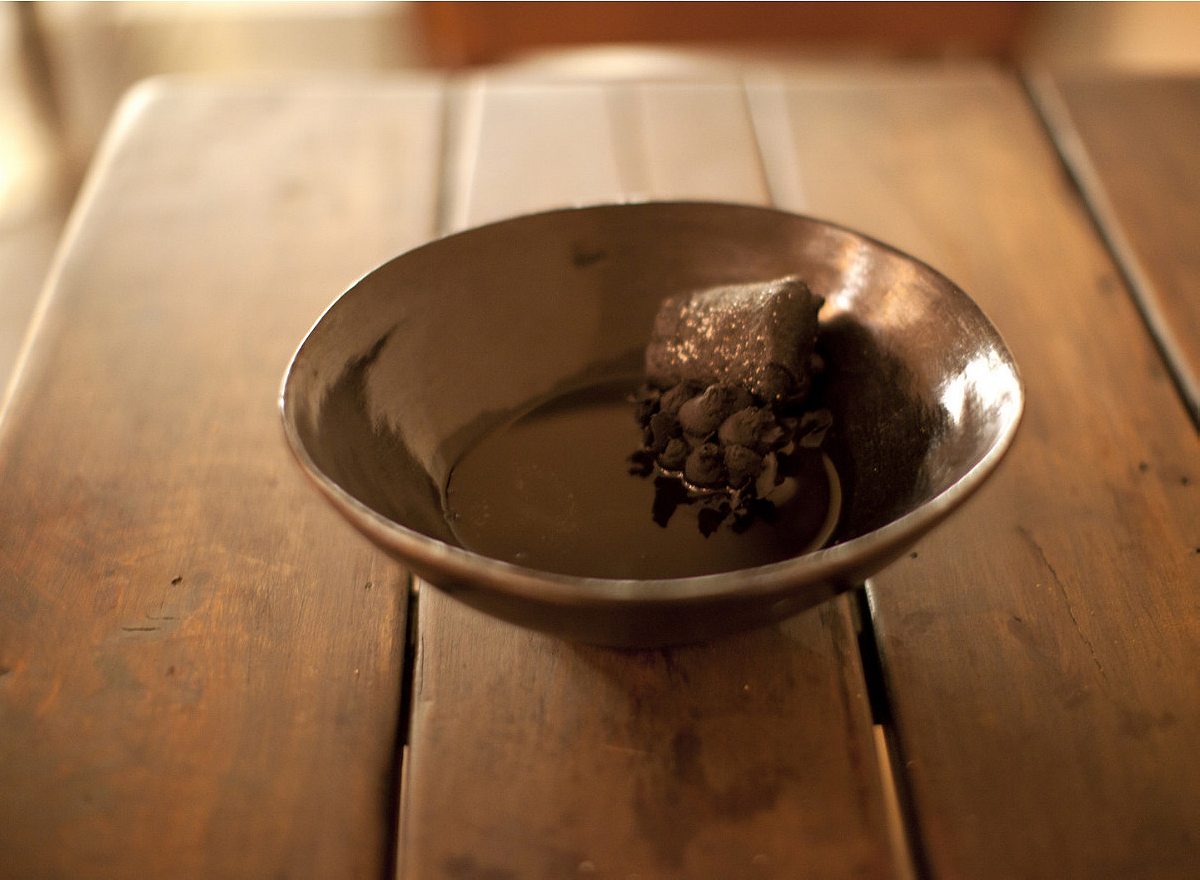 ***
Chilean cuisine has a history of misinterpretation. It has never had the reputation of say, Peru, even though southern Peru and northern Chile share a similar topography and cultural background. In Santiago and Valparaiso, the most often referred to foods are from fuentes de soda, snack bars basically, where you're likely to find steak sandwiches or the chorrillana, a greasy mess of chopped beef, French fries, eggs, and onions. The favorite street foods are the completo, an avocado smeared hot dog, and mote con huesillo, a sweet, syrupy cup of husked wheat and dried peaches cooked in sugar. Then there is the country's vast agro-industrial complex that exports flavorless, genetically modified apples, grapes, potatoes, blueberries, and asparagus, as well as farm-raised salmon, to all corners of the globe. No one is fighting to open a Chilean restaurant in New York or London. Nor are they talking about the quality or uniqueness of Chilean products.
There is a disconnect between the food of Chile's native people and the rest of the country, which may help explain why many of the native products rarely travel far. Unlike neighboring countries like Peru and Bolivia, Chile's indigenous people have been pushed to the edges of society rather than integrated with it. The Spanish had difficulty conquering the Mapuche and Huilliches in colonial times, so after independence, 6,000 German settlers were recruited to help colonize southern Chile. Gradually they were pushed deeper and deeper into the rough terrain and, with them, the knowledge of the native flora and fauna. They keep to themselves, isolated by mountains, water, and seasons. The Germans brought their own meat- and carbohydrate-heavy cuisine that would influence greatly the national taste buds. Even kuchen, the German word for cake, is commonly referred to throughout the country. Today the produce in any Chilean supermarket is similar to what you might find in North America and Europe.
No one is fighting to open a Chilean restaurant in New York or London
Though if you visit the far-flung corners of this country, you'll find some of the most astounding products on the continent. In Patagonia, I've tasted an extraordinary preserve made from the stalks of the broad leafed nalca, which grows along the seashore and tastes like rhubarb, on the breakfast table while renting a room from an old couple in the timber town of Caleta Tortel. Here you'll also find the calafate berry, which regional brewery Austral uses to flavor an ale. On the archipelago of Chiloé, there is a rainbow of endemic potatoes, as well as dozens of types of mollusks and crustaceans, not to mention seaweeds. In Araucania, the Mapuche heartland, you find merkén, Chile's earthy chile powder from the cacho de cabra pepper and that is now found in almost every American gourmet market, as well as the piñón, the seed of the monkey-puzzle tree, known locally as pehuén.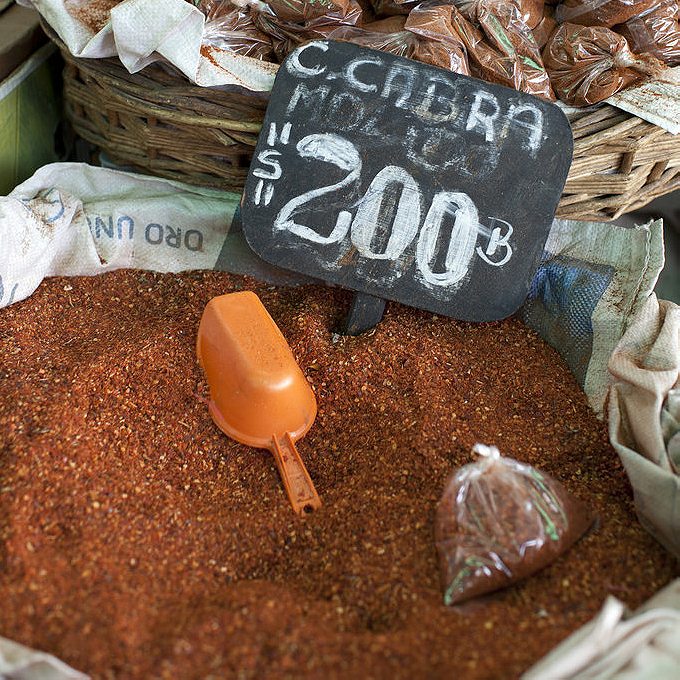 Chile is like Peru fifteen or twenty years ago. Until chefs like Gastón Acurio and Cucho de la Rosa began using quinoa and native potatoes and bringing them into the mainstream food culture, the people in Lima considered them peasant food. Native foods and ingredients have been almost non-existent in Santiago and other large cities. Until a few years ago in Santiago, the top restaurants, at least in the eyes of the critics, were French or Peruvian. That's changing. A shift is underway. Chileans are taking a second look at their biodiversity.
Former cooks at places restaurants like Boragó are launching their own projects. Diego Prado, the former chef de cuisine and who also did a stint at Noma, launched a successful run of pop-up dinners last year that were held in garages and on rooftops. This year he opened Prado.Taller, where he gives classes on foraging and cooking with native plants and fermentation, plus more pop-up style dinners. Alejandra Hurtado, Boragó's former pastry chef, opened a haute dessert concept, called Canela Pastisserie, last year. Other former staffers are launching projects in various parts of the country, not to mention the dozens of other non-staffers who are contributing to the wider scene by opening craft breweries, investing in artisanal piscos that can rival Peruvian ones, starting small scale wineries in garages, or pooling together to open restaurants with their friends. There's a buzz now. Something is stirring.
***
On the second floor of Boragó there is an office with a few computers and bookshelves. One wall is covered in post-it notes with tiny sketches of dishes and monthly calendars detailing when different ingredients will be in season. Some appear for weeks or months. Others are there for days. When a dish is ready it gets transferred to the computer. The 2014 season, which will run from about April to December is getting ready to start. Since so many of the ingredients are so limited in some cases the tasting menu might be different from one table to the next on the very same night. Over the course of the season there will be more than 700 different plates.
"We don't understand it as a restaurant," Guzmán tells me. "We understand it as support." He sees Boragó as the first step in a longer journey. It's the gateway to something bigger. Something that isn't about a single chef or restaurant, but a way to connect Chileans, to connect the world at large, to the plants and animals that are here. To connect them to the things that are worth preserving.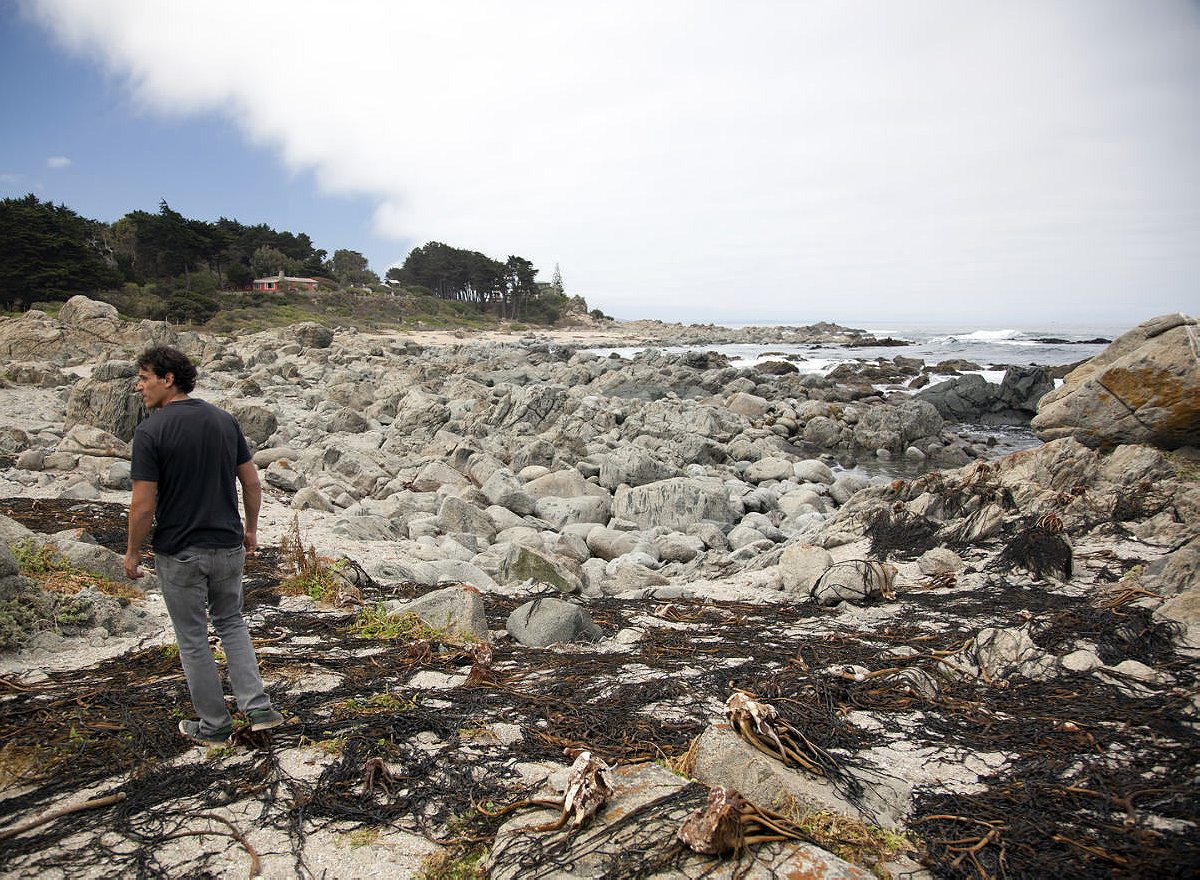 Since the restaurant opened, they have been gradually connecting with foraging communities around the country. "We'd ask, could you do this for us?" he says. Most would and eventually they had an entire network of foragers in every region. They are working to connect additional chefs with the various foragers, helping everyone gain access to the products while helping the communities earn a sustainable living.
He isn't just finding pretty plants to put on a plate…he's opening the door for the rest of his country
More visionary though is the restaurant's partnership with Santiago's Pontifical Universidad Católica to make a survey of the edible flora and fauna in Chilean territory. All of it. It's a long term project. Ten years perhaps. They started out on the second floor of Boragó, but are moving into an entire floor of a building at the university. They have already collected about 40% of the data. When they finish they'll have the entire DNA of Chilean cuisine. This is what sets Guzmán apart from all of the other foraging chefs around the world. He isn't just finding pretty plants to put on a plate, which may also taste good. He's opening the door for the rest of his country. They'll just have to walk through it.
"If you are a chef in Patagonia you can find a plant, look it up on a smart phone and see if it needs emulsions or whatever," he says. They want to bring the tools so any chef or cook anywhere in the country can not only use the native produce, but to understand it and create something new with it.
It cannot come soon enough.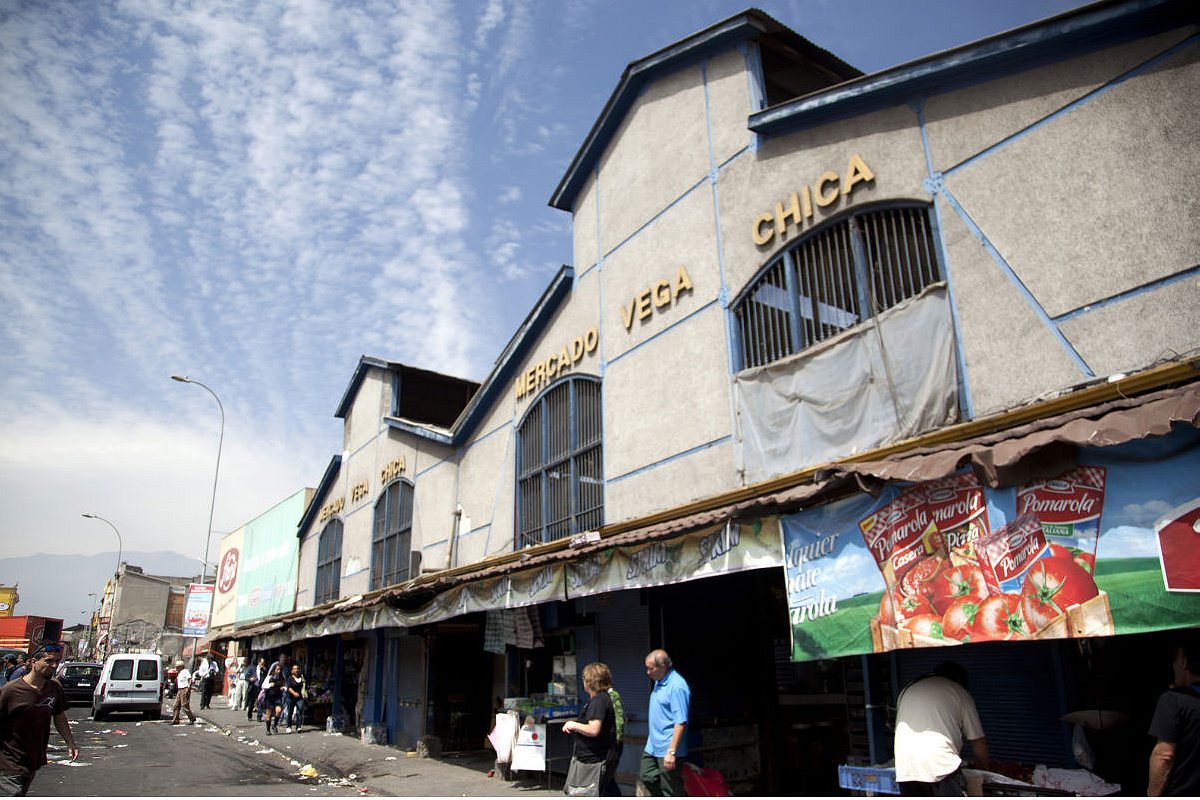 ***
The next day at the Mercado La Vega Central, near the north bank of the Mapocho River, I ask a woman selling herbs if she has any rica rica.
"Si, muy rico, rico," she says. Very tasty, tasty. She thinks my Spanish is bad and I'm mispronouncing the word.
The market, Santiago's largest, has 60,000 square meters of stalls. There are tomatoes and cucumbers that are full of color and have not a scratch on them. Apples reflect the light they are so shiny.
I ask around for sea strawberries, salicornia, and several of the other plants we found an hour away. Nothing. I find merkén being sold at a single stall. Then, in a dark corner of the market where the rays of the sun just barely extend, a few potatoes from Chiloé
It's a start.