Death, defiance, tribunals, coverups, outrage and intrigue: in today's Egypt, soccer is so much more than just a sport.

CAIRO, Egypt—
On Sunday, as Ahmed Abdel Zaher turned to celebrate scoring his side's second goal in the final of the African champions league, he did something strange with his outstretched right hand. He extended his four fingers, and tucked his thumb over his palm.
The goal itself was significant—it ensured that Cairo's mighty Al-Ahly team would beat South Africa's Orlando Pirates for its eighth champions league title. But in Egypt, it was Abdel Zaher's celebration that later stole the limelight. For his four-fingered salute has over the past three months become a potent and divisive sign of opposition to the overthrow of Egypt's former president, Mohamed Morsi. It invokes August's bloody demolition of an encampment of Morsi's Islamist supporters outside a mosque called Rabaa al-Adawiya. (Rabaa means 'fourth' in Arabic.)
Abdel Zaher claimed afterwards it wasn't about siding with Morsi or the Islamists, and that he simply "wanted to remember the dead", but he was suspended from the team's next match at the 2013 FIFA Club World Cup in Morocco regardless (UPDATE: Ahly has announced it is also putting him up for sale "in light of the club's… firm rejection of mixing politics with sports"). Others have fared worse after making the gesture. Egypt's best kung-fu player, Mohamed Youssef, was banned for a year after wearing a t-shirt bearing the sign. Two men were arrested in September for printing the sign on clothing.
Abdel Zaher's far more famous teammate Mohamed Aboutreika, who had scored the first goal of the 2-0 match, missed the medal ceremony after the game, allegedly because he couldn't find his own protest shirt to commemorate the death of at least 74 Al-Ahly fans at a game in Port Said last year. An elegant forward who was the talisman of the side that has dominated African soccer over the past decade, Aboutreika has racked up nearly a hundred international games for Egypt, and 38 international goals. He is not just a footballing star, he's a national hero. But he too has been buffeted by the zigzags of the revolution in Egypt, which first claimed the dictator Hosni Mubarak, then unseated the democratically elected (but decidedly undemocratic) Morsi, and is currently teetering in the hands of the same military that overthrew both men.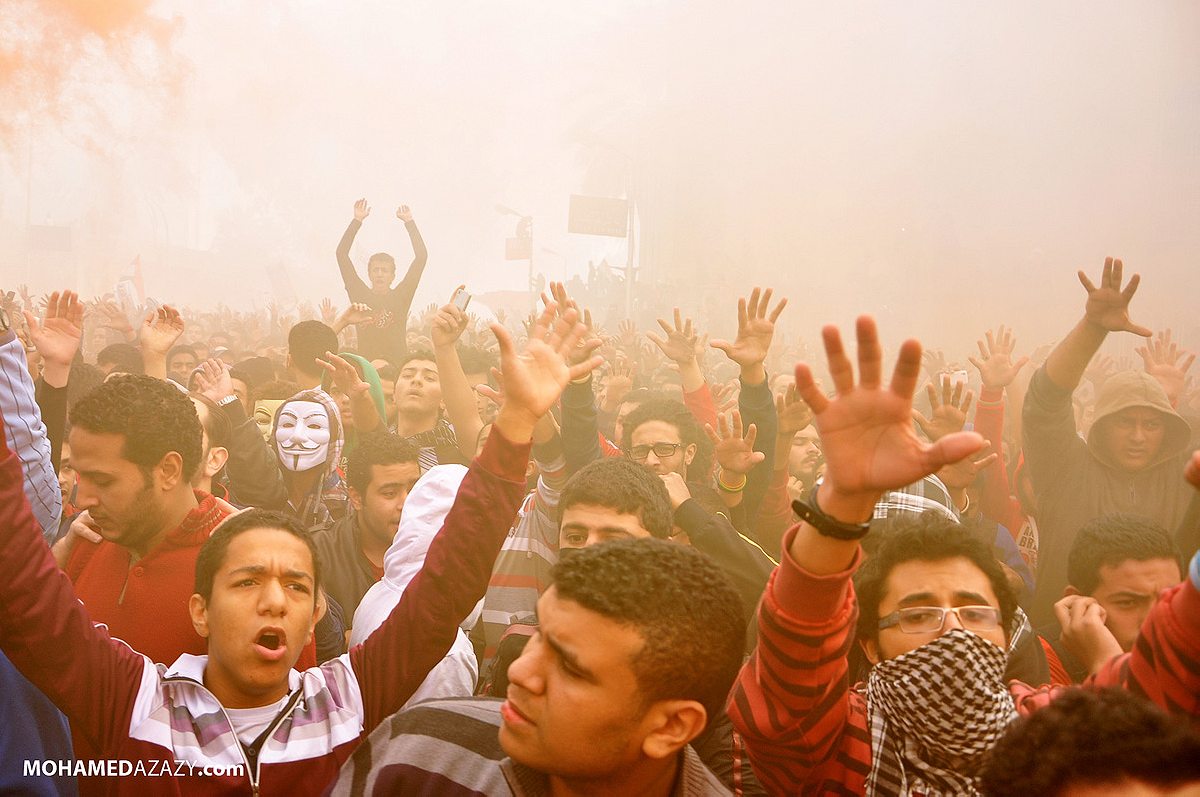 The story of Egyptian soccer over the past three years is very much entwined with the story of Egypt's revolution. Empty stadiums, cancelled leagues, the massacre in Port Said and the rise of this defiant four-fingered salute are all important staging posts of the country's post-Mubarak era.
Politicians have been trying to claim Aboutreika in particular for their side since the beginning of the Arab Spring. Ousted dictator Hosni Mubarak's lackeys asked for Aboutreika's support in early 2011, in the dying days of his presidency. Aboutreika said no. Before the pro-Morsi Rabaa camp was brutally demolished by Egypt's current rulers, the firebrands who spoke onstage at the camp's center had promised that Aboutreika would be coming to Rabaa.
It sounded credible. A year before, he had publicly endorsed Morsi's election campaign. But much had changed in the year since (Morsi's trial for incitement to murder and other charges related to his own power grab is set to resume in January), and this time around, Aboutreika never showed.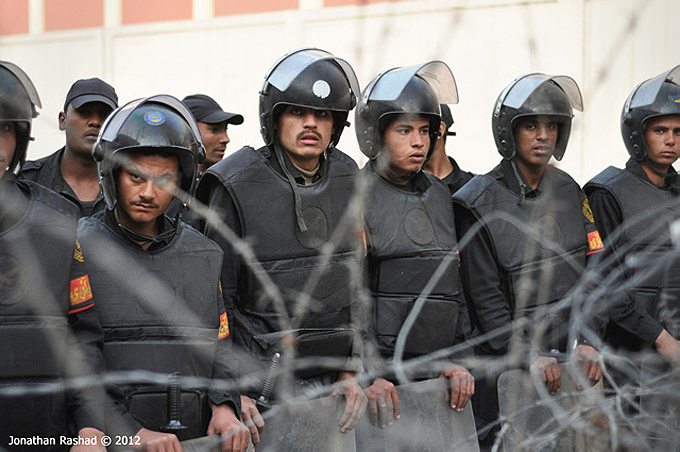 The ultras are the thread that binds together soccer and the revolution. Several European soccer teams have long counted an ultras cohort among their fanbase–a highly organized group of diehard supporters who set off fireworks, chant the loudest and sometimes raise havoc. In Egypt, the idea is relatively new. It was only in 2007 that fans of Egypt's biggest club, Ahly–the Yankees of Egyptian soccer–formed an Ultras wing. Other clubs soon had copycat groups, but Ultras Ahlawy, as they're known in Arabic, remain the largest.
New though they were, their significance beyond football grew swiftly. Soon falling afoul of the police, they frequently skirmished with—and developed a hatred for—Mubarak's brutal and widely despised security apparatus in the years leading up to his ouster. In doing so, they became some of the only people to work out how to take on the foot soldiers of the regime.
Egypt's 2011 uprising was also sparked by a desire for police reform, a sentiment the ultras naturally shared.
"No one had the experience of fighting against the police–except the ultras," says one of Ultras Ahlawy's earliest members, Ahmed Radwan. "We had clashes with them maybe two or three times a year. We knew the ways to fight them."
A polite, soft-spoken office-worker, Radwan had agreed to meet me in an upscale cafe. Like many of Ahly's first ultras, Radwan is middle-class–traveling the country in support of a soccer team is relatively expensive.
When hundreds of thousands spilled out onto Egyptian streets in January 2011 to call for Mubarak to go, there were many reasons for ultras to join in. Like most ordinary Egyptians, they supported the catchall calls for bread, freedom, dignity and social justice–concepts largely absent in Mubarak's dictatorship. But for the ultras, regardless of club affiliation, there was a more specific demand. Egypt's 2011 uprising was also sparked by a desire for police reform, a sentiment the ultras naturally shared.
"They always denied the ultras' involvement–they just said they took part [in the uprising] as Egyptian citizens," says Egyptian football journalist Osama Khairy, referring to a January 2011 post on the Ahly ultras' Facebook page that denied the organization was officially taking part in the protests. "But the revolution was a means of revenge on the police."
More often than not, the ultras were at the middle of the melee.
Mubarak fell on February 11, 2011, but for Egypt's revolutionaries, the fight continued, and goes on today. Mubarak was followed by a military junta led by Egypt's Supreme Council for the Armed Forces (SCAF). This slate of aging generals were supposed to oversee a transition to democracy–but often seemed more interested in maintaining their own economic and legal privileges, and suppressing dissent. Egypt's post-Mubarak history is punctuated by a series of bloody clashes between these authorities and the revolutionaries.
The Maspero massacre. The Cabinet clashes. The days of deadly fighting on Mohamed Mahmoud street. Dozens died at these street battles, as young protesters found themselves fighting for the freedom they thought that Mubarak's overthrow would automatically guarantee them. And more often than not the ultras were at the middle of the melee. Their involvement peaked at the bloody Mohamed Mahmoud clashes, anti-SCAF protests that turned violent on a street leading from Tahrir Square in November 2011.
"It was the biggest ultras participation in politics," remembers Radwan, who asked for his name to be changed because the ultras' code demands that its members boycott the media. (It is hard to track them down. Radwan agreed to be interviewed only after the intervention of a mutual friend. Ultras at protests tend to clam up when journalists approach. One who began to chat with me outside Ahly's stadium tailed off after a nudge from his friend.)
Instead of shrinking, the American manager became impressively engaged with Egypt's politics.
This tension was also reflected in the stands during those days. Ultras would chant obscene songs about the police and SCAF, and parade lurid banners mocking Field Marshal Mohamed Tantawi–SCAF's leader, and Egypt's new interim head of state. "SCAF are dogs like the police," sang Ahly's ultras at one game in late January 2012, a typical chant. Above them they held a banner of Tantawi looking like a vampire.
On the pitch, it was business as usual. The league carried on as normal. Bob Bradley, the former USA coach, arrived to manage Egypt in summer 2011.
Other western managers might have balked at coaching in a country that had so recently experienced a revolution, but not Bradley. Instead of shrinking from the task, he became impressively engaged with Egypt's politics. When we meet for coffee near his flat on the banks of the Nile, he mentions several Egyptian commentators, activists and thinkers whose work he has recently read. Bradley lives with his wife in a chic neighborhood, but it's in central Cairo just a mile or two from Tahrir Square, rather than in one of the the typical walled-off expat compounds on the city's edge. When a train crash killed more than 70 people in a distant part of southern Egypt, the Bradleys made the uncomfortable trek down to Assiut to console the victims' families.
Bradley's commitment was widely respected, at least until last month when his team was humiliated in a crucial World Cup qualifier against Ghana, and a typically fickle public turned on him. Up to that point, he was probably the one American Egyptians had a soft spot for. "Mr. Bob, Mr. Bob," said a pair of young star-struck women passing by our table when we met prior to the match in Ghana. "Please! Three-zero versus Ghana!" The final score was 6-1, in favor of Ghana.
Bradley arrived in Egypt two years ago, in September 2011. After a few months getting to know his team and Egyptian football in general, he was starting to feel settled.
"And then," Bradley remembers, "came Port Said."
On February 1, 2012, Bradley had weighed up going to Port Said, a coastal city at the northern end of the Suez Canal, to watch Ahly play Masry, the local team. In the end, he and his assistants decided to stay in Cairo to see Ahly's arch-rivals, Zamalek, instead.
Bradley remembers arriving at the Zamalek ground and catching the last few minutes of the Ahly game on television. The whistle blew to end the match–and then some of the Masry fans started running on the pitch. Game over, Bradley reasoned.
"I think: OK, that's it, let's go watch the other game."
But gradually, in the stands in Cairo, horrific news starts to filter through from Port Said. Those Masry fans hadn't run onto the pitch to celebrate. They were making for the Ahly Ultras. And they were armed with knives, rocks and broken bottles. And by the time they had finished their attack, at least 74 Ahly fans were dead.
Even inside the changing rooms in Port Said, it was bedlam. Some of the fans wounded in the riot took shelter there with the players. People collapsed on the floor. One boy died in Aboutreika's arms.
"This is not football," he shouted by phone to a TV station amid the mayhem. "This is a war. People are dying in front of us. There is no security and no ambulances. I call for the league to be canceled. This is a horrible situation, and today can never be forgotten."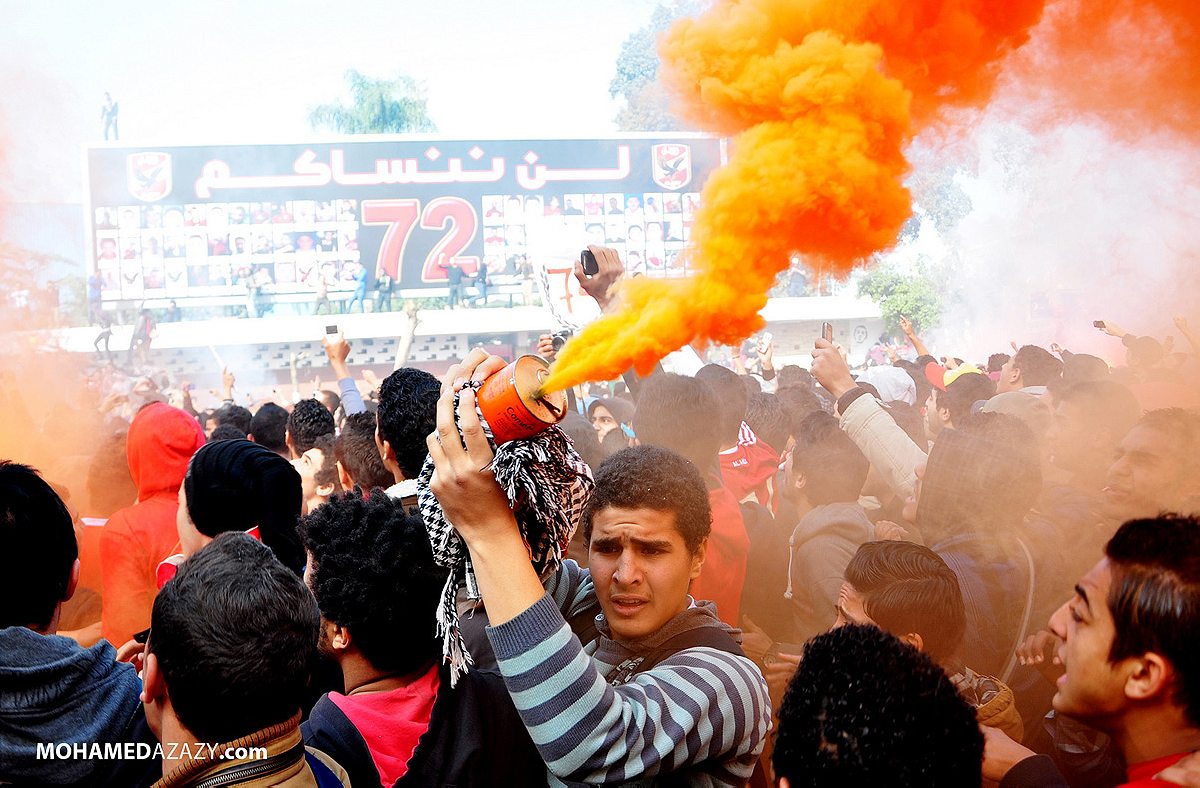 Almost immediately, speculation began about how such a massacre could have happened, and whether this was more than just a simple case of fan violence. Why did the police stand by and watch? Who switched off the stadium lights so soon after the attack started? Who locked the doors that the Ahly ultras might otherwise have left by? It didn't take long before people started to draw their own conclusions–and many concluded the disaster was facilitated by the police and the army, even if state officials did not do the killing themselves.
"For me, security [officials] helped this happen," says Osama Khairy, the soccer reporter. "I think it was a message from SCAF: 'we will punish the ultras.' But they just didn't expect that so many would die."
Seventy-four Ahly fans did die, and the consequences were far-reaching. The league was cancelled, and even when it returned a year later, it was played behind closed doors. Three players spontaneously retired, including Aboutreika.
Aboutreika's retirement was exactly the sort of principled stance that Ahly fans revered him for. A philosophy graduate from Cairo University, Aboutreika had long been seen as a moral figure. In 2008, he ripped off his shirt after scoring to reveal a pro-Palestinian shirt underneath, in Arabic and in English: "Sympathize with Gaza."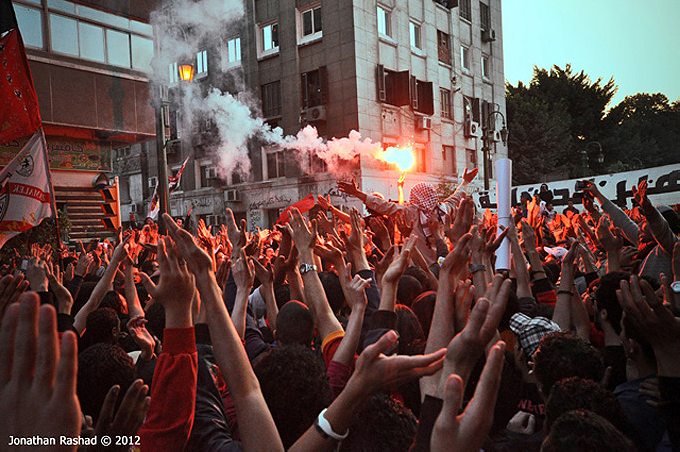 After Port Said, something changed among the ultras.
"I lost ten of my close friends at Port Said," says Ahmed Radwan. "If you lose ten friends who you've eaten with and lived with, it's such a shock. And you lose hope. You stop caring about who comes to power. You just think: I want to get back to my life."
And so, according to Radwan, began a gradual process of disengagement from the wider political environment. The ultras still protest– their demonstrations outside Cairo's High Court this month, calling for the release of some of their arrested colleagues, prove as much –but above all, says Radwan, they are focused simply on finding justice for friends killed in Port Said, and those injured during other assaults on the ultras.
After the Port Said massacre, there was a powerful desire for revenge against the police. And Ultras Ahlawy, the most passionate football fans in Egypt, felt there should be no more football. When Ahly scheduled a friendly last autumn, the fans asked the players not to take part. Only Aboutreika, who by then had been coaxed back from retirement, agreed to boycott, prompting a bitter rift between the rest of the players and their most ardent fans that has yet to heal.
As a manager, the whole situation was unknown territory.
Bradley says the players, many of whom went without pay while the league was suspended, were put in an impossible position. "They have to take care of their families," he explains. "The players showed respect to the [victims'] families. Many of them gave money to a fund. But this is also their livelihood."
As a manager, the whole situation was unknown territory. During international games, Bradley's players had no supporters to gee them up, and with no domestic league they lacked match practice. "Playing games in empty stadiums is not what football's about—a game without fans has no soul," he says. "And yet when we prepare for the games, we say we can't expect our energy to come from our supporters. We have to do it ourselves."
There was one advantage for Bradley. For once, he had a chance to train with his players whenever he wanted, an enviable position for an international manager, and in the process, he says, the squad grew tighter: "That was the silver lining. We were still able to take advantage of the situation, even if in so many other ways it was not the best situation at all."
At the same time, divisions across Egypt as a whole grew wider. In the middle of 2012, Egypt chose its first democratically elected president, Mohamed Morsi. Many revolutionaries voted for Morsi–a member of Egypt's Muslim Brotherhood–with clenched teeth. They didn't like him, but he seemed marginally preferable to his opponent in the presidential run-off, Mubarak's last prime minister. As a result, Morsi's tenure was only going to work if he ruled by consensus, rather than playing to his Islamist support base. But by late January 2013, it was clear that he had chosen the latter path–and anger at his rule sparked another round of violent unrest.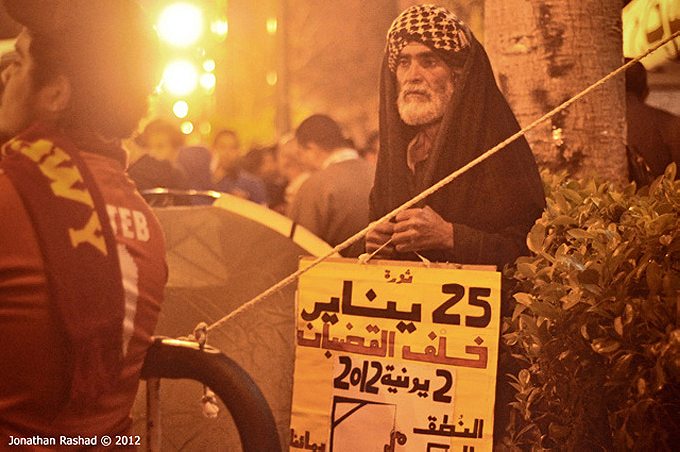 The night before that violence began, I had arrived in Egypt for the first time to live and work. I had hoped to spend a few days finding a flat, sorting a press pass, and setting up a phone contract, but instead my very first experiences of Cairo involved wheezing on teargas and dodging stones hurled at the barricades.
It was amid this maelstrom that football also reared its head once more. By a quirk of fate, the sentencing of those accused of the Port Said massacre was scheduled for the day after unrest had broken out across the country. Over 70 Port Said residents and a handful of policemen faced charges carrying the death sentence.
The verdict could scarcely have been more politicized. If the sentences were too harsh, Port Said was likely to erupt in fury. Too lenient, and Ahly's ultras threatened to wreak havoc in Cairo. They had shut down Cairo's subway system earlier in the week of the judgment, and threatened far worse if the verdicts did not go their way.
Cairo could breathe easy: 21 Port Said men were sentenced to death.
As it happened, Cairo could breathe easy: 21 Port Said men were sentenced to death, prompting jubilation from Ahly fans gathered outside their central Cairo stadium. It was my third morning in Cairo, and I remember walking among them as they gathered from the early morning onwards. "Congratulations on your execution, Port Said," read a sign held by Salha el-Deen, a fan surrounded by hundreds of young men singing songs, waving huge flags, beating drums, and setting off flares and fireworks.
But in Port Said, there was anger and chaos. The families of the condemned rejected the verdict and protested outside a prison. The city's trigger-happy police started firing. A riot ensued. By the end of the weekend, over 40 Port Said residents were dead, twice the number sentenced to death in the first place. Morsi praised the police for their conduct and issued them with additional powers. Six months later, his response to the violence would be cited among the justifications for Morsi's ouster.
"Morsi is the responsible one," a Port Said fishmonger, whose friend died that weekend, told me. "The Egyptian people voted for him. And then he came on television, thanking the police who are killing us." A footballing disaster had turned into a political crisis.
As 2013 rolled on, opposition to Morsi increased and culminated in four days of mass protests in late June and early July that led to his overthrow.
But surprisingly, Ultras Ahlawy appear to have had little official hand in Morsi's demise. Some said they had been placated by the sentencing of the Port Said fans in January, and then again by another round of sentences meted out in March to both Port Said locals and two senior policemen. Others argued they had been left confused and alienated by the way the anti-Morsi movement embraced the police and the army, two institutions the ultras had for so long opposed.
Ahmed Radwan tells a different story. For Radwan, Ahly's ultras were simply tired of political struggle and felt the battles they had fought since 2011 had largely been in vain. "We thought: we'd lost our friends in Tahrir and at Port Said, we fought against the police and the army–but it doesn't seem like we are achieving the revolution's goals. So we said: everyone is free to do what they want: if you want to support the army, you can go, if you want to support the Brotherhood, you can go. Our group is out of politics, it's only for football. After three years, we need to go back to the stadiums."
Ultras can still be seen as an organized force on the streets. This month groups from both Ahly and Zamalek protested against police brutality against their colleagues. But where they stand collectively on wider political issues is cloudier than ever.
"They are like Egyptians, they are divided," says Osama Khairy. "They started with a few leaders, but now I don't know. There are many leaders. It's like Egypt. Everyone's talking, no one's listening, and no one person is representative."
Bradley recommends his players read the writing of Ahdaf Soueif, a prominent female novelist who rejects both the Brotherhood and the army.
Even the national team harbors its differences. But whereas arguments between Brotherhood and army supporters elsewhere in Egypt have proved so bitter that political discussion has been banned from some schools and hospitals, Bob Bradley says his players have been able to put ideology behind them and unite for the sake of soccer.
"I get asked over and over: is your team divided?" says Bradley. The American largely stays out of political debates, though he recommends his players read the writing of Ahdaf Soueif, a prominent female novelist who rejects both the Brotherhood and the army.
"I say: not everybody agrees," explains Bradley. "There are discussions when people give different opinions. But what's different is that they respect the other guy. And when all is said and done, we understand that the responsibility we have as a team to get to the World Cup is still first and foremost."
Some fans joke that Egypt's political mayhem might die down if the fans could watch games in person more often.
That goal now seems all but out of reach. To reach next year's world cup, Egypt must beat Ghana over a two-leg playoff. One of those legs is still to come, a match in Cairo on November 19. After a long period of games played in empty stadiums, the army may allow 30,000 supporters to attend. Some fans joke that Egypt's political mayhem might die down if the fans could watch games in person more often. But the Ghana match is unlikely to cheer up anyone in Egypt. After losing to Ghana 6-1 in Kumasi, Ghana, last month, the Pharoahs need to score at least five goals against one of the meanest defenses on the continent.
The Kumasi defeat was a national humiliation. Pre-match high hopes soon gave way to fury, as fans blasted the team's shambolic defending. In a game of huge importance, it looked as though the players had simply given up.
But one man escaped their wrath. Among the most painful aspects of the defeat was the realization that Mohamed Aboutreika, who will retire for what is likely to be the last time following the Club World Cup in Morocco, will never play for Egypt on football's greatest stage, the World Cup (they have only qualified twice, once in 1934, and once in 1990).
As one distraught writer put it on the popular football website KingFut, "The only player I genuinely express my utmost deepest sorrow to is Mohamed Aboutreika."
[Top image: Khaled Desouki/AFP/Getty Images]