Ghazala Irshad reports on the kiosks of Cairo.
There's been enough talk of the things that divide Egyptians—things like razor wire, armored personnel carriers, makeshift trauma centers, Molotov cocktails and the like. But as Cairo catches its breath before the post-counter-revolution or whatever comes next, it's worth pointing out that there's still something that unites Egyptians of all political stripes: the koshk.
A koshk (kiosk) is something analogous to a perfect handbag for Egyptians: a compact carryall of essentials that can be accessed anywhere, any time of day. But more than that, it is a communal property. In cramped Cairo, sharing a koshk is a collective use of public space and, if anything, a respite from the city's ongoing power struggle.
You can find koshks outside of the capital, of course, on almost every other corner in the smaller cities, along dirt roads in rural areas, even at the summit of Mount Sinai. But the Cairene koshk seems the most vibrant form—with goods stacked to the ceiling, spilling out onto the street, it's a perfect metaphor for the organized chaos of the city. And for a population with no access to (nor time to waste at) big box stores, a koshk is "always around the corner, around the clock," as one Egyptian put it.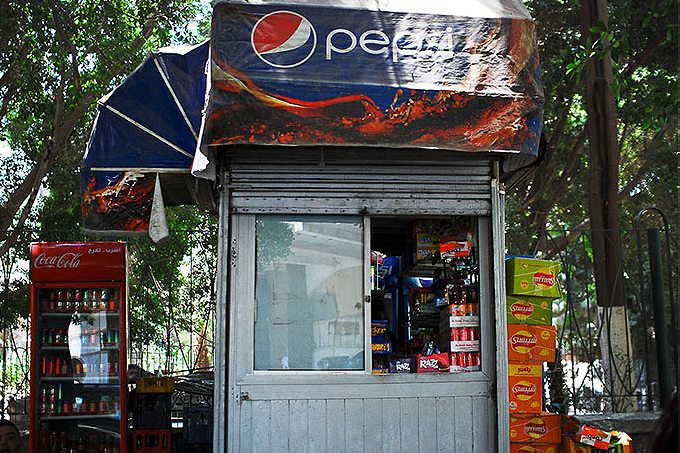 Most koshks are stocked with basic necessities that get Egyptians through the days and nights: snacks, gum, tissues, phone cards, lighters, and the most popular items—cigarettes and soda, usually cracked open on the spot. In fact, it was the glistening sun-softened bottle caps, melting into the concrete around koshks that first caught artist Jasmine Soliman's eye.
While most Egyptians don't give a second thought to this fixture in the urban landscape, Soliman has become obsessed with koshks, embarking on an ambitious journey to document the history and culture of as many koshks around Egypt as she can, part of a comparative urban study and interactive map she calls "The Koshk Project."
Unlike street cafes (which are traditionally for men only) or exclusive members-only clubs, or out-of-the-way supermarkets, "koshks are one of the few entities that everybody—no matter what gender or class—visits for something," says Soliman.
It's a significant social function, helping make a big, impersonal world smaller, more familiar—like the rural villages where some Cairenes have migrated from.
"Even though the people who hang out here come from very different backgrounds, we are all friends," says 21-year-old Sherif, while buying a bag of chips late one night from his favorite koshk on Syria Street in Mohandiseen.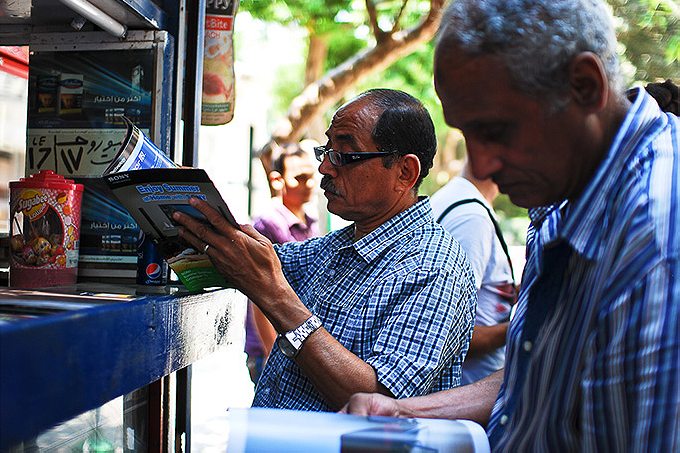 Although most purchases are on impulse, customers tend to linger, or at least make frequent visits, since they're all within walking distance of homes, schools, and offices.
And so Cairenes' daily routines and nightly gatherings tend to include a lengthy, gossipy stop at their neighborhood koshk. Especially in areas where there are no cafes, hanging out at koshks is such a popular pastime (mainly among teens) that some koshks have been nicknamed el spotaya, or "the spot." Customers become regulars, and owners and employees do double duty as street therapists and philosophers. Or customers become merchants: "I hang out here so much that the owner leaves me in charge sometimes," says Sherif.
The ties of the koshk can run deep over years. Consider an ordinary koshk across from the police station in Zamalek, on the northern tip of Cairo's Gezira island. The owner, Om Mahmoud, is a single mother of four, but she might as well have also raised the dozens of officers sipping Pepsis in the shade of her koshk on their breaks. She has operated this koshk for 15 years, after it was originally granted to her ailing husband from the government.
TO OPERATE A KOSHK YOU HAD TO BE QUALIFIED AS DISADVANTAGED
The earliest known koshks began to appear around Egypt in the 1930s, but they were not defined by law until the 1950s, under President Gamal Abdel Nasser. The plan was part business improvement, part safety net. To operate a koshk, you had to be officially qualified as disadvantaged: an ex-convict, disabled or suffering from serious illness, a single parent, or an orphan.
"Everybody wanted to help me after my husband died," says the niqab-clad Om Mahmoud, surrounded by boxes of candy inside her koshk. "But I have pride. If you want to help me, buy from me."
"She sells us drugs," one of the officers jokes, ducking as Om Mahmoud swats at him.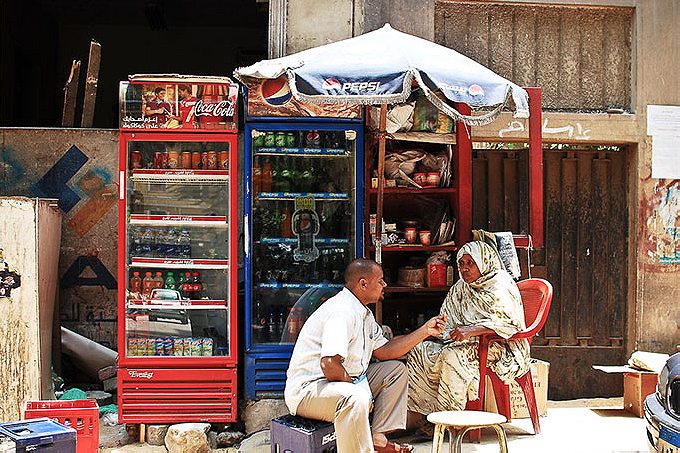 In spite of the loyal customers, Om Mahmoud's koshk, like many others in cities that saw protests in Egypt, has suffered financially after the revolution. Most koshks rely heavily on support from soft drink companies, who provide free products in exchange for brand signage.
"Before the revolution, I was receiving 1000 pounds worth of free products. Now, I get only 300 pounds worth," Om Mahmoud complains.
While business has gone down since the revolution started, the rent has gone up. It varies from koshk to koshk, but currently hovers around 100 pounds a month.
The recent street violence has hit particularly hard. In an interview Soliman did with a koshk operator from Midan Falaki, the owner described fleeing the street clashes: "We just took the money and essentials, and left it as it was," he said. "When we came back the next day, all that was left were bullet holes on the fridge. They took everything."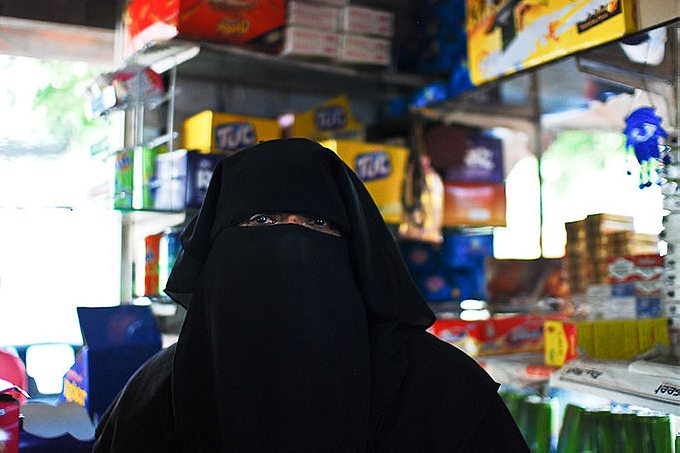 The same had happened to Haga Amina, a Sudanese woman who found refuge in Egypt with her husband after he was injured in the Darfur conflict. She runs a soft drink koshk near the refugee center to support their family, but they're only getting by. After looters smashed her refrigerators during the uprising, Amina spent months selling one-pound packets of tissues in the streets to repair them and start over.
But why did she return to running a koshk that's barely breaking even? Amina is too busy to answer. She's chatting with customers, fellow refugees, seated around her on plastic stools drinking sodas.
This is the culture of the koshk: never look back, never hurry, just amble into Cairo's future, whatever form it may take.