Unearthing Italy's most lavish ingredient with the help of a $40,000 dog, a camo-clad hunter, and one of America's most famous chefs
I can remember that first lunch in Livorno as if I ate it yesterday. (In fact, I can remember it better than whatever it was I actually had for lunch yesterday.) After overnight flights to Pisa—chef Art Smith and his husband, artist Jesus Salgueiro from Chicago, me from New York—we have all arrived hungry. We speed directly to the central market. Fishermen in this Mediterranean town used to sail their wares up the Arno River to the market quay, and today everything in the refurbished market's 230 stalls looks just as fresh. On a table set for us in a corner is just-squeezed orange juice, thin slices of mortadella and prosciutto, thick wedges of mozzarella and a tomato drizzled with local olive oil. In a basket there are three kinds of bread, each representing the subtly different baking style of three nearby villages. And then cinque e cinque (literally "five and five," from a long-ago price) a remarkably light chickpea flour pancake. This is Livorno's street food, and it is delicious.
Worried about the fleetingness of this four-day trip with one of America's most-loved chefs (he used to cook for Oprah before opening five restaurants in as many cities), I'm snapping photos of every plate. And I'm driving people crazy: "Could you move your arm, so I can shoot the bread?" Art has a better idea.
"We could do these," he says, crunching into a crispy bite of cinque e cinque. He means he will make them back at home. Because of the chickpea flour, the cinque happens to be gluten-free, and Art, like much of the culinary world these days, is on the lookout for things that are both wheat-free and delicious. But he's also looking for memories. "If you're on a trip, you need to experience what's out there," Art tells me. I quickly take to the idea of approaching dining as an opportunity for souvenir collecting: Why bring home knick-knacks when you can bring home ingredients and great new ideas?
I first saw Art on Top Chef Masters years ago. We became friends when I interviewed him in 2010 about his weight loss for my book—he had dropped 120 lbs. by changing his diet and training for two marathons. The weight loss helped reverse symptoms of diabetes, so going back to his old way of life is not a possibility for him. But while Art, at age 53, still works out hard, he has eased up on the distance running. As a result, he has to be even more careful about how he eats. He invited me to join him on this four-day food-and-wine-soaked trip to Italy in part to see how he pulls it off. "You travel to explore, and to taste," Art says. "So the challenge is not to overdo." He also steers clear of most pastry and anything made in a factory. "Food is hand-made or homemade—or I don't eat it."
Normally I tend to be more from the "vacation calories don't count" school of thought. When will I ever see a tiramisu as fresh and cloud-like again? Does it make sense to skip it? Art's rule, even when traveling abroad: "Only eat what is really special." And, for the next four days, that's exactly what we did.
DAY ONE: LIQUID GOLD
The mastermind of this Italian jaunt is Art's friend Renee Frigo Graeff, president of the Miami chapter of Slow Food. She has arranged to bring some of her board members to the Salone del Gusto, Slow Food International's biennial celebration in Turin, not far from where the movement to protect "good, clean, fair" food began. The event is paired with Terra Madre, a massive gathering of small-scale, sustainable farmers, fishers and food artisans from around the globe. Because it is white truffle season, Renee also plans a detour into the forest so we can see how these rare fungi are hunted by man and dog. But first a stop in Tuscany, where she and her husband, Daniel, own an olive oil company, Lucini.
Renee and Daniel had both been in the record business until a honeymoon in Tuscany set them on a different course. They loved Italian olive oil and were surprised how much of it coming into the US was actually grown elsewhere but labeled "bottled in Italy," part of a sizeable counterfeit olive oil industry aimed to cash in on Brand Italy. It fooled them. "We bought expensive oil, but felt like schmucks! We thought once people knew how much was fake, they would want the real thing."
A short drive inland and we arrive at the olive groves with 4300 trees, all heavy with olives, waxing from green to brown, the first indication that they are ready to be picked. A team of workers is raking the fruit out by hand, a traditional method that most producers have given up in favor of machines that shake the olives off later in the season. Art, Jesus, and I relieve them for a few minutes, combing the fruit from the trees using small plastic rakes. But it's a lot of work for the men doing to the job for real. The fruit rains down on tarps and is gathered into trucks for a short trip to the mechanized sorter and then crusher, with the final stop a spout of green-gold liquid. Art is curious, asks a lot of questions, muses about growing olives on his family's pastureland in the Florida panhandle.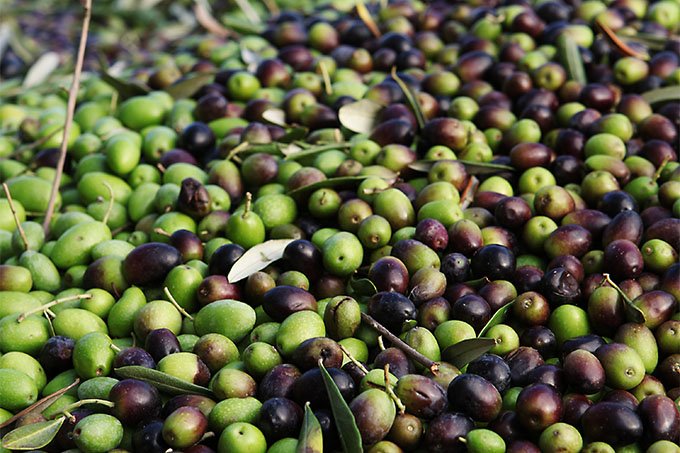 Unlike wine makers, olive oil producers can't coax additional flavor through fermentation; it's either in the fruit when you pick it, or it isn't. "This is religion for us, " says Riccardo, the Italian head of the company, who has joined us. Inside a house on the property we get our first taste: that same green-gold is poured so generously over toasted bread that our chins are glistening from each mouthful. The just-pressed oil is peppery and tickles the throat and bites back with a hint of green garlic and the nuttiness of artichoke. "Amazingly great right off the tree," declares Art. All the while Renee is talking about the health benefits of extra virgin oil—that peppery flavor indicates an increased level of heart-healthy polyphenols—so we don't dwell on the indulgence. We take hits of straight oil from a shot glass. That olive oil can taste good enough to sip is a reminder: Don't cook with your best extra-virgin bottles. "In Tuscany we don't cook with high quality olive oil," says Riccardo. "Cook your onion, tomato, vegetables in water, and add olive oil at the end."
DAY TWO: UNEARTHING UNEARTHLY FLAVORS
The following morning the bell tower outside my hotel room begins striking "eight" at precisely 8:14. I meet Art in the lobby and together we run for 5 km past the marinas, parks, and the oceanfront villas. Livornians are out with their dogs, on their bikes, untacking their boats.
After a quick change and a hotel yogurt and espresso, we are off to the truffle hunt. Mauro del Greco is a licensed (and camo-clad) truffler. "Mr. Truffle Hunter looked like he was going hunting in the back woods of Georgia," jokes Art later. Art has been to Italy five times, but this is new for him and neither of us know what to expect. "I had a vision of truffles growing in a very 'painterly' place," he admits. "I didn't realize we were going to be in the bush!"
But we are. We meet Mauro and his two lagotto dogs on the edge of a Tuscan forest. ("Lagotto" comes from the word for lake; they were originally bred as water retrievers.) I would like to tell you exactly where, but Mauro, like everyone in the truffle game, is secretive about locations. The last road sign I remember seeing was Via Karol Wojtyla and after that it was unmarked dirt paths, distinguished by the odor of a controlled burn of leaves and garbage. It's a primitive recycling program, though I can't help but wonder if it isn't also meant to throw outsiders off the scent of the town's most valuable asset.
Riccardo explains the relationship between tree roots and truffles: 'It's like they make love.'
Related to mushrooms, truffles are what mushrooms can only aspire to be. In the wild they grow underground, on or near the roots of trees including oak and poplar, which are abundant here. Riccardo's English is very good, so we assume he has chosen his words carefully when he explains the relationship between roots and truffles: "It's like they make love. When the moon rises, the truffles grow at the roots. Then the moon sets and the truffle develops flavor and aroma." They are expensive—nearly $4000 for a kilo (just over 2 lbs.)—because for the most part they defy cultivation.
It was a hot summer and that isn't good for the fall truffles; our expectations are managed sharply downward, and we all chime in that we're happy just to be here taking a walk in the woods, with the dogs. We duck under vines and over fallen logs, following Mauro, who is following his dogs, who are following their noses. A great truffle dog can be worth up to $40,000 and the business is full of stories of intrigue and cani-cide.
No truffles yet, but Art makes a discovery of his own: Bay laurel is growing wild here, and he plucks a bunch and offers me a whiff, far more complex than what I'm used to from jars. I wonder with all the competing smells—bay laurel, grass, trees, humans, little forest rodents—how can a dog track down a buried truffle? I ask Mauro.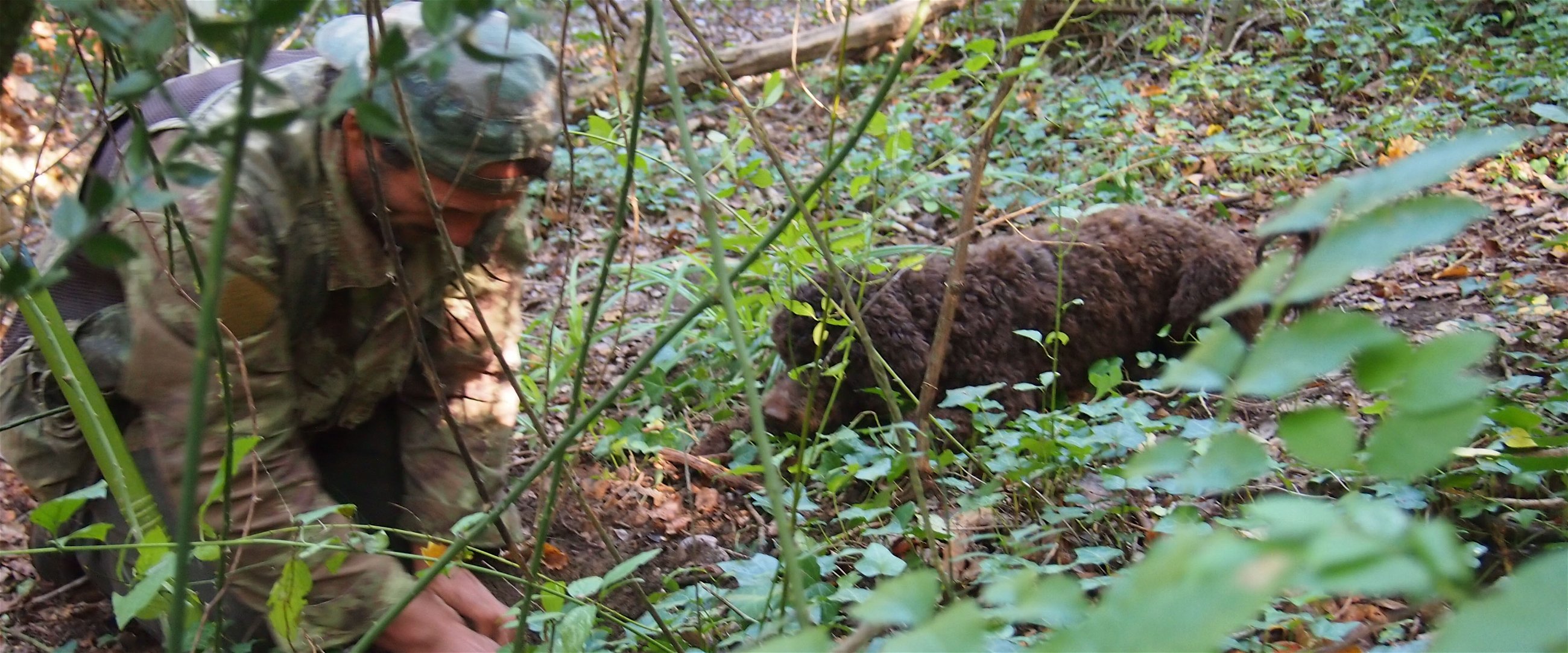 Here's how you train a truffle dog. First, get a truffle—one you don't care about not eating. Then soon after the pup is born, rub the truffle on his mother's teat so that the distinctive scent wafts in his nostrils as he is sucking. Further steps involve hiding a truffle in a sock ball to retrieve, hidden at greater distances and buried deeper below ground. But basically these very clever, expensive doggies are all just looking for their mamas.
When the younger of the two, eight-month-old Aneas, sits down and starts to fix his stare at a particular tuft of soil, we are excited. He begins to dig, and then Mauro takes over—you have to stop the dogs from digging before they break the truffle—though they have no interest in eating it—burrowing down with his hands until he comes up with a marble-sized white truffle. Success! Aenas gets a little treat. The dog, named for the Greek navigator of myth, and Mauro locate another, this one closer in size to a hefty walnut. When our hunt is over, Art and Jesus buy a few truffles from Mauro and stashes them in the bag.
A celebratory lunch at a farmhouse inn, Podere Cortesi, not far from the forest. Rolling hills, sunshine, more olive trees, a vegetable garden—a Merchant-Ivory film come to life. Lunch unfolds over hours. First, ribolita, a peasant soup of vegetables, white beans and day-old bread. Right away, we file this under dishes to recreate: When do you not have some odd vegetables leftover, some near-stale bread, and a can of beans on hand?
It's like garnishing a dish with money.
The ribolita could make a hearty lunch on its own. But we are not in charge of ordering—we don't even see a menu, another challenge for people who are trying to eat selectively. Unbidden, out comes a parade of food: Small bites of ham draped over olive-oil fried bread, and liver crostini. Then two house-made pastas, each dressed lightly with butter and olive oil—one with black truffles, one with white. The staff come out of the kitchen with the truffles and make a show of shaving them over the pasta; it's like garnishing a dish with money.
The white truffles are glorious, and the group competes to see who can best explain what the appeal is. Here are some of them: If the best porcinis you've ever eaten are finalists on, say, American Fungus Idol, then truffles are Beyoncé, Aretha and Pavarotti too. A few people offer food-as-sex similes. Riccardo offers the most printable: "A caress." Adjectives are lobbed across the table: fruity, nutty, woodsy, musky. "Crazy-wonderful," says Art. Finally I decide that truffles are what the best dirt would taste like if dirt was something you wanted to eat. They are beyond earthy, they are subterranean. They make you want to mash your face in the plate.
But, back to lunch: A third pasta is served, a ropy spaghetti with tomato sauce and involtino of veal, cooked for five hours. Veal is not my deal, and I can't eat any more, though it is worth noting that these servings of pasta are tiny, twirled haystacks, just a few bites each. I sneak away from the table and into the kitchen to meet the owner, Ennio Cortesi, who is cooking with his wife, Giustina. They are preparing the final course, a wild boar over polenta, and seasoned with fresh bay laurel, juniper and cinnamon. Says Art, "I'm as full as a tick."
Yet we rally for dessert. Remember the rule about skipping anything that isn't handmade? Everything here is. Giustina offers a tiramisu that ruins all future tiramisus for me, and a jammy fig tart made with an olive oil crust. In fact, I will remember this tart when I'm back in New York and invited to the home of friends who keep kosher—no butter allowed. This Tuscan method translates perfectly across oceans and cultures.
DAY THREE: THE WORLD UNDER ONE ROOF
In the late afternoon we drive the four hours to Piedmont, where the Slow Food movement was founded in 1986. We stop for a truly touristic moment: Posing for pictures at Pisa's leaning tower. Turn one way, and there's Galileo's famous rock/feather launching point. Turn the other, and you'll recognize the Golden Arches of McDonald's. "We came looking for 'slow food,'" remarks Art. "But Italy is also in the fast-food lane. Their food culture is being destroyed." This is the mission of Slow Food: preserving the pleasure, traditions and accessibility of real food in the face of an over-processed and inequitable future.
To that end, they gather a world's fair of producers from 130 countries to share their knowledge, and the next morning Art and Renee and I wander from booth to booth, from Ukraine (where a woman in her national costume offers jewel-colored cubes of jellied candies) to Uganda (where Art is gifted with a bunch of bananas that I somehow end up carrying in my bag). We sample Korean kimchis, Palestinian olive oil and Israeli olive oil (they taste a lot alike), and millet cookies from India.
At the Kenya booth we meet Priscilla Nzamalu, an agro-economist with Mille Jardins en Afrique, which aims to grow edible gardens in 25 African countries. The Miami Slow Food group has been fund-raising for Mille Jardins, and Renee and Priscilla have a happy meeting, discussing a pen-pal relationship for kids in Florida with those in Kenya.
Then Alice Waters appears. It is both surprising—you don't expect icons to just pop up—and not, for this is a cause close to her (local, sustainable) heart. The chef-owner of Northern California's legendary Chez Panisse is a keynote speaker. "Our kids could be completely nourished by growing food for schools and tying in every subject [they are studying.]" I can see Art's brain whirring with the suggestion. He runs his own non-profit, Common Threads, which teaches cooking to kids in underserved communities in several cities. There is simply a lot to be done.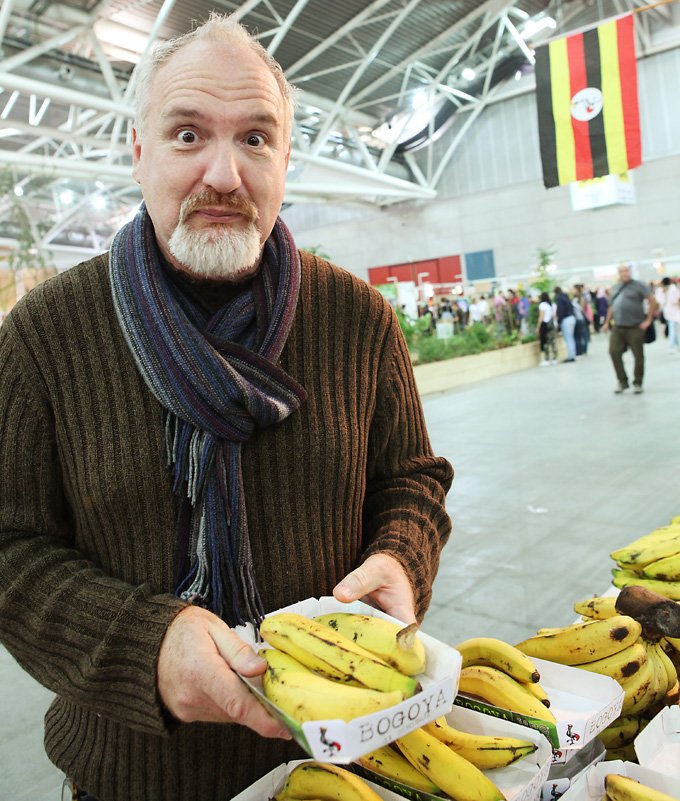 Slow Food looks to the future on many fronts. Yes, nourishing communities is one concern. But so is the artistry of chefs who push the boundaries of cuisine. To that end, Art and I are in a lecture hall, plugged into the kind of headphones they wear at United Nations, to hear the translated words of a notable Italian avant guard chef. From the mouth of the interpreter, the message is coming through: In front of each of sits his great invention, "The Cyber Egg." Look! A clear egg shell! A black egg "white"! Chef jovially informs the crowd that the dish fetches 36 Euros ($45) in his restaurant.
"He really loves his invention," I whisper to Art.
"He really wants to sell his invention," Art murmurs back.
The clear "shell" turns out to be nothing more scientific than a tightly pulled balloon of plastic cling wrap. Within, we can see a raw yoke suspended in what we later learn—too late in my opinion—is squid ink. We are instructed to eat the egg in one exciting bite by puncturing their "shells" with an X-acto knife that has thoughtfully been provided to each diner. "I don't want to put plastic wrap in my mouth," says Art, who, nonetheless, gamely does as he is instructed. He appears unimpressed, but untraumatized.
My turn. I stab the thing with the knife and try to swallow the egg and the black-grey goo in one confident motion. But no, I gag, and—where's my water glass?—that egg becomes the most expensive thing I have ever spit out of my mouth, except perhaps a retainer that I lost in the 11th grade.
"I'm just a hillbilly," shrugs Art, who hails from north Florida. "I'm just a Valley girl," I counter, having been raised on the less sophisticated side of Ventura Boulevard in Los Angeles. We walk back to the hotel, stopping for some roasted chestnuts from a sidewalk vendor. After the egg fiasco, it's a revelatory moment: the triumph of simple over complicated. Really, what's better than these chestnuts?
I text him: Where r u? The answer comes: Eating bananas from Uganda. In my pajamas.
Renee has us booked tonight at the Turin Tech restaurant for a Salone del Gusto wine-pairing meal. When I arrive at the restaurant, Art is nowhere to be found. Is he fashionably late, or a culinary casualty? I text him: Where r u?
The answer comes: Eating bananas from Uganda. In my pajamas.
This is another good lesson: Dare to spend an evening in your hotel room taking a night off from the too-muchness of vacation dining. Art's bananas made as good a travel tale as my five courses.
DAY FOUR: TRE GELATI
Is it possible we are going home tomorrow and have had no gelato? After a 5k run through a leafy Turin park, we set out to change this. Breakfast is espresso and cones of gelato at Eataly, the flagship branch of the fancy-food emporium. My justification is this: If we weren't supposed to have gelato for breakfast, why were they serving it that early?
Thus fueled, Art and Renee and I head to Turin's cinema museum, once a towering synagogue, now a temple to film. In a room dedicated to the surrealists, with a recreation of the commode/dining room in The Discreet Charm of the Bourgeoisie, Renee says it is time for lunch. She has called ahead to ask about the availability of truffles at a particular restaurant because, surreally, she feels we haven't had enough truffles.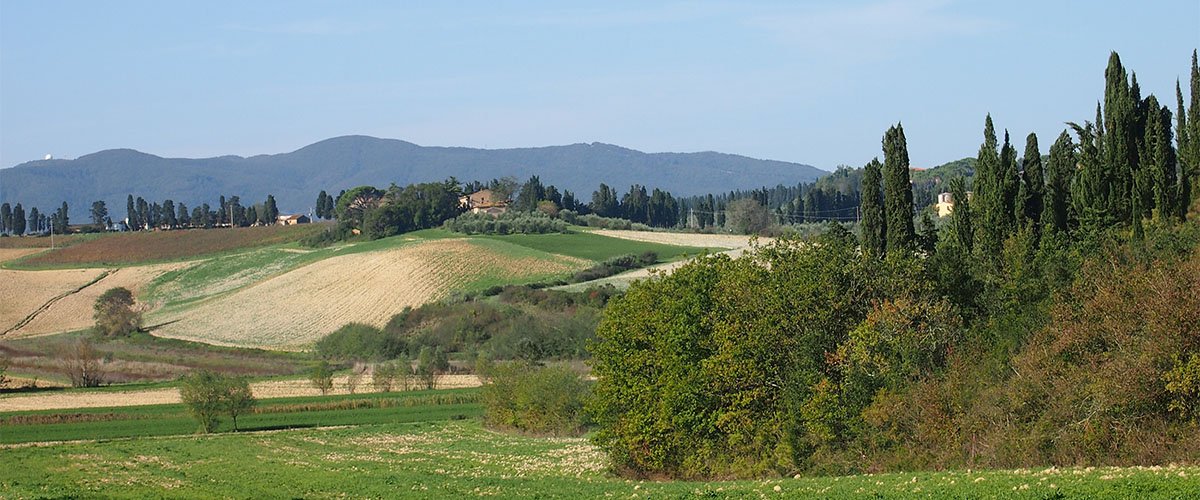 At Restaurant Vintage 1997, white truffles are weighed on a digital scale, tableside. Truffles over a fried egg and mache, truffles over pasta—the best pasta I've had on this trip (or possibly ever). What's in this pasta? I ask restaurant owner, Umberto Chiodi Latini. It is made with 20 egg yolks per kilo of flour, he tells us. "The texture! It melts in your mouth," says Art. "I'd rather wait until my next trip to Italy before I eat pasta again."
Then Umberto holds open my left hand (I am scribbling in a notebook with my right), sprays something from a small aerosol pump, which I learned was a concentrate of clove-spiced Barolo wine. He shaves white truffles into my palm, and tells me to close my fist to gently "cook" the dish and meld the flavors, then scoop the truffles into my mouth.
"Giornalista," he implores me. "Put down the pen."
I do, and close my eyes, sniff my hand and lap up the scented truffles, lost in this singular experience. Later, when I see the pictures of myself, I see that I was very, very happy. I concede that I simply will never be able to recreate that experience—the waft of spiced wine, the tickle of truffles on my skin. Umberto brings us gelato to sweeten the moment.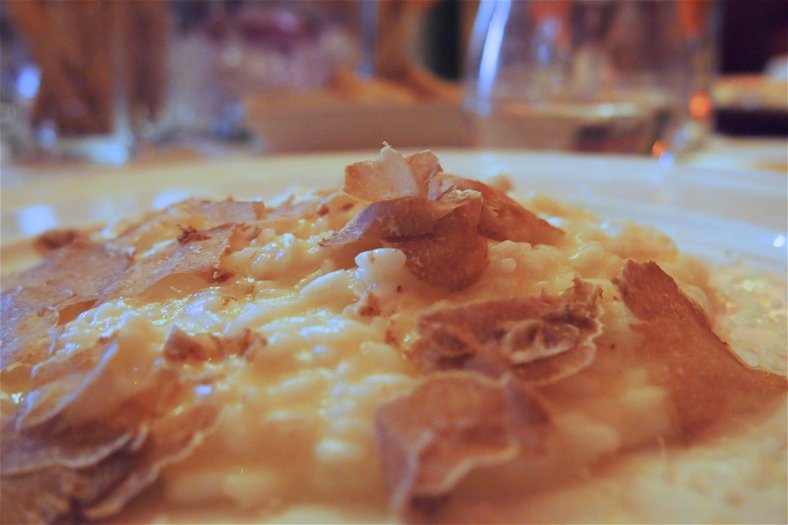 After some shopping we drive to the Piedmont town of Br'a, the founding home of Slow Food. We're dining at Ristorante Guido, inside the gastronomic university, a great red brick castle with arches and towers, a grassy quad and the unmistakable scent of horses. Art toasts Renee. "It is wonderful to see Italy through your eyes," he says. I would amend that to include her taste buds. Again, no menu, we give ourselves to the chefs who tease and delight and finally overwhelm us with a memorable last supper that includes, yes, more truffles and concludes with a zabaglione gelato. (That's three today.) They send us off with whole late-season peaches: I pocket one for the plane.
Art and Jesus pack up their oil and truffles, bay laurel leaves, and some fruit. Turns out not all dogs smell the truffles, and they get them through customs to Chicago where, the next day, they host a brunch party and shave them over scrambled eggs for their guests. I regret not packing a few myself; it is far easier to serve them than to try to explain them.
"You know, I was going to save the truffles for us," Art confesses. " But I loved being able to share them and the story. People loved it." A few weeks later is Thanksgiving and Art uses the last of his foraged bay leaves in his turkey. "I was sad to see them gone, but it was delicious," he says. "A taste of Italy a month later." After a trip like that, he says, "you get in an Italian spirit: You cook with so few ingredients and anything complicated you don't find very attractive." It's true. My mind zings back to the olive grove when I remember to cook my vegetables in water and dress them with terrific oil. Bring home the right souvenirs, and the journey never need end.
[All images by Kelly Marshall, unless otherwise noted]