Luke Dale-Roberts' The Test Kitchen represents the most ambitious face of South African cuisine.
It has the the DNA of a restaurant you're likely to read about on iPads and smart phones and in the pages of glossy magazine for years to come: a massive open kitchen bathed in the amber glow of gentle lightbulbs, a cocktail program loaded with the twists and tinctures made famous in big-city speakeasies, reservations rare as unicorns.
The other trappings of the hyper-ambitious modern restaurant are there, too: young stagaires from the world over cutting their teeth by mincing shallots and peeling potatoes, a prime location in the Old Biscuit Mill in Woodstock, a trendy warehouse neighborhood with a racy mix of artists and dope dealers, hipsters and homeless, and a name—The Test Kitchen—that suggests ambition, innovation and a certain brand of boundlessness.
And Luke Dale-Roberts has the type of pedigree you could build a brand around. Born and raised in London, he learned to cook in the kitchens of the masters of continental cuisine before trekking east to work in Singapore, Malaysia, and Tokyo. He landed in South Africa in 2006, brought on as the executive chef of La Colombe, a high-end destination restaurant in the Constantia wine valley. Three years later, La Colombe was named the best restaurant in Africa and the Middle East on the San Pellegrino list of World's Best Restaurant; shortly after, Dale-Roberts broke off to start The Test Kitchen.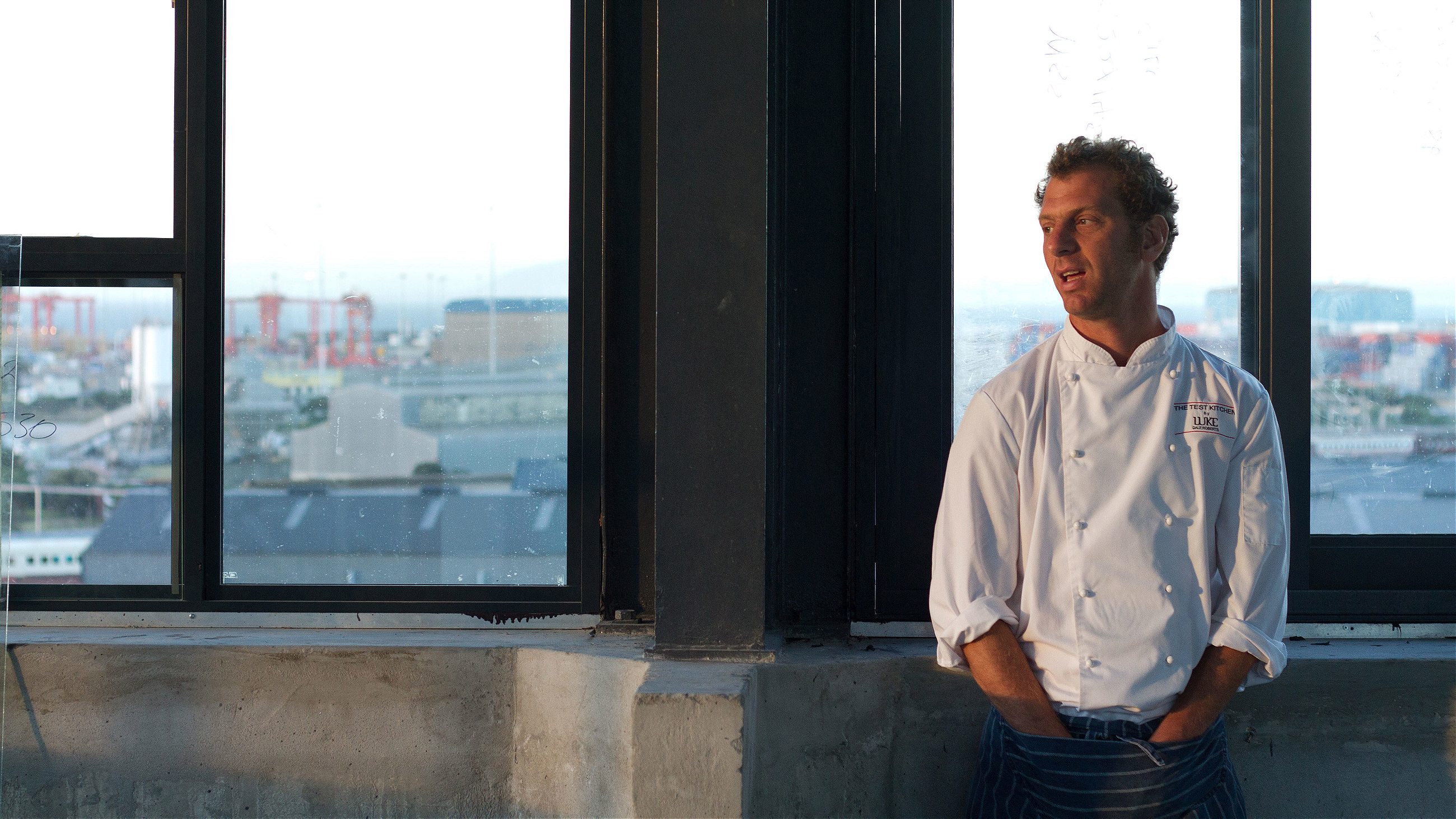 In a world of increasingly dogmatic culinary canons—hyper locavorism, foraging fanaticism, molecular mastery—Dale-Roberts doesn't ascribe to any particular edict. "The philosophy is to create dishes with meaning. They need purpose, but without being pretentious."
In fact, the more you talk to him, the more you begin to miss the idea of eating well without having to taste a chef's point of view.
Take Dale-Roberts' thoughts on so-called molecular cuisine:
"I don't know how to use any of those products. I haven't gotten around to trying most of them. I did have some xantham and some maltodextrin and just found it has a horrible taste."
Dale-Roberts on locavorism:
"The whole 'I picked it within half a minute of where I'm standing' is all very well, but it's not me. I'm not into something just for the sake of being into it."
Dale-Roberts on cooking African food:
"I'm not African, so for me to say I only source African produce and pick wild African things doesn't make sense. Your food is a reflection of the life you've led: For me, a fantastic, childhood in the English countryside, 6 years in asia, and working all over the world. "
Along with the Test Kitchen, Luke owns and operates the Pot Luck Club, a more casual spot whose riotous popularity has facilitated a move to a splashier space atop a tower jetting out above the Biscuit Mill. "The Test Kitchen is emotional, elliptical. This is more like 'fuck that's good, give me another cocktail I'm going to set my hair on fire and run out of the restaurant.'"
And what reasonable person wouldn't want in on some of that?
Cape Town's food scene is no doubt heating up, much in part to dudes like Dale-Roberts. These days, it feels very much like the culinary landscape you'd find in a great Western city —a mixture of casual cafes, earnest coffeehouses, ethnic enclaves, and Euro-style fine-dining destinations. Across this extraordinary enigma of a city, you can drop $6 on a flat white and a croissant for breakfast, spend $2 on an electric lamb curry for lunch, and then pony up $100 on a 12-course dinner.
It is the latter which brings the masses clamoring to the doors of the Test Kitchen, and which recently prompted eatout24.com, Africa's largest food website, to name it the best restaurant in the country. After weeks of wrestling back and forth with phone calls, emails, and in-person visits to lock down a reservation, we arrive with two close Capetonian friends anxious to see if South Africa—land of world-class hotels and sprawling shantytowns, top-flight wineries and bottom-of-the-barrel poverty—is ready to cook with the best restaurants of the world.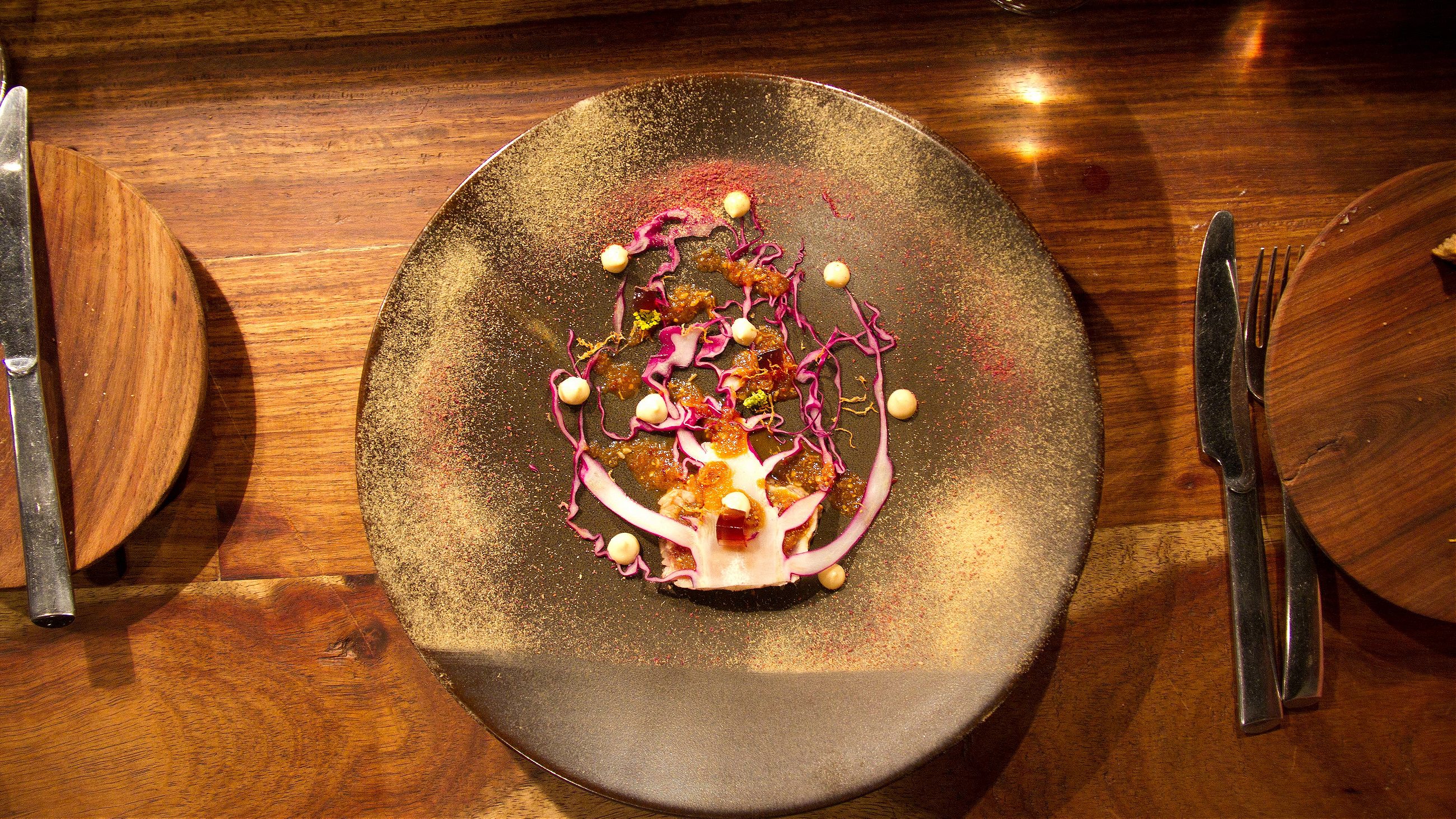 Cabbage doesn't feel like a particularly promising start to a meal, but never underestimate a humble vegetable in the hands of a skilled chef. A cross section of raw cabbage sits on the center of the plate like a coral reef, then is dotted with a sea of tastes and textures: chunks of raw tuna, cabbage-infused dashi, horseradish cream, and a dusting of dried cabbage and licorice powders. The effects—crunchy, creamy, salty, sweet—pull you in every direction, and the hit of licorice dust stretches the flavors out like a perfectly plucked base chord.
A rectangle of sea trout comes next, almost kaiseki-like in its minimalist beauty. Its companions on the plate could be an educational poster for the perfect Japanese pantry: dashi, adzuki, mirin, yuzu. "My time in Asia had a huge impact on me," says Dale-Roberts.
From surf to turf: Curtains of raw aged beef arrive draped over a bed of gorgonzola cream, the richness intensified by a miso-cured quail egg and crunchy shards of parmesan tuile. As with so many of the creations at The Test Kitchen, you can see the Dale-Roberts personal journey playing out on the plate: cream sauce and tuile from Europe, miso and raw beef from the Far East. In many ways, Cape Town feels like the perfect rendezvous point for these disparate ingredients.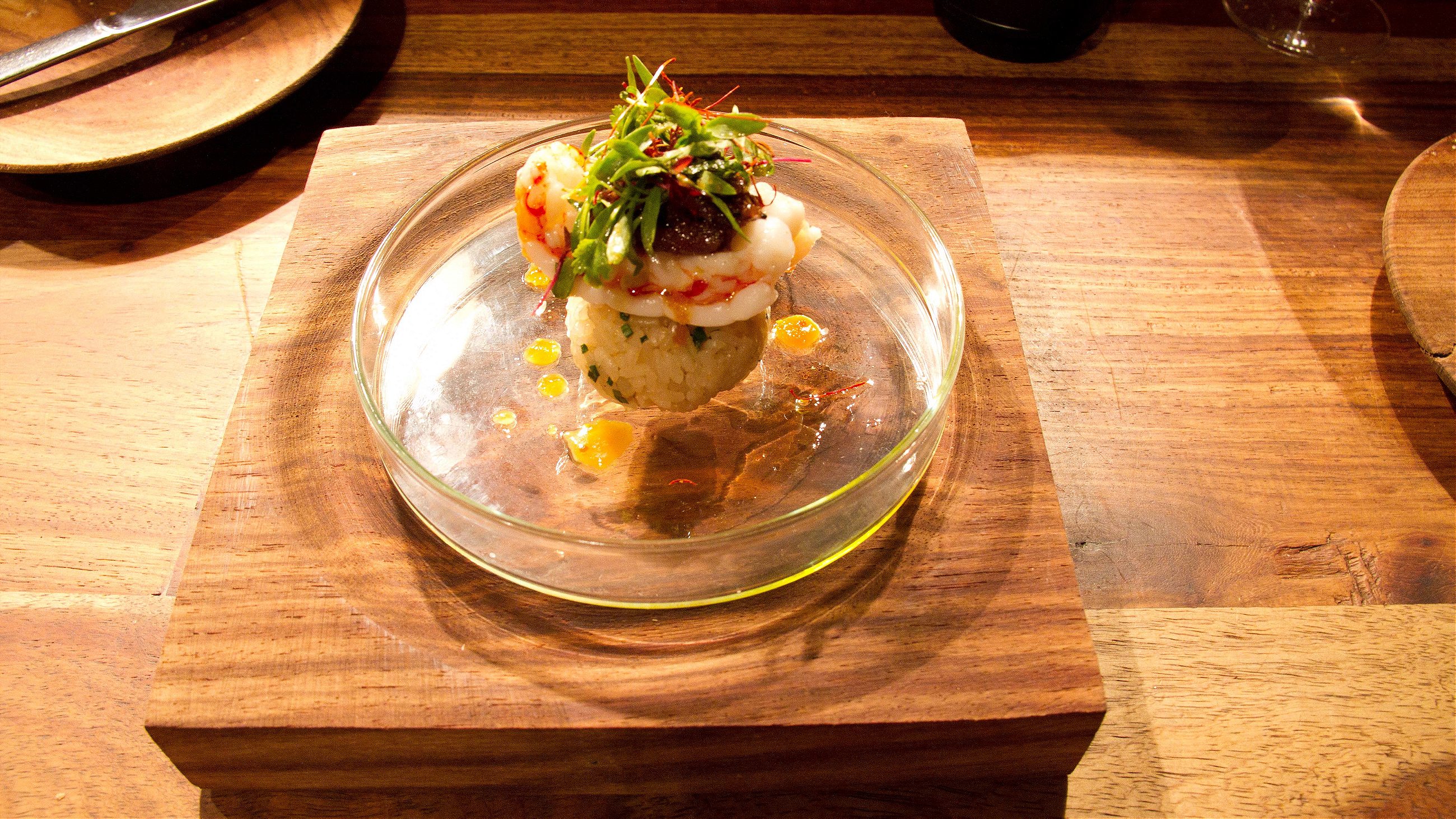 As I scrape the last streak of miso up with the heel of a ciabatta, I catch a line cook brushing plump langoustines with oil, then placing them under the salamander until they curl like Qs. They arrive as the centerpiece of the next dish, each one perched atop a bed of rice enriched with foie gras and drizzled with XO sauce—as promising a blueprint for deliciousness you're likely to find anywhere. But the rice turns out to be every bit as dry and forgettable as a boxed pilaf, particularly strange considering the server announced it as a risotto. Still, the langoustine is astoundingly good; I'd take three without the rice, the sauce or the foie and be the happiest guy in the Western Cape.
Dale-Roberts uses foie like most cooks use olive oil: as a lubricant for rice, an emulsifier for mousse, a poaching medium for proteins. Next it comes caramelized on top of a chawanmushi, a Japanese egg custard spiked here with wild mushrooms and glazed sweetbreads. It has the creamy, squishy, slippery textures so beloved in Eastern cultures; it also has enough sweetness to qualify the dish as a pre-dessert.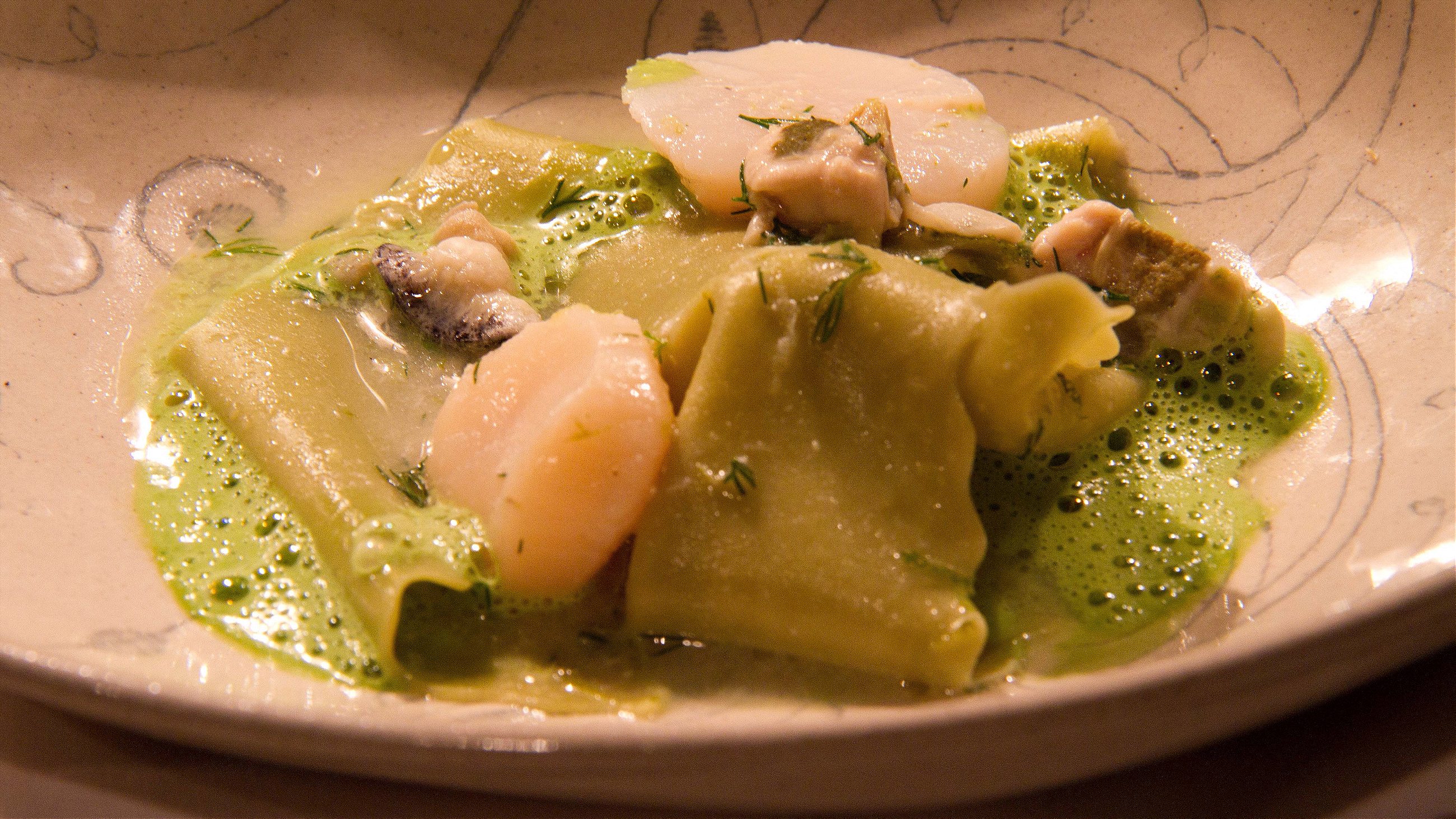 In fact, sweetness lurks as the baseline of nearly every dish: in the broth surrounding an island of smoked sweet potato and compressed oyster mushroom; in the jasmine consome that comes along with tea-smoked duck; in the oat milk and honey that anoints little pieces of roast suckling pig. The rare break from the sweetness yield moments of occasional brilliance; a thick tangle of pappardelle made from green tea and bathed in a briny dill-spiked shellfish broth showed an extremely deft hand—elegant and refined, yet as satisfying as a Sunday supper. But as the meal marches on, those moments feel too fleeting for a restaurant of this caliber.
None of it is unpleasant on its own, but in the collective arc of the meal it comes to undermine the delicate compositions the kitchen is aiming for. Most of it has a similar vague Asian flavor—too much mirin, too much miso, too much yuzu. To be sure, Dale-Roberts isn't the first Western chef to be overly seduced by these exotic ingredients, and in many instances he wields them better than most, but ultimately it's as if no one in the kitchen had ever sat through the full tasting menu to recognize the inevitable palate fatigue.
When dessert finally does arrive, it feels like overkill, rather than a stemming of the savory tide. We pick at the lemon meringue half-heartedly before the server sweeps our final plates away.
It might be wrong to say this, but the best thing I ate from The Test Kitchen didn't come during the course of our four-hour meal at the restaurant; it was a potato rosti topped with a poached egg, smoked salmon and hollandaise—a $5 play on eggs Benedict eaten under a blue sky with a stiff Bloody Mary in hand. Dale-Roberts' team serves this magnificent creation on Saturdays at the Neighbourgoods market, a beautiful collision of sparkling produce, prepared foods, and hungry Capetonians that churns and buckles right outside the Test Kitchen doors.
For many of those Capetonians, this may be as close as they get to Dale-Roberts' food. At last count, reservations at the Test Kitchen are booked six months out. If I were them, I'd order another round of Bloodys, another crispy potato pancake, and bask in the reflected glory.