Every year, thousands of Americans celebrate Valentine's Day at a White Castle restaurant. R&K's Irene Jiang investigates—and samples some sliders.
Valentine's Day evokes a dizzying parade of rouged-up romantic imagery: red tablecloths, sterling silverware, and dim, flickering candles that serve as analog FaceTuners. If you're in a relationship or just trying to impress someone, it's hard to escape the pressure of draining your wallet in the true Hallmark spirit.
So it's strangely comforting that every year, thousands of Americans choose to celebrate Valentine's Day in the vinyl booths and white-and-blue tiled walls of White Castle, the fast-food chain restaurant made famous by its miniature burgers and big-screen stoners Harold and Kumar.
I spoke on the phone to White Castle Vice President Jamie Richardson, who joined the company twenty years ago and has celebrated every Valentine's Day since then at one of their restaurants.
"We convert our White Castles into Love Castles," he said. "Tableside service, special menus, tablecloths, candlelight, and the occasional cello and violin player." This is the 28th year that White Castle has offered its Valentine's Day dinner service.
"There's something innately funny about fine dining at our humble restaurant, but that's also the heart of good humor. You don't have to worry about using the wrong fork, putting the napkin in the wrong place. You just settle in and have yourself the time of your life with the people you love the most," he said.
According to Richardson, all 378 White Castles are fully booked for Valentine's Day this year, with over 30,000 total reservations—on track for a new record.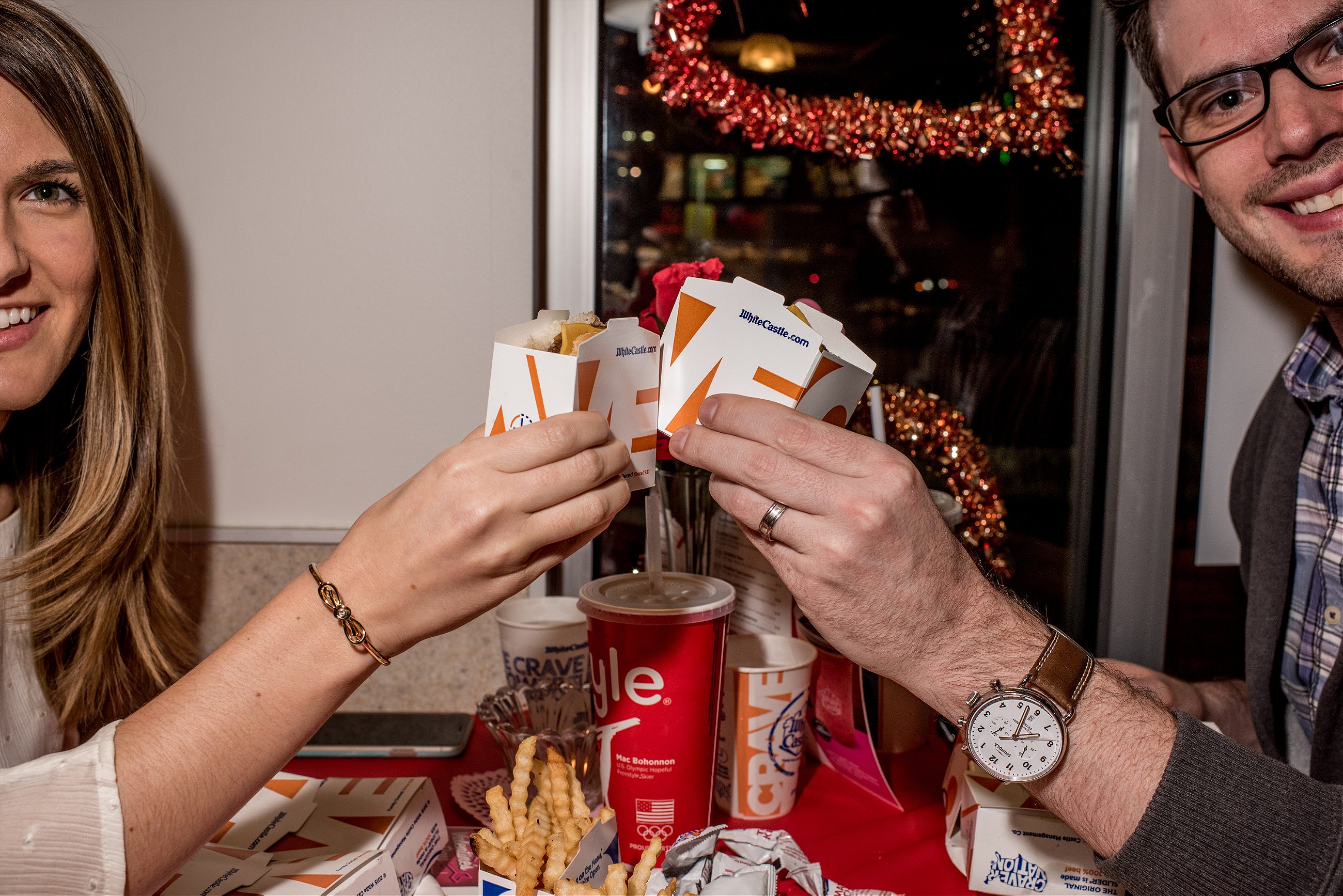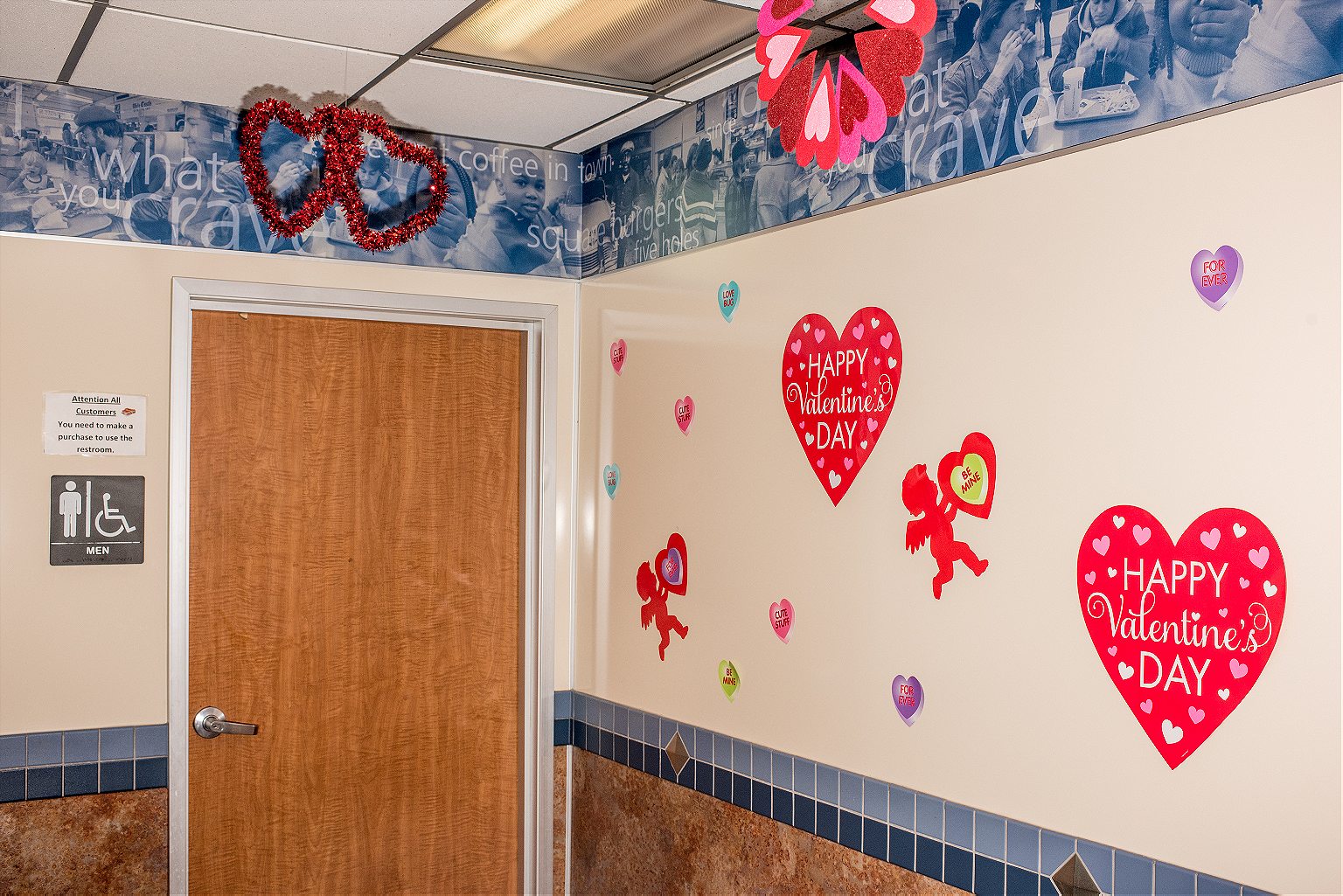 Since I moved to New York in January, I've experienced  plenty of culture shock moments: The extensive yet dysfunctional subway system, bodegas selling gut-busting sandwiches, and a whole host of unfamiliar fast-food chains that occupy their own cultural niches—including White Castle. Having grown up in a suburb of Seattle, where the nearest White Castle is over a thousand miles away—in Las Vegas—White Castle was never even on my radar. But this week, I took an intrepid solo journey to the White Castle in Bushwick, right off my M train commute and an arduous twenty-minute walk from my apartment. My goal: to sample the Valentine's Day menu on not-Valentine's Day.
I ordered an original slider, a slider with cheese, a side of fries, and a side of mac and cheese bites. Turns out the Valentine's Day Menu is pretty much just the normal menu, except with the addition of limited-edition strawberry milkshakes.
There were only six booths and tables in the restaurant. I sat down at the smallest one and put my backpack in the chair across from me. I could see how spending Valentine's Day in a room like this would be a cozy, even intimate experience. I imagined the clinical blue-and-white room decked out in red and pink. There was a poster on the wall advertising their Valentine's Day event, although no one who saw it now would be able to reserve a table.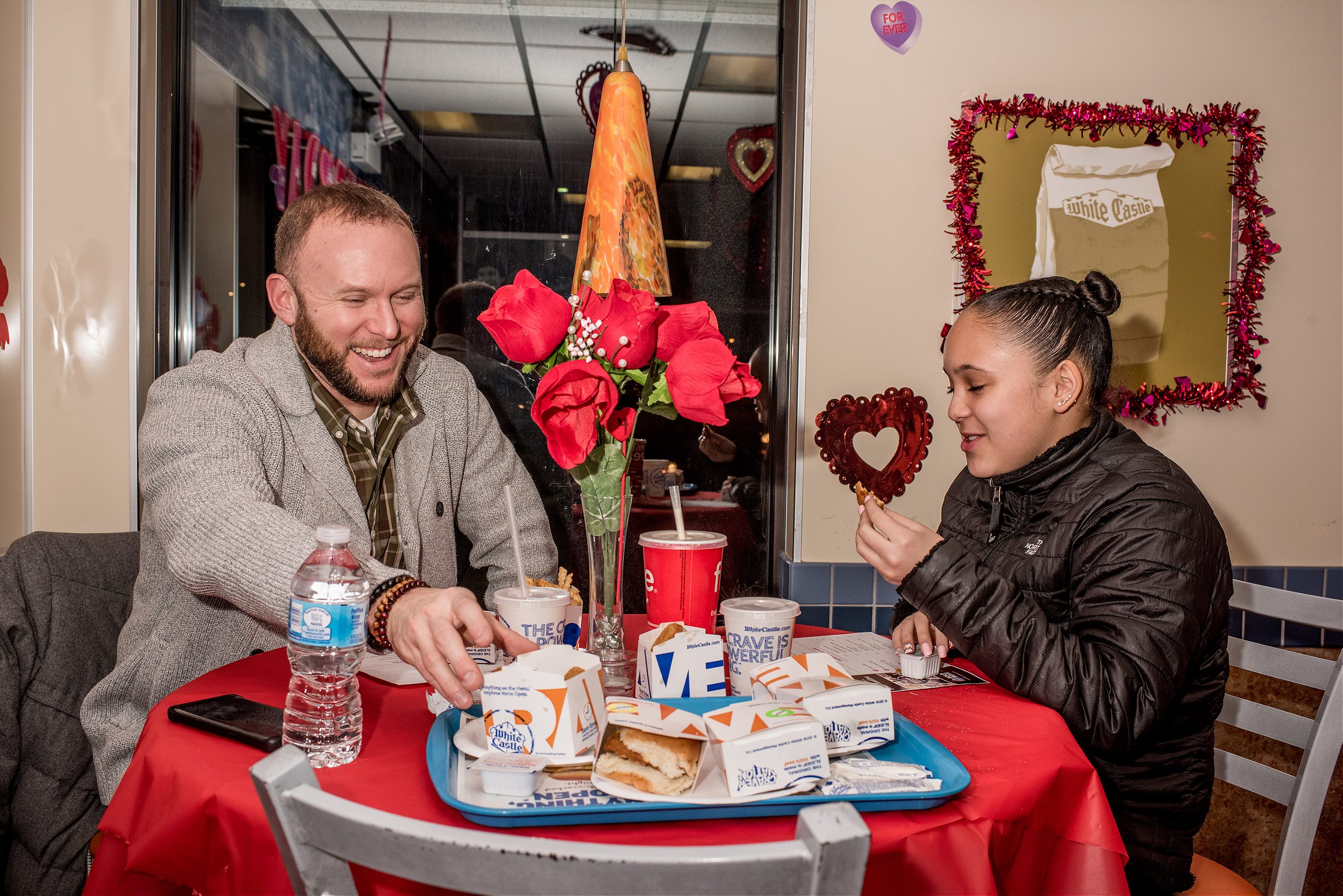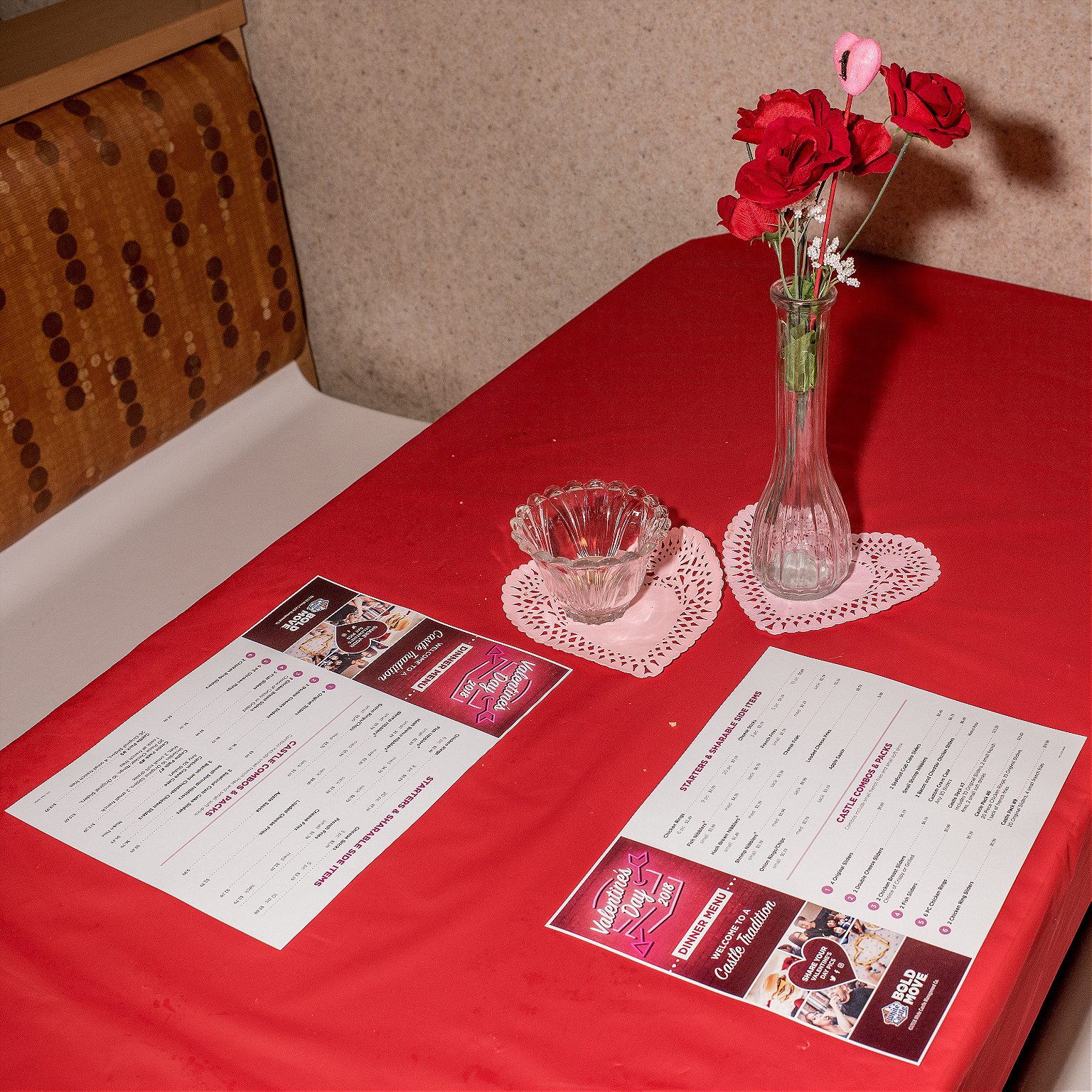 "Irene." Someone called my name from behind the glass window. A nice human touch, although Starbucks does that too. I retrieved a plastic bag full of my food and returned to my table.
I bit into a deep-fried mac n' cheese bite. Crunchy on the outside, seductively warm and gooey on the inside. Definitely crave-worthy. In comparison, the crinkle-cut fries appeared tired and slouchy, like New York subway riders after 6 p.m. They didn't radiate goodness like the mac-and-cheese bites, but I ate them anyway.
I started with the original slider. Two fluffy halves of a dinner roll hugged a very thin, slightly beige rectangular patty and a fingerful of saucy pickles. I took a bite. It was like a warm, greasy cloud—slightly salty, slightly tangy, but noncommittal. Kind of like me.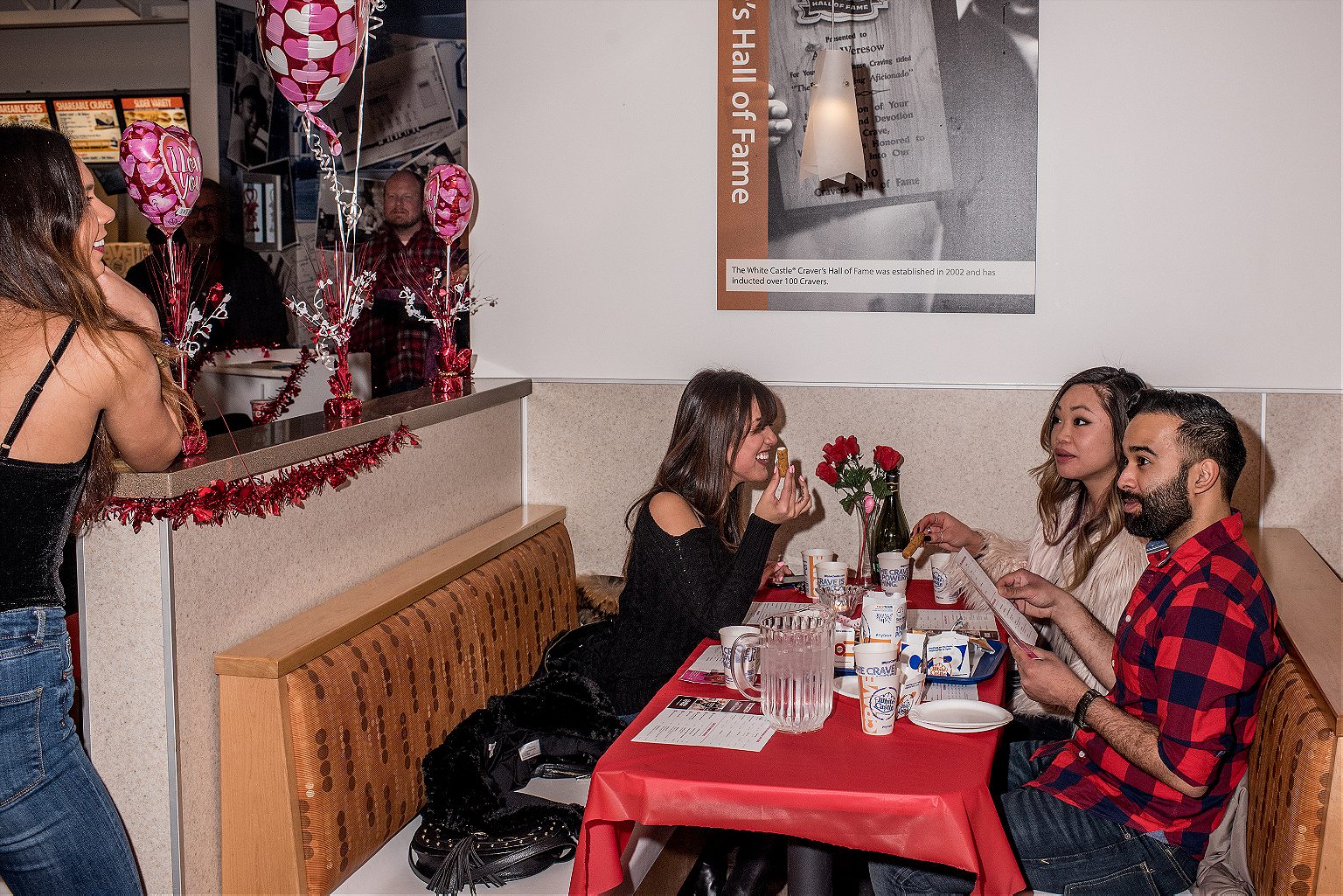 After cleansing my palate with another cheesy bite and a few fries, I moved on to the slider with cheese. To my surprise, it wasn't an improvement on the original. The Kraft cheese burst into the flavor profile like the Kool-Aid man, its processed flavor overpowering the pleasant tartness of the pickles and very subtle umami of the meat. I wasn't sure I was a convert. Good thing this slider, too, was noncommittal.
Near the end of the meal, I felt the way I've felt after every mediocre date: ready to go home and watch Netflix in bed alone. As I finished my last deep-fried mac-and-cheese bite (which, by the way, is where White Castle really shines), I realized that I'd forgotten to take a Lactaid pill before consuming all that cheese. I promptly rushed home—but not before ordering a vanilla milkshake to go (strawberry milkshakes are for lovers only).
Although I didn't totally love my first White Castle experience, I was glad that I had decided to come to White Castle on not Valentine's Day to celebrate nothing by myself.
I may not be White Castle's newest convert, but there are more than enough devotees to sustain the chain's Valentine's Day tradition, and their numbers, according to Richardson, are growing.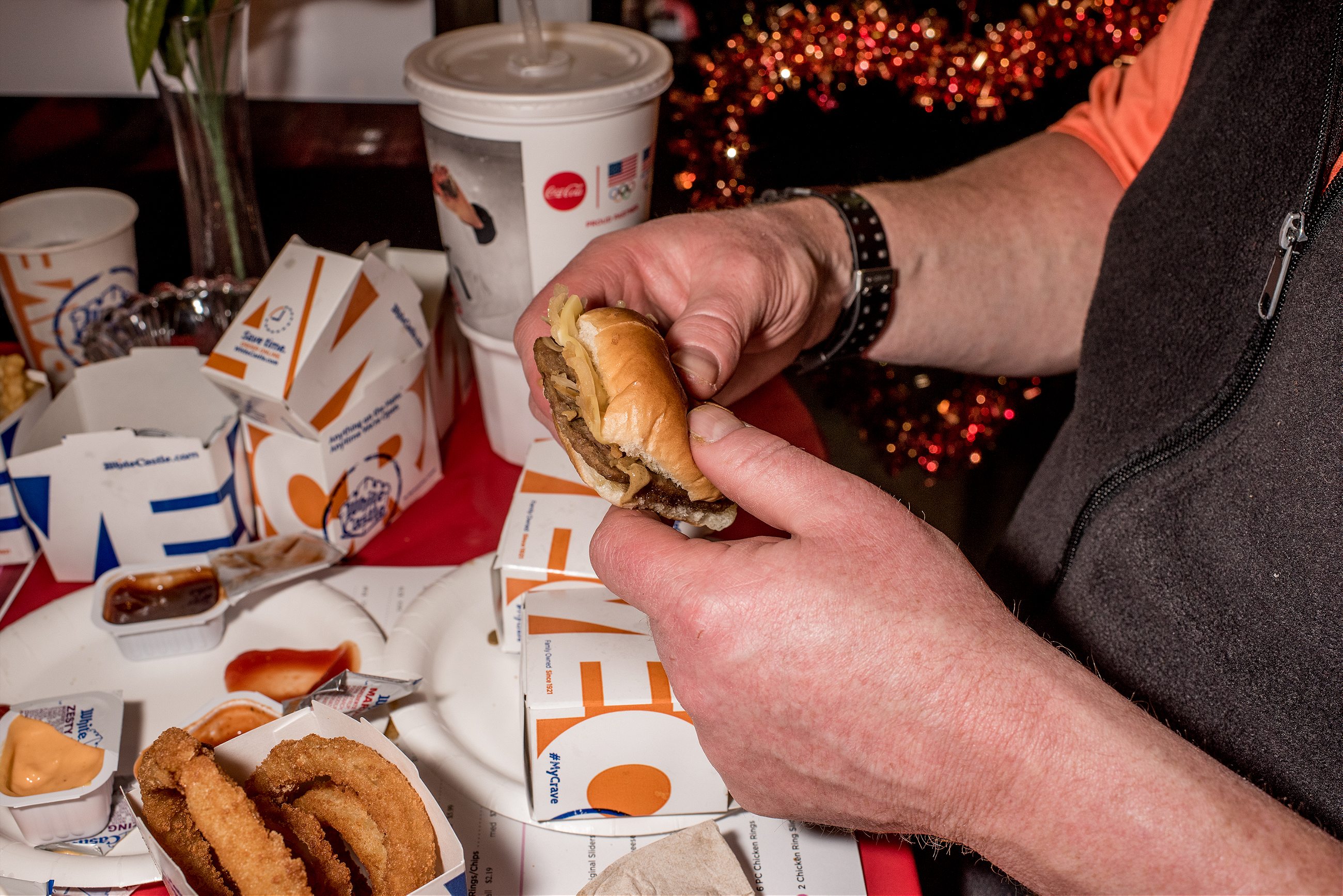 On Valentine's Day, while I'll be cuddled up with my laptop, the interior of Bushwick's White Castle, along with hundreds of others around the country, (but not in Seattle) will be adorned in streamers, glitter, and all of the earnest, plasticky trappings of a Valentine's Day in America. There will be six couples sitting across from each other, maybe one or two playing footsie, one thinking about marriage, and perhaps another two considering divorce.
They will be waited on by White Castle employees who've traded their emblematic blue for red, and order Sliders™ and mac-and-cheese bites off of a printed menu. Some of them might be disappointed with the food, but others might find it perfect. After all, romance and fast food have a lot in common. Maybe it's not so strange to celebrate one with the other.