R&K Insider: A Local's Guide to Key West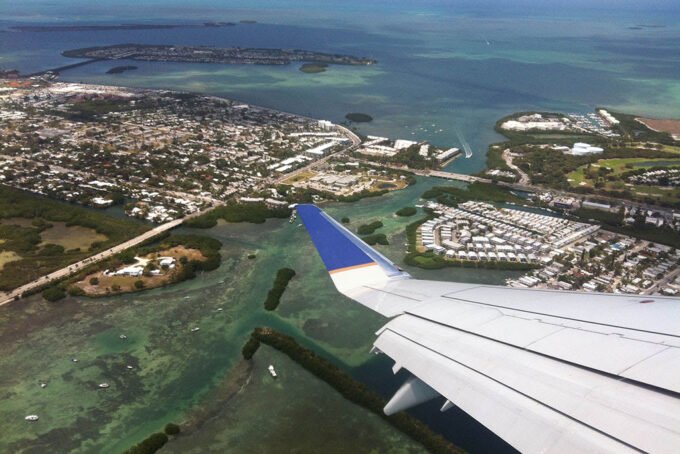 A few tips to visiting Key West, the right way.
Sign up for R&K Insider, our collection of the most compelling happenings in food, politics, and travel from across the web.
I understand that pummeling your passengers is a wicked thing, but three days after airline goons went full Harrison Ford on Dr. Dao, I have a more pressing problem with United. The drinks cart is coming to the cheap seats in the back of my flight, and the drinks cart is out of gin.
"Everyone is ordering gin & tonics," says the flight attendant in a whisper. "It's crazy."
It is not crazy. This flight is the nonstop from Newark, NJ to Key West, Florida. This is essentially a beer run at 30,000 feet. If the first 20 rows of the flight are drinking gin and tonic, it's only because the flight attendants can't make frozen daiquiris or chocolate banana banshees.
Fear not, cheap seats. All of Row 20, just in front of me, has clearly been pre-gaming. We hadn't even pulled away from the gate when different groups started lustily slurring ideas about where to go in Key West. Blue Heaven! says one. That restaurant on that island across from that place where the big ships are! says another. Hogs Breath! says the first again. And did he mention it's legal to just leave a bar with a drink in your hand and walk to the next? Yes, he did.
I did not engage. I was too busy listening to a BBC podcast that makes me feel smart. But my smugness goes deeper than that. These guys may be Charter Members of their local Parrot Head Club, but Key West is my home. My family has been here since my great-grandfather's day. We've persisted through the Death of the Spongers, the Rise of the Cockfighters, the Years of Being Totally Blasted on Cocaine, the Dawn of the Hideous Shirts and now the much-lamented Epoch of Margaritaville.
And even though I live in New York now—hola, carpetbagger!—my family is still here, and one natural outcome of having grown up on an island that gets ten visitors for each resident every year is that I am fiercely, irrationally possessive of the island and its sidestreets. I know there is a better Key West just around the corner from the blotto rum-bucket my fellow passengers are gearing up for. The Key West I know is an island of flowering bougainvillea, wraparound verandahs, backyard movie screenings, quiet channels between mangrove islands where great blue herons judge you silently while you fish. Row 20 can't have that island. They don't want it, they wouldn't understand it. But you would. So here are a few tips to visiting Key West, the right way.
Walk
Skip the scooter or even the bike. Just use your feet. Key West is divided into Old Town, Mid Town, and New Town, and wherever you stay—hotels and rental homes are much more reasonable outside of Old Town—you'll want to get to Old Town an wander around. My suggestion would be to start at the Customs House, head east on Front Street till you hit the water, then trace the marinas past A&B and Schooner Wharf to Half-Shell Raw Bar. Stop at as many of those places as you want for a couple oysters and a tallboy beer cold enough to sweat on the plastic cup. From the Raw Bar, head south on Margaret. This street takes you to the lip of Solaris Hill (at 16 feet, the highest natural elevation on the island) past one of the homes I lived in growing up, next to the cemetery. Walk the cemetery. Its New Orleans-style above-ground crypt vibe was especially unnerving to us kids, but, as with all cemeteries, the inscriptions for the dead can teach you more about the living families of Key West than any guidebook. Say hey to my kin. Then just wander west of the cemetery—Poorhouse and Galveston, Windsor and Whitmarsh, Carston and Carey: a tangle of lanes and alleys that will take you well away from the buzz of traffic and time.
Eat
My mother is still looking for a name for her home. It's no palace, but it has a garden and a floodwall and should have a name of its own. My suggestion, none too loved here, was Casa de Masas de Puerco, House of Pork Chunks, because my favorite thing about the family seat is that it is down the block from El Siboney, the legendary Cuban (or, in exile parlance, Spanish-American) cafeteria. There are a few instances where the guidebooks have led many others to places that you simply must go, and El Siboney is one of those. So be prepared to wait in the parking lot for a half-hour at peak dinner times, or better yet, go for lunch. The scaffolding of every entree here—perfectly moist yellow rice, bay-scented black beans, long baguettes of airy white bread slathered in butter and flattened in the plancha—means you can't order a bad meal. But my favorites are the Siboney Steak, marinated in God's perfect mojo of lime, orange, cumin and garlic; and the roast pork, which has all the carnal appeal of the pork chunks, but none of the heaviness.
Drink
There is much to be said about Louie's Backyard, an upscale restaurant on the quiet Atlantic side of the island. About how Hunter S. Thompson used to lean out of the apartment he rented above the restaurant to tell the kids playing on Dog Beach below to shut the fuck up. About the grand tree in the back porch that came crashing down in one of our great storms and how much I still miss it. About Chris Robinson, my friend's father, who tended the back bar expertly for years with a luxuriance of silver ponytail and mustache that would make Sam Elliot weep. But the thing you really need to know is that you must visit Louie's Afterdeck Bar. It's a wide wooden deck built out over the soft waters of the Atlantic, and a drink there is an act of liquid recalibration for me, especially on the first night on the island, when my northern clock needs to be unplugged and buried deep in the sand. Come in the evening, point your chair at the ocean and order a gin & tonic. They won't have run out.
So much more to breeze by in Key West, so in rapid fire: La Te Da's Randy Roberts is a genius in stilettos. The delightful Tropic Cinema has breathed life into moviegoing in Old Town. You should spend your beach day at Fort Zach. Don't forget craft beer at the Porch, or egg-filled pastry wizardry for breakfast at La Grignote. And always, always get out on the water. Rent your own boat from Hurricane Hole for the day or let the Java Cat take you. For gods sake, if you have the money, take the seaplane to Fort Jefferson, one of the most remarkable flights you will ever experience. And, for my sake if nothing else, throw United a curveball by filling out a comment form not to savage them for brutalizing Dr. Dao, but to encourage them to keep the Newark-Key West nonstop route, which is still highly seasonal, even though Key West is a year-round marvel.
That's the end of my guest-posting. Regular programming with @caraparks begins anew next week. Meanwhile, you can tweet at me (@thornburgh) with your favorite Chocolate Banana Banshee recipes. Not sure yet if I'll reply.