For Robert Lucio and his golf course on the Rio Grande, a U.S.-Mexico border fence proved the ultimate hazard.
On a recent evening in late spring, Robert Lucio teed up a ball on an abandoned driving range in Brownsville, Texas. It was a simple, yet defiant act. For decades, the golf course had been his, a hallowed place and source of great pride. Now the lush 165-acres that sit along the Rio Grande in this city of 183,000 serve as a painful reminder of the tough luck and imposing border fence that forced him into bankruptcy.
A year had passed since he closed the storied Fort Brown Memorial Golf Course, and in his absence, the steady encroachment of sub-tropical flora reclaimed the land. He didn't expect his seven iron would heal the years of anguish; then again, he decided it couldn't hurt. Although out of practice, the 57-year-old Lucio swung with the effortlessness of the former golf pro that he was.
He sent the ball sailing 150 yards over a field of waist-high grass. "Not bad," he said, admiring his shot. "That's what I was supposed to do all my life."
Lucio didn't give up on this place without a fight. But ever since he closed last May he has struggled to let go, in part, because no one will allow him to move on—least of all Donald Trump, the real estate mogul and presumptive Republican nominee for president. Trump has pledged to build a wall across 1,000 miles of the U.S.-Mexico border, a wall that seemingly grows taller with each hyperbolic speech. Swept up in the heated discussion are the ill-fated story of Lucio, his golf course, and the last wall-building frenzy.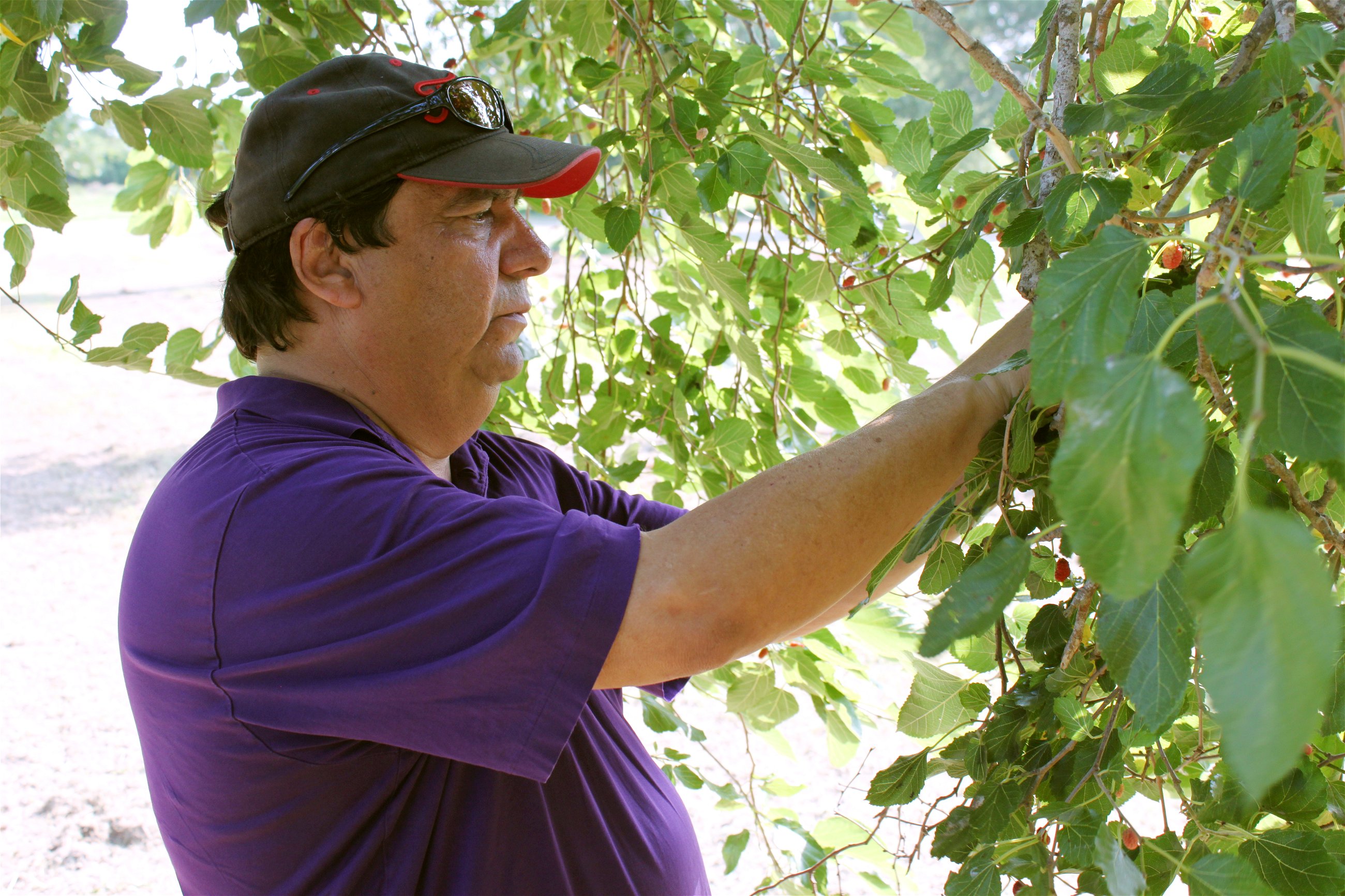 Back in 2006, the idea of a barrier in this far-flung corner of the Texas-Mexico border was unthinkable. Lucio's business was thriving. He had just signed a 30-year lease with Texas Southmost College, which owns the riverfront property, and he had secured an $800,000 bank loan to build a proper clubhouse and garage for his golf carts. But the good times would not last. One day, a golfer, whose name he doesn't recall, matter-of-factly broke the news: The government was going to build a wall through Fort Brown. Lucio thought the notion of a wall cutting through his golf course improbable and dismissed it as another outlandish tale of the borderlands. It became real soon enough.
In October 2006, the Bush administration signed the Secure Fence Act into law, ostensibly to secure the border. The plan called for 670 miles of fencing, roughly 56 miles were targeted for the Rio Grande Valley. A long-standing water treaty with Mexico prevented building along the banks of the river, so the rust-colored fence was planted in the levee system, located in some places more than a mile north of the river. That decision would maroon vast swaths of wildlife refuge, farms, and other private property in a virtual no man's land between the fence and U.S.-Mexico international line.
Communities on both sides of the border were outraged. If people in Middle America were concerned about illegal immigration then perhaps they should build a fence around their own communities, opponents of the fence argued. "It was total bullshit," Lucio said. A tangle of lawsuits was set in motion, which the federal government brushed aside through the widespread use of eminent domain. By 2009, thick steel bars were stitched across the land. Fort Brown had landed on the wrong side of the fence.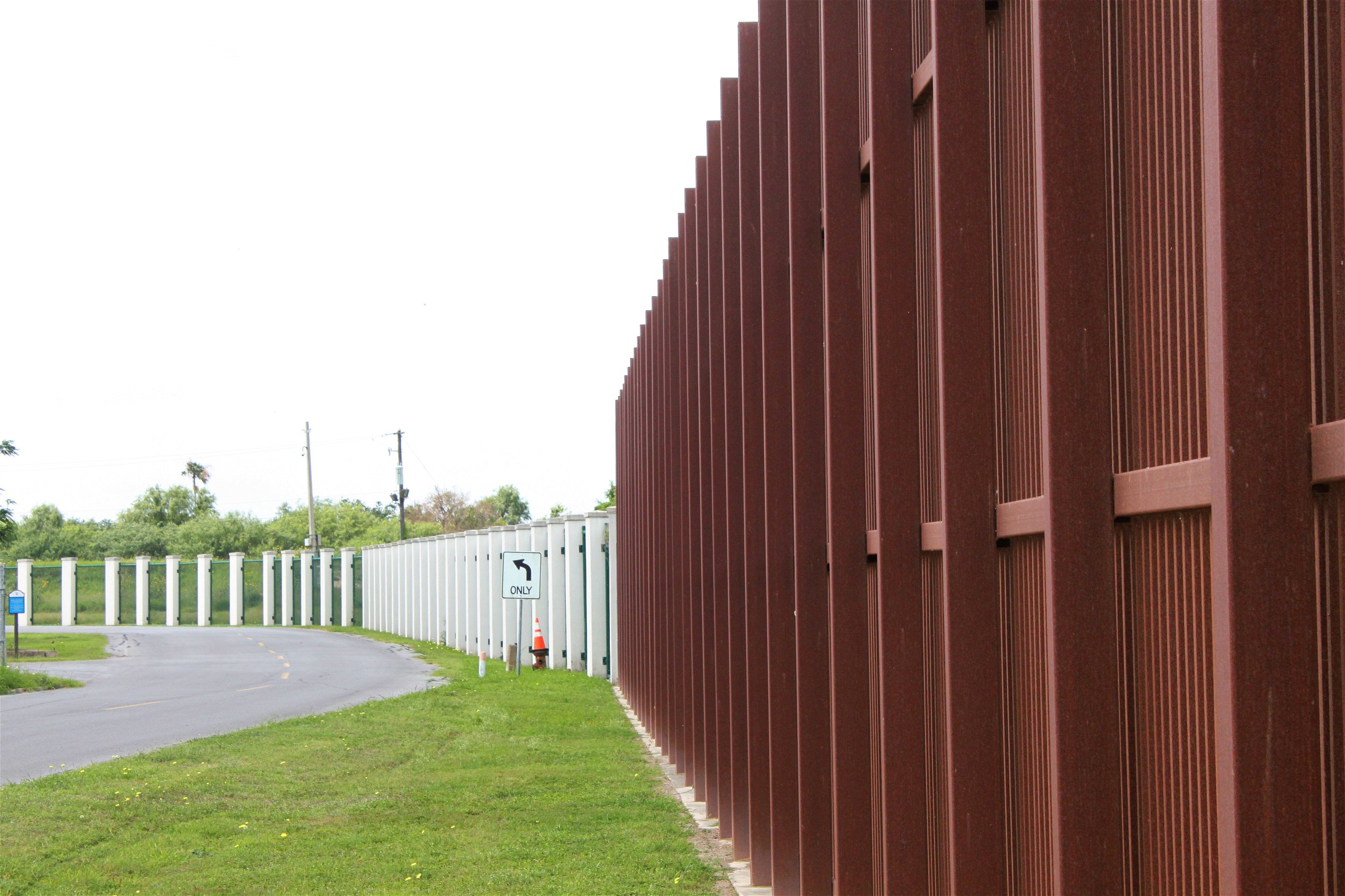 The mood in Washington and Mexico City has never truly reflected the attitude of border residents. Brownsville shares the border with the Mexican city of Matamoros, separated by a ribbon of green water twisting through the sandy loam. In 1846, General Zachary Taylor ordered an earthwork fort built in the U-shaped bend of the Rio Grande, across from Matamoros.
A year later the U.S. and Mexico were at war. In one of the opening battles, Major Jacob Brown was felled in a siege of the fort, and it was renamed in his honor. What began on those fields changed the face of the North American continent, with the U.S. ultimately wresting vast western territories from Mexico. But the ties that bound these communities remained intact. Decades later a golf course was laid atop the ruins of the old fort.
Today Fort Brown is a National Historic Landmark, and is on the National Register of Historic Places, and yet the remnants of the fort are poorly tended. Trees obscure what is left of the fort's earthen walls. An upright cannon marking the place where Major Brown was killed is similarly obscured. What the United States fought to protect appears cast off. Most days a lone border agent sentinel inhabits this forsaken landscape alone. Visitors with no official business invite suspicion. Lucio waded through the tall grass undeterred by the warnings to trespassers. As he strolled across the golf course he conjured a lifetime of memories.
Before the fence, Lucio's story was one of serendipity. His father taught him golf at the age of seven, and he attended Texas A&M University-Kingsville on a golf scholarship, twice earning All-Conference honors. After college he was keen to earn a paycheck, and quickly landed a job as manager of a Walmart. But he missed the greens, and began training for the PGA tour.
Meanwhile, he started a family in the small town of Gonzales, Texas, running the municipal golf course while he honed his game. Though he improved to a zero handicap, it wasn't good enough to make the professional circuit. Then in 1987, the city of Brownsville, which at that time owned a golf course under a different name, announced it was looking for someone to takeover management of the property. The only other course in Brownsville was the domain of wealthy Anglos, so Fort Brown became the training ground for aspiring Hispanic golfers.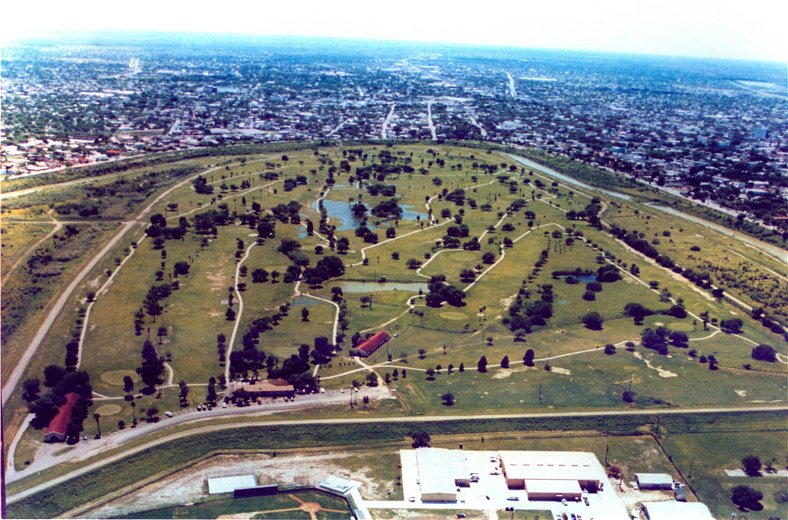 Lucio didn't just take over stewardship of the course, he molded the landscape. He planted blue cone evergreens, until older golfers complained the trees reminded them of the cemetery. He also planted thin-trunked Washingtonia palms set against the native sabal palms, as well as rows of cottonwoods, ash, and ebony, which attract red-crowned parrots.
The day we met, as he strolled down cart paths overgrown with weeds, he recalled when exhausted immigrant families walked down the fairways, and the clubhouse manager prepared sandwiches for the families. There was the time in the early aughts, when the Mexican consul paid Lucio a visit. Golfers were taking mulligans off the 16th tee to drive across the Rio Grande and into neighboring Matamoros, he said. "The international shot," Lucio chuckled. "Everyone wanted to hit one from the U.S. into Mexico."
Only trouble was that some of those balls were pelting diners in a Matamoros restaurant. Lucio planted a sign on the tee box, a tongue-in-cheek notice to golfers not to hit balls into Mexico or face prosecution. It quickly became an internet sensation. But those days are long gone.
Once discussion of the fence began in earnest everything began to change. The silver-tipped retirees who spend their winters in South Texas, lovingly referred to as Winter Texans, were always the heart of his business. Tens of thousands of Midwesterners flock to the border every year in search of sun and affordable medicine in Mexico.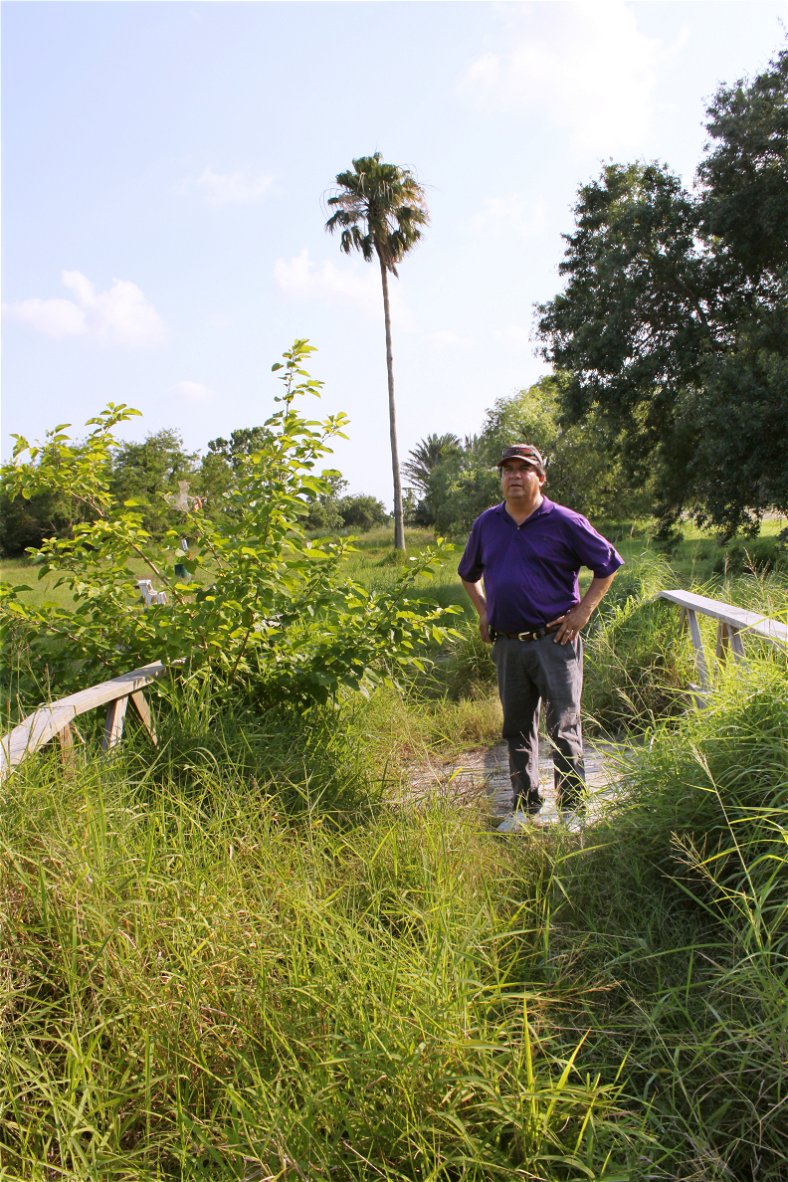 Together with youth programs, staggered membership fees, and a nice little 19th hole that served tacos and burgers, Lucio made do. Suddenly, with all private and public lands near the river shrouded in uncertainty Winter Texans, his most faithful members, began to leave. Even as his revenue stream dried up the cost to insure the property nearly doubled. Lucio met with DHS officials and attornies, and he did interviews with national TV and print media, but none of it mattered. "We just hit a brick wall," he said. "There's no way you're going to fight the federal government."
Each season brought fewer golfers. Some wondered if his golf course was actually in Mexico. The university negotiated for a friendlier white-washed wall and green chain-link fence at the entrance of the golf course. Still he was forced to shut down for a couple months while the fence was under construction.
If that wasn't enough, gun battles between warring drug cartels raged in the streets of Mexico's industrial border towns. In early 2012, local television news covered the fighting in the streets of neighboring Matamoros from the levee overlooking Fort Brown. When the report aired, Lucio knew the only casualty in Brownsville would be his business. "After that people were calling to cancel," he said. "I had parents who were afraid to take their kids out." It wasn't long before the Brownsville school district canceled practice and tournaments at Fort Brown for its high school teams.
I could have been passing illegals through my property and making some real money
Lucio was consumed by anxiety. His father, a former sheriff, had raised his 10 brothers and sisters with a firm hand. Honesty and doing right by others were core precepts of his father's teachings. But where had following the rules gotten him? he wondered. "I could have been passing illegals through my property and making some real money, or drugs, but I didn't," he said. Instead he lost his business one piece at a time. "It was a slow bleed."
In the span of the past decade the fevered crackdown on immigration north of the border, and the drug-fueled violence south of it, has upset the social fabric here in ways little understood. The outrage of the fence has largely subsided. The occasional bumper sticker or faded sign offer an occasional reminder that a fight had existed at all. The fence has become another fact of life, like the ubiquitous presence of thousands of green-uniformed border agents. There are even some who now claim to take comfort in the steel bars.
Lucio is not one of them. "You know what you do so you don't die of anxiety and you stop having horrible nights at home, you move on," he said. "You get away from that evil horrible feeling of hate. I'm through with hate."
When Fort Brown closed, Lucio wasn't the only one to lose his business. Manuel Garcia still combs the vacant fairways in search of forgotten balls, the errant shots of golfers who abandoned this place long ago. With a plastic bag hung over the handlebar of his creaky bicycle, Garcia, who refers to himself as Meme Loco, ignores the warnings to stay off the defunct course. When Fort Brown closed down, Meme lost his business too. "I cried when it closed," the 64-year-old said. His half-full bag of golf balls might fetch $3, a full bag would be worth $5, but full bags are hard to come by these days. Meme pedaled over a levee and disappeared from sight.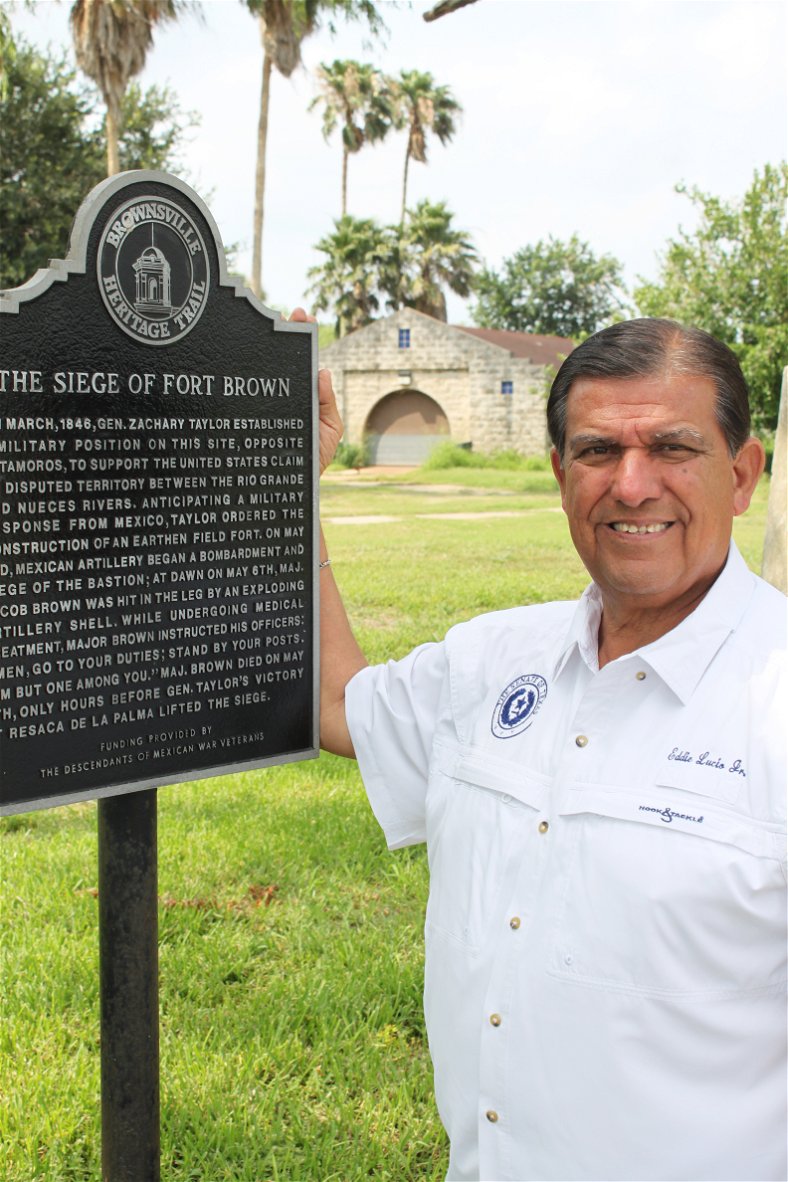 In an unexpected turn of events, Lucio's older brother, State Senator Eddie Lucio, Jr., could breathe new life into Fort Brown. The longtime state politician is testing the waters, searching for strategic corporate sponsorship. One afternoon in mid-May, he laid out his vision from behind the wheel of his Ford F-150 King Ranch edition pickup. The 70-year-old Lucio, Jr., wants to bring back Winter Texans. He also is counting on influential families from Matamoros joining up. He hopes that one day Fort Brown will bridge the growing divide between these sibling cities. Harder to forecast, much less influence, is the existing negative perception that forced his brother to close.
For his part, Robert Lucio resisted until he had nothing left, refusing to listen to the pleas of friends and family to let go before it was too late. These days he works for the county park service. Regardless of what happens, he knows that he'll never be involved with the running of the golf course again. He knows an apology most likely will never come. Still, he wants the government to acknowledge that its fence has torn apart communities, and has failed to keep people out of the country. Immigrants have proved resourceful, using jerry-built ladders to scale the barrier or simply walking through the yawning gaps between sections of the fence.
As for Trump: "If the son of a bitch wants to build a wall," Lucio said, "he should build it around his mansion."