One woman's crusade to clean up Monrovia.
In late October 2015, tension began seeping into Monrovia, Liberia's capital. One day, while passing through Congo Town, a relatively well-off neighborhood, I noticed crowds gathering as heavily armored members of the National Police Emergency Response Unit followed a woman. She was a whirlwind of activity, pointing, yelling, and directing crews wielding sledgehammers and crowbars through an informal marketplace. Mary Broh was at it again.
President Ellen Johnson Sirleaf had been planning another clean-up campaign in Monrovia, but it was not until a November 11th cabinet meeting that the formation of a 'Special City Beautification Taskforce' was announced, led by Mary Broh, a former mayor of Monrovia. It was scheduled to be active over the next month. Broh, a woman proud of having been nicknamed 'Hurricane Mary,' didn't feel like waiting, though, and started her campaign on October 28th in the most high-profile place possible: Broad Street, the main avenue of downtown Monrovia.
Broh and her team smashed the tables and boxes of street vendors and money changers. Many vendors complained that they had paid the equivalent of $65 to the government to set up shop on the sidewalks, and now Broh was destroying their livelihoods. The fees were no small change, as most Liberians live on only $1 per day. The taskforce continued to sweep through neighborhoods before it was officially announced, leaving residents scrambling to try to determine which structures might be demolished. Broh told reporters she and her team would move through Monrovia "like a hurricane, sweeping and cleaning up all and everything that looks like debris."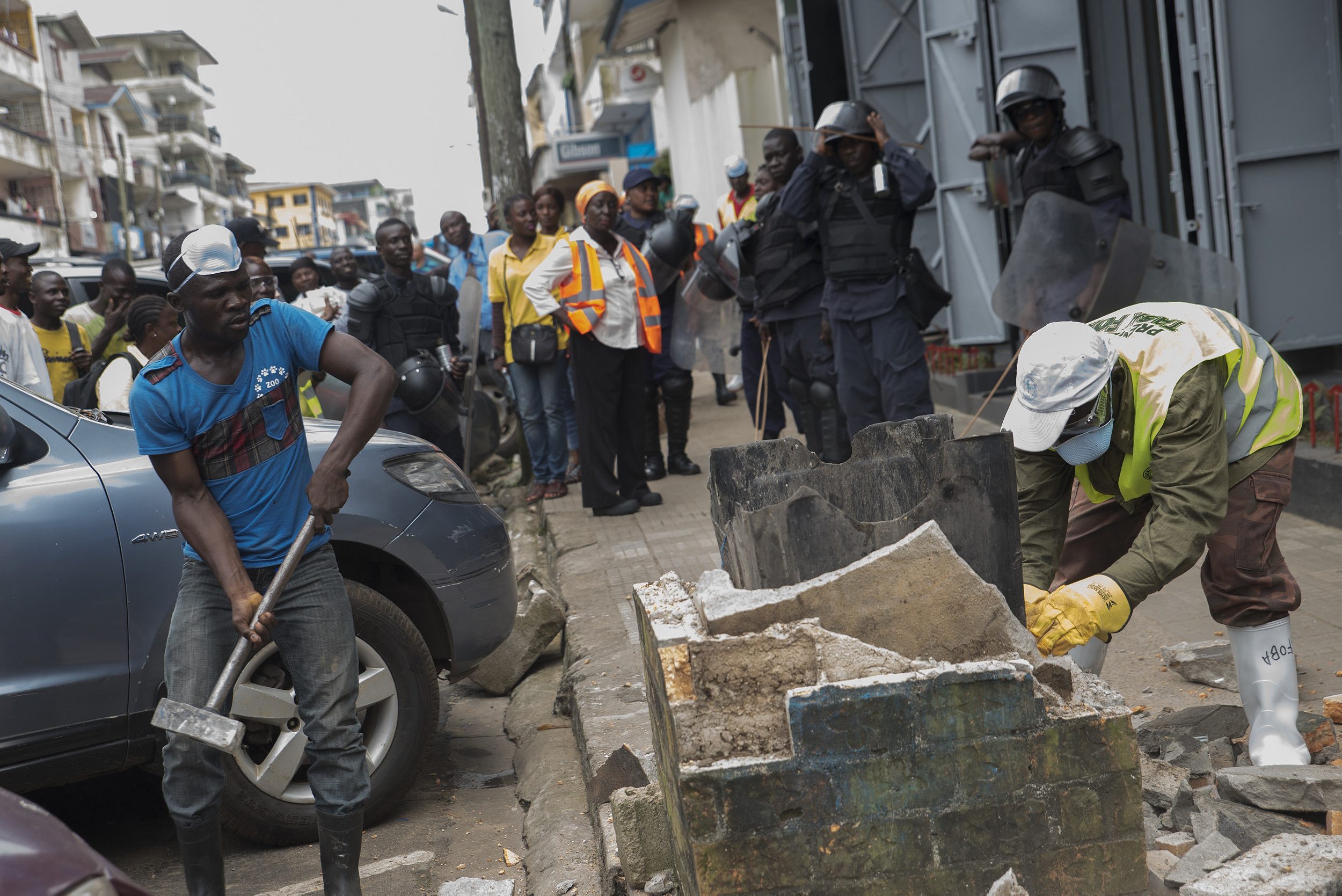 Since the end of Liberia's long civil war, international attention has focused on President Sirleaf, elected as Africa's first female president in 2005 and a Nobel Peace Prize laureate. But ask any market vendor or slum resident, and he or she will tell you that the most powerful person in Monrovia isn't the president, it's Mary Broh.
Shortly after taking office as the mayor of Monrovia in 2009, Broh headed up the presidential taskforce focused on cleaning up neighborhoods and worked with the president's office to develop mandate Saturday morning clean-ups to remove garbage. Broh earned a reputation as hard-working and effective, especially when it came to her pet project: the cleaning of Monrovia, home to one-third of the country's population. The campaign took a turn when Broh sought to demolish structures deemed not to meet zoning standards, sparking angry protests from residents and inspiring 'Don't Raze Me Broh' t-shirts.
Broh and her teams would enter communities, decide which structures were illegal, and proceed to demolish them, smashing cinder blocks, snapping wooden posts, sending zinc roofing panels clattering to the ground as community members looked on. Bulldozers arrived without warning, and residents told of having to flee their homes mid-demolition as Broh tore down slum housing and forced residents out of homes built on "neglected" private land or carved out of unused public buildings people had settled in after the civil war.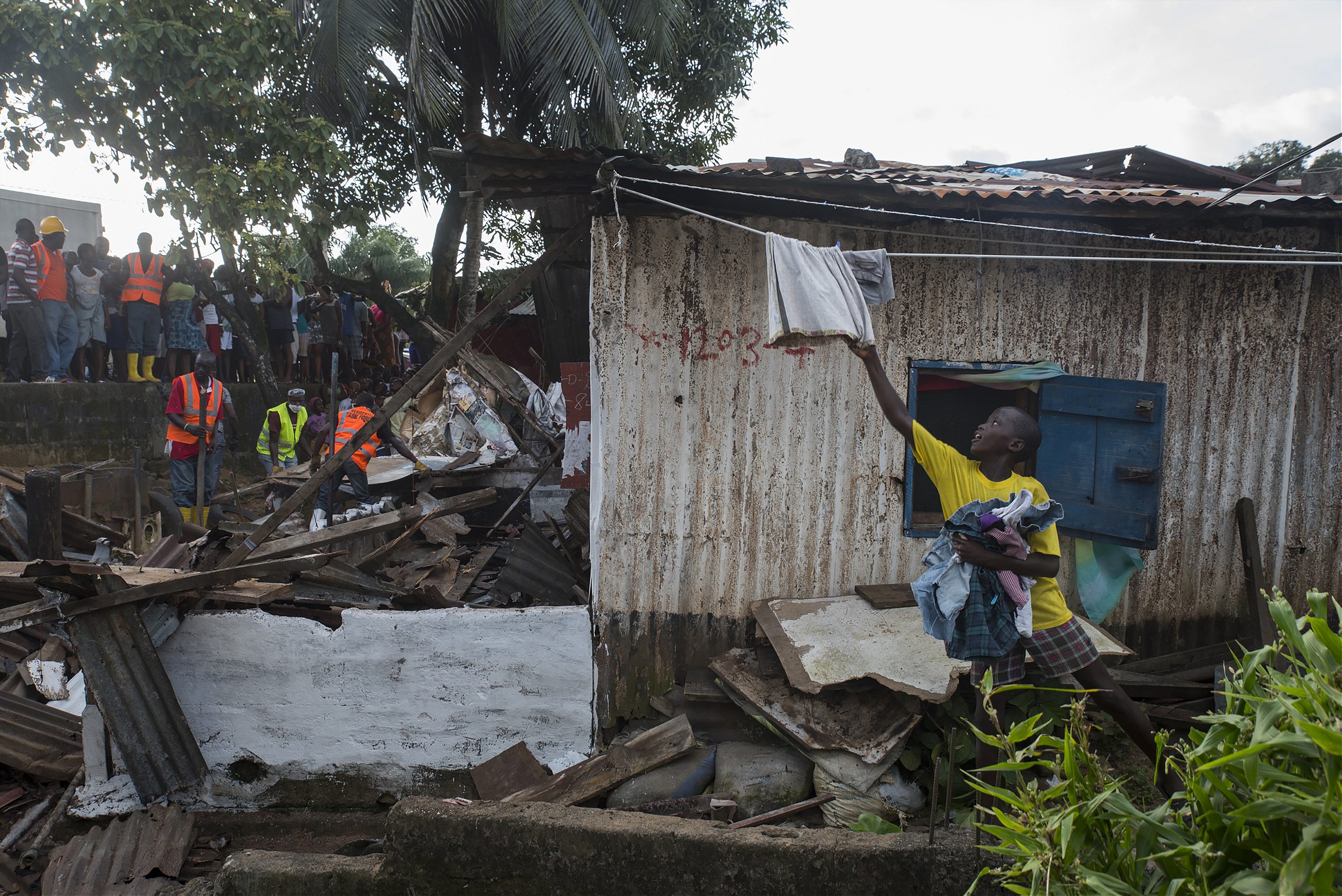 Broh was also called before the Senate after she was accused of slapping a Senate staffer for not leaving an area the taskforce wanted to 'clean up.' Broh escaped punishment, but this episode likely contributed to legislators later blocking her reappointment as mayor. In 2013, she was forced to resign after allegedly illegally springing a friend from jail.
In 2014, Liberia found itself at the center of the worst epidemic of the Ebola virus in recorded history, with almost 5,000 people dying in the country, as the disease disrupted commerce, travel, and normal social relations throughout West Africa and sparked fear around the world. By the time I arrived in Liberia in September 2015, the country had been declared Ebola-free and life in Monrovia was back to normal, with the streets, markets, and bars bustling, people shaking hands again instead of fist bumping to greet each other.
By the beginning of November, the fear among poorer Monrovians was not of a return of the virus, but of a visit by Broh and the taskforce. My housemate Ben, a photojournalist, and I began following the activities of Broh and the taskforce, spending two months tracking them through streets, alleyways, and courtrooms.
On November 3rd, Broh brought out the bulldozers once again, determined to show residents of Monrovia that she was serious. The taskforce swept into Jallah Town (a poor area sandwiched between Capitol Hill, the University of Liberia, and the Mesurado River) without any warning. People living and working near the road ran to collect belongings and goods before they disappeared under piles of rubble. Samuel Gardour, a tailor, said he had spent $2,500 to build his now-demolished shop along Jallah Town Road. The taskforce destroyed his equipment, merchandise, and records of customers' orders. "I have nowhere to work. Everything is finished," he said.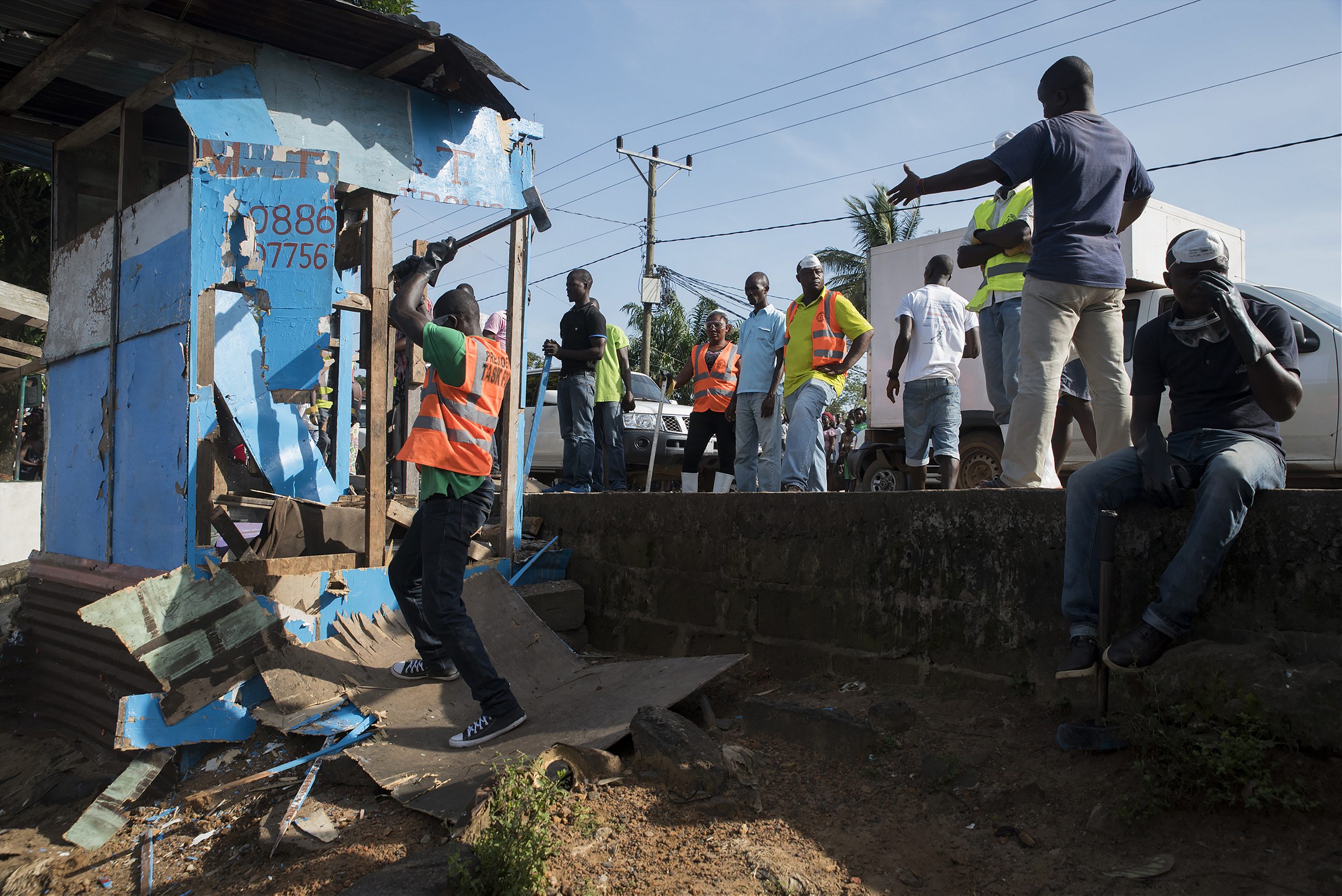 His neighbor Perry Isaac had inherited four houses from his father at the eastern end of Jallah Town. Four of his grandchildren lived in one of the homes, while Isaac rented out the two others to pay the children's school fees. All of the houses were destroyed by Broh's taskforce, despite the fact that Isaac said he had legitimate deeds. "These are some of the things that brought war," Isaac said. The taskforce had said nothing about compensation.
When asked where the people made homeless by the taskforce should go, Broh replied that it was "Not my issue." Her mission is to achieve the "return of the clean Monrovia, the Monrovia of yesterday," the Monrovia in the 1970s, before the 1980 coup d'état and two civil wars turned the city into a battleground, its swamps and beaches transformed into killing fields.
Broh left Monrovia before these tumultuous times, moving to the United States, where she enjoyed a successful career in logistics management at a children's clothing company and at Marvel Entertainment in New York. Broh says she lived in the city for 33 years, and it is clear that the time spent there helped form her vision for Monrovia: "We need to get this place ready so investors will come. You need to clean up the waterfront, put in pleasure boats, cafes, things like the Circle Line [Sightseeing Cruises] in New York."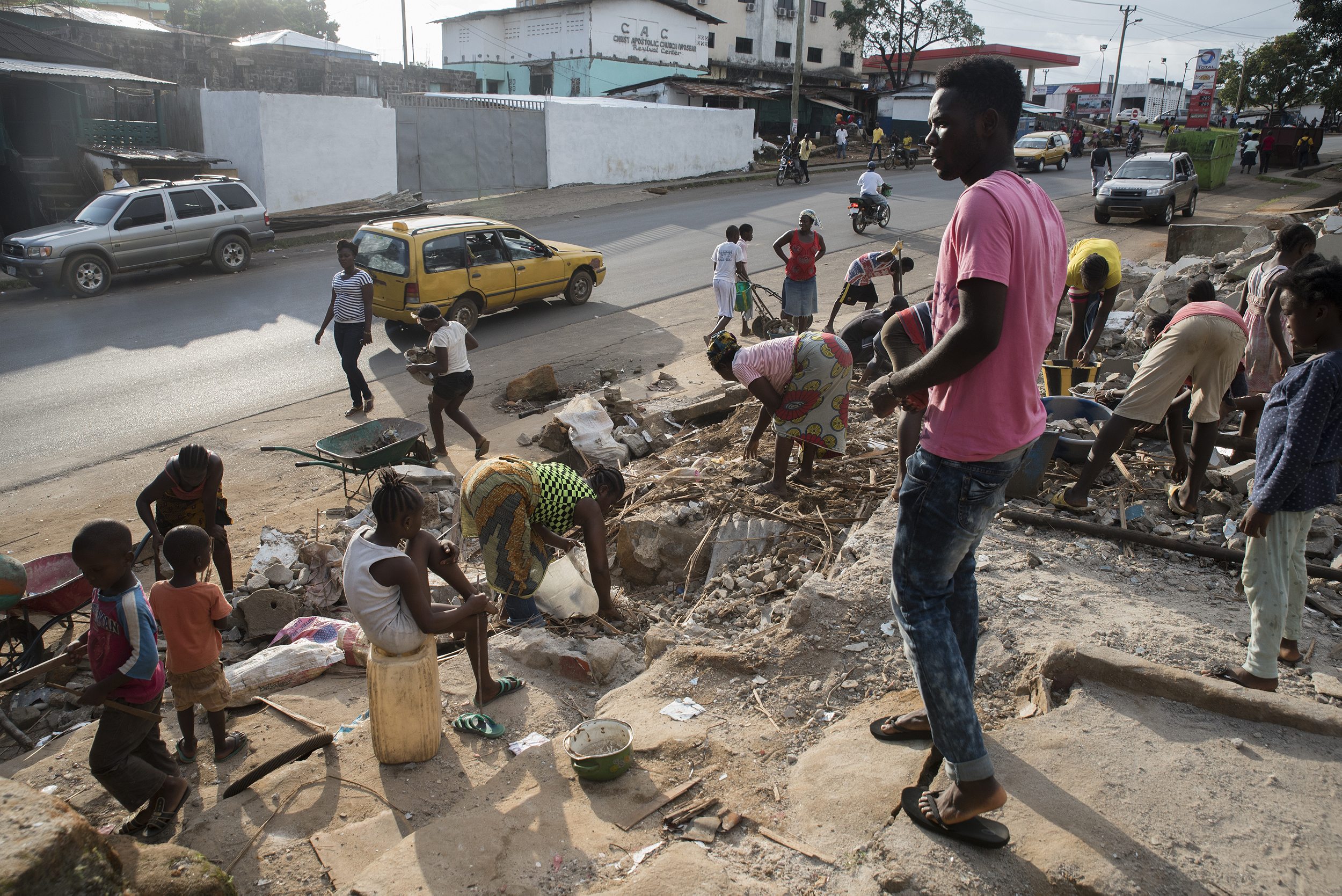 Broh began to take action against other perceived blights on Monrovia. In November, a spokesperson for the taskforce said they had found young prostitutes in a drug den, and that "Madam Broh whipped the youngest one 50 lashes in front of everybody." The episode drew widespread condemnation. Activist Leymah Gbowee (who shared the Nobel Peace Prize with President Sirleaf in 2011) said that Broh had "engag[ed] in the abuse of the fundamental rights of these girls," with no regard to the circumstances that might have forced them into prostitution. Broh admitted to having whipped the girls, but shrugged off her detractors, saying, "I did nothing wrong. The Bible says spare not the rod and let the child spoil."
Broh turned her attention to businesses she deemed unclean. On November 24th, Broh and the taskforce broke down the gates at the York Aqua water factory in Congo Town, which produces the small plastic bags of filtered water that are consumed by most Monrovians. They handcuffed a supervisor and at least 15 staff members, apparently because someone had complained that the factory was filthy. York Aqua's CEO, Vinod Sharma, and manager, Abraham Mendscole, alleged that taskforce members destroyed merchandise, stole multiple computers and approximately $37,350 from company safes, as well as fuel, generator batteries, and six truck tires.
Sharma and his family live in the factory compound, and when he saw the raid beginning, he locked himself and his family in the house. Sharma alleges that taskforce members broke in, drank bottles of beer, and stole clothes and laptops. "The worst thing that happened was they forced my wife and me out of the house and tried to put handcuffs on me, for what I do not know," he said. The factory, which employs 150 people, was put out of business for weeks. Broh denies the allegations of theft.
Residents soon began to push back. In December, a group calling itself Aggrieved Property Owners from several areas of Monrovia filed a petition to the Supreme Court for a stay order against Broh and the taskforce, alleging that their legal properties had been damaged or destroyed. In response, the presiding justice issued a stay order prohibiting further taskforce Activities until a hearing. Dempster Brown, a human rights lawyer representing the plaintiffs argued that: "The executive branch does not have judicial power, but Mary Broh is rendering judgment and damaging and confiscating people's properties."
On the day of the hearing, Broh got members of her taskforce in uniform to march to the Temple of Justice to support her. Workers were drawing up signs – Broh fastidiously checked the spelling and grammar – while prominent figures in Liberian politics and society came to support her. Buoyed by her allies, Broh scoffed at her detractors. "The human rights people who are making noise, they are not actually protecting human rights."
After two days of hearings, presiding Justice Kabineh Ja'neh sought a middle ground, asking, "Can we clean the city short of breaking down any structure?" He ultimately lifted the stay order, on the condition that the taskforce not demolish any more structures without going through the courts.
With the restrictions imposed by the court ruling, Broh was determined to use what leeway she had to step up drug enforcement. The main focus of activities turned instead to combatting illegal drugs. In early December, Broh and the taskforce had conducted a drug raid in the Saye Town (a poorer area of Sinkor, a neighborhood popular with wealthy Liberians and foreigners). During that raid, the taskforce confiscated a large amount of marijuana, but also demolished houses and shops, leaving a dozen people homeless.
On the morning of December 15th, the taskforce got to work around 25th Street, at the far southwestern end of Sinkor. They gathered at a gas station across from a popular barbecue restaurant. Twenty-seven people were sitting on the ground, their hands tightly bound with plastic cords and their wrists tied to one another. Broh was initially reluctant to talk to Ben and me, saying that foreign reporters had been spreading lies about her and bringing trouble.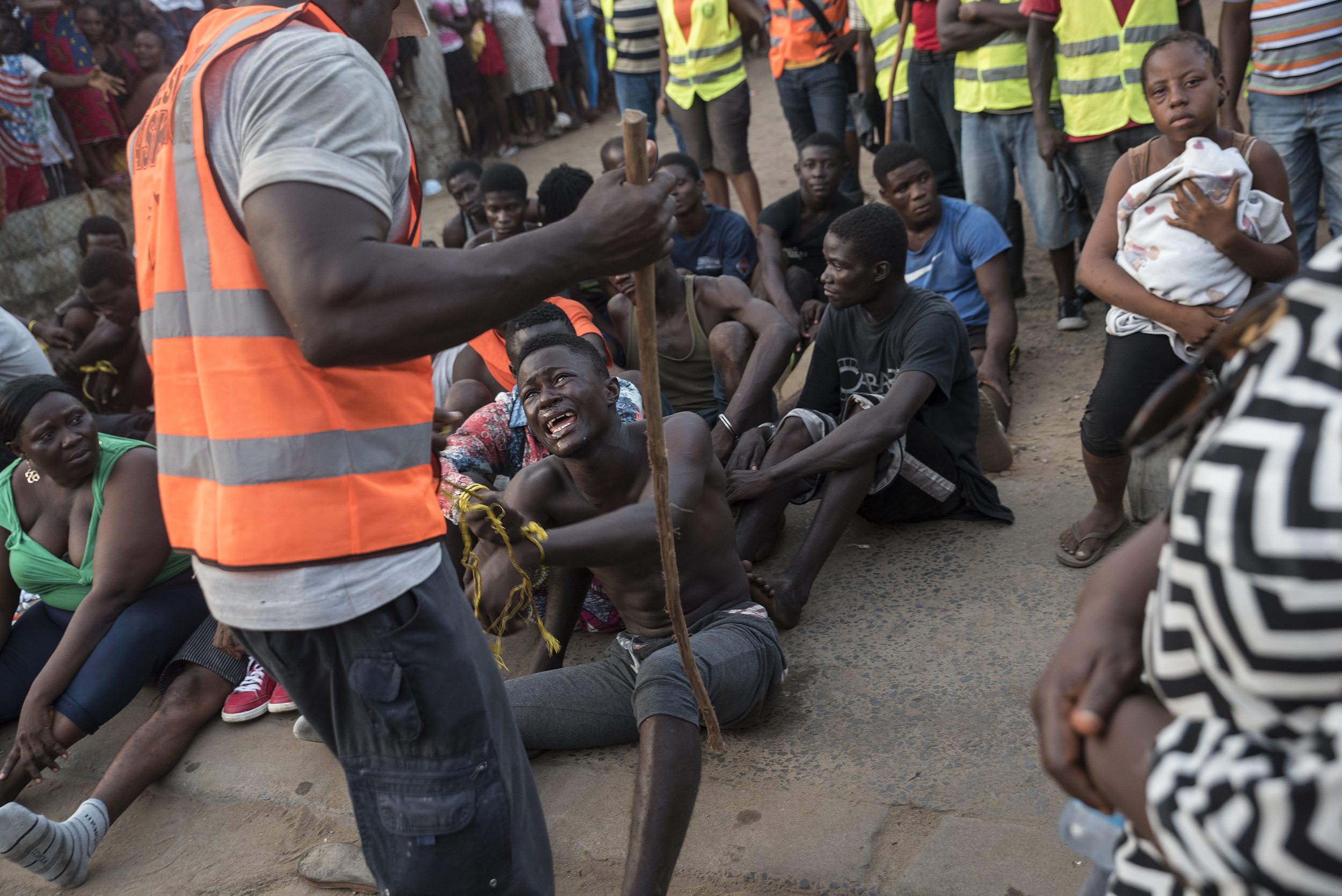 Broh said that these detainees were drug dealers who had attacked the taskforce with weapons and rocks when they came to clear out the area where they were staying. "If they come to kill us, we will kill them," she said. "Take a picture of the scissors, that's what they came with to kill us."
Taskforce members took us into a vacant lot behind a cement wall. This was where people had been using drugs, they said, pointing to an empty shipping container with some cinder blocks set up as stools. They said the owner of the restaurant across the street had asked Mary Broh to come by because the drug users had been scaring away clients and stealing their phones.
"We're going to dislodge a lot of criminals today," said Broh. "The Supreme Court said demolition, we say cleaning." She sent members of the taskforce to chase down people she said escaped from the initial raid on the fenced area. As a man who had been detained was carried over toward her, Broh smiled as she turned and raised her rattan cane, threatening to hit him.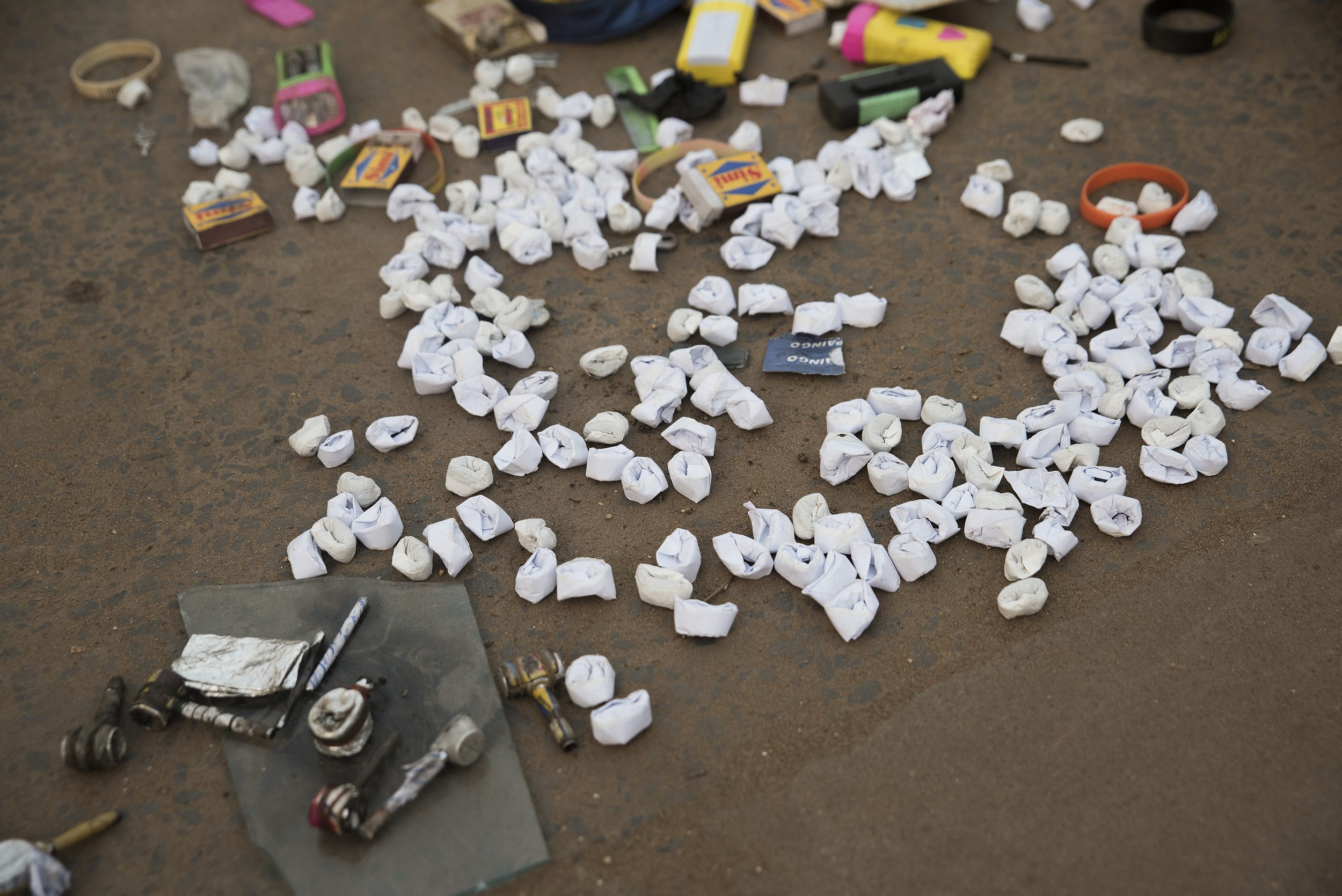 Two men in a passing SUV called out, "Madam Broh, we love you Mary. You are doing good work!" Most of the taskforce members stood around the gas station aimlessly, holding brooms and sticks. One group, carrying sticks and shovels as weapons, took off down 25th Street toward the beach, hunting for escapees.
As we followed them down the road, four taskforce members pulled a man out of a shack and, holding his arms, began to drag him back toward the Boulevard. A taskforce member coming down the street took a running start and, without saying anything, kicked the man in the face. As the man collapsed to the ground, he was subjected to a flurry of kicks before being pulled to his feet and carried out.
Taskforce members continued searching homes and businesses. They grabbed scruffy looking men and women, smelling their hands and making them empty their pockets to see if they had been using drugs. One woman, whose neighbors had accused her of using drugs, was chased down and detained on the beach. When her brother came to ask what was happening, he too was told he had to join the rest of the prisoners.
While Broh had police officers protecting her, civilian members of the taskforce carried all of these activities out with no police powers. As more people were detained, taskforce members and a few of the police bound their hands and feet and tied them to other prisoners. We tried to talk to some of those who had been detained, but when Ben took photos of a bound detainee whose bare feet and legs were severely cut, Broh yelled at us and said she would not talk to us anymore. That day, December 15th, was supposed to be the last day of the taskforce's mandate, but five days later, they had returned to the same spot, with five detainees sitting along the roadside. The wall around the alleged drug den had been demolished.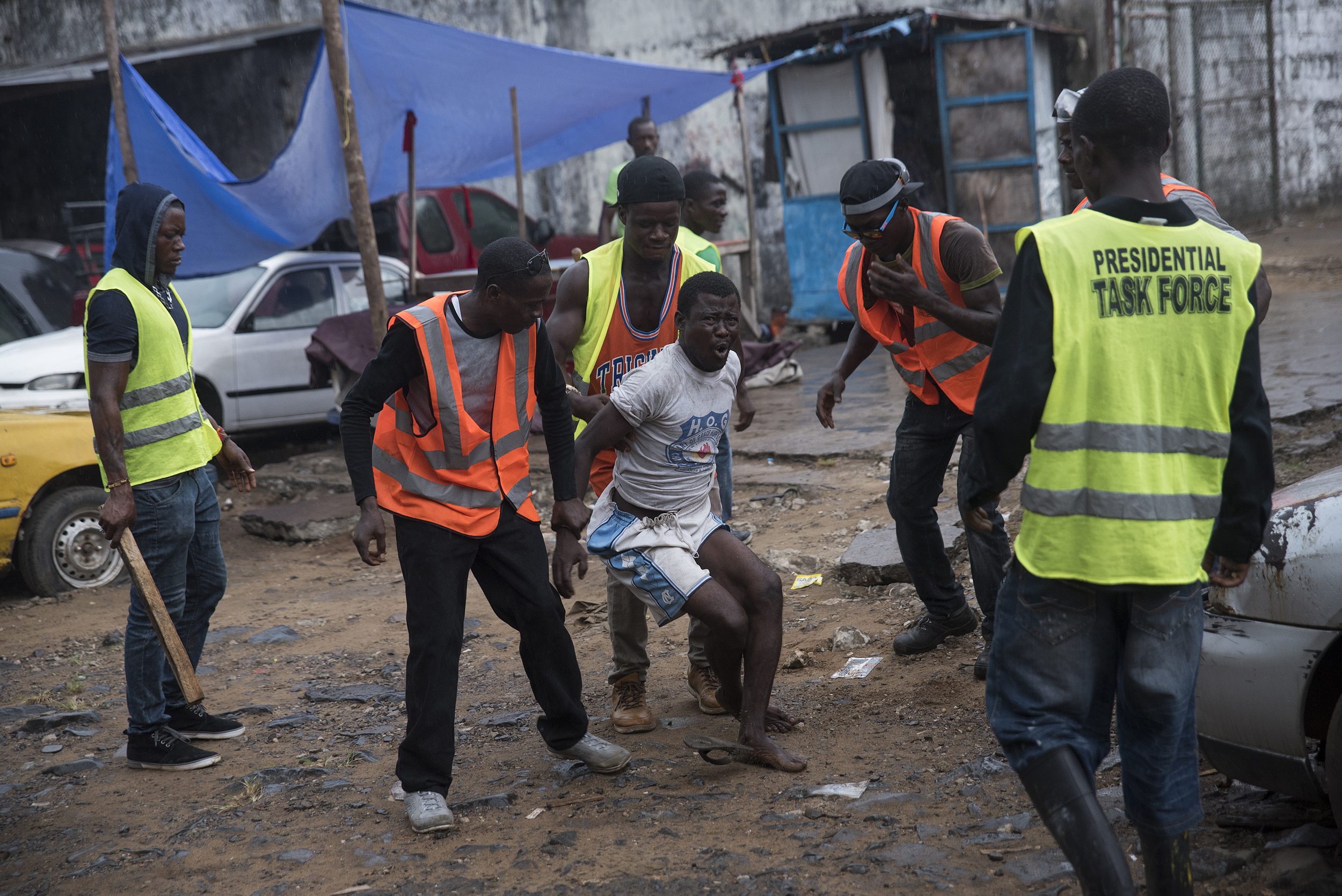 In late December, the taskforce workers turned on their leader. They forcedBroh to barricade herself inside the GSA compound as they rained down insults and rocks, claiming they had only been paid about the equivalent of $45 but had been promised hundreds more. Riot police set up outside and the crowd eventually dispersed.
Broh knew she still had the force of the government and Monrovia's elite behind her. Prior to her court hearings, Broh had told us, "Everybody is talking at their coffee tables, in their backyards, 97 percent are saying the same thing I am saying, but they dare not say it because they are afraid." That support was made clear when, on January 5th, Broh received an award for 'Outstanding Government Official' from two Liberian women's associations.
The current round of beautification may be over in Monrovia, but Hurricane Mary is not yet finished trying to save the city in her own blunt way. A cleaner, more developed capital is necessary for the future of the country, she told us. "If you leave the place to these people, they will tear the place down to the 14th Century, the bubonic plague."
Ben Cleeton is a photographer who works to challenge ethnic stereotypes perpetuating oppression, segregation and violence. He resides in Syracuse, New York.