From the Rudar Soccer Club to Sake Bar Satsko or La Gran Uruguaya Bakery, New York's immigrant communities make it the best place on earth to watch the tournament.


On a recent February night at the Irish Consulate in Midtown Manhattan, members of the New York Irish soccer community assembled in the chill for the inaugural Irish-American Soccer Hall of Fame awards. Diminutive pieces of smoked salmon on brown toast, mini shepherd's pies, and bottles of beer flowed freely alongside conversations marked by thick Cork and Armagh accents. Peter Ryan, the Irish Deputy Consul General, spoke eloquently about the Irish immigrant community's ambassadorial role in making New York a great soccer city while simultaneously introducing other communities to Irish culture.
The celebratory tone of the evening was buoyed by a special announcement by the President of the Football Association of Ireland, via video link from Dublin, that a pre-World Cup friendly between Ireland and Portugal was set to take place on June 10th in New York. It was a bittersweet announcement, of course, since Ireland has failed to qualify for yet another World Cup. During the actual World Cup later in June, the tens of thousands of Green Army fans who live in the Irish neighborhoods in the city—Woodlawn in the Bronx, and Sunnyside and Woodside in the Queens—will be left to root for their traditional ethnic NYC rival, Italy, against their historical occupier, England, when those teams meet in Manaus on June 14th for their opening Group D match.
Aside from going to Brazil this summer, New York City might well be the best place on earth to experience the passion and diversity of the sport during the World Cup. This includes, of course, the overflowing, beer-soaked soccer pubs that host many of the NYC-based European supporters clubs. But locations like Nevada Smiths, Legends, and Smithfield, while institutions in their own right, tell only a small part of the story of soccer fans in 2014's New York City, where 37% of its residents are foreign-born.
In the outer boroughs and uptown, it is the community centers, social clubs, bakeries, grocery stores, bars, cafes, and juice stands that represent NYC fan culture in its principal form. Particularly during the World Cup, these locations harness and re-articulate national identity for immigrant communities in the city.
In my time chasing global soccer around the city as a fan, journalist, player, and student, I've seen septuagenarian Spanish men spill glasses of rioja on their bemused wives as they jumped on tables at a member's only social club in Astoria, Ivorian cooks emerge teary-eyed from behind Harlem kitchens after a Yaya Touré belter, Argentinean fans in Elmhurst dance en masse while twirling umbrellas and singing at the top of their lungs, and Algerian supporters block traffic on Steinway Street while blasting Khaled out of flag-adorned SUV's—to the chagrin of their Egyptian neighbors.
A yellow-clad woman kissed me at a Brazilian nightclub seconds after Il Fenomeno Ronaldo's 79th minute winner during the 2002 World Cup final. Her rather intimidating-looking significant other, who I had been standing next to all match, shrugged as he victoriously fist-pumped at the heavens. This made perfect sense to all three of us at the time. I've seen high-ranking UN diplomats blow off important Security Council meetings to watch their teams play against each other. I have seen atheists turn deeply religious and back again during three minute stoppage time periods. I once saw a Senegalese Imam high-five early morning beer-drinkers on east 116th Street after Papa Bouba Diop's stunner against France. I have witnessed so many contrasting emotions and mood swings played out over multiple 90-minute periods watching international soccer in NYC that they could warrant their own section in the Diagnostic and Statistical Manual of Mental Disorders.
I have also seen firsthand what historian Eric Hobsbawm meant when he said that "the imagined community of millions seems more real as a team of eleven named people." Watching their national teams play, immigrant communities in NYC not only feel an acute connection to home, but also a sense of pride that their existence is recognized, albeit for a fleeting moment, both on the international and local stages.
"We are not a big country, but watching Croatia play here in Queens, in the center of the Croatian community abroad, means so much to us," Tomislav Bistre, a waiter at Rudar Soccer Club in Long Island City, told me one recent afternoon as he plied me with grilled baby squid and shots of Croatian bitter liquor. "Watching Croatia during the World Cup or the Euros, especially around here, where we are all away from home, really brings out our national pride. We wear our heart on our sleeve and when we win, we go crazy. When we lose, we also go crazy and sometimes we get a bad name here for that, but it's our passion," he says.
The imagined community of millions seems more real as a team of eleven named people.
Rudar is a social club that was founded by a group of Croatian soccer-playing immigrants who came to Queens from a small coal-mining town called Labin on the Istrian coast. In 1977, club members pooled their money together and bought an old warehouse, transforming it into a restaurant/bar/team clubhouse that is equally welcoming to anyone who is just interested in a taste of Istrian cuisine. With the impending purchase of an additional flat screen TV, Rudar will be the place to catch Croatia's Group A matches, including the tournament opener on June 12th against Brazil, whose own immigrant community in NYC is centered only a few blocks up the street. "It's gonna be crazy around here for the opener against Brazil. I can't wait," Bistre he said. A pair of dapperly-dressed middle aged club members sipping Croatian beers at the next table nodded in unison.
Across the East River, Harlem and the Bronx have seen a large influx of West African-born immigrants in recent years and soccer has been an integral factor in their transition to life in New York City. West African players have helped make F.C. Harlem one of the strongest youth programs in the area and have also benefited from the non-profit club's supplementary leadership and educational programs. Similarly, increases in West African migratory flows to Harlem and the Bronx—and the extremely gifted soccer talent pool this has brought with it—have been a key factor in Martin Luther King High School'stotal domination of prep soccer in the city.
MLK has now won 14 of the last 17 NYC Public School Athletic League titles, is regularly ranked nationally, and has produced scores of NCAA Division I college players, as well as ten current professional players, including Senegalese national team goalkeeper Bouna Coundoul, who left Dakar for the Bronx at age 14. Many of MLK's star players during its ascendancy have hailed from countries such as Liberia, Senegal, Guinea, Cameroon, and Côte d'Ivoire. Their playing ability is turning Harlem and the Bronx into New York's de facto soccer Mecca, while the nearby restaurants, barber shops, and grocery stores also provide essential spaces for the wider West African community to connect and root for national teams away from home.
An hour before the start of Côte d'Ivoire's recent international friendly against Belgium, off-duty cabbies were already double parked up the block outside of New Ivoire on 119th Street in Harlem. New Ivoire is a 24-hour restaurant that is owned by Ivorian taxi drivers who wanted to create a social space where the growing number of Ivorian expatriates uptown could have their national food, catch up on news and politics back home, and, of course, cheer on Les Elephants on match days.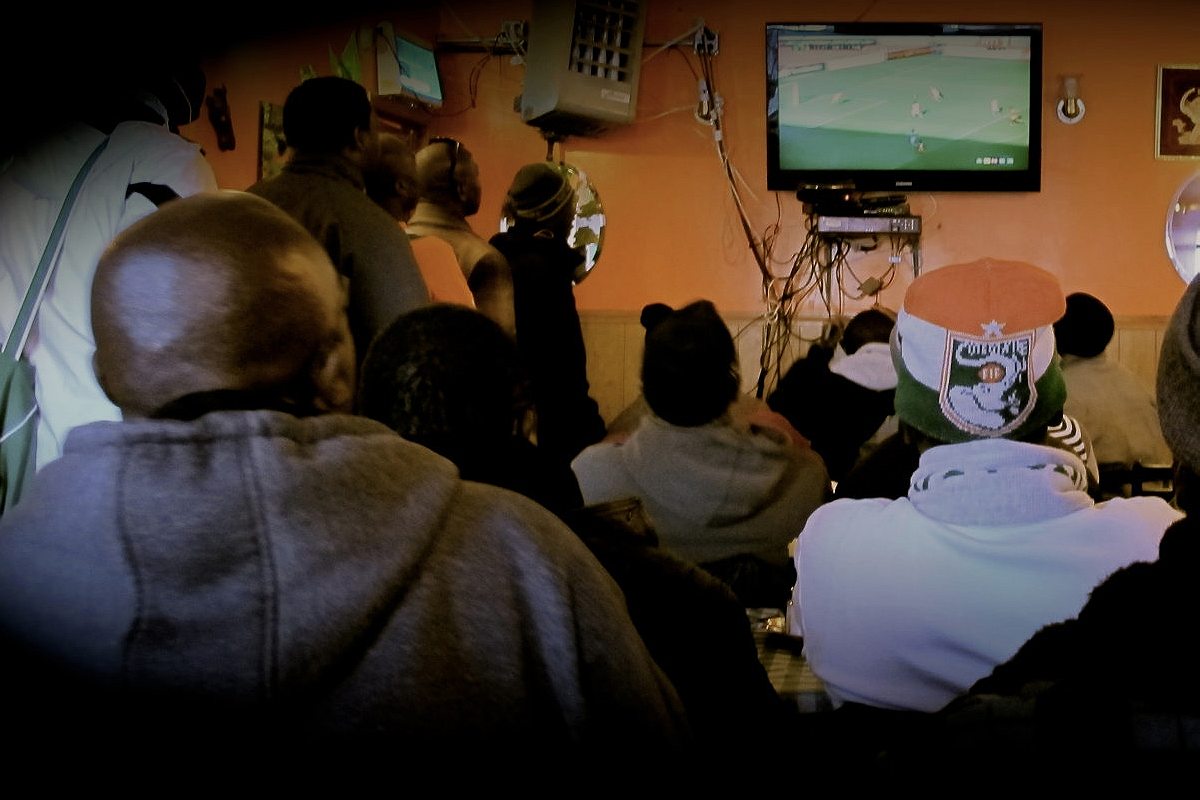 While steaming bowls of spicy tomato catfish soup and crispy baguettes filled with liver and kidney were being devoured alongside homemade ginger juices, patrons argued jovially about Côte d'Ivoire's starting attacking line going into the World Cup. Hassan Cissé, a cab driver who had just arrived to New York from Abidjan three days before, was busy making new friends and eagerly anticipating the match. "I just got here and heard about this place, it's actually my first time here," he tells me. "I was shocked that there are places like this in America that feel like home, where I can meet other Ivoirians and watch my team. It's a great thing, just amazing," Cissé told me, beaming.
When the Azzuri play during the world cup, Little Italy reverts back to a sea of blue.
Soccer even has the power to turn the clock back (temporarily at least) on New York's ceaseless migration patterns. Beyond the row of restaurants and bakeries on Mulberry Street in Little Italy, most of the southern Italians who came to the city in such large numbers in the early 20th century have since moved to the suburbs or up to Arthur Avenue in the Bronx. During this time, Chinese migration has dramatically increased in the area and Chinatown has practically swallowed up what remains of Little Italy. When the Azzuri play during the World Cup, however, the neighborhood reverts back to a sea of blue.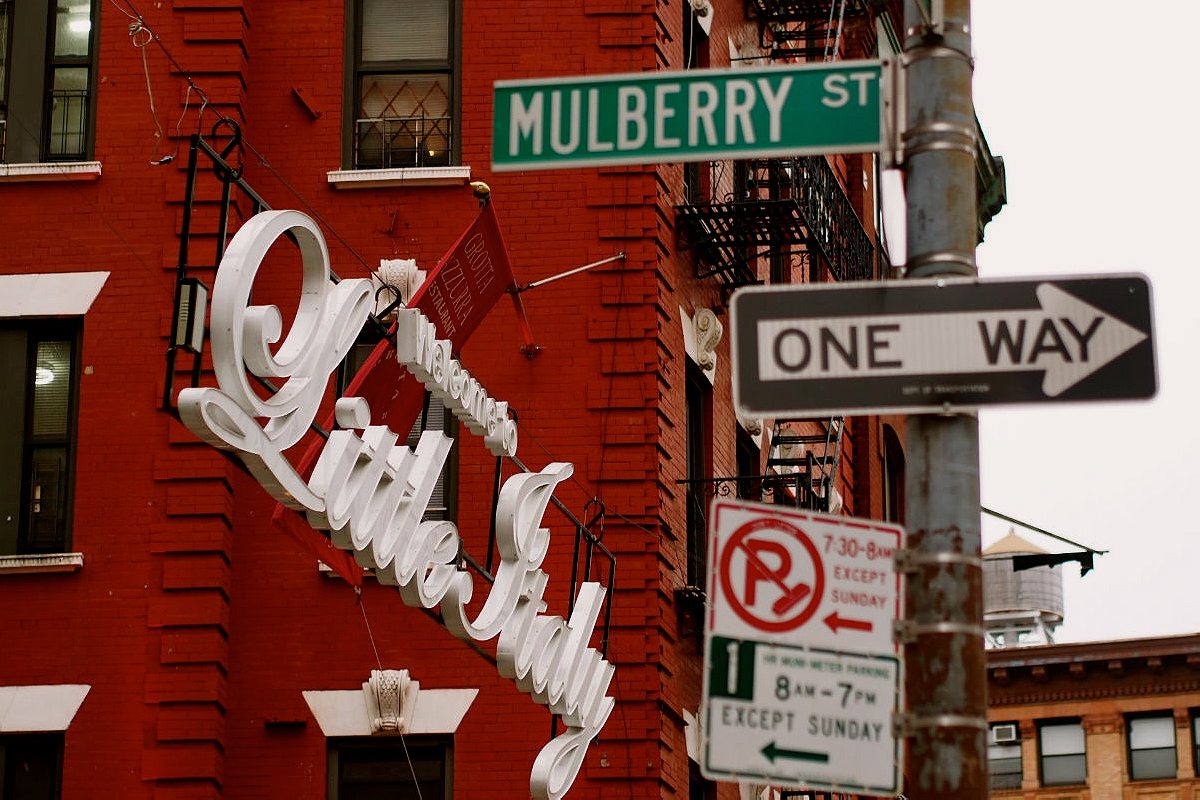 Outside Grotta Azzurra on Mulberry Street, tourist hordes buying Sopranos regalia and chasing overpriced cannolis vie for sidewalk space with Chinatown residents clutching pink plastic bags of produce. Inside, one of Grotta Azzurra's bartenders, Jeffery Hernandez, discussed the World Cup in NYC with me over Peroni drafts as Frank Sinatra's familiar baritone lingered overhead. Hernandez, like most of Little Italy waiters these days, hails not from southern Italy, but rather southern Mexico. Sort of. "You could say I crossed the border… my mom came over here from Chiapas when she was fourteen years old and six months pregnant with me to give us a better opportunity," he told me.
Hernandez, who grew up in Sunset Park, Brooklyn, argued that nothing really compares to watching the World Cup in New York City. "You have so many people from so many countries all living here, and they all represent their nation. They all represent their blood during the World Cup. There is nothing else like it, anywhere." His soccer fandom, however, actually took off later in life after he started working at Grotta Azzura in 2008. "Growing up in BK, I was actually more into American sports and teams like the Knicks and the Yankees," he said. "But working at this Italian place and seeing how crazy the Italians get during the World Cup, supporting their team and their country, seeing this place fill up and turn blue and the parades on Mulberry, it ended up re-connecting me with my soccer roots. I started following Chivas more seriously along with the Mexican national team, of course."
FOR THE NATIONAL TEAM, IT'S MORE WHERE I COME FROM THAN WHERE I'M AT
When I asked if it was ever a decision over whom to root for—Mexico or the US—Hernandez's response was emblematic of many first- and second-generation immigrants in New York City. "It was always Mexico all the way, no question," he said. "For the national team, it's more where I come from than where I'm at."
Back in Queens, the neighborhood of Jackson Heights has long been known as one of the most diverse areas in the country. Nepalese dumpling stands dot blocks where Ecuadorian knock-off soccer jersey kiosks compete for foot traffic with Indian sari emporiums. Even tiny Uruguay, the country with the smallest population playing in this summer's World Cup, has a big presence in the neighborhood, as drum-playing La Celeste fans crowd into the Uruguayan bakeries and restaurants along 37th Avenue to cheer on Luis Suárez and Edinson Cavani.
Jackson Heights is also the epicenter of the Colombian immigrant community in the United States and expressions of Colombian culture are omnipresent along busy Roosevelt Avenue and Northern Boulevard. Ubiquitous cumbia and salsa riffs slip out of the open doors of juice bars, bakeries, and restaurants where fútbol matches are beamed from satellites and faded posters of the storied '94 team are hung alongside sacred heart of Jesus depictions. For the 75,000-strong Colombian community in Queens, many of whom left their homes or were forcibly displaced as a direct result of Colombia's more than 50 year armed conflict, qualifying for this year's World Cup, La Selección's first since 1998, is extraordinarily significant.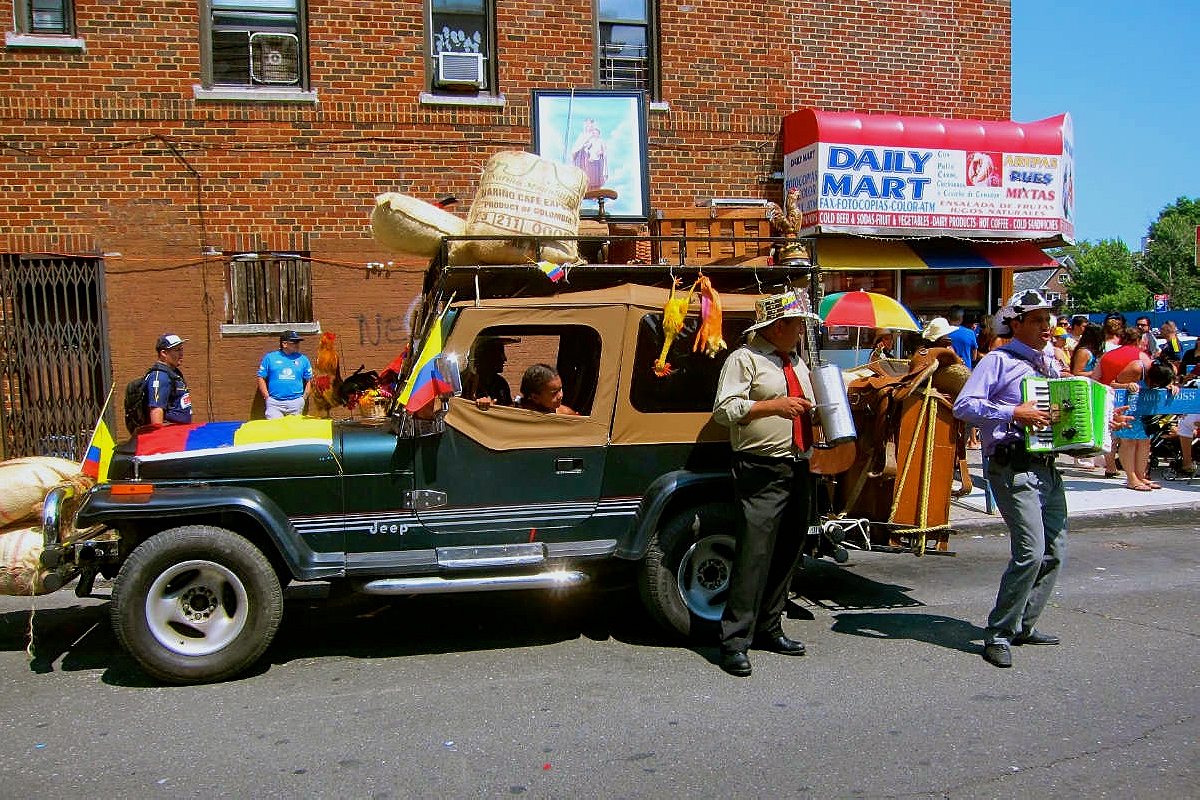 Monika Fabian, a Colombian-American journalist who lives in Queens, explains that "Colombians are very patriotic—maybe even more so in the diaspora than in Colombia. For the community here in NYC, every Colombian success on an international stage is celebrated as intimately as if it were one's own success," she says. "And the Colombia soccer players are our true diplomats among nations. To have them not only qualify in this Cup, but dominate the qualifiers and lead their group, represents a new level of well-being, stability, and progress reached for all Colombians throughout the world. It's huge," she says.
**
And then, of course, there's the food that goes along with the games: At Meytex Enterprises, a Ghanaian social club and restaurant in the Flatbush area of Brooklyn, I had amazing tongue-searing spicy peanut stew and fufu with gregarious lager-swilling Black Star fans in the early morning hours. At Sik Gaek in the Korean section of Flushing, one can feast on traditional live seafood hot pots and sip soju out of whole watermelons as boisterous face-painted waiters hand out complimentary red 
Taegeuk Warriors
 shirts and thundersticks during the World Cup.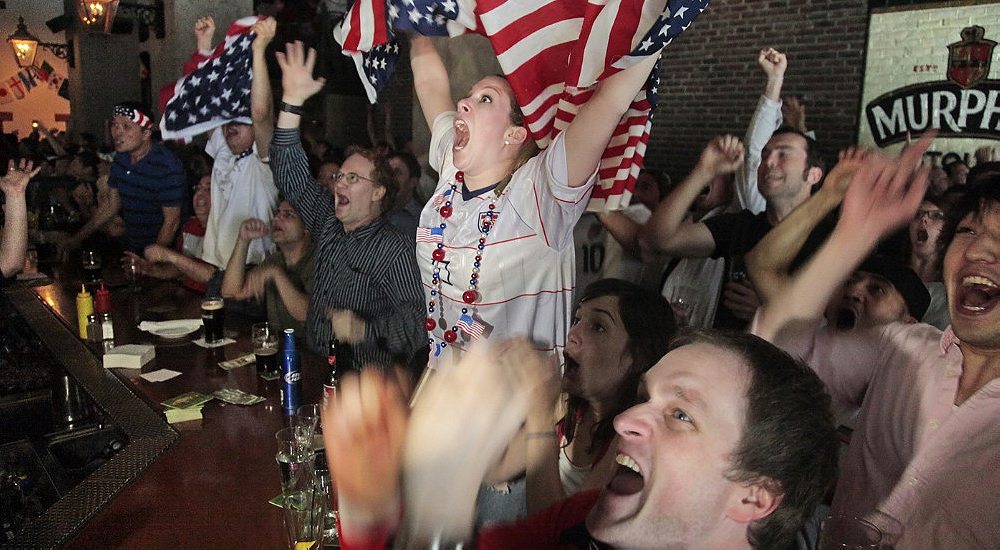 And at Boca Juniors Steakhouse in the Argentinean-heavy neighborhood of Elmhurst, family sized parrilladas mixtas, spicy malbec, and rich alfajores can be sampled at one of the most amazing soccer-watching atmospheres in the entire city. "Being in here when Argentina plays is practically like being in the stadium back home," Franco Garabotta, a waiter from Buenos Aires at Boca Juniors Steakhouse, told me. "People are singing, dancing, waving umbrellas… it's the best. Having a place like this in Elmhurst for Argentineans and others to eat our food and watch football from back home is very important to us," he said.
During each and every World Cup cycle, commentators from far and wide ask some version of the question, "will this be the World Cup that the U.S. finally embraces soccer?" That's a silly question even in the heartland—just have another look at middle America's euphoria after Landon Donovan's 94th minute 2010 winner against Algeria—but in New York City, it's even more foolish. Soccer is here, it's been here, and it's not going anywhere.