In the Mexican state of Veracruz, a gravity-defying dance is helping the Totonac people remember their roots.
APANTLA DE OLARTE, Mexico—
The lilting melody of a wooden flute drifts over roofs and treetops. It follows the beat of a tiny drum, flowing across verdant jungle and open sea.
As the music unfolds, four men fly. They hang upside-down on ropes attached to a 30-meter pole, gently spinning groundward as a fifth man plays his song from a small platform at the top.
In this "Dance of the Flyers," the flying men—or voladores—represent the elements earth, air, fire and water, circling the sun in a prayer for happiness and fertility.
It is a ritual of the Totonac people, one of Mexico's myriad indigenous groups, that by some estimates dates as far back as 600 BC. The dancers wear red costumes adorned with sequins, ribbons and mirrors, arranged in elaborate floral designs that express love for the natural world.
Flight for Survival from Frederick Bernas on Vimeo.
"It's a communication between the infinite and the elements which generate life, with the earth," says Adolfo San Martín, a veteran volador. "That's what you're doing with the flute: You talk with the gods of those elements, with the cosmos, to bring blessings down to earth so humanity can last forever."
From Peter Pan to Superman, flying carpets to jet packs, the concept of liberation through flight has been mythologized in many cultures. In this little town in Veracruz state on the east coast of Mexico, the voladores seek to become supernatural beings, transcending their physical environment to enter a spiritual realm.
"My friends think I'm crazy. They say they wouldn't do it for a million pesos," says Juan Carlos García Reyes, 23. He followed his father, grandfather and great-grandfather in becoming a caporal—the musician who leads the voladores in their ceremony. "People don't understand that it's a sacred thing and we have to do it. We feel like we touch the sky when we fly."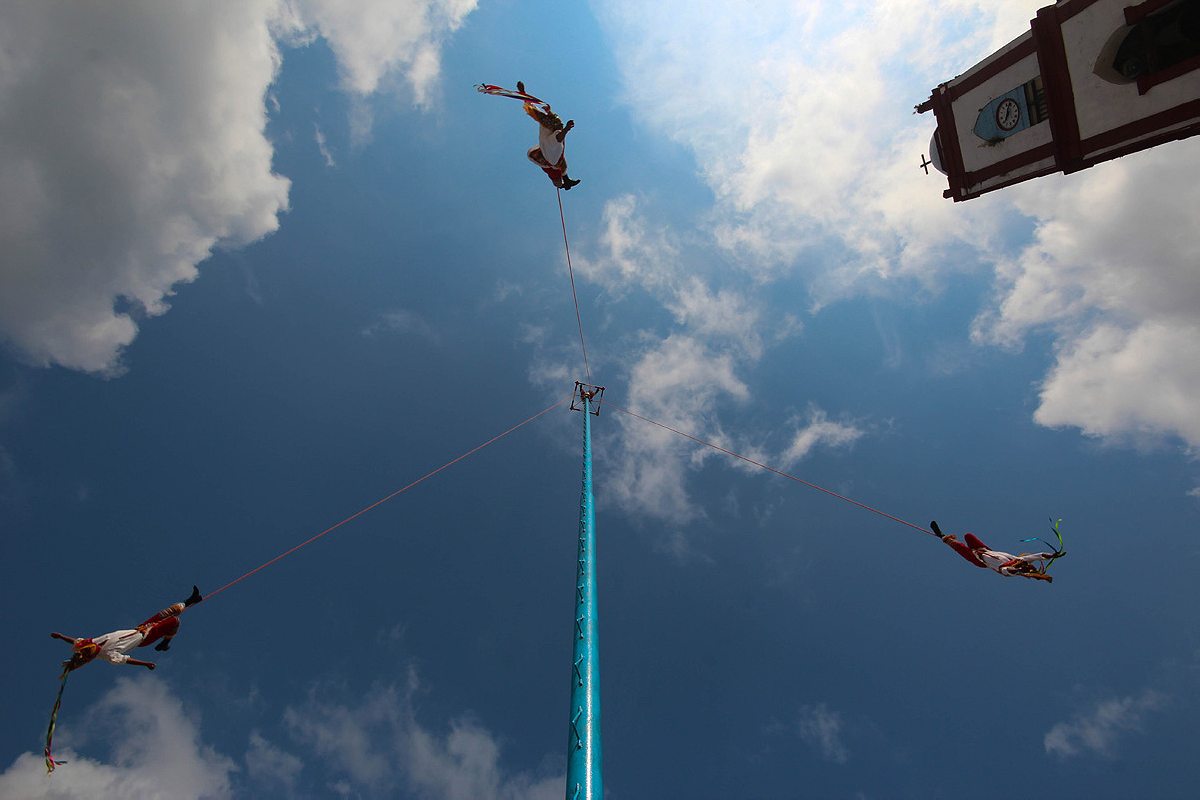 Today, rituals like the "Dance of the Flyers" are not simply expressions of Totonac identity. They are part of a wider effort to rejuvenate Totonac culture in the face of modern change.
The Totonac people can look back upon a long recorded history. They allied with Spanish conquistadors who landed on Mexico's east coast in 1519; Hernán Cortés formed a coalition of indigenous warriors to overthrow Aztec rule, and the crown imposed Catholicism on his new subjects.
Mexico's 2010 census reported 250,252 Totonac speakers in a total indigenous population of nearly seven million. Although this represented a small increase since 2005, the group is shrinking as a percentage of the whole country.
In Papantla, a stone caporal statue—carved by the eminent artist Teodoro Cano García—watches over the central square from a hilltop, and voladores are depicted in murals around town. The Cano Cultural Center exhibits his pictures and artifacts of Totonac heritage.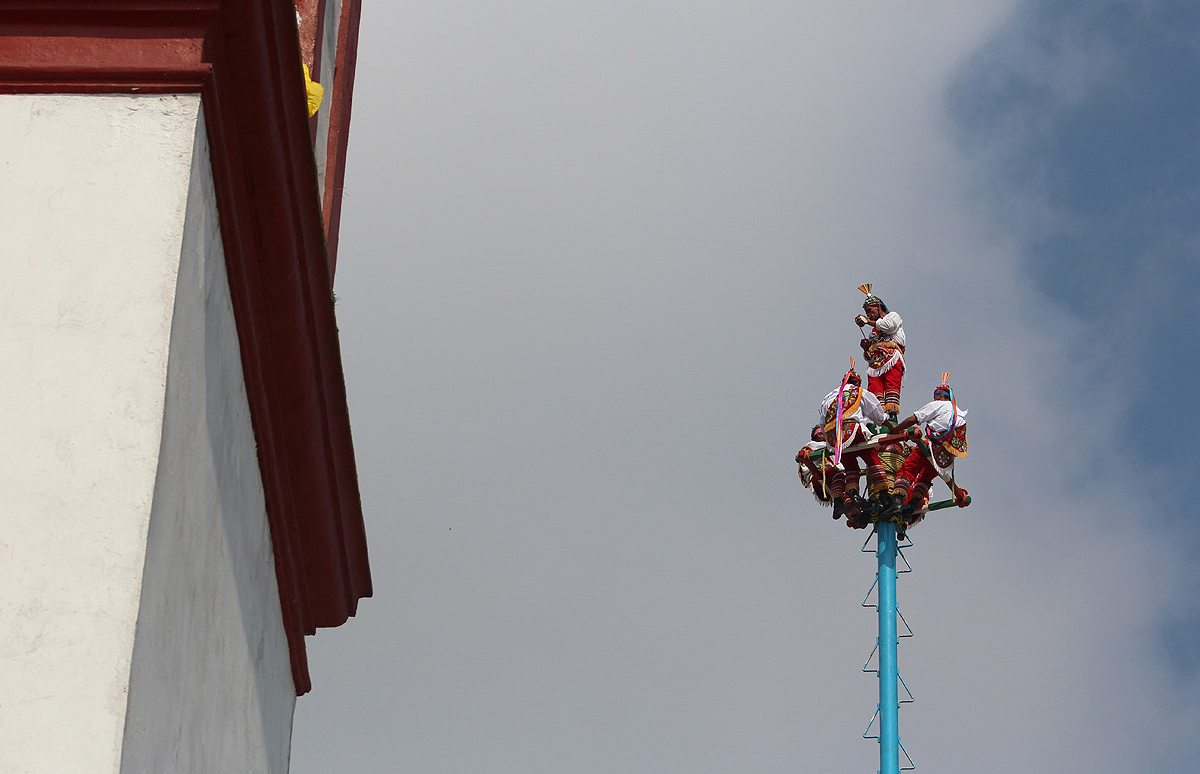 "When I arrived, this museum was in total darkness," says Erik Alí Castillo Cerecedo, the center's director, who began his job in late 2012. His budget is $70 per month. "Now I've redecorated and added lighting, but very few people come."
Sitting in a shabby office filled with papers and paintings, Cerecedo sketches a map illustrating the current settlement of the Totonacs in Veracruz state. They had occupied a swath of the coastal region until 1970, when new roads were built. Now they are concentrated around Papantla, while many have moved elsewhere for study or work.
Cerecedo claims that it's common to find photos in Totonac homes of departed young people flipping hamburgers in a city far away. Migration from the region is the direct result of disruption and change in the local economy.
For generations, coffee production was a staple of life for Totonacs across the state of Veracruz. However, in 1989, a catastrophic trio of events changed everything and sparked an exodus.
First, crops were destroyed by a severe frost. Then, the International Coffee Agreement collapsed. This global commodity deal had been designed to maintain stable prices by controlling export quotas, but was dramatically undermined by a huge market influx of cheap coffee from Brazil. Mexican exports slumped from $882 million in 1985 to $370 million in 1991.
The National Coffee Institute of Mexico, which provided technical assistance and credit to small farming operations, was also shut down in 1989 as the government continued to slash budgets after its 1982 default on foreign debt.
Between 1985 and 1995, more than 246,523 people emigrated from Veracruz state. Totonac farmers abandoned their trade to seek manual labor in major cities like Puebla, Mexico City and further north in the United States.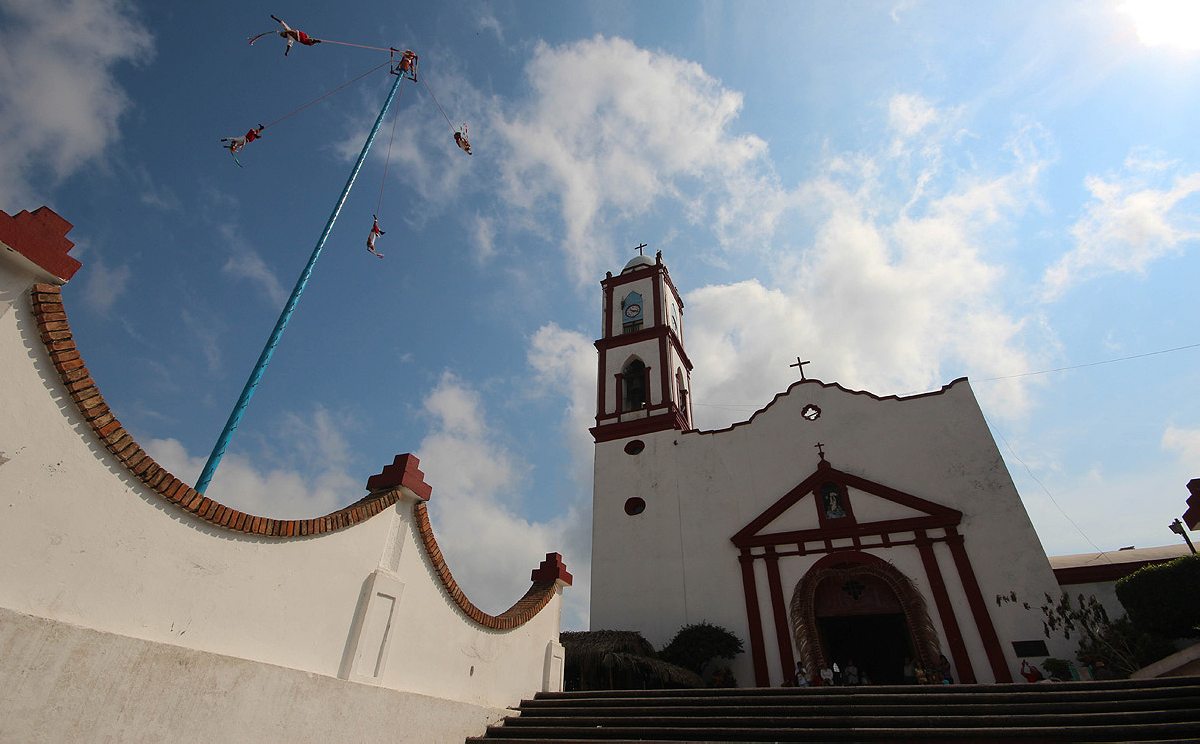 Today, as in 1989, Mexico is governed by the Institutional Revolutionary Party (PRI), which held power for 71 years until 2000. President Enrique Peña Nieto, who returned the PRI to power in 2012, has embarked on an aggressive program of development, looking to build on his country's huge economic potential.
Out in the campo at Arroyo Grande Número Uno, near Papantla, members of the Totonac community fear they could be left behind as Latin America's second-largest economy steams ahead.
"The news tells us that Mexico is doing really well, growing, moving forward, but I don't feel that here," says Álvaro López, 71. "Things are still the same."
López was speaking at the festival of San José, a holiday dedicated to the father of Jesus. He played violin to accompany the "Dance of the Negritos," which involves eight men feigning to kill a toy snake held down by another who wears a wedding dress.
Locals fear the bonds between people and their cultural heritage are weakening.
The dance tells the story of a serpent biting a young slave, whose mother summons a crowd to pray for healing and vanquish the beast. Like the ceremony of the voladores, it is one of five principal dances in Totonac folklore.
A makeshift wooden stage outside a church shook with the steps of the performers, weaving and stomping with metronymic precision. A couple of girls captured the action on their cellphones.
But in a globalized world of great change, many locals fear the bonds between people in this region and their rich cultural heritage are weakening. "Younger people aren't proud of Totonac traditions," López says.
These concerns have inspired initiatives to preserve Totonac identity, including four flying schools around Papantla. One of them was founded two years ago by Adolfo San Martín and Porfirio Morales Juárez, and has grown to some 35 students, whose travel expenses are subsidized by the state government. The youngest pupil is four years old.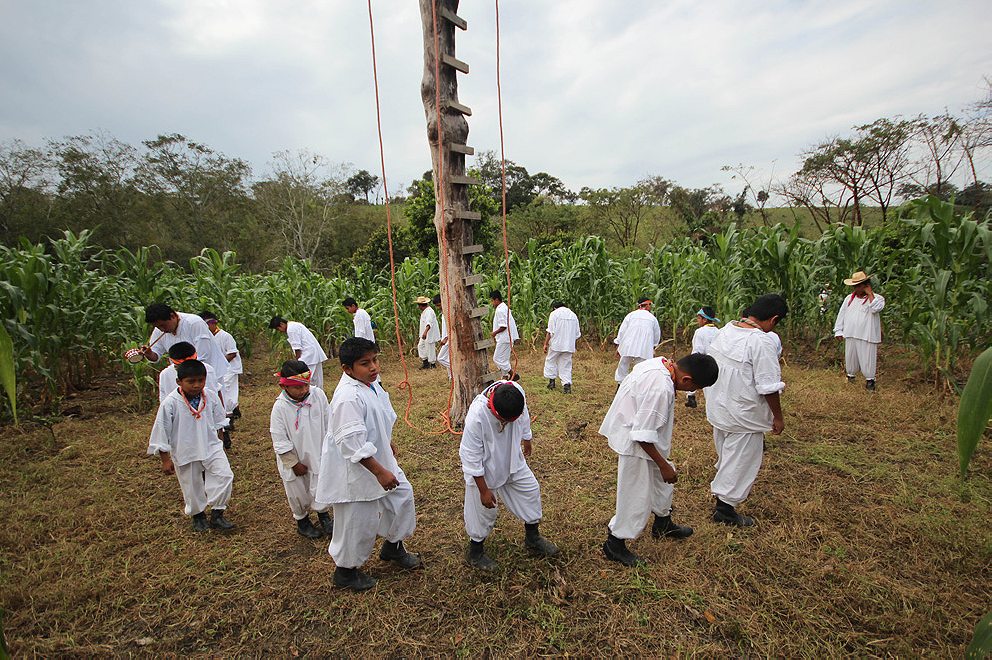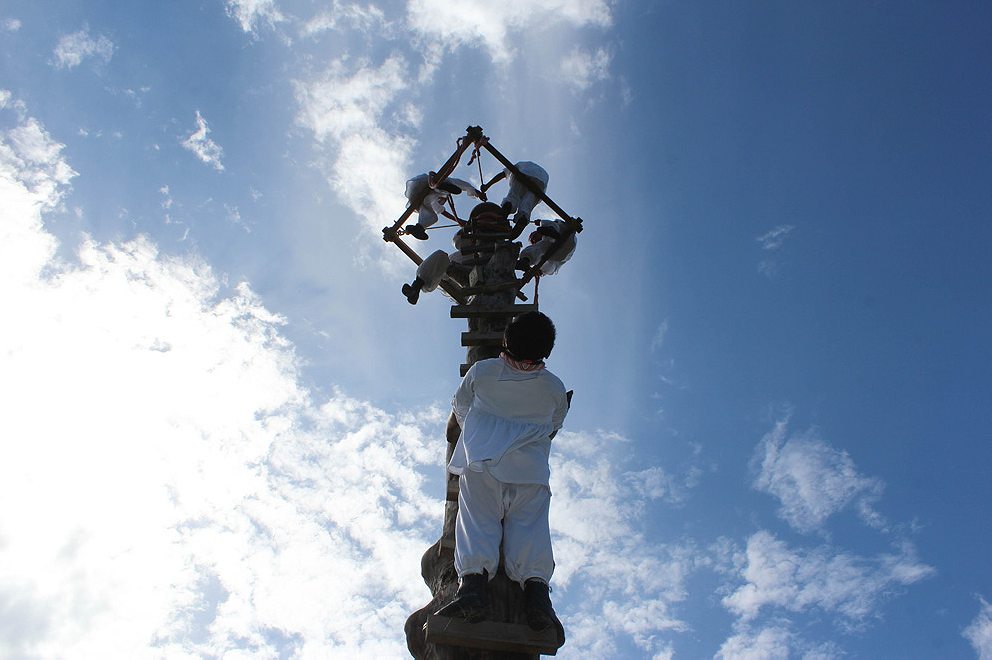 Every second Saturday, San Martín's cornfield comes alive with children, dressed all in white, floating down on a training pole made from a thick tree that was sacrificed for the cause in a ceremony.
A morning flying session is followed by Totonac language lessons with Romualdo Santiago Ramírez, 41, a volador who regards it as his mother tongue. "I used to walk four miles to school every day, and the other kids made fun of me because I didn't speak Spanish," Ramírez explains. "I'm very concerned about the language being forgotten. Many people feel embarrassed by it, and others don't like hearing us speak, or to see us dressed in traditional clothes."
Ramírez recently returned to Papantla after 18 years away, including a long stint in Mexico City working in food production. His daughter, Edith, 13, is also studying in a flying school, even though girls have been historically barred from practicing the dance.
"Nobody has the right to say you can't learn something if you want to do it," Ramírez says.

One night in March, the ancient city of El Tajín came back to life.
A grand pre-Hispanic pyramid glowed blue as people holding candles slowly marched in circular lockstep, entranced by hypnotic tunes played on guitar and violin. Glimmering candles illuminated faces lost in silent prayer.
The Totonacs were gathering at El Tajín—an archaeological site dating back as far as 600 AD—for a ceremony requesting permission from their gods to hold the Cumbre Tajín Festival of Identity.
'We have one thing that nobody else has in Mexico, which is a living culture'
Since 2000, the neighboring Parque Takilhsukut, near Papantla, has welcomed guests from far and wide to immerse themselves in Totonac culture. The five dances, local cuisine, handicrafts, artisanal workshops and rituals are part of a broad program that also includes mainstream global musical acts. This year, the likes of Regina Spektor, Fatboy Slim and Calvin Harris were on the bill.
Over five days, the festival attracted 496,000 visitors, generating an estimated 225 million pesos (about $17 million) in economic activity across the region. Thirty percent of ticket sales are given to a scholarship fund that has helped 637 Totonac students so far, including 200 in 2013 alone. Revenue is also used to support an Indigenous Arts Center and the park itself.
The continuity of Totonac culture gives locals hope.
"We have one thing that nobody else has in Mexico, which is a living culture," says Brenda Tubilla, general producer of the festival.
"If you go to Teotihuacan, for example, you can't talk to [the] original inhabitants. But if you're here, you can talk to the Totonacs—sit down with them, learn from them. I don't think a lot of people realize that until they're here."
The continuity of Totonac culture gives locals like Eliazar Valencia Reyes, 24, a volador and dancer from Arroyo Grande Número Uno, reason to believe their traditions can endure. "Political parties change, and everything around us changes, but our culture remains the same," he said.
"It doesn't matter who's in charge. Culture will survive."
With reporting and photography by Amado Treviño. Treviño is a Mexican photographer/filmmaker currently living in New York, working at the International Center of Photography while studying and collaborating with Richard Rothman.